The ANDRA Drag racing Series came to a close today with final rounds for Top Fuel Motorcycle, Top Doorslammer and Top Alcohol.
Chris Porter regained the ANDRA Top Fuel Motorcycle Championship following the two-year reign of Mark Drew.
Running over 1000 feet this weekend, Porter wrapped the title with a win over his nearest rival and friend Chris Matheson on a 6.149 elapsed time at 160.47 mph from Matho who spun the tyre at the beginning of a 6.850 second pass at 160.82 mph.
With the title in the bag the Nitro Rider Top Fuel Motorcycle Grand Final came down to Porter and Mark Drew who conquered Rob Cassar in Round 1.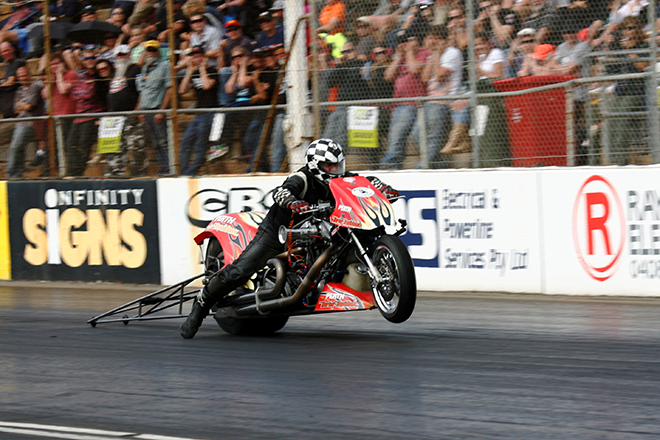 Drew reacted quickest at the line and although Porter reeled him in, Drew hung on for a close win with a 5.717 second pass at 199.86 mph from Porter on a 5.720 elapsed time at 171.60 mph.
"It's a credit to ANDRA this weekend in Adelaide," said Drew.
"They've had a huge crowd this weekend on Saturday and Sunday. There's been some great racing with Top Fuel, Alcohol cars, Doorslammers, the nitro bikes. I think I beat Chris by two one hundredths of a second in the final.
"I wouldn't be able to get here without my sponsors Perth Harley Davidson, Brajkovich Demolition, Territory Powersports, Baz National and anyone else I've forgotten, thanks very much."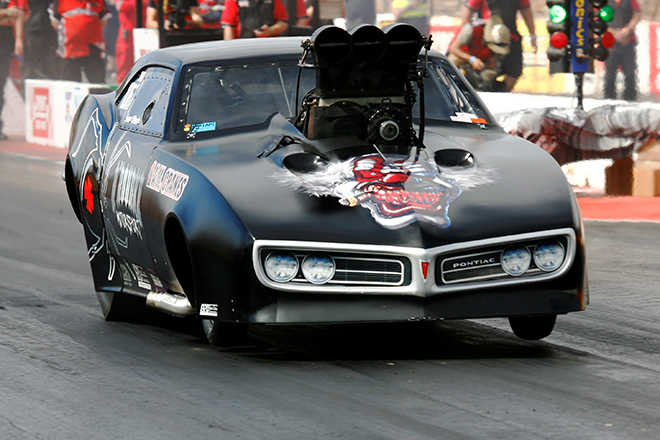 John Zappia had already secured his ninth ANDRA Top Doorslammer Championship in a row this weekend but the Grand Final went to stand out season performer Grant O'Rourke.
The Queensland based West Aussie scored his second ANDRA Christmas Tree, his first Gold, at the same venue he won his first ever of any colour defeating Rob Taylor in the Melbourne Sports Med & Anti-Ageing Top Doorslammer final.
O'Rourke completed the 1000 feet race distance in 5.017 seconds at 223.91 mph as Taylor's Camaro sheered the blower belt.
"We started off the season really well and we finished the season really well," said O'Rourke.
"We've come a long way, we've done a lot with what we've got here and it's just awesome. A huge thank you to the boys, girls, everyone behind the scenes – and I mean every single one of them. I couldn't have done it without them.
"We've been one group of people that have worked so well together, flawlessly, barley a mistake made and when there has been something it's been covered by someone else – we just work so well together.
"I'd like to thank, Crow Cams, AD Roads, A.M. Cranes, GRP Conrods have done us a deal, and Thermal Edge have been awesome with all the work they have done for me. Debbie and I have put the funds behind it, the other guys have helped out a lot along the way – all I can say is thank you it's been really great."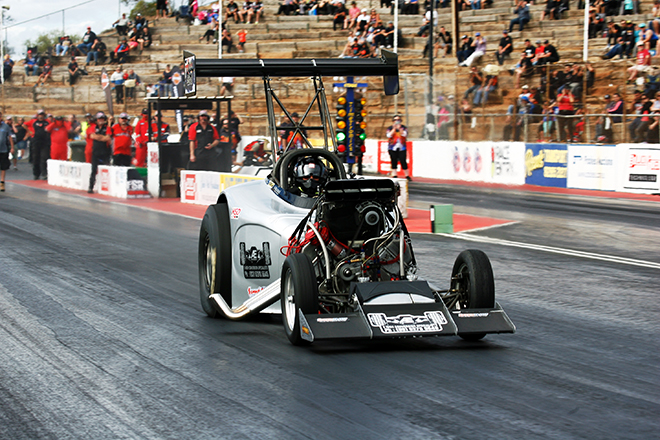 In THR Developments Top Alcohol Brian Lockman scored his first ever win in what he dubbed "the first full pass down the track" in his Top Alcohol Altered against Gary Busch.
South Aussie Busch had earlier advanced past Craig Russo following a controversial ruling by officials to meet Lockman who won the final with a 6.496 ET at 117.03 mph from Busch who encountered difficulties on a 15 second pass.
"It's a little bit bittersweet, we had a little issue with a ruling and condolences to the Russo family (on that ruling)," said Lockman.
"They worked hard, blew up last night but, unfortunately the ruling is the ruling and it's allowed us to do a "Bradbury" right across the line from the start to the finish. Any win is a good win, it's a first and we're going to take it."
In the final of three VP Racing Fuels Top Fuel passes for the weekend Darren Morgan and Wayne Newby faced off having one tick in the win column each from Saturday.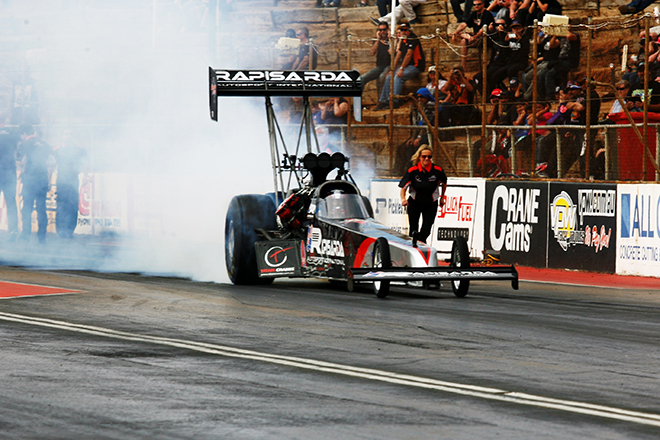 Newby in the Rapisarda Autosport International Top Fuel Dragster had the quicker reaction time of .137 seconds and held on for the holeshot win with a 4.172 second pass at 256.13 mph from Morgan's quicker but losing 4.165 ET at 250.19 mph.
ANDRA congratulates all of the 2015/2016 ANDRA Drag Racing Series Champions and runners up and extends its gratitude and thanks to all the volunteers this weekend at Adelaide International Raceway and to those who helped stage a fantastic event.
For full results from the ANDRA Championship Grand Final please click here.
Image credits: Dave Hope