The final rounds of the 2021/2022 Australian Drag Racing Championship and the 2021/2022 Summit Racing Equipment Sportsman Series delivered no shortage of excitement at the Perth Motorplex across April 8/9 at the season-ending EGT ANDRA Grand Finals event.
While Friday night's running was shortened due to the weather, the rain could put no damper on the spirits of the racers, officials and fans determined to enjoy a brilliant weekend of racing and enjoy they did, with a Saturday program bursting at the seams with racing ensuring there were plenty of smiles around the race track come the end of the event.
Following an epic day of final battles, the season champions and event winners were heralded with plenty of ANDRA Christmas Tree trophies being handed out alongside the prestigious John Storm Memorial Trophy. Also receiving a coveted Gold ANDRA Christmas Tree on Saturday evening were the winner and runner-up of round three of the Burson Auto Parts Australian Top Fuel Championship: Damien Harris and Peter Xiberras.
For a full listing of championship winners and runners-up as well as event winners and runners-up, please click here and here. Also recognised at the ANDRA Grand Final presentations were Mick Wormall who was awarded the Crow Cams Best Engineered Award, and Chris Matheson who earned the ANDRA Longest Distance Travelled Award.
For a rundown of how each of the championship brackets unfolded over the weekend, please read on.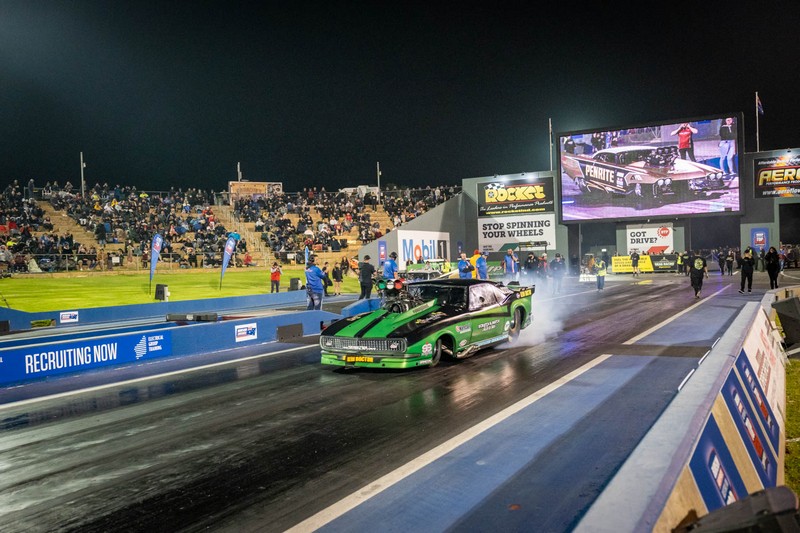 TOP DOORSLAMMER – Champion and Decoglaze Glass Splashbacks Top Qualifier: Daniel Gregorini. Championship runner-up: John Zappia. Event winner: Stuart Moresby. Event runner-up: Mark Chapman
Daniel Gregorini claimed his maiden Australian title over ten-time ANDRA champion John Zappia at the weekend, with Zappia forced to officially concede victory to Gregorini – who also claimed the Crow Cams Australia Top Qualifier Award presented by Decoglaze Glass Splashbacks – when he carried the wheels off the start and scraped the wall in his first-round match-up against eventual event winner Stuart Moresby, who defeated Mark Chapman in the final. Moresby also took a race win against Pino Priolo on his way to the final, while Chapman dispatched Marty Dack in round one before taking a victory of the new champion in the semi-final.
To find out what Gregorini had to say about his weekend, please click here.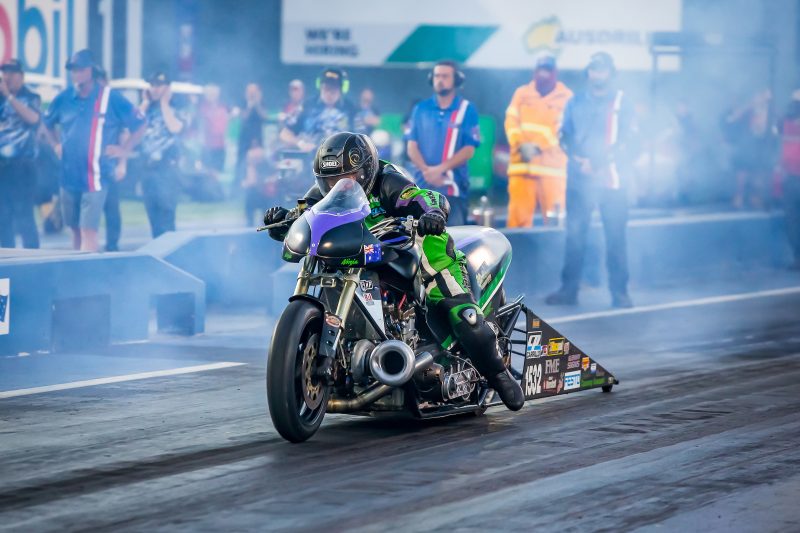 TOP FUEL MOTORCYCLE – Champion: Greg Durack. Championship runner-up, event runner-up and Decoglaze Glass Splashbacks Top Qualifier: Wayne McGuiness. Event winner: Chris Matheson.
Greg Durack was confirmed as the title winner when his title rival Ricky Wood was unfortunately unable to contest the first round with issues with his bike seeing it pushed away from the startline, leaving Wayne McGuinness – the winner of the Crow Cams Australia Top Qualifier Award presented by Decoglaze Glass Splashbacks – on a solo pass.
While taking out the title, Durack would miss out on the event win, being dispatched in the semi by a hard-charging Chris Matheson who came agonisingly close to the first five second pass at 6.009 seconds and went on to take the event victory with a solo pass when Wayne McGuiness was unable to front for the final. While he wasn't able to compete for the event win, McGuinness' runner-up position plus the all-important points he garnered for being the Top Qualified allowed him to leap-frog Wood for second place by just three points.
To find out what Durack had to say about his weekend, please click here.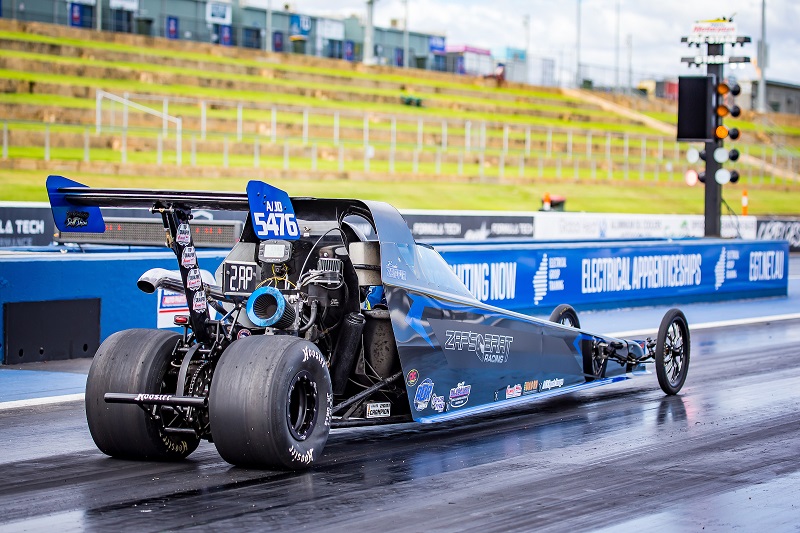 SUMMIT RACING EQUIPMENT JUNIOR DRAGSTER – Champion and Event Winner: Brodie Zappia. Championship runner-up: Cooper Plummer. Event runner-up: Tahlia Martin. Decoglaze Glass Splashbacks Top Qualifier Medallion recipient: Cooper Plummer
Brodie Zappia went all the way to the final, while runner-up and Decoglaze Glass Splashbacks Top Qualifier Cooper Plummer was forced to concede the victory when defeated in the second round by Jett Martin. Zappia faced off against Tahlia Martin in the final, ultimately taking out the event victory to ensure his hands were full at the presentations.
On his way to the final, Zappia took on Ross Lamattina, Angel Bakranich and Brock Moresby before enjoying a bye in the semis, while Tahlia Martin had defeated Isaac Adamos and Lucas Green ahead of a bye in round three and a victory of Zara Board in the semi.
"It was quite difficult in the early part of the season, especially being in WA with our strict rules of entering back into the state. We made the trek to Darwin and Alice Springs in July, just after the borders opened to come back, and it proved a good decision as we gained 190 points in the first two meetings," Zappia said.
"We had two Summit meetings back in WA, the Goldenstates and the Westernationals, and we didn't end up finishing too well in those. That meant we made the last-minute decision to go to Mildura, where I came away with the win. That put us in a good position on 300 points coming into the Grand Final. We did really well here and ended up taking out the event, the state championship and the national championship.
"I could step out of Junior Dragster racing now, but we are looking to go to Darwin or Alice Springs so I can continue, as I don't turn 17 until August. But I would have to start the series before my 17th birthday to be allowed to continue. I've still got quite a bit of room in the car, it's a big car with a 22-inch roll cage across the shoulders. If we go alright at those first events we might go for another national championship, else we will just focus on Perth.
"I've been focusing on getting the car to run the same times in different temperatures. We've always been able to guess whether the car will go faster or slower in hotter and colder weather, but now I play around with the car to instead make it run identical numbers no matter the temp. It seems to have paid off as the car ran within a few hundredths of a second all weekend."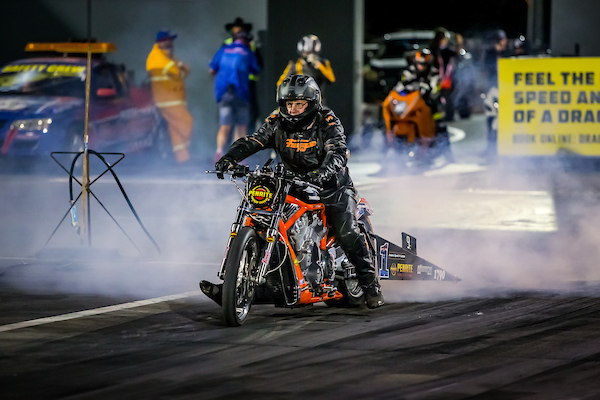 MODIFIED BIKE – Champion: Shane Walker. Championship runner-up: Garry Flatt. Event winner: Simon Garbutt. Event runner-up: David Waters. Decoglaze Glass Splashbacks Top Qualifier Medallion recipient: Paul Nieuwhof
Shane Walker travelled all the way from Victoria to ensure he could claim back-to-back Modified Bike titles, and while he wouldn't progress past the second round of racing, it was enough to claim the big trophy once again.
Simon Garbutt took the event victory over David Waters, with Garbutt earlier facing off against Brett Allen and Natasha Hayden in the opening two rounds ahead of a third-round bye, before he dispatched Decoglaze Glass Splashbacks Top Qualifier Paul Nieuwhof in the semis. Waters meanwhile had taken on Brian Hotker, Owen Rose and Wayne Gummow – who defeated Walker in round two – before a bye in the semi-final.
"My first championship was a dream come true last season, but for this one I was under a lot more pressure. To do it back-to-back is amazing. I am a little bit lost for words, which is not something that happens often for me," Walker said.
"I struggled early in the season as I missed out on Alice Springs due to border closures, then they cancelled Adelaide, Mildura and Gladstone, all of which we were locked and loaded for. We ended up getting a few points in Portland before Christmas. Then we went to Mildura and got some points and made a decision to come here as I was only 15 points out of the lead.
"Qualifying was what I expected, I've put on a few pounds, so the bike is running a bit slower. I woke up crook as a dog Saturday morning, and I was pretty unsure about the first round, but we got through and that was all I had to do.
"We may play closer to home next year. I would like to race the Westernationals next season. I said to my wife Mon I should just play at home and retire at the end of the season, but she said she knew I wouldn't. I've got too much of a competitive streak."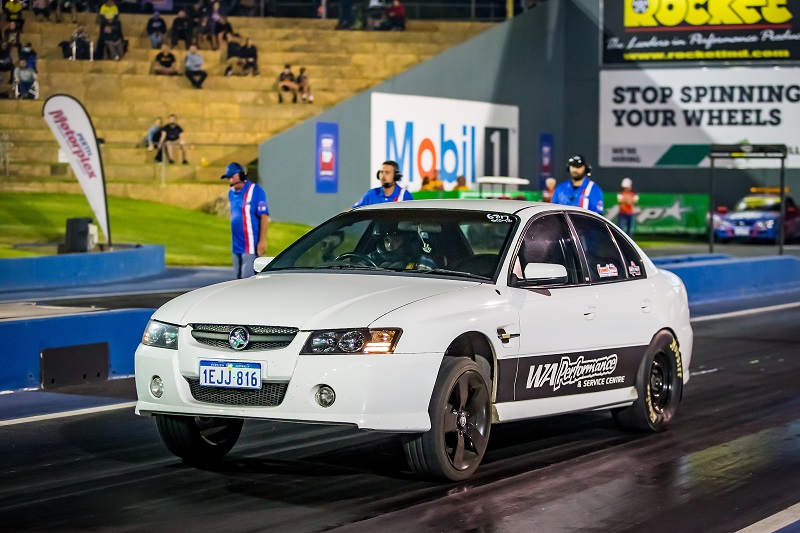 SUPER STREET – Champion: Lisa Garbellini. Championship runner-up: Paul Garbellini. Event winner and Decoglaze Glass Splashbacks Top Qualifier: Stephanie Gullotto. Event runner-up: Jeff Thurley.
Lisa Garbellini and her husband Paul Garbellini have a lot to celebrate this week, with Lisa taking out the championship honours in Super Street while Paul came home as the championship runner-up. Adding to Lisa's bragging rights at home also is the fact that Paul was the defending champion heading into the Grand Final.
Following a convincing performance across the season, Lisa Garbellini was able to clinch the title despite a third round lose at the weekend. Decoglaze Glass Splashbacks Top Qualifier Stephanie Gullotto went on to claim the event victory over runner-up Jeff Thurley. On their way to the final, Gullotto enjoyed a bye run in the first round ahead of victories against Andy Oorschot, Denise Downe and Paul Garbellini while Thurley had successfully taken on Graham Smith and Rod Zuidema before a round three bye and a win over Jacob Mills in the semis.
"It feels pretty good, I wasn't really supposed to beat him (Paul) at Darwin and Alice Springs, but it just happened that way. We were pretty lucky to do the one-two (in the championship) as we aren't going to travel next year, so this is just great," Lisa said.
"We have just been lucky that we travelled to events that weren't cancelled, while other states have been cancelled. Some of those racers haven't had much of a chance to catch up much, while other people even did catch COVID unfortunately. (The championship) was just meant to be, we'll take it while we can and celebrate.
"It's about a lot of practice on the light (Christmas tree) and we focus on being consistent with burnouts and engine temperature and stuff like that. We have good people surrounding us like Mitch and Deb at WA Performance. Paul is by my side teaching me and helping me with dial ins; I wouldn't be able to do it without him. I've only gotten this far because of him.
"We're both better and stronger as two of us. Usually, I am out first round, and he keeps going but this time we have both been going alright."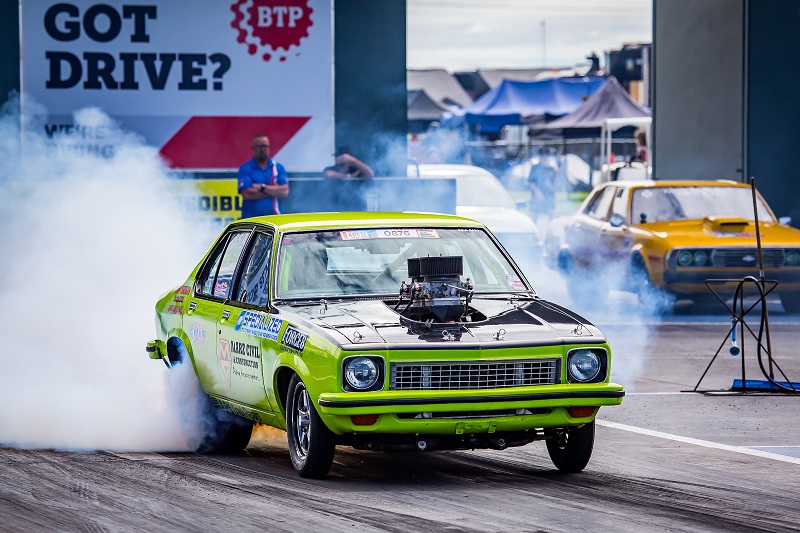 SUPER SEDAN – Champion and event winner: Peter Tzokas. Championship runner-up: Martin Mirco. Event runner-up: Steve Hunt. Decoglaze Glass Splashbacks Top Qualifier Medallion recipient: John Kouw.
Peter Tzokas robbed Martin Mirco of a title hat-trick, defeating him in the second round to claim his second national ANDRA title before also claiming the event win over Steve Hunt in the final.
On his way to the final, Tzokas did battle with Stuart Moorhouse, Mirco and Des Jeffree – who defeated Decoglaze Glass Splashbacks Top Qualifier John Kouw in the second round – while Hunt had taken on Matt Gullotto, Jodi Thorstensen and Luke Guppy.
"This is our second championship. I won my first, then Martin Mirco took the next two. I paid him back exactly how I told him I would, by coming to Perth, winning the event and winning the championship from him. In all seriousness, Martin is a really tough competitor and good to race against," Tzokas said.
"We travel a lot of kilometres to win these championships and a lot of people don't understand what they mean to us. We are Australian champions, no one can take that away from us.
"I missed an event in Portland earlier this season because I work in the mines, and they gave us strict instructions that if we went to Victoria we weren't coming back to work. Then the car broke down at the Westernationals and again at Mildura. I came back here for the Grand Final and to win two Christmas trees is a dream come true.
"We had electrical issues at the Westernationals, where the crank trigger pickup hit the crank trigger wheel and messed up everything. We went to Mildura and had the fuel pump regulator pumping too much fuel through. But this weekend we had personal bests on nearly every run. A big thank you to Gordon Mechanical for getting the car running like a dream.
"I will start off with Darwin and Alice Springs next season as that is like a family holiday for us. I am definitely coming back here again for the Westernationals. We will play it by ear as it gets expensive travelling, and we will do what we can."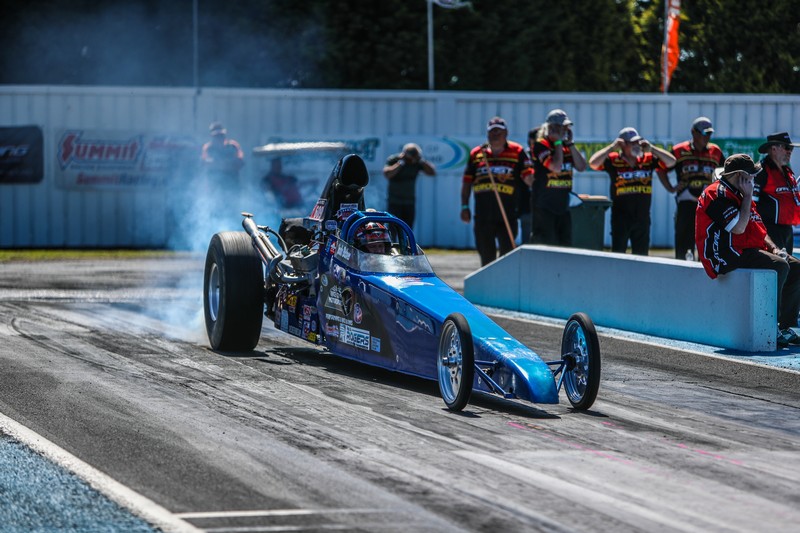 MODIFIED – Champion: Craig Baker. Championship runner-up: Kenny Stewart. Event winner: Darryl Treasure Event runner-up: Jeff Acton. Decoglaze Glass Splashbacks Top Qualifier Medallion recipient: John Kouw.
Craig Baker didn't even have to compete this weekend to take out his third Modified Australian Championship, claiming the win over last year's champion, Kenny Stewart.
Taking the event victory was Darryl Treasure, who won over Jeff Acton after taking earlier wins over Decoglaze Glass Splashbacks Top Qualifier Andrew Frost and Nick Gardiner, while Acton went to the final following victories from Kasey McClure and Rachel Gannaway.
"It has been a tough year, we started off with heading to Darwin and Alice Springs at the start of the season, and in Alice Springs we had some engine damage. We were lucky enough that we had one of my good friends, Shane Baxter, come along and help us out with getting the engine sorted and we were able to come back and complete the season – without his help we certainly would not be here, so that was a big thing for us," Baker said.
"At the penultimate round at the Twilight Nationals we had some transmission issues which put us out in the first round, but we knew at that point we should have enough points to secure the championship. We knew if we got the runs on the board early it would help us out for the rest of the season. I did try my best to get over to Perth for the final round, and my thanks goes to Ray Treasure and all the guys over in Perth who tried to get me a seat for the event, but it just wasn't meant to be.
"It really is magic to have the title. We started off the season knowing we wanted to give it our all, even though we knew it would be tough at times travelling around with the COVID restrictions and everything else.
"I want to send the biggest thanks of all to Shane Baxter at Lakeside Automotive, as without his help over the course of the season we wouldn't have been out there again after the problems in Alice Springs. Thank you also to my wife Audrey for her ongoing support, and also to Tim for coming out to pretty much all the events and making sure I had at least one crew member to help.
"I am pushing for my 20-year-old son Josh to get in the car next season at the moment as I would love to see him do it – the car is a winning combination, and I would love nothing more than for him to jump in and have the success that I have enjoyed. But if he isn't able to, I will be more than happy to do it all again as I have enjoyed every single moment of this season."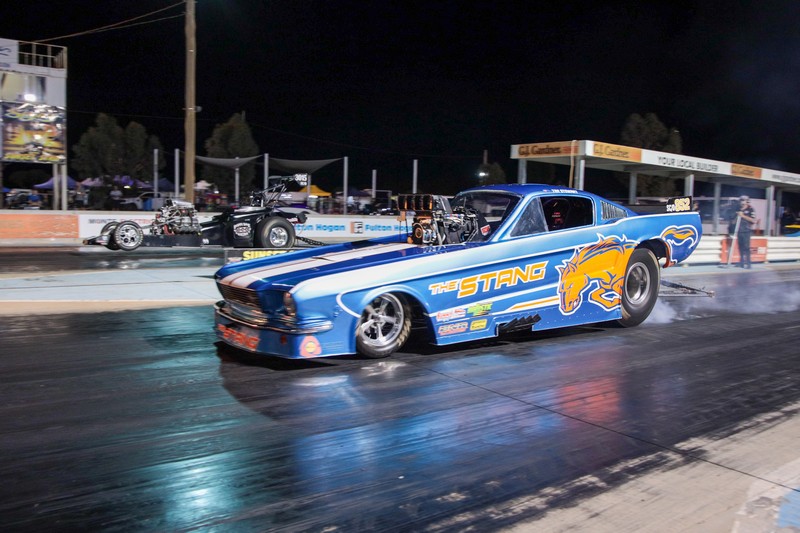 SUPERCHARGED OUTLAWS – Champion: Tim Stewart. Championship runner-up: Mark Hunt. Event winner: Peter Appleby. Event runner-up: Jon Ferguson. Decoglaze Glass Splashbacks Top Qualifier Medallion recipient: Vince Belladonna.
Tim Stewart took up a kind offer from a fellow competitor to ensure he was still in the running for the championship this weekend, and despite a first-round loss to eventual event winner, Peter Appleby, you couldn't wipe the smile off his face as it all paid off and he claimed his maiden Supercharged Outlaws title, while also running personal best times for the car he was racing across the weekend.
Appleby went on to race Allan Mahnkoph before taking on Jon Ferguson in the final, who had earlier emerged victorious from battles against Mark Hunt – ensuring him title runner-up status – and Decoglaze Glass Splashbacks Top Qualifier, Vince Belladonna.
"To get to this position to fight for a championship in the first place is fantastic. We have had a lot of help from a lot of friends and people around us. We had a problem with the car last meeting, and we got talked into still coming. Words can't describe how thankful we are to Dave Thornton for letting us bring his car over and put the pressure on to have a crack at it," Stewart said.
"At the last Summit round at Mildura, our Funny Car was going really good until unfortunately we broke a crank. We then couldn't source another crank or engine. It was almost at the stage where we had given up on it, but a few people said you can't give it away, you have to earn it."
"Dave kept saying, 'Take my car!' It wasn't until Friday last week that we took him up on the offer. We are from Melbourne; he is from Mildura. So, I took my truck to Mildura and loaded his car up, then drove to Perth myself as it was such a spur of the moment thing that my crew and my wife couldn't come with me. I got here on Tuesday and settled down, then the rest of the crew — Andrew, Dave and Sue — flew in on Thursday. One of our long-time crew members Patty couldn't make it, so was sat back in Melbourne watching it on TV. It has been a whirlwind actually."
"I have had to learn how to drive something different to the Mustang. We had to be here to be a chance."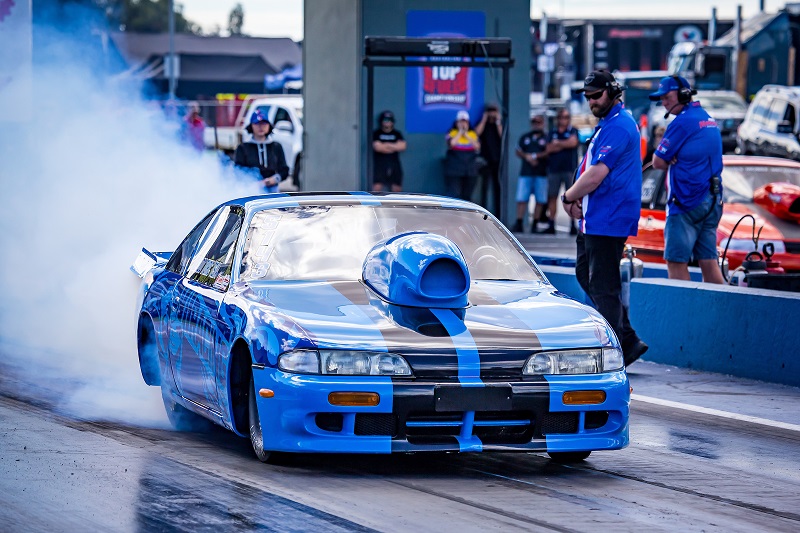 TOP SPORTSMAN – Champion and event runner-up: Vlado Turic. Championship runner-up: Alby Bakranich. Event winner and Decoglaze Glass Splashbacks Top Qualifier: Colin Davis.
Vlado Turic enjoyed a very successful weekend in Perth, claiming the John Storm Memorial Trophy, his maiden Top Sportsman title, and the event runner-up honours (on a break-out) to have his hands very full at the end of day presentations.
When Turic ran through the beams too fast in the final run of the night, he handed the victory to Decoglaze Glass Splashbacks Top Qualifier Colin Davis, but there is no doubting that Turic was a class act all weekend long.
On his way to the final, Vlado had earlier defeated Yvette Gregg and his title rival, Alby Bakranich, while Davis had taken on title contender Kevin McIvor in the first round before a bye in the semis.
To find out what Turic had to say about his weekend, please click here.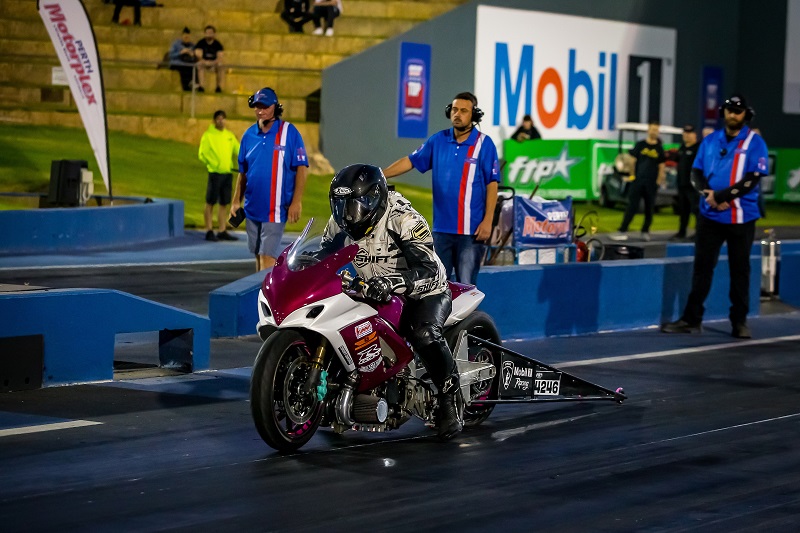 COMPETITION BIKE – Champion and event runner-up: Phill Paton. Championship runner-up: Gordon Crawford. Event winner and Decoglaze Glass Splashbacks Top Qualifier: Ross Smith.
Phill Paton held on to secure his first national championship victory at the weekend, claiming the title over Gordon Crawford after a big season. He also took his campaign all the way to the final, walking away with the event runner-up honours to event winner and Decoglaze Glass Splashbacks Top Qualifier, Ross Smith.
"I've won a few state championships, three I think, but this was the first time with a national one. It was really hard to travel this season and that hurt the fields in Competition Bike, and it was only since the borders opened up that we were able to go and travel and that made us eligible for the points. Luckily, I had some strong performances here in the local rounds of the Summit series, which helped me go over to Mildura and do really well over there," Paton said.
"The bike has been perfect. It doesn't give me any trouble at all, it does what it does. It is a really high-quality build; the gear is all good stuff. Brett Ghedina from Pace Motorsport has done all the work on the bike to get it all prepared, so it has really made it easy for me.
"The bike is a lot easier for me to ride now than it was when I crashed it into the wall a few seasons ago. Darrin McDonald made some chassis modifications and now it is a lot safer to ride. All I have to worry about now is getting a good light and pointing it in the right direction. When you start to squeeze more power out of these things, they can become temperamental, but this bike hits it every time. The only thing I am really careful about is making sure it is right up to temperature before I do anything. As long as I do that and keep an eye on the Hays clutch, the bike goes really good.
"I was looking at doing some car stuff (instead of Competition Bike) next season. I have a turbo Falcon Ute I am thinking about doing Street Machine Drag Challenge with, or even the odd Super Street meet."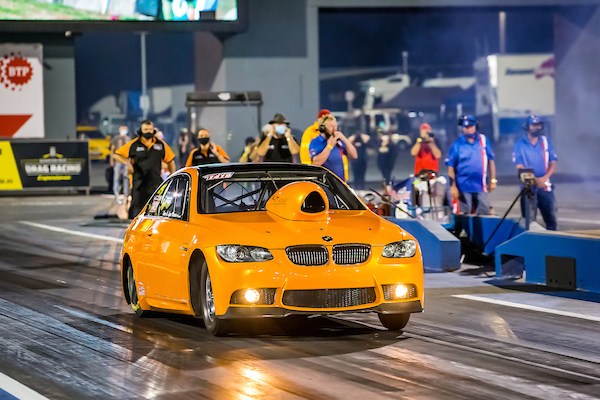 SUPER STOCK – Champion: Steve Norman. Championship runner-up: Adrian Vella. Event winner: Jamie Chaisty. Event runner-up: Todd Stacy. Decoglaze Glass Splashbacks Top Qualifier Medallion recipient: Errol Quartermaine.
Last year's championship runner-up Steve Norman raced through for his second Super Stock title at the weekend, claiming the victory of Adrian Vella despite a second round lose to event runner-up Todd Stacy. Stacy had earlier dispatched Robert Gaikhorst in round one, while event winner Jamie Chaisty booked his spot in the final after taking a win over Decoglaze Glass Splashbacks Top Qualifier Errol Quartermaine to earn a bye in his semi-final.
"We won a championship in 2015 with our Chevy Cobalt, this is our second Super Stock title. We have had pretty good success with the BMW and managed to snag a championship again. It has been super reliable, and it obviously makes good power for us. Reg and Ryan Lee look after the car for me and it has been really good," Norman said.
"We were really lucky with travel this season. We went to Portland when SA wasn't in lockdown, but you still needed permits. The last three meetings we have been able to run in WA. The car was ready to go at all times, so if the borders opened up, we could shoot across at a moment's notice. The Westernationals was last minute, it was like two days beforehand we knew we could go.
"We qualified pretty well at the Grand Final and then we went quicker still in eliminations, but it got a little ugly in the semi-final on a cold track and I had to get out of the throttle. We secured the championship before this meeting, but we were always going to attend the Grand Finals.
"Thanks to Simon from Race Fuels Australia for supplying ETS fuel for us, Peter Ridgeway for lots of advice, Ryan from RT Racecraft, Craig from RCE Performance Warehouse in Queensland, Sam from SA Race for our transmission, and my wife Lynn. My crew are Reg, Ryan, John, Mick, Hayley and Riley. Reg keeps saying we're getting too old for this sh*t, but we're not!"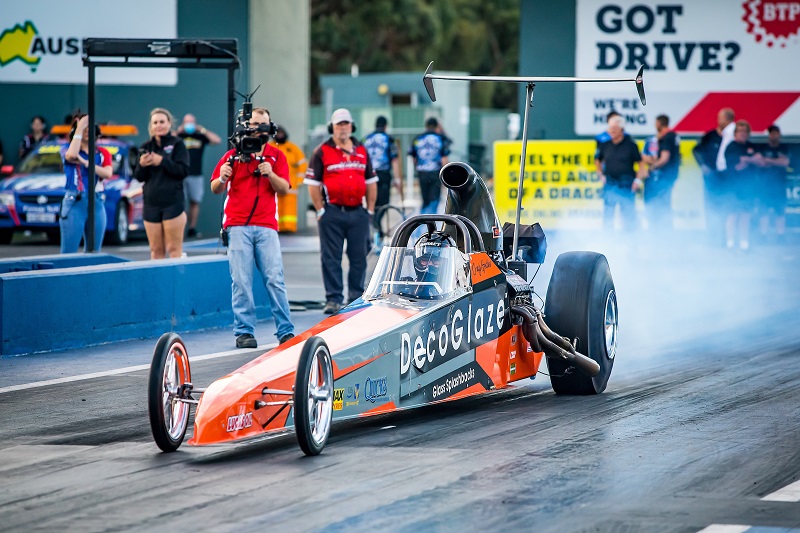 COMPETITION – Champion, event winner, Decoglaze Glass Splashbacks Top Qualifier: Craig Geddes. Championship runner-up: David Roberts.
Craig Geddes ensured he took out his eighth Summit Racing Equipment Sportsman Series Australian Championship, and his sixth in a row, in style at the weekend by not only claiming the title, but also the event win and the Decoglaze Glass Splashbacks Top Qualifying honours. With his title victory, Geddes is arguably the most successful ANDRA sportsman racer in history.
Geddes had a solo run in the finals, with no runner-up awarded as Ian Brown was unable to front for his semi-final solo pass, leaving Geddes without an opponent in the final. Geddes had earlier taken on Brett Glover in the first round ahead of a round two bye, and a win over Nigel Johnson in the semi-final.
"We just did what we could around Victoria and Mildura early in the season and as soon as the borders were open, we were straight into Western Australia. That is eight championships in total, including the last six in a row. From what we've been told by ANDRA we may be the most successful sportsman racers in the history of ANDRA Drag Racing. We have had a great run and we are so proud of our efforts."
"This is a dragster we have been running for a few years now. We haven't been on a quarter-mile track in a while so finishing the season at Perth Motorplex gave us the chance to see what it would do. We knew it would be quick going by the eighth-mile numbers, but we haven't had any opportunity to do a full quarter in some time. It's a 335ci Chevy and a Liberty five-speed transmission. The car is owned by Rob, my business partner. He couldn't come, or my other crew, as one of our guys had a COVID close contact. Ian, who's with me this weekend, put his hand up Sunday morning to drive the truck over or we were going to have to cancel even as late as last Sunday as we wouldn't have been able to get the car here."
"I love those gold ANDRA Christmas trees, and now with eight championships we'd like to have to have a crack at going for ten! We will keep running this car. We have also bought a damaged Pro Stock car to rebirth. We have an engine from Chris Soldatos, and we will go in to run Pro Stock two or three times a year. But we will still be concentrating on sportsman racing primarily."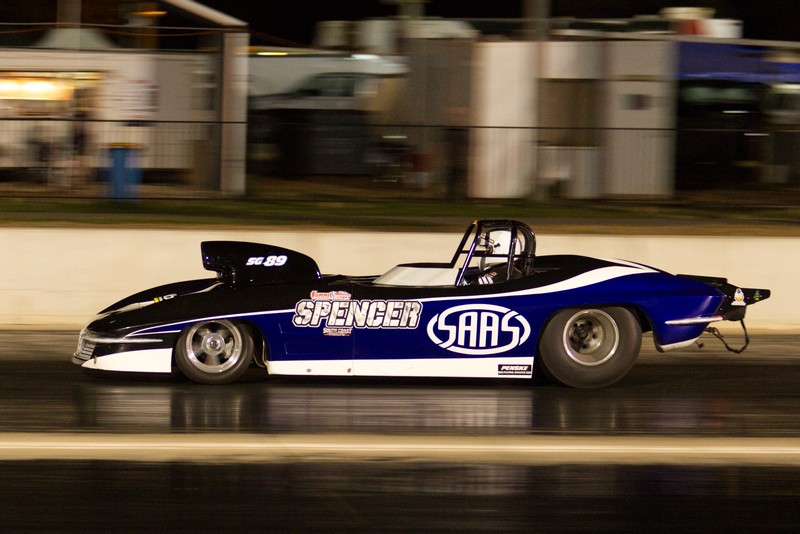 SUPER GAS – Champion: Graeme Spencer. Championship runner-up: Colin Griffin (Super Gas did not contest the EGT ANDRA Grand Finals event).
The Super Gas title was decided on a tie break following the penultimate round of the championship, with the bracket not contesting the April 8-9 event in Perth.
Graeme Spencer took out the victory over last year's champion, Colin Griffin. The victory sees him as the first four-time title winner in the Super Gas bracket.
"We were worried with how it was going to go but, in the end, it turned out really well and I am the first four-time Super Gas Australian Champion! I am quite happy with that I can tell you that! Hopefully no one will forget, I am going to be telling them all about it," he laughed.
"It has been a challenging season, we have been wanting to go and wanting to go and then COVID would get in the way, so that slowed us down a little bit, but all in all it came together. The last Super Gas event at Mildura's Sunset Strip was a real highlight, in the elimination rounds we ran three 6.30s in a row, with the finals round being a perfect 6.300. I was very happy with that. Everyone was being strategic, and I was too. For once, I worked out what they were up to! So, I planned ahead, and it paid off 100 percent, I wasn't backing off until they did!
"Thank you to my wife Karen, my crew Jordan and Kylie, my opponents Colin and Mr Wilson, and all the others that participated in Super Gas. Also thank you to ANDRA, Summit Racing Equipment Sportsman Series, Sunraysia Drag Racing Association Mildura, and also South Coast Raceway Portland for your ongoing support and SAAS Australia.
"We will be back for the next season; I will be going everywhere Super Gas does and giving it a go! Hell yeah (I will be going for five)! I am the first four-time Super Gas Australian champion and I want to be the first five-time champion too, so I will definitely be giving it a whirl!"
Further details regarding national record updates and final points standings will be released later this week. For more information, email media@andra.com.au
ANDRA thanks the Perth Motorplex and all of its volunteers and sponsors for an outstanding racetrack and a well-run event.
For full results from the ANDRA Grand Finals, please click here.