Tonight (Monday November 9, 2015) the 2015 ANDRA Championship Dinner will held at Atura Blacktown in NSW.
The gala event recognises the ANDRA Drag Racing Series and Summit Racing Equipment Sportsman Series Champions and Runners Up of the completed 2015 ANDRA Championship Season.
Gold and Silver Trees will be awarded to Damien Harris and Wayne Newby (Top Fuel), Gary Phillips and John Cannuli (Top Alcohol), John Zappia and Mauirce Fabietti (Top Doorslammer), Mark Drew and Chris Porter (Top Fuel Motorcycle), Lee Bektash and Nino Cavallo (Pro Stock), Maurcie Allen and Ryan Learmonth (Pro Stock Motorcycle), Alistair McClure and Craig Geddes (Competition), Steve Norman and Brett Glover (Super Stock), Ross Smith and Blair Pennington (Competition Bike), Dom Rigoli and Chris Tait (Super Compact), Donald Freind and Doina Day (Supercharged Outlaws), Steven Fowler and Stuart McBain (Top Sportsman), Michelle Osborn and Simon Barlow (Modified), John Kapiris and David Yanko (Super Sedan), Ian Read and Joe Khoury (Modified Bike), Enzo Clemente and Robert Winterburn (Super Street), Eden Ward and Toby Austin (Junior Dragster), Graeme Spencer and David Gauldie (Super Gas).
The John Storm Memorial Trophy ill also be awarded to Toby Austin for his 320 total points.
Congratulations to all for a great 2015 season!
2015 ANDRA Hall of Fame
Australian Drag Racing legends Joe 'Buzzard' Gatt and John Taverna were posthumously inducted into the ANDRA Hall of Fame at the 2015 ANDRA Championship Dinner on November 9.
Family members were on hand to collect the honour and give emotional speeches about their loved ones involvement in Drag Racing.
Joe 'Buzzard' Gatt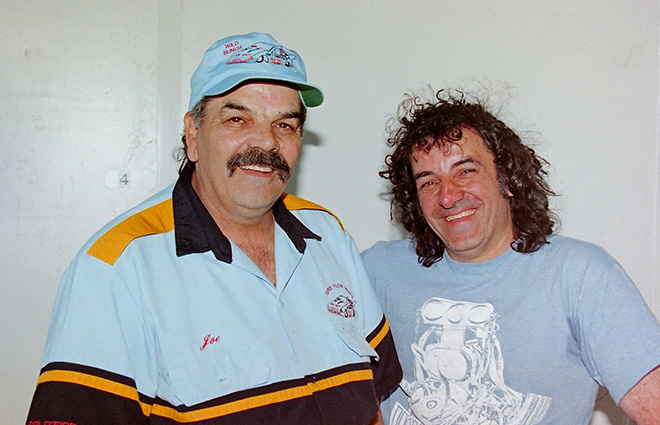 Joe's involvement in drag racing dates all the way back to the early 60s. It first started with the Gladiators Car Club before testing his '34 Coupe with brother Ben at Riverside in Melbourne, including the first ever Australian Nationals in 1965.
Later with help from good friend Gordon Davidson, Joe stepped up to a side-valve dragster called "Sundowner" but by 1970 he had stepped aside to Crew Chief for Ben in what would become a long line of iconic vehicles.
Joe crewed his brother to national records, a Super Stock Championship and a 1991 Nationals win. But among the many accolades it was the 6.67-second world record for a Ford powered vehicle set in 1994, achieved in Joe's favourite vehicle – the EA Falcon – that was one of his biggest career highlights.
His passion for cars and drag racing was immense, he touched many lives and he often remarked to loved ones how grateful he was to have experienced the life he lived both at and away from the race track.
John Taverna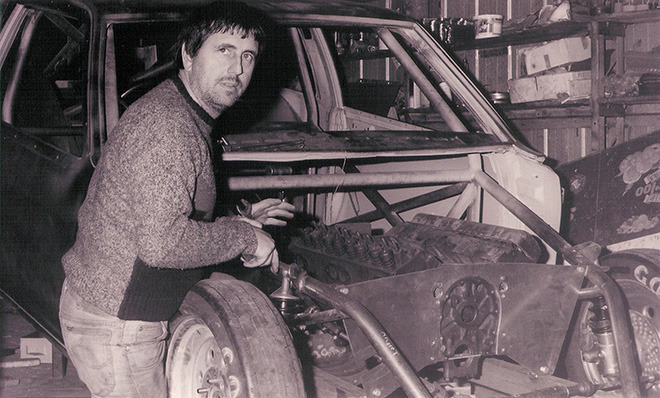 John got his start in drag racing in the early 70's with his black '57 Chev that was then followed by an FJ Holden originally called "Revolution" morphing into famous "The Grot" name that he became famous for.
Following the FJ, John ran a HK Monaro in C/Gas, then an LH Torana Hatchback also in the C/Gas class. A string of acclaimed vehicles followed with the VC Commodore, JB Camira and of course the Kermit Green JD Camira spednign time in Pro Stock and Gas classes.
John also became an active member of ANDRA where he served as a Technical Inspector, Division Director and member of the Competition Committee while continuing work in panel beating and spray painting along with establishing what would become the famed "John Taverna Chassis".
John's involvement with ANDRA continued as business boomed with JTC building some of the best race cars to grace Australian tracks including cars for Peter Kapiris, Hans Van Dyk, Sammut Bros, Russell Simpson, Hugo DiGianvincenzo, Ian McCurdy, Paul Rogers, Maurice Fabietti, Tony Harrington and many more.
He was a true innovator and his legacy lives on in both drag racing and the street machine world.
Arthur J. Gallagher Volunteer of the Year

South Queensland Chief Steward Wayne Downes will tonight receive his 2015 Arthur J. Gallagher Volunteer of the Year Award.
Wayne is passionate about drag racing and seemingly gives up every spare moment to serve the sport as an ANDRA Steward, Divisional Council member and National Classifier.
He first became an ANDRA Steward in 2001 and has since progressed to being a National Steward while also serving on the South Queensland Divisional Council and representing the DC as the National Rules Committee Representative.
As the National Classifier, Wayne also volunteers his time to sit on the Index Review Committee as a non-voting member providing valuable input on Group Two categories.
ANDRA wishes to extend our congratulations to Wayne on this prestigious award and we thank him for his tireless efforts serving the sport he loves not only in South Queensland but also around the country.
As the recipient of the 2015 Arthur J. Gallagher Volunteer of the Year Award, Wayne was invited to the 2015 East Coast Nationals at Sydney Dragway including a complimentary flight, accommodation and Championship Dinner Ticket.