Matt Forbes is a 47-year-old business owner who started competing in Super Street in 1993 and has won National events in Super Gas, Modified, Top Sportsman and Super Stock.
Along the way, he has claimed no less than four National Summit Racing Equipment Sportsman Series Championships, the John Storm Memorial Award, and 33 straight round victories in the 2013/2014 season.
Most recently, Forbes lifted the 2019/2020/2021 Summit Racing Equipment Sportsman Series Championship trophy for the Super Stock category after a title battle that came all the way down to the very last pass of the season which required record-breaking performances from both Forbes and event and championship runner-up, Steve Norman.
What was your favourite event of the 2019/2020/2021 season and why?
Our favourite event of the season has to be the Twilight Nationals / ANDRA Grand Finals. We always really enjoy racing at all of the tracks on the schedule as in doing so we are guests of the fantastic people that run these tracks and they all really put in a huge effort to make a great event – however the Grand Finals really did have an exciting vibe!
Now that some time has passed, has it sunk in that you are the National Champion? What does it mean to you to have achieved the title?
We are fortunate to be a four-time National Champions (Super Gas 2013, 2014, Modified 2015, Super Stock 2021) and to now have titles across three brackets.
National Championships are just so tough to secure. We have a really high level of racers with a huge commitment. Round wins are tough enough, let alone event wins, so to go on the be the top performer in your bracket is a real achievement.
Our Championships are all so special and so different, the first one just took away any doubts we may have had and was very emotional, the second was tougher as it felt like I had to prove the first one wasn't a fluke! We then tried a totally different style of racing in a dragster and had great success. These classes are tough, so you really have to be at your best every round all season long.
This latest title in Super Stock was also very emotional for us as I just love the sport so much and have followed the class since I was a young boy. I've dreamed of competing in Super Stock and watched what the pioneers have done. I have so much respect for the Super Stock and Competition Eliminator teams of all eras as they have shown so much ingenuity and the home-grown performances are world class!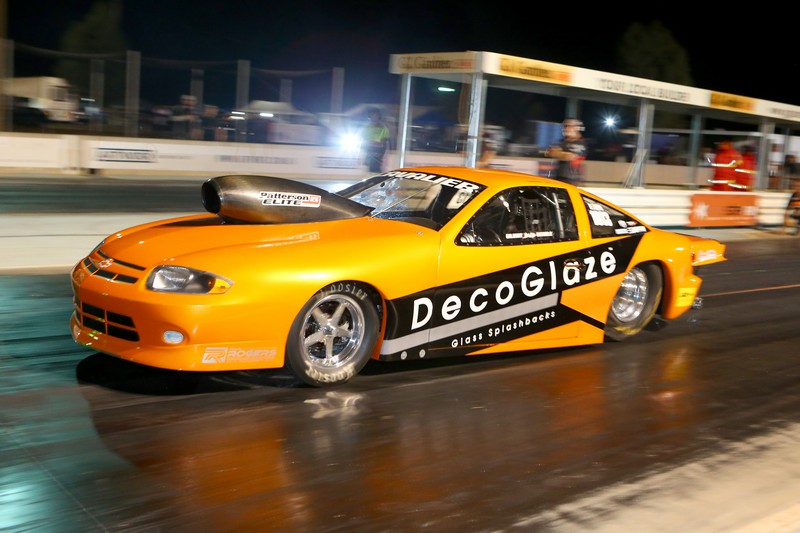 What was the highlight of your season aside from taking out the title?
The whole season was a highlight for us! We have been encouraged to join the Group Two ranks for quite a few years, always resisting as it just seemed so out of reach.
Once the decision was made, we started running a 280" Chevy in C/APA and had some success and that started our points chase. For the final events of the season, we changed the car over to the new E/APA class and resetting the class ET and MPH so early in the development of this combination was particularly satisfying.
To be in a position to run for the title against such a strong team was also fantastic and to be lucky enough to turn the win light on against Steve Norman was just a massive highlight. Steve and his team are very knowledgeable, they are super nice people, and they are a really strong unit with excellent equipment. They have been supportive of us, and we really appreciate that.
You don't often get 'the W' against teams like Steve's and that's something I won't forget in a hurry. The final round of the final event of the season is what it all came down to and when it gets to that situation you don't want to look across and see an orange BMW in the other lane let me tell you! We were locked together all the way down the track and I just got lucky, it was my turn.
What are your plans for the upcoming season?
For the new season we will support as many rounds as possible, and we plan to continue developing the E combination. We are only just at the start and these things take time to refine. We hope to be in contention late in the season as that adds so much excitement, but that's a long way off. Let's get to round one first!
What do you think about the Super Stock class and what are your future racing plans?
We don't plan on slowing down our racing program in any hurry and are always looking to the future.
For the foreseeable future we will remain in Group Two. We may change cars/class at some point but we're really happy with where we are right now. It's a different challenge to what I have been used to, but hugely satisfying.
The current car is a Jerry Haas-built Cavalier. It is a spec body car which was originally built for Kurt Johnson in NHRA Pro Stock and campaigned under the AC Delco colours. It is a terrific car, and we are really pleased with how it responds to changes and how it goes down the track.
I would like to encourage Group Three and Group Four racers that are looking for a different challenge to look at Group Two. It's really exciting racing, the racers are very welcoming and there are classes where you can be very competitive without spending astronomical figures which has always been the reputation of Group Two (having said that, you can spend but the new handicap system will sort the really fast guys quickly).
You don't need to be out there going and breaking records at every event to be competitive. We didn't have the power to be under the record at any time throughout the year until the Finals. If you are around the handicap and drive well, you can certainly go rounds. It's just a different game of chess and one that I think a lot of sportsman racers would enjoy if they came across.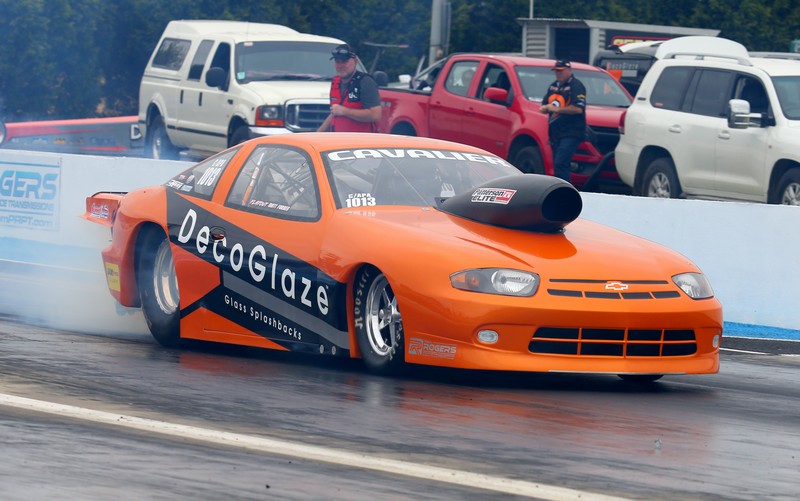 Who would you like to thank for the roles they have played in your title season?
These championships are far from an individual award as there are so many people involved behind the scenes. They are such a team effort. I am super fortunate to have the support of some of the best people you could ever wish for.
I would like to thank my wife Paula and three daughters who encourage my participation as they know how passionate I am about racing; and my business partner and long-time crew chief Les Waight, as without his support and knowledge we wouldn't be out there, all of our titles are very much a team effort.
I would also like to thank, in no particular order, Gilbert and Jill who are close friends who own the car we race and are very passionate about our racing program, Gilbert (with the bright shirts) is always very much "hands on" on race day; Rob Martin and Craig Geddes from Decoglaze Glass Splashbacks (our major sponsor) who have been incredibly generous in their support, knowledge and friendship; Paul Roger Sr from Paul Rogers Performance Transmissions, who not only builds and services our trans but also crews and does between round engine maintenance and is a real passionate group two supporter; and our crew of Damien Forbes and Max Fiumara who continue to support the program and are fantastic to have around!
We also feel that we really owe ANDRA and Summit Racing Equipment a whole lot, with the current situation in Australian Drag Racing along with COVID-19 it's been super hard, and some very tough decisions had to be made. I respect and admire the staff of ANDRA who made these decisions and their commitment to finishing the season. I would also like to express my extreme gratitude to Jim and the team at Summit Racing Equipment for their continued support of the ANDRA Summit Racing Equipment Sportsman Series. Summit Racing are a class act, and we are proud to return their support.
I also need to thank for their support, Jason from Dominator Converters, Andy from Lucas Oil and Geoff Chaisty for his encouragement and advice.
Finally, our business – Rock Works – is growing very quickly and that takes a huge amount of time and commitment. Our staff do a great job and support us to compete at the level we do, so I am very proud of the work they do.
For a full list of ANDRA Champions, please click here.
For the final points tally for the 2019/2020/2021 Summit Racing Equipment Sportsman Series, please click here.