By simply qualifying for the event, Craig Geddes secured the Competition championship over runner-up Terry Waterman at the recent ANDRA Grand Finals.
When 51-year-old Craig Geddes claimed the 2019/2020/2021 Summit Racing Equipment Sportsman Series Competition Championship recently, it was his seventh national title in total, his sixth in the Competition Eliminator bracket, and his fifth in the row.
The passionate supporter of ANDRA Drag Racing through his business, DecoGlaze Glass Splashbacks Central Victoria, has been racing since the early 90s – starting out in 13 second 'street' cars before the racing bug bit hard and he began chasing the ANDRA championship series all around the country from 1994.
What was your favourite event of the 2019/2020/2021 season and why?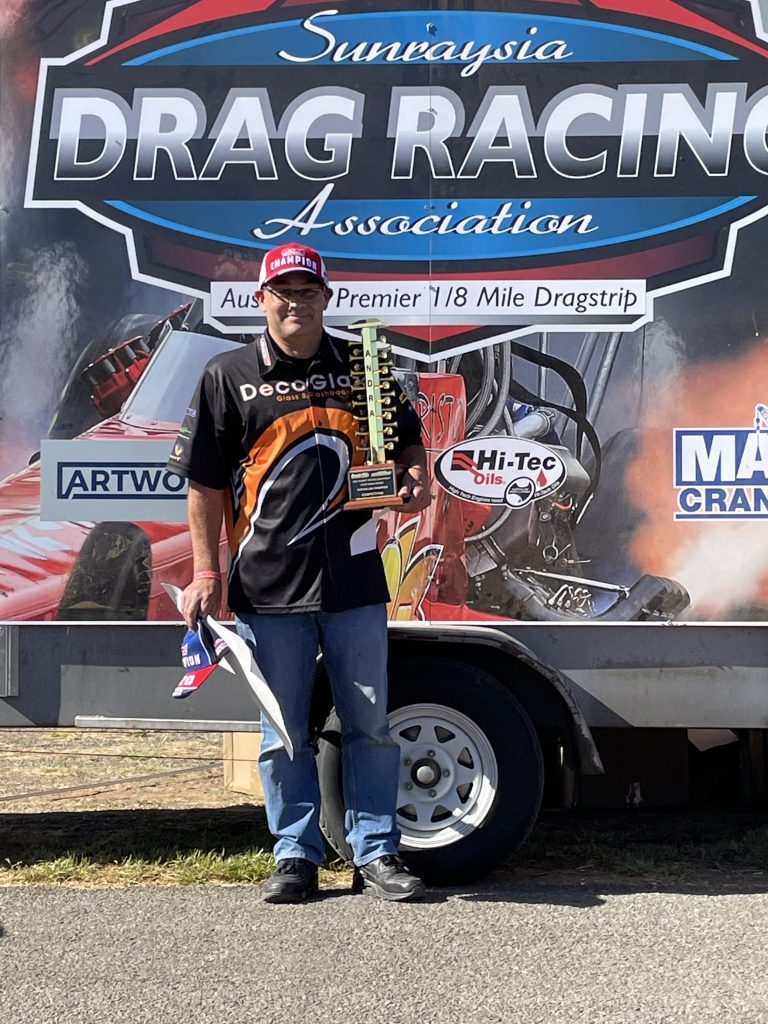 During the 19/20/21 season we had a mix of results, some top qualifiers, a win, a runner-up and some early round defeats. Coming into the last round at Mildura we were sitting in second place behind Wayne Keys from WA who was having an amazing run over there, but he did not enter for the last round which allowed us to take the Championship just by qualifying for the finals event – we did actually speak beforehand, and I encouraged him to come over so we could slug it out, but he had other commitments and could not come over unfortunately.
My favourite event of the season was the Finals as we qualified to win the Championship and also witnessed team mate Matt Forbes win his first Group 2 Championship in Super Stock. The other thing that really stood out was the effort by the Track guys to dig deep after we were rained out on race day then to come back the next day and complete the entire event, that was truly inspiring.
Now that some time has passed, has it sunk in that you are the National Champion? What does it mean to you to have achieved the title?
It has certainly sunk in that we have won the Championship and it is something we are very proud of after all the effort it takes from all of our team. We are still as excited to compete in the ANDRA Summit Racing Equipment Sportsman Series today as we were 25 years ago, and we are very motivated to keep striving for success into the future. All of our titles are equally special but this one was certainly different with the big gap in the middle due to Coronavirus and the need for ANDRA to be very fluid on the fly, but everyone did a great job.
What was the highlight of your season aside from taking out the title?
Apart from taking out the season another major highlight was going to the USA in late 2019 to crew for David Rampy at the World Finals and getting runner-up at his retirement event. We then came home and put the wheels in motion to purchase back our Bantam Altered rolling chassis from Shaun White in SA to basically build a clone of David's car, with the first upgrade made so far being the addition of front suspension and there is a rear wing still to come.
What are your plans for the upcoming season?
Both the dragster and the Altered now look amazing with DecoGlaze Glass Splashback wraps applied with special thanks to Matt Czerny from Vinyl Wraps and Graphics. Both cars are turnkey and ready to go once the new season is announced which we are looking forward to. We are especially looking forward to getting back out to Calder Park with all the upgrades done.
Our passion and desire to win more Championships and support the ANDRA Summit Racing Equipment Sportsman Series is still burning very strong and we will continue to give it all we can moving forward. I have also really enjoyed helping Matt Forbes transition into Group 2 and seeing him crowned as Super Stock Champion, showing the class is not out of reach for others tempted to give it a shot.
Why do you choose to compete in Competition Eliminator?
We choose to run in Group 2 as it's a very rewarding class. The classes we choose are cost effective and we love the challenge of experimenting with the car setups to try and move forward all the time. The competitors are a great bunch of guys and always happy to help when required. We don't have plans to change classes, we will continue to run the Altered and Dragster in Competition well into the future. Having said that, my favourite class is still Pro Stock and there is certainly a little spark there to drive one of these cars one day, but until there is a true single Championship Series in this country, I can't see us making any major changes.
Who would you like to thank for the roles they have played in your title season?
Of course, this is a team effort and so we must thank all of those involved. I would like to recognise my wife Amanda and also the kids who are now old enough to get involved and help out at home and the track; my business and racing partner, Rob Martin; and the always hard-working crew of Heppy, Ethan and Michelle. We would also like to thank our sponsors: my business, DecoGlaze Glass Splashbacks; Quicks Freight Express; Jax Tyres Ballarat; The Cleaners Room; CHS Broadbent Grain; Lucas Oil; Custom Engines; Patterson Elite USA; APD/Crane Cams; and Bullet Race Engineering. Last but not least, we would like to thank ANDRA for continuing to build our series and look out for us; Summit Racing Equipment in the USA for supporting the series with the amazing prizemoney payouts; the track staff; and the Series' associate sponsors.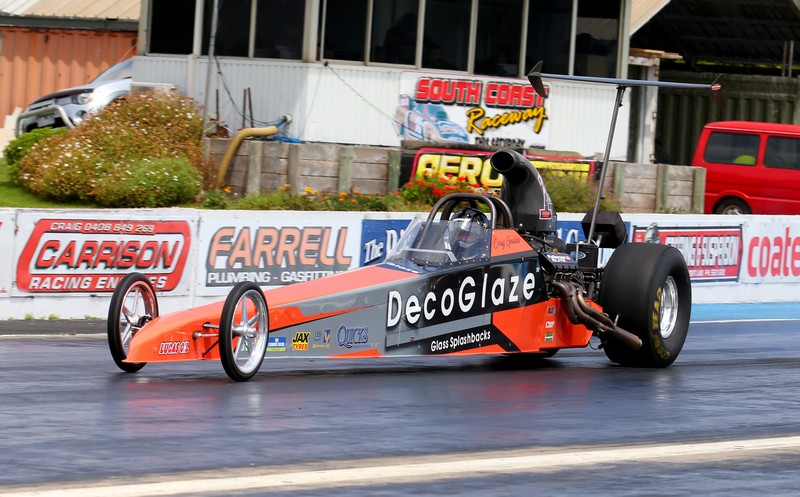 For a full list of ANDRA Champions, please click here.
For the final points tally for the 2019/2020/2021 Summit Racing Equipment Sportsman Series, please click here.