Paul Cannuli, winner in Top Doorslammer at Hidden Valley Drag Strip three weeks ago, says without the locals supporting his team, they would not have even made it to race day.
The Jan-Cen Duster sustained damage to the front end in qualifying torching cylinder heads in Q2 before the front bodywork ripped off as he approached the finish line in Q3. That meant Cannuli and his team faced a desperate race against time to be ready for eliminations.
"We really enjoyed running at Hidden Valley, great track, great facility and great people," said Cannuli.
"When we had problems with the front end to repair, we had locals coming out of the woodwork to offer assistance in any way possible, and their time, to help get this car repaired and back on the track.
"For that we cant thank them enough as if it was not for the help of some of the locals we would not have made it out for race day."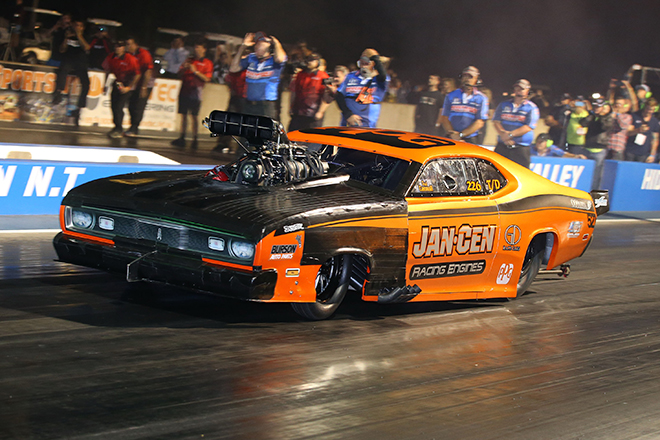 In true underdog fashion, Cannuli would overcome those hurdles to lift the Silver Christmas Tree trophy by the end of the weekend in just his second ANDRA Drag Racing Series event behind the wheel of the Duster.
"To be really honest I'm still pumped and in shock at the same time," he explains. "I was given the opportunity to drive Sean Mifsud's Duster two weeks prior to the Winternationals with a plan that we do some testing and gain some much needed data in a car with a new combination that has only done a handful of passes.
"Our first outing was the Winter's Warm Up and on our very first shake down pass we came up with a 5.91 at 245 mph then backed that up with a 5.86 at 246 mph.
"Now after just racing two meetings in the car with the first meeting at the Winternationals producing a semi final finish, and then the second in Darwin to come home with a win was just far and beyond our expectations.
"Darwin wasn't an easy weekend for the crew after working effortlessly all night and just to make it through round one made it all worth it to everyone involved."
With the team producing the numbers to compete and a maiden win in the bank, Cannuli is confident but refuses to get ahead of himself given Top Doorslammer can be wild and unpredictable.
"It's an achievement in itself just to qualify in an eight car field against another 13 or 14 cars that are all capable of running sub 6-second passes. Things going our way and being privileged enough to qualify; we will take each round as it comes against some of Australia's best drag racers.
"We are quite confident that with more seat time and testing that the Jan-Cen Duster will have a package good enough to run up there with the best of them.
"At the moment we will just take each race meeting one at a time as our plan is to try and secure some corporate sponsorship and run all events this year should we be privileged enough to do so."
The brute force of Top Doorslammer returns to Hidden Valley Drag Strip for Round 2 of the ANDRA Drag Racing Series as part of the NT Titles this weekend August 14-15.
Qualifying will begin at 6pm on Friday and will continue for local Sportsman brackets 4:00pm Saturday afternoon. Feature racing begins at 6:00pm.
For more information please visit www.hiddenvalleydrags.com