photo by Dave Reid
---
Jason Arbery finished last season on a high winning Top Sportsman at the Summit Racing Grand Finals in Adelaide. So with the 2017/18 season launching back-to-back Summit Racing Championship rounds in Darwin and Alice Springs, Arbery and his mates' made plans and hit the long road up North in search of more trophies and the bonus points on offer.
It was Arbery's first trip to the top end of Australia, so he was pretty much as green as they come with no data or experience.
"The trip to Darwin was awesome from start to end. The road trip, the people and scenery were incredible," said Arbery. Having never been to Hidden Valley before, we were impressed the minute we rolled in the gates. It was simply first class.
"However the air was pretty must opposite to what we were used to down south. Qualifying was good with three runs almost identical and I backed it up with some tidy lights. We were looking forward to eliminations."
"My first round match-up was going to be up against Perth's Amanda Martin. This was a repeat of the Summit Racing Grand Final last season. She is a tough competitor and I knew I needed to be on my A-game.
Both racers had travelled a long way to get here – but one would be on the trailer after the first round!
On the green, Arbery was away first with a .032 reaction and followed by a quicker .021 from Martin. At the stripe, the win light flashed in favour of the South Australian.
"I was fortunate enough to get to the finish line first by just .0018. Taking the win was huge for me, but I could also feel the disappointment for Amanda. It's a tough gig sometimes.
Arbery continued into the semi finals with a match-up against top qualifier Todd Knight. The local racer was in a league of his own as far as performance was concerned with mid-six second passes.
The Ford Capri was out first with a .023 light to a .073 from the nitrous Pontiac, and again consistency was in Arbery's favour, taking the win by .0064 of a second.
In the final Arbery faced fellow South Australian Vlado Turic, who was making his debut in the Top Sportsman category. Another consistent reaction gave the Capri an advantage and at the end of the quarter-mile, the win went to Arbery by .0149 of a second!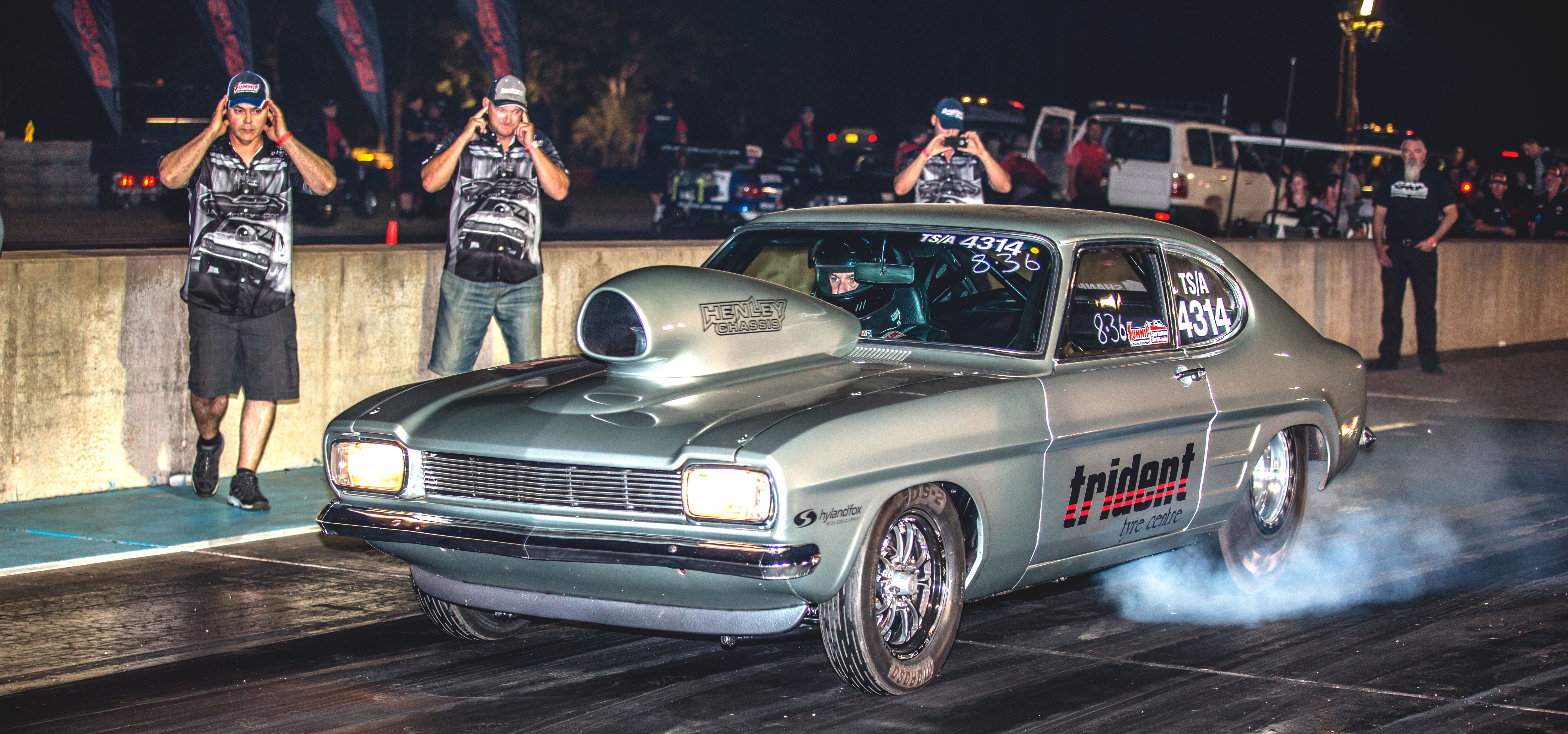 Photo by Michelle Porobic
---
In looking back Arbery said," The car was perfect each round on Saturday and going on to be the eventual winner almost seemed surreal. We were happy just being there to race, but to take the win was literally the icing on the cake.
Next stop was Alice Springs Inland Dragway.
"This was a tough weekend for us," said Arbery. The conditions were different again and we struggled with altitude over 4000ft".
"The car went high 8.40s to low 8.50s in qualifying so in an effort to not give too much away, my reaction times had to be sharp.
"The first round was a re-run from the week before with Vlado. On the green, I pushed the tree too hard and was unlucky with a .002 red light. Just shows how easy things can go turn against you in this sport," said Arbery.
"Alice was a great place to race and the locals made us feel welcome. It was nice and compact in the pits, which just made the whole weekend easy to get around and to socialize at the end of the day. I've already told the team we will be back.
Arbery finished by saying, "Huge thanks to my wife and family, my friends and crew who made the trip possible, and my sponsors who helped us get there – Trident Tyre Centre, Henley Chassis, Hyland Fox Signs, Shannons Insurance and Racekrome Ceramic Coating.
Arbery is now preparing to contest Rd 3 of the Summit Racing Sportsman Series at the Sunset Nationals in Mildura, Victoria on September 2. Vlado Turic currently leads the Top Sportsman championship by 10 points over Arbery.
Entries are still open until September 9th. Note No Late Entries Taken.
For more info go to www.sunsetstrip.org.au
Sunraysia Drag Racing Association Facebook Page

For current points standings CLICK HERE
www.andra.com.au
END