Nitro Funny Car and new Top Fuel driver Anthony Begley is revving up for Australia's most loved charity motoring event and some outlandish celebrations taking place in August this year, celebrating 30 years since the Variety Bash began on the dusty roads from Bourke to Burketown, instigated by adventurer, famed philanthropist and Bash visionary Dick Smith.
With six State and Territory Bashes hitting the roads consecutively across the country, Anthony will join the WA contingent for the Variety Trans Australia Bash (17 to 30 August) as he takes the WA route to eventually unite with five other colourful convoys for the major Bash celebrations in Sydney on Sunday 17th August, culminating in a spectacular grand parade of more than 700 outrageously themed vintage, antique and classic vehicles across Sydney Harbour Bridge. In the vehicles will be 2,000 colourful characters who will collectively drive more than 20,000 kms for Variety – the Children's Charity and congregate at a special event at Moore Park attended by Dick Smith.
An obsessive car enthusiast and experienced drag racer for 20 years, Anthony Begley will swap his need for speed to help Aussie kids in need as the "Bash Boss" when the WA Variety Bash takes to the roads to see parts of Australia for a rollicking adventure.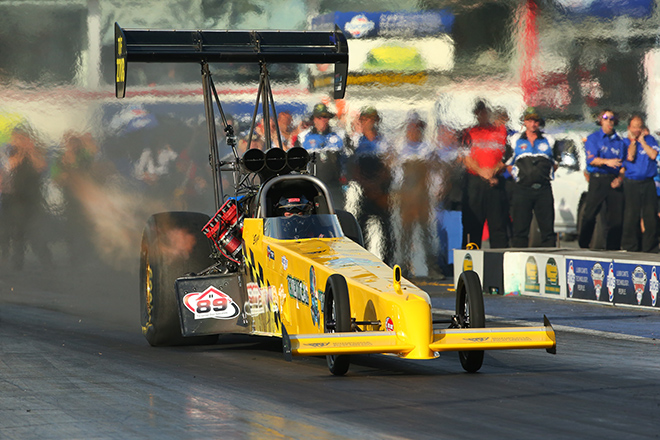 Having competed in Top Alcohol, Top Doorslammer, Nitro Funny Car, Aeroflow Outlaw Nitro Funny Car and just recently finishing as runner up behind the wheel of a Top Fuel dragster at the Fuchs Winternatinals on debut, Anthony is as passionate about vehicles as he is about supporting kids who are disadvantaged.
The 42 year old drag racer and Variety WA Board Member is planning to take his wife, Jane along for his 17th Bash this year which will also be his fourth year as the "Bash Boss" driving an Official Vehicle.
Previously as a Bash entrant, Anthony entered the famed motoring event up until 2009 in his 1963 Chev Bel-Air, dressing up in various outrageous outfits including Dukes of Hazzard get-up. "I originally got into the Bash with a good mate of mine who also loves cars. I have an 18 year old daughter and 13 year old son who are both very healthy, the Bash is my way of giving back to the community and helping out kids who are less fortunate."
Anthony thoroughly enjoys visiting missions and remote areas in the Australian outback. He says, "The Bash is really something! You get to see rural parts of Australia you'd never normally get to see, and seeing the faces of the kids as we roll into town with gifts is just remarkable.
"Years ago, I knew of a family whose lovely grandmother was helping her young daughter to raise two young granddaughters whose muscles were wasting away. Variety organised to provide pillows and specialty bedding for the two little girls to ensure a better night's rest. They were so grateful as the family couldn't otherwise afford the support they needed. Seeing first-hand on the Bash what Variety does, is truly heart warming."
The Variety Bash is the charity's most successful fundraiser and has raised more than $200 million over the past 30 years enabling them to assist 100,000 kids each year. With $8.5 million net fundraised for Variety – the Children's Charity in 2013, the Bash has set a fundraising target to exceed $8.5 million in 2014 to provide equipment and fulfill grants for kids and schools. Collectively, this year's Bash will inject $3 million into around 100 rural communities that the six routes visit across the 10 day event as well as additional spending on their return home.
For more information please click here.
Top image supplied. Side image courtesy: Dragphotos.com.au