The fight for the 18/19 Summit Racing Equipment Sportsman Series Competition Title is set to be an interesting one, with the points leader absent and plenty of strong local competitors in the mix.
Craig Geddes currently leads the points standings for the bracket on 220 points, ahead of David Roberts (170), Sam Treasure (130), Trent Morrison (110) and Kyle Putland (100).
While Roberts is in the box seat with Geddes not taking part this weekend due to business commitments, the Newcastle racer is far from expecting it to be a walk in the park.
"We are only 70 points behind when you take into account the bonus points, but the racers in WA are no joke and it will be tough! It would be a fairytale ending to the season though if we were to come out on top," Roberts said.
"It is hard to explain what it would mean to us to win it – we came so close in Junior Dragster many years ago and that felt very emotional but this time will be very different I think, following all of the team's hard work over the past four years of the dragster's development. It would mean everything to our team to be named as the Competition Eliminator Champions.
"We have had our ups and downs this season with a lot of learning curves with the way the car has been reacting, but overall it has been a great experience to be up at the pointy end of the field. The Competition bracket is always intense and Craig Geddes has been a tough competitor all season as always.
"I am always confident with most things, but this weekend it will be hard to achieve our goal against the local racers, but we are certainly going to throw everything at it – we have nothing to lose and a lot to gain from this weekend, so you can expect major improvements from the Brett Roberts Racing Newcastle team!"
The team's work for the ANDRA Grand Final is already underway, with David's father Brett flying over to Perth early to begin rebuilding the gearbox after it was hurt during the first round of racing at the Westernationals and David set to join him tonight in time to complete some testing ahead of the event.
"I would really like to thank my dad more than anyone – without his wallet and his determination we wouldn't be in this situation. He has taught me so much over the years and I can't thank him enough for what he has allowed me to achieve," David said.
"I would also like to thank our sponsors Hi-Tec Oils, Burson Auto Parts, Ronnie at Coating King and Rosco at Graham's Express Transport.
"I must also mention my dad's mate Steve (otherwise known as Coxy) for lending us funds to make the Perth trip possible; Chris Berias and his family; Rob Derkert and his family; and Al McClure and his family for offering us a place to fix the race car and a place to stay – without them we would be rebuilding the gearbox outside the gates of the Motorplex!" he laughed.
"Finally I would also like to thank ANDRA and all of the ANDRA Championship Tracks and sponsors for making another successful season of Summit Racing Equipment Sportsman Series racing possible."
While Geddes won't be on-track this weekend, he will certainly be paying close attention to the racing as it unfolds.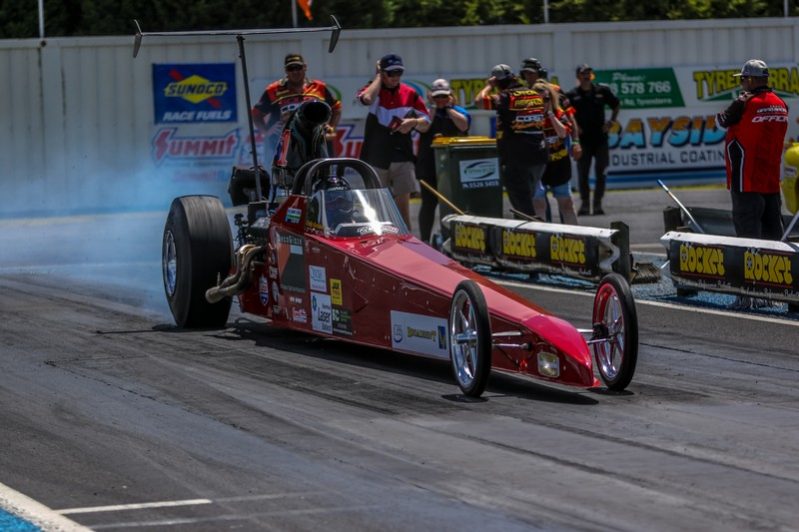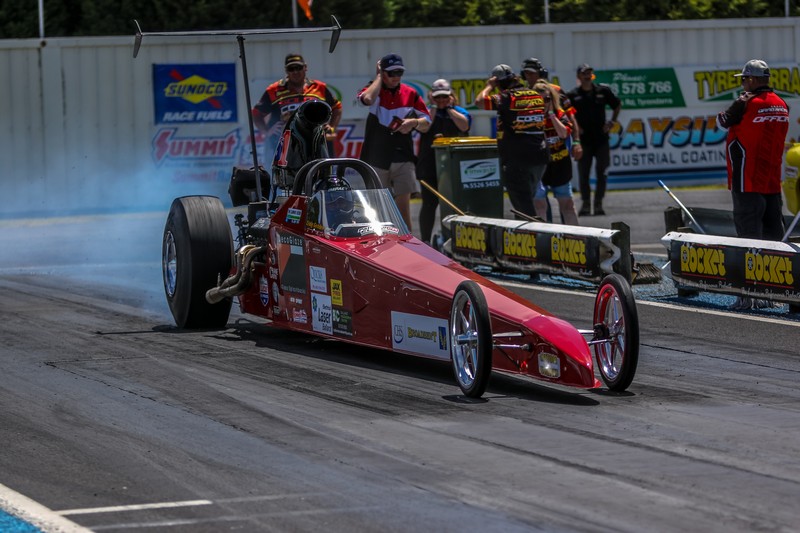 "After taking out our third championship last year we decided to not do too much racing this year and instead concentrate on the business and just go to our local events, even so we have ended up going pretty well in the championship!" Geddes explained.
"We will be on tenterhooks waiting to see how the event plays out this weekend – we would still love to get the number one based on our performances at the previous events of course, but we also send all of our best wishes to Brett and David.
"Hopefully we can still come out with the number one, it would be nice to get it four year in a row!" concluded Geddes, while thanking sponsors DecoGlaze Glass Splashbacks, Quicks Freight Express, JAX Tyres Ballarat, The Cleaners Room, Lucas Oils, Ballarat Roadworthy Centre, Laser Electrics Ballarat, CHS Broadbent Grain, Crane Cams, Bullet race Engineering, Custom Engines, Patterson Elite Racing USA, Protrans, Peter Ridgeway, Michael Marriot and Jamie Tanksley in the USA for their assistance this season as well as his family (Amanda, Laura, Jesse, Charlie and Alexandra) and crew (Rob Martin, Michelle, Heppy, Ethan and Ross) for their support.
The ANDRA Grand Final will host the final battle for the 18/19 Summit Racing Equipment Sportsman Series at the Perth Motorplex across April 6 and 7. For more information, visit www.andra.com.au or www.motorplex.com.au/andra-sportsman-grand-finals/