Supercharged Outlaw winner - Randall Mohr
---
Well, it may have started out with chilly temperatures on the morning of the event, but the racers added plenty of heat to Round 2 of the Summit Racing Queensland Championship.
The crew from Central Queensland Drag Racing Association (CQDRA) put in a huge effort and were rewarded with happy racers and an event that was pronounced a success.
A good roll up of 88 competitors took part in the racing at the Benaraby Raceway facility, with a vocal crowd enjoying the display of high horsepower vehicles and bikes.
While all the competitors enjoyed a friendly relaxed atmosphere in the pits, it was tense on the race track. Several of the finals participants had to be decided via a countback, sometimes with little more than hundredths of a second being the difference.
The Chicago Shootout format is perfect for events such as the Summit Racing Queensland Championship. The fans get to see all the competitors during three rounds of eliminations before the finals showdown.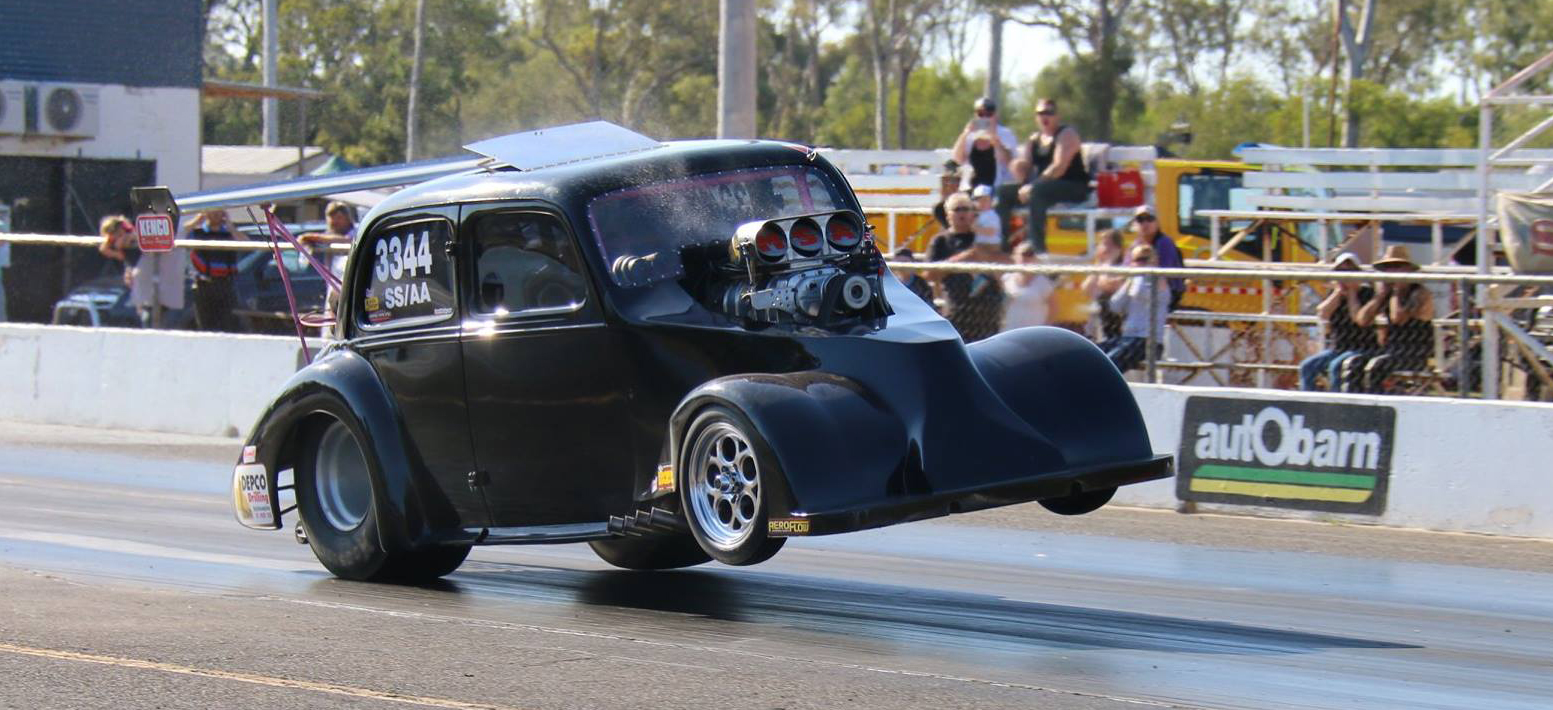 The spectacular Supercharged Outlaws are a crowd favourite no matter where they appear. The black Vauxhall of Raymond Voois (Pictured above) certainly had the attention of the fans with some wild antics.
If the car wasn't trying to knock over start line officials during a burnout, it was carrying on like a brat during qualifying. Unfortunately, Voois was not able to return for eliminations after coming down hard from a wheelie.
Speaking of spectacular, Mark Eves was back, and hopeful that car owner Phil Wheatly had tamed his Corvette after his wild spin at Palmyra. His first run resulted in a 5.09 ET over the eighth. His second run was the quickest of the session with a 4.671 at 164 mph. For Q3 Eves improved again with a 4.592 at 166.67 mph.
However when it was time for the finals it was the World's Fastest FJ Holden of Randall Mohr who found himself the winner, defeating Anthony Spataro who broke out a bunch with a 5.08 ET on his 5.42 dial-in. Mohr taking the trophy and points with a 4.87 ET on his 4.83 dial-in.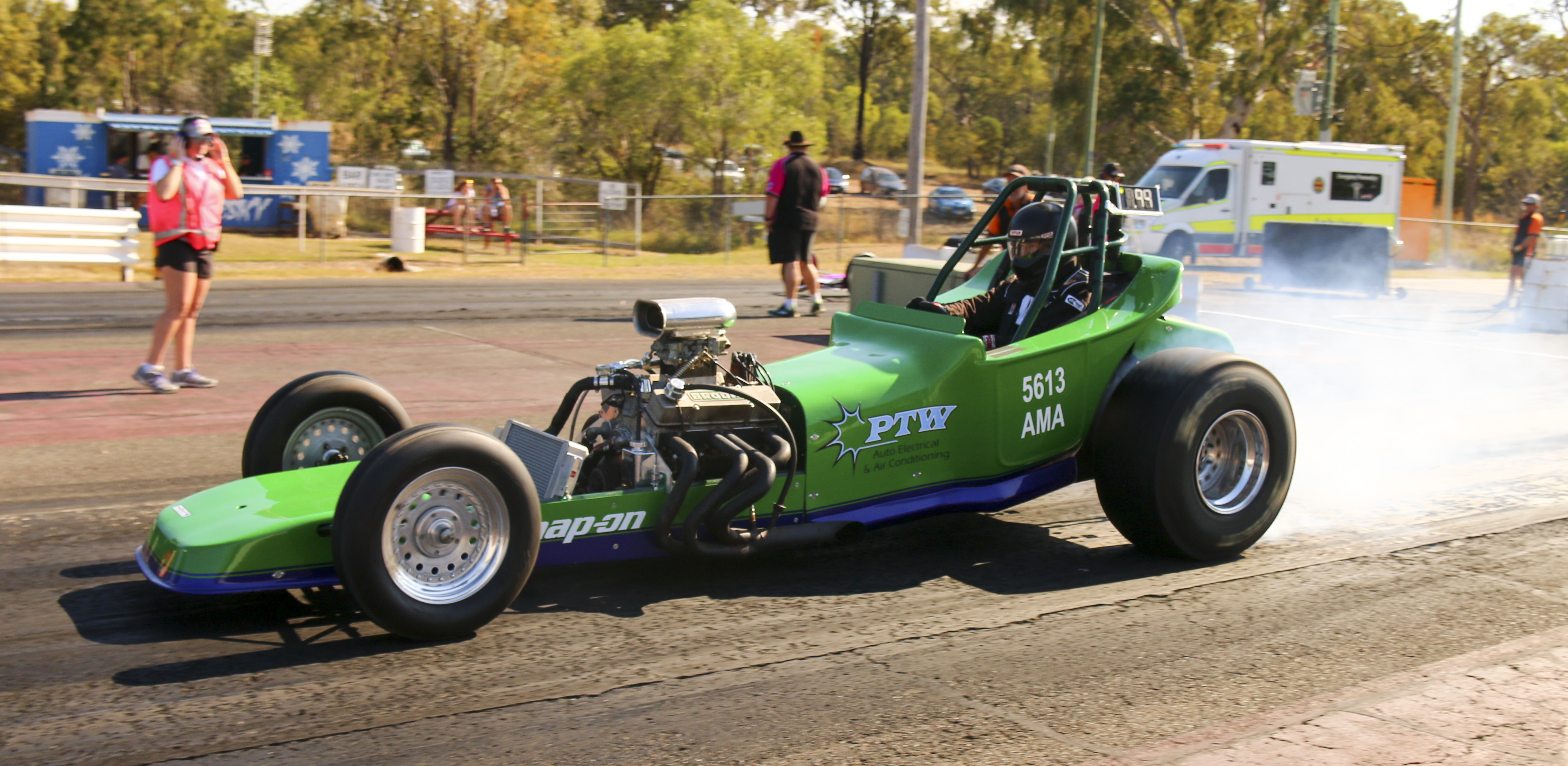 The Hogan's Heavy Haulage Modified Eliminator started out with seven entries, however, that dropped to five when Ken Smith and Savos Pandelakis retired! Katie Cunningham picked up the top qualifier points.
For the all Altered final, Roma racer Paul Winkle (pictured) took the win with a 0.086 reaction on the tree and a 5.77 ET on his 5.73 D-I, while Geoff Everett from Palmyra was runner-up with a 0.178 reacted 5.06 ET on a 5.00 D-I.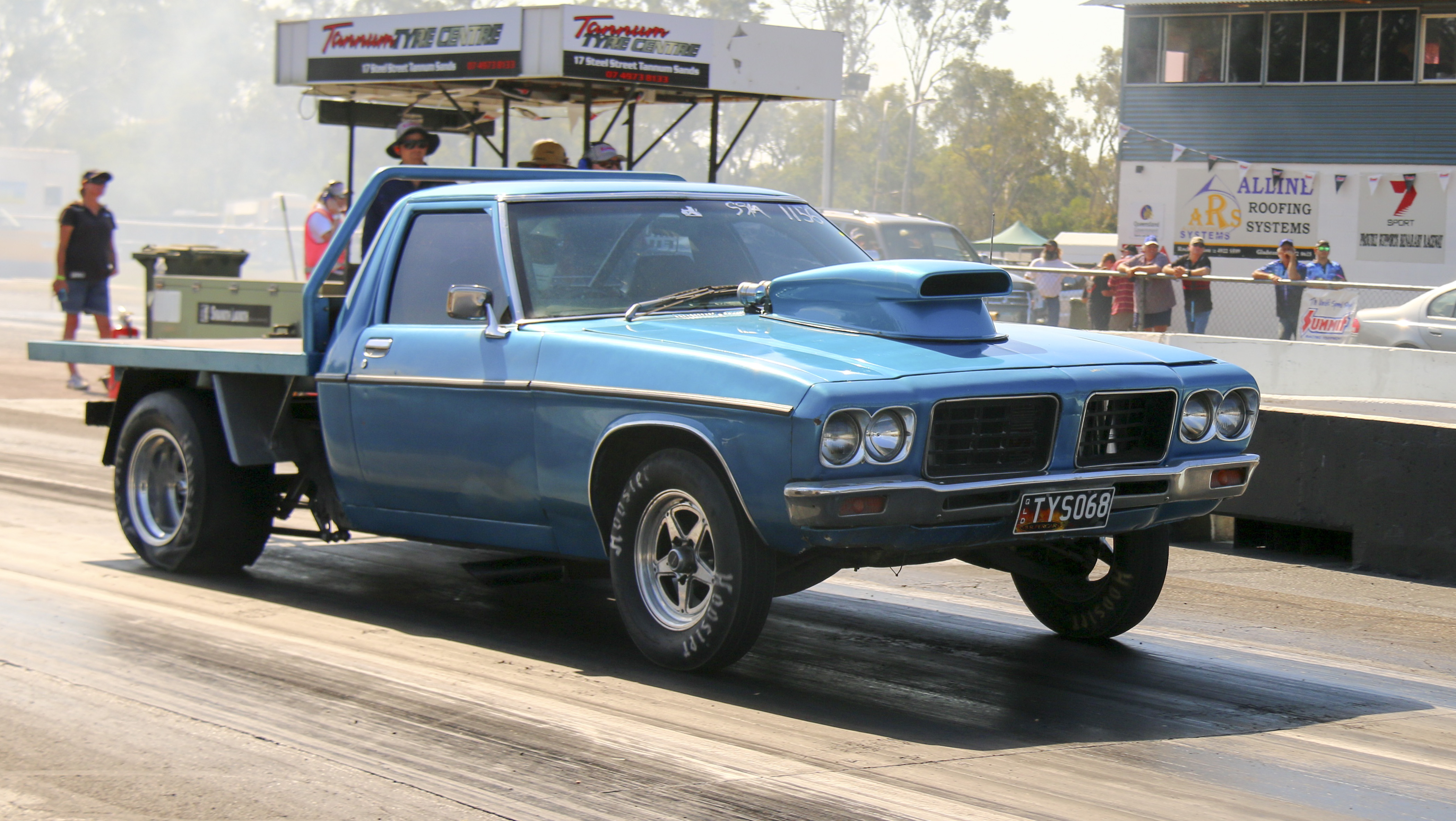 Super Sedan had 15 entries with Gavin List as top qualifier. After 3 rounds of eliminations, the final came down to Zack Grimshaw and Richard Tyson.
Unfortunately for Grimshaw his small block TG Holden Gemini was not staged straight. After cutting a 0.020 reaction, Grimshaw had a pedal and then had to back off after the Gemini was moving around, slowing to a 6.73 on a 5.90 dial-in. In the other lane, Tyson (pictured) and his Holden One-Tonner took the win light with a 0.229 reacted 6.49 ET on a 6.47 dial-in.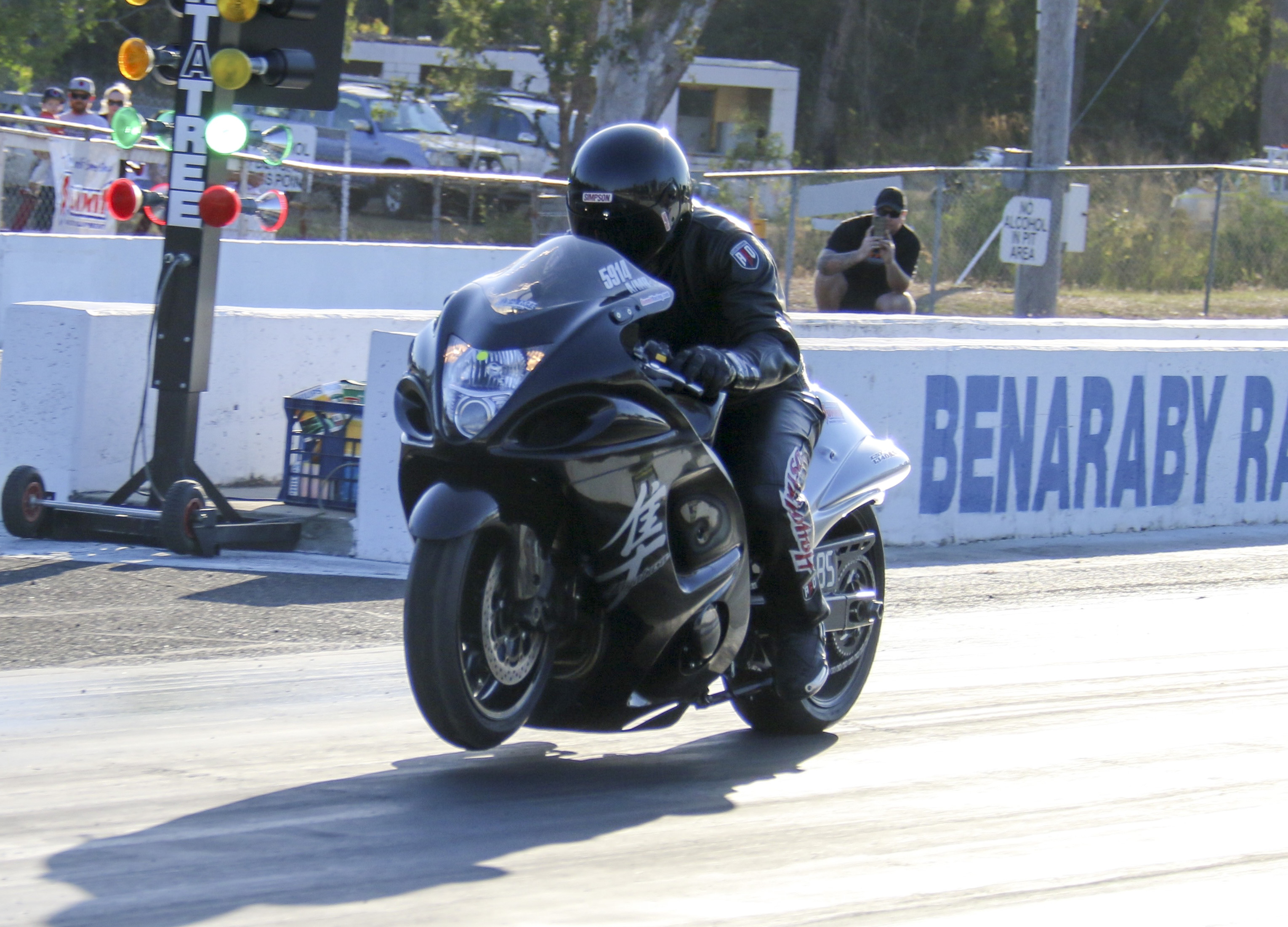 Modified Bike had a big field of 18 riders, with nine coming down from Palmyra! The all Suzuki final was between Ross Bryant and Nathan Neilson. Bryant was a busy boy as he was also competing in Super Gas.
Both riders cut good reactions, but at the finish line, it was Neilson (pictured) taking the win with a 0.089 reaction and a 0.141 over 5.96. Bryant picked up runner-up points after cutting a 0.025 light and a 0.268 over 6.458 ET.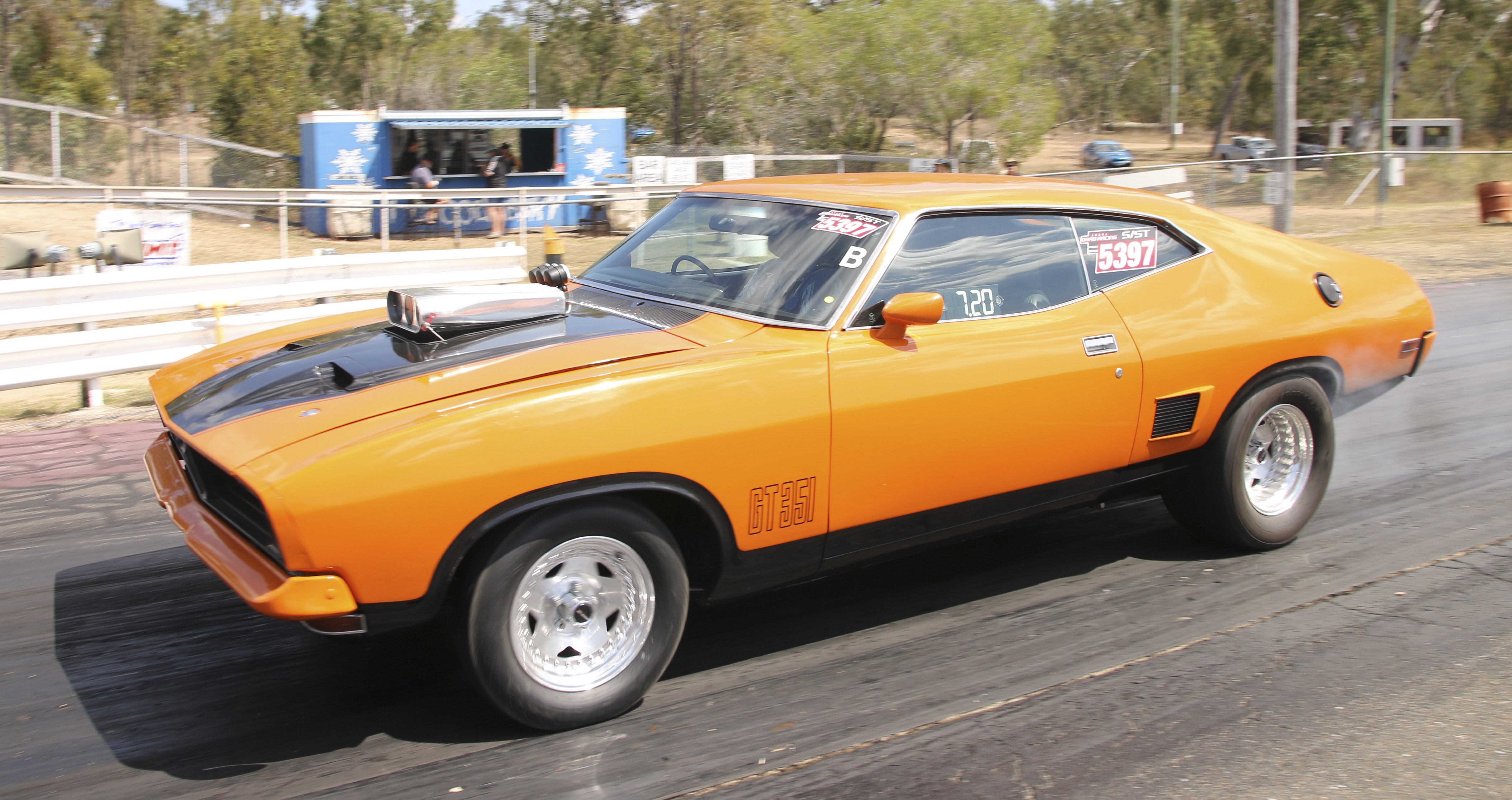 Super Street had a healthy list of 18 entries including Round 1 winner Brett Keirnan.
For the final, local racer Brett Kelly (pictured), who was making his first appearance in the Summit Racing Queensland Championship, dialled in with a 7.11 while top qualifier Craig McVie was happy with a 7 flat.
Kelly was out the gate first nailing a 0.071 reaction to a 0.185 from McVie. At the stripe, Kelly took the win in a double-breakout race with a 7.109 to a 6.974 from McVie. Unfortunately for McVie his run and points were stripped due to disqualification.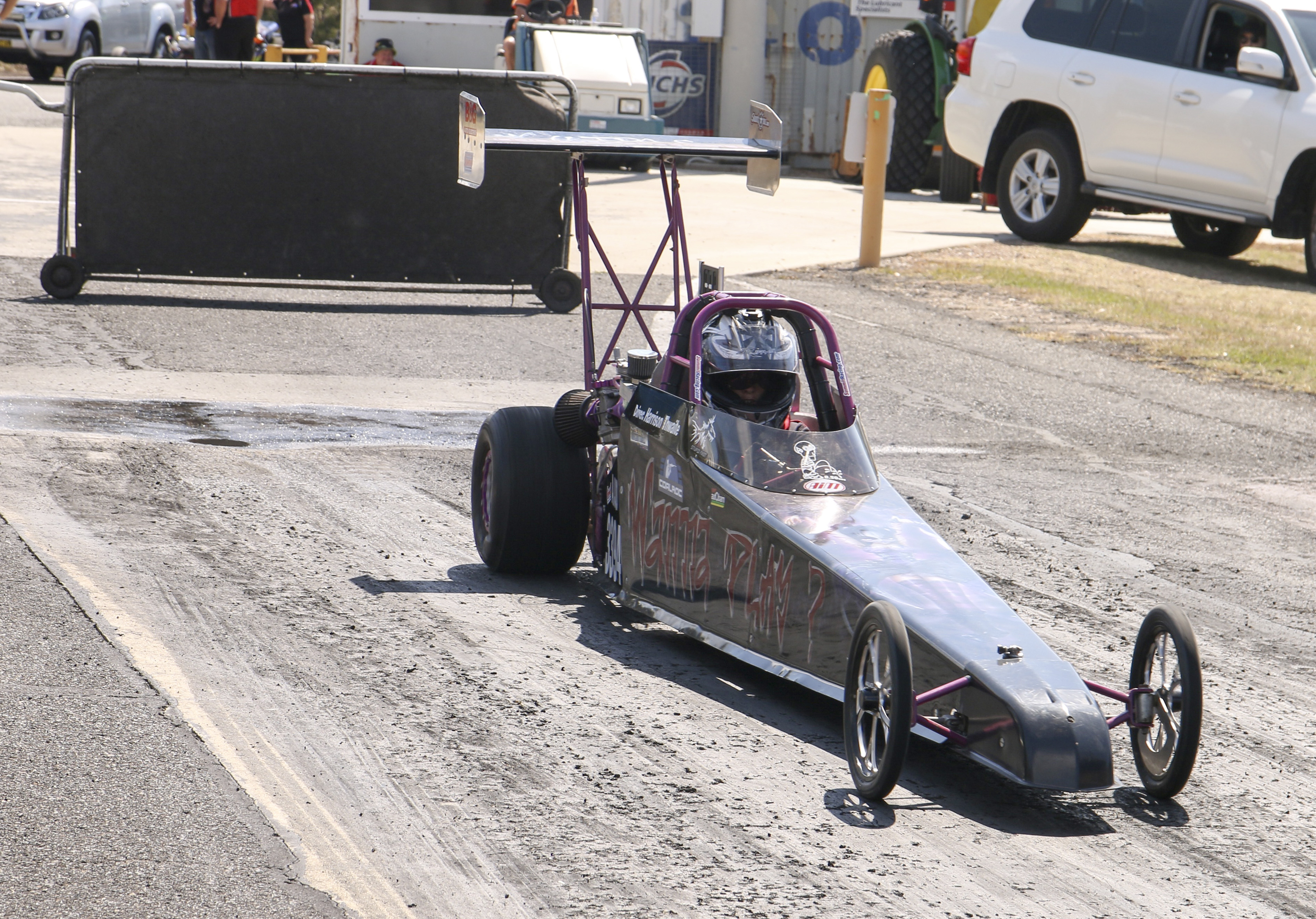 In the Coalroc Junior Dragster field, Andrew Tinney was top qualifier. After eliminations, Harry Thwaite (pictured) was on fire with three wins. Joining him in the final was Jake Rickards who took his place following a countback with three other drivers.
On the green, Thwaite had a near 4-second wait! Rickards left first with a 0.271 light while Thwaite grabbed the advantage with a 0.016 light. That was enough to take the win with a 0.023 over 8.243 to a 0.030 over 12.23 from Rickards.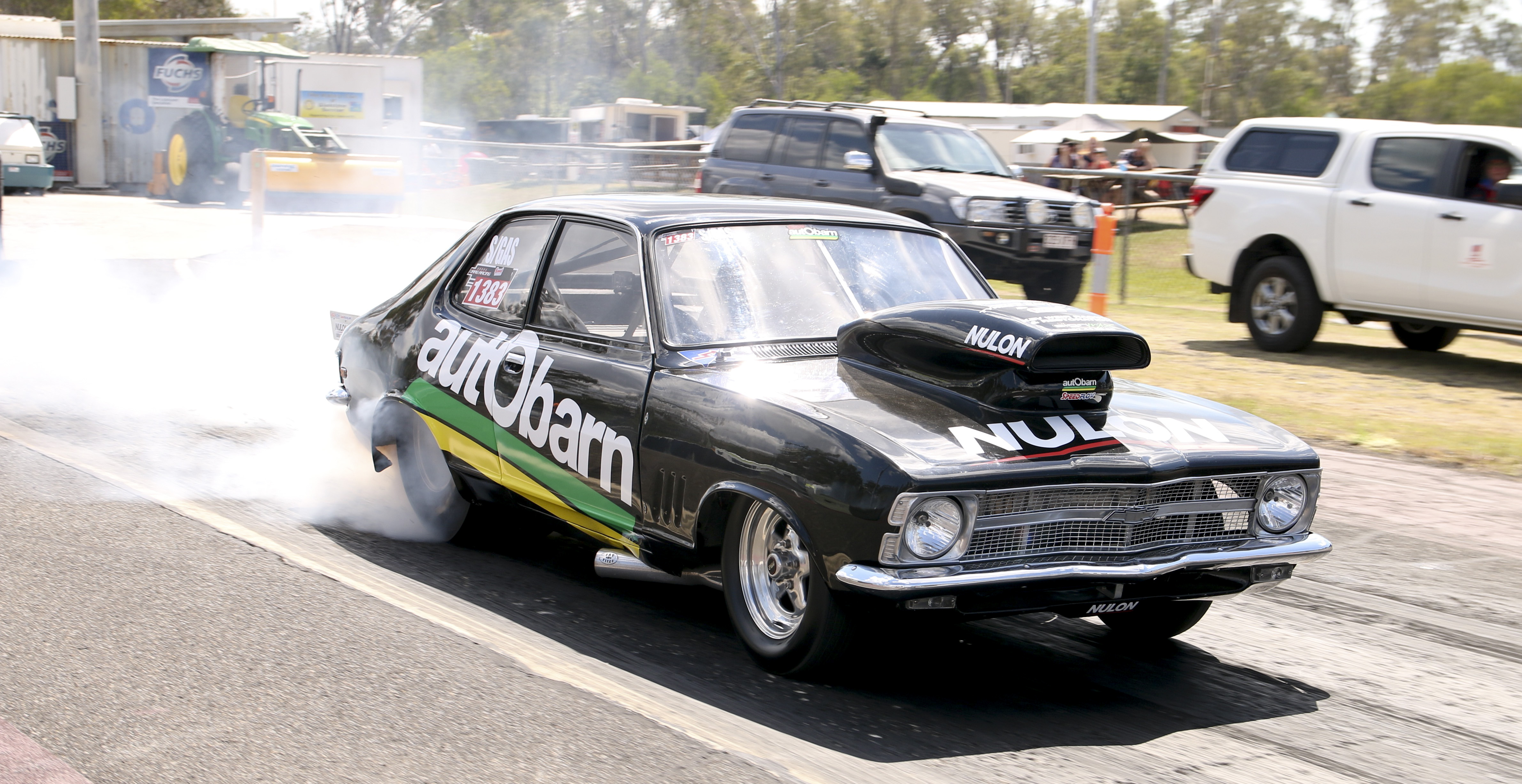 In Super Gas both Tom Parry and Ross Byrant were in the Benaraby pits and looking to extend their point's lead following a finals showdown at the 1st round of the Summit Racing Queensland Championship. Parry was electric at the tree cutting some great reactions, including a 0.003 in qualifying.
After three round wins, Parry (pictured) went into the final. Joining him was Laurie Bonato. Running on a 6.30 index, the classic Holden vs Ford final was a one sided affair when Bonato went red, handing the automatic win to Parry.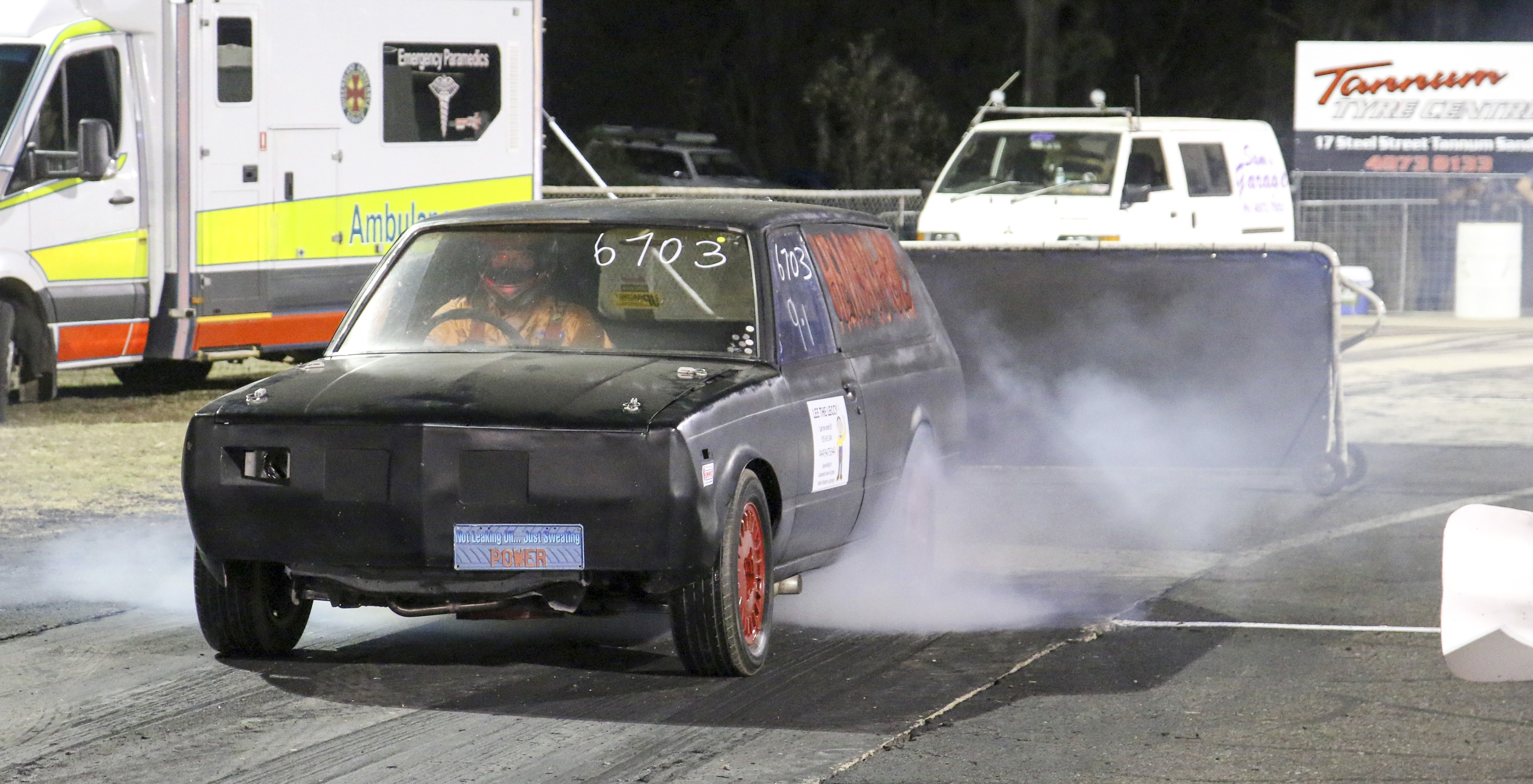 In the Street class, CQDRA President Lee Davis (pictured) scored the trophy and points after Chris Rieck left too soon at the tree with a red light.
Davis commented after the event saying, "The overwhelming feeling amongst the competitors was that this series has a bright future, and all are looking forward to the future success of this format.
"Special thanks to ANDRA and also Summit Racing Equipment for sponsoring this series, and Hogan's Heavy Haulage and Coalroc coming on board as bracket sponsors.
"Of course, special thanks must go towards all the hard working volunteers we have at Benaraby, both in the running of the event and the preparation beforehand.
"From track prep, to tower staff, through to the track staff, our rural fire brigade, those that organise the food vendors and clean the toilets, these people volunteer their time, so that racers can do what they enjoy, race! My thanks go out to you all," said Davis.
The third and final round of the Summit Racing Queensland Championship will be held at Ironbark Raceway in Roma on November 4.
Updated Points following Rd 2 can be found HERE
LIKE and SHARE Summit Racing QLD Championship FACEBOOK page
All images taken by Luke Dahms