Vlado Turic had his hands well and truly full at the EGT ANDRA Grand Finals, claiming not only his first Summit Racing Equipment Sportsman Series National Championship after a number of runner-up results, but also the coveted John Storm Memorial Trophy, and the event runner-up trophy.
How did you get into drag racing?
I always had fast cars as a young teenager but only started 10 years ago only competing in a few local meetings at Adelaide International Raceway, where I developed a passion for the sport and wanted to be more involved.
Now that some time has passed, has it sunk in that you are not only the 2021/2022 National Champion, but also the John Storm Memorial winner?
It feels amazing to finally achieve what we have been working towards for so many years.
What does it mean to you to have achieved these amazing feats this season?
It feels great that our time and effort has paid off, but also pushes us to achieve better for next season by defending our title.
You have been runner-up quite a few times, what do you credit with enabling you to break through for your maiden title this time around?
Our commitment to travel and supporting the sport we love has placed us in a better position for the championship.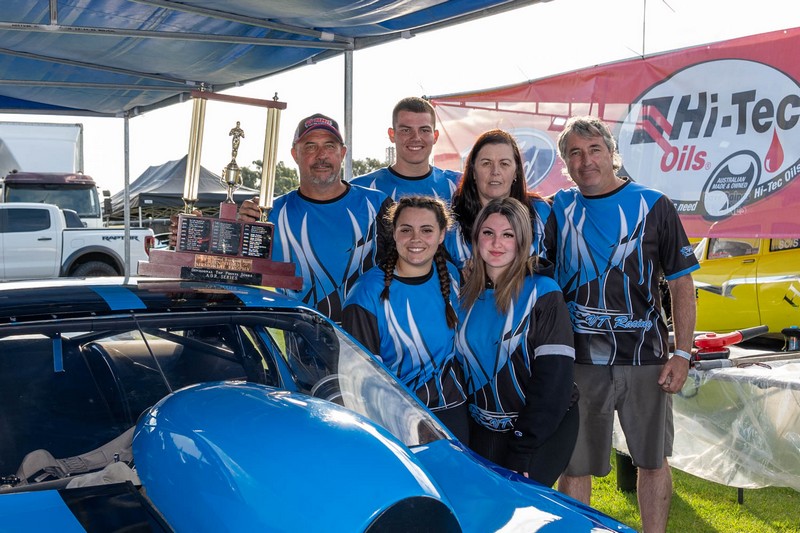 You debuted a new car at the Westernationals in 2020 before the pause to racing, this was the first full SRESS reason you ran it – how do you feel it performed and were you happy with its performance?
The changes we made is going from methanol to unleaded fuel which has made it more consistent but a little slower, which I don't mind.
We hear you have yet another new car waiting in the wings, tell us about your plans for that entry.
We purchased the car back a few years ago and have done a little testing but the motor was never right. We have done a full rebuild and are testing in May. We will be racing both cars next season – the Nissan S14 and Mustang GT500. We will only be racing the Mustang at a few selected tracks.
Are you planning on defending the title in the new season, and how confident are you of being able to go back-to-back?
We are planning to give it another big crack next season to defend our title, but it will be tough with some of the existing great racers coming back who didn't race due to COVID.
Why do you choose to compete in the Top Sportsman category?
We choose to race in Top Sportsman as it is very easy maintenance and not about being the quickest. It's about the consistency and reliability.
What was your favourite event of the 2021/2022 season and why?
Our favourite event is the Darwin and Alice double header as we use that as our family holiday, visiting iconic places along the way with friends and fellow racers.
What was the highlight of your season aside from taking out the title?
The highlight of the season was probably winning the Twilight Nationals. We had significant problems with our car after our first qualifying but managed to sort the problem. With two first round losses over in Perth leading up, that win took a great load off of my shoulders going into the Grand Final.
Who would you like to thank for the roles they have played in your title season?
Firstly, I would like to thank my family – especially my son and Crew Chief Tommy – as well as ANDRA, all of the track staff and promoters and the Sportsman racers, Dave Baines Race Engines, Huntsman Racing, Salisbury Mechanical and Michael De-Rose and Terry and Jackie Watt.