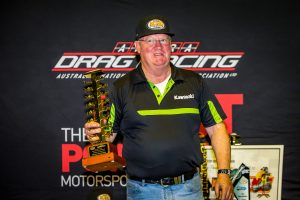 Greg Durack raced through to claim the inaugural Australian Drag Racing Championship title for Top Fuel Motorcycle aboard his bespoke Kawasaki ZX12R Turbo bike which boasts what he calls a 'Frankenstein' set-up.
Racing the only turbo bike in the field, Durack punched well above his weight to claim the title, and along the way, his first ever ANDRA Christmas Tree trophies.
How did you get started in drag racing?
In the late 70's I went to Ravenwood Drag Strip with a couple of university mates as a spectator, I had a Kawasaki Z1A900 at the time, and they had the later Z1000s, so that was when it started and I thought this is something that I would like to do.
I had a couple of runs down the track but nothing serious, as I commenced working in the mining industry in the early 80s in the WA Goldfields so opportunities were limited. Back then we lived onsite or in nearby country towns, there was no FIFO back then. After a stint in Papua New Guinea for three and a half years, I worked in Charters Towers in Queensland, and that is where I really started drag racing at the Townsville Bohle Track in '88.
I ran a Kawasaki z1000J that I had hotted up which used to run low 11s. I really enjoyed racing there, and occasionally at Mackay and Benaraby. I built my first turbo bike there, which was also based on a 1000J that used to run low 9s. I later returned to WA in '92 and continued my racing at Ravenswood.
Why do you choose to compete in the Top Fuel Motorcycle category? Do you have plans to try other classes?
I commenced in Modified Bike before progressing through to Competition Bike with the second turbo bike I built. I still hold the Perth Motorplex Track and Australian National records in both Modified and Competition Bike.
I then progressed to Top Fuel Motorcycle with the third turbo bike I built, although spent the first couple of years in Competition Bike first sorting out the bugs, this is the current bike I am campaigning now, utilising the learning experiences from the first two turbo bikes; all fabricated here in Perth, WA.
I can't say it was really ever a set goal of mine to race in Top Fuel Motorcycle, it was more like a drifted progression – it only really took me about 30 years to get there.
With the development of the turbo bikes, getting to run in the sixes with my current bike meant I could be competitive there against the nitro bikes. I like the nitro bikes, and I would love to do it, but I am not touching the nitro! I do like to be different by pushing the turbo bike, plus I am getting older, and I don't like thrashing between rounds.
The goal has always been to build a consistent, fast and reliable bike and this remains the objective. I have no plans to leave Top Fuel Motorcycle – testing yourself against the best, it really is a great bracket.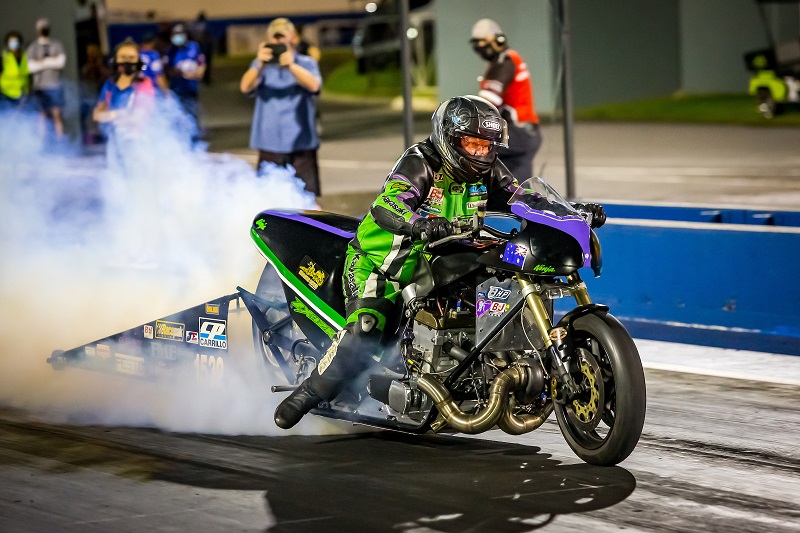 What is it about your bike that makes it so successful?
The bike is purely bespoke; it is the third one I have built and has been developed from my previous experiences of running turbocharged drag bikes. It is turbocharged with an alcohol methanol fuel injection, running a primary drive belt off the crankshaft to a computer controlled pneumatic dry clutch which transmits the power through a three speed B&J Transmission.
The engine is based on a Kawasaki ZX12R motorcycle, a ZX12R head – which is now billet and was made by Lou Cotter – on top of a Kawasaki Jetski STX15F bottom end which has provided a strong platform for the engine development.
With these changes our capacity has been increased to 1570cc and the bike also boasts JE Pistons, CP Carrillo Con Rods and Web Camshafts. It is modelled on what we call Turbo Funnybikes and is the only one of its type in the world running on this configuration, a so called 'New Age Funnybike.'
Most Funnybikes are based on complete motorcycle engines with integral gearboxes and clutches in the crank cases. Consequently, on a weight basis I am at a disadvantage if you compare it to the Funnybikes we are seeing in the US and Europe at just over 1,000lbs compared to 700lbs respectively. However, what I have built is a much stronger platform in the engine development, clutch and transmission and so it can handle a higher level of power.
What was your favourite event of the 2021/2022 season and why?
I like all of the events, but the favourite would be the Goldenstates as I won my first Silver Christmas Tree, and also the recent ANDRA Grand Finals as we had a large field of entrants as with WA opening up again interstate racers came across, so hopefully there will be more of that going forward.
Now that some time has passed, has it sunk in yet that you are the National Champion? What does it mean to you to have achieved the title?
Well, I can say it was great winning the National Championship! They are not easy to do, and it was great to claim my first metal Gold Christmas Tree. I did win a Gold wooden plaque one in Darwin in 2013 which was great, but I now prefer the metal ones, so hopefully we can get another sometime.
What was the highlight of your season aside from taking out the title?
The highlights of my season for me are found in progressing the development of the bike and running consistent 6.6s without any issues.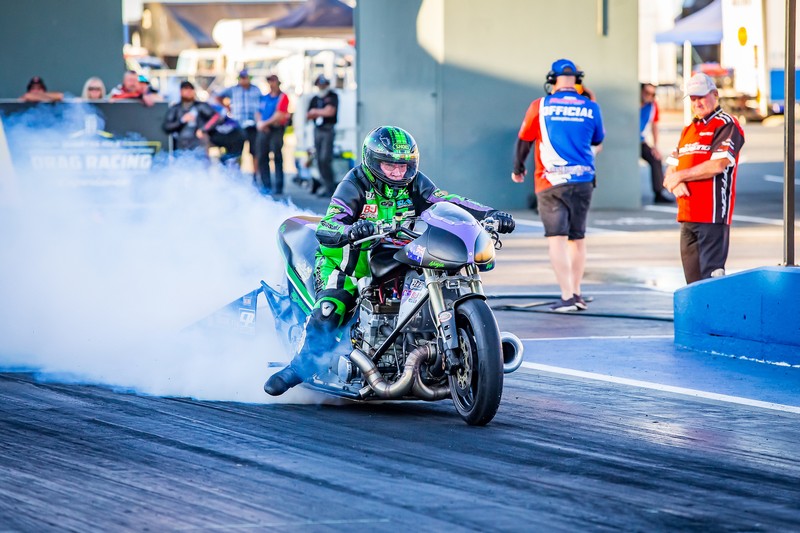 What are your plans for the upcoming season?
In the last couple of meetings of the 21/22 season I did have failing ignition leads which I didn't pick up on early enough, but we are now back on track ready for Darwin in June.
I have always been a bit conservative in pushing the bike too hard too quickly, as I don't like burning up parts and as I said thrashing between rounds, as that burns up cash and I want to relax as much as I can at the track.
There is more boost to add yet, which I will now turn up over a couple of meetings, and there is a new set of extreme turbo cams I had made which I reckon will be getting tested about mid-season, so there is more to come, and hopefully I can consistently lower my ETs.
I am definitely looking forward to next season, and it looks like we will have a few more competitors in Top Fuel Motorcycle at the Motorplex, especially if a few more eastern staters travel. It should shape up to be a great season, and I look forward to seeing and racing everyone.
Who would you like to thank for the roles they have played in your title season?
Thank you to my brother Jeremey, my sons Cameron and Scott, my wife Kimberley and our sponsors and supporters Clyde Carstairs from Bravo Resources and Dragon Bikes; Gavin Forbes from FME; Grant Bojanjac from Per4manz Turbochargers; and also, Lou Cotter for designing and manufacturing zx12 billet heads.
Thanks also to the Perth Motorplex team who have always been great supporters of Top Fuel Motorcycle, to Ray Treasure and his team, and to all of my fellow competitors – I hope to see you in the lanes in the near future.
For the complete listing of ANDRA champions, please click here.