John Zappia has taken a commanding lead in the ANDRA Top Doorslammer championship with victory over Pino Priolo at the VPW Pro Series 1000 in Adelaide.
The seven-time national champion wrapped up his third ANDRA Drag Racing Series win in a row beating Priolo to the 1000-foot stripe in 4.91 seconds at 229.20 mph from Priolo's 5.247 at 216.06 mph.
That win gives Zappia a stranglehold on championship number #8 in this shortened season with a commanding lead over his nearest rivals.
"We needed to put (Maurice) Fabietti out to catapult us a bit further ahead," said Zappia. "We're looking at wrapping it up in Sydney although I don't know what the possibilities are with what I've got to do or not do. I'm pretty confident we just need to do well (to win the championship).
"We've dropped one point (all season), we're one from a perfect score. But we were beatable at the first meeting (Nitro Slam) and other than the 60-foot time we struggled from there.
The next meeting Fabietti and (Peter) Kapiris could have beaten us and nearly did. Mathematically they won't leave the shed from the performance advantage we've got but you've got to maintain that and the closer we are to the edge, the harder it is to be consistent.
"But the Fuchs/Striker Monaro ran pretty good all weekend."
Zappia eliminated Bill Goonan and Maurice Fabietti on his way to another ANDRA Silver Christmas tree Zappia while Priolo took out Pat Carbone and Grant O'Rourke.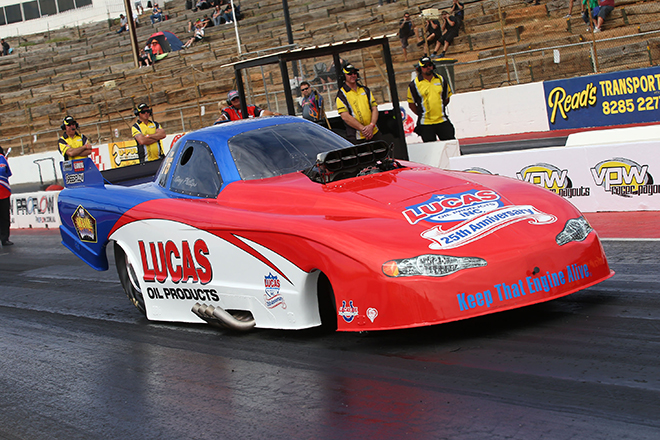 Gary Phillips claimed his second ANDRA Drag Racing Series win in a row by defeating fellow Queenslander John Cannuli in the final. Phillips ran a 4.776 at 228.69 mph leaving Cannuli at the line on the hit of the throttle.
It was an unfortunate situation for Cannuli who claimed the Adelaide International Raceway Top Alcohol track record for 1000 feet with successive 4.702 and 7.724 second passes but it was Phillips who was left smiling from ear to ear with a 17th Alcohol championship in his sights.
"We just go try and do the best we can," said Phillips. "You just take it as it comes. This (1000 feet) is a whole different ball game, you've got to dumb it down, that's actually a Doorslammer motor in the car.
"When we tested two weeks ago at Willowbank we serviced the motor in the Funny Car and went 5.46. So we took the motor out of the Doorslammer because it's identical except for the overdrive and the heads.
"Now we can go home and pull the motor apart and service it for Easter. We'll put the other motor in because it's only completed one run and with that three round format you've got to be ready to go."
Phillips eliminated Robert Ambruosi in round 1 before a stout bye run in the semi finals. Cannuli defeated Debbie O'Rourke in a contender for pass of the weekend then benefitted from a solo semi final of his own when Steven Reed shut down after the burnout.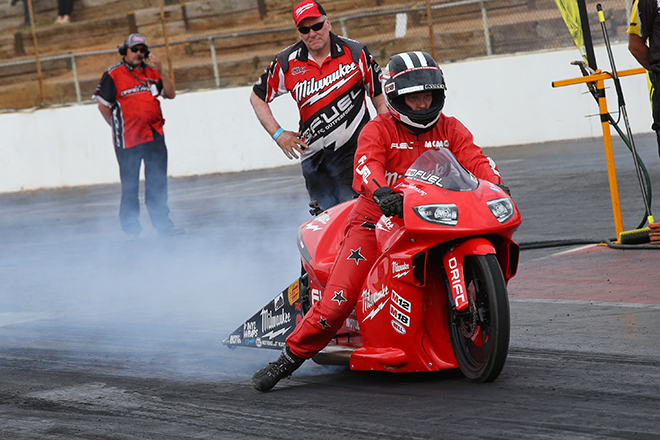 Maurice Allen opened his Pro Stock Motorcycle campaign in perfect fashion taking top qualifier and the event win over Ryan Learmonth appearing in his first Group One final.
Learmonth got the holeshot advantage after a long staging duel but Allen caught the rookie at around half-track and powered away to a 7.288 at 181.67 mph from a 7.558 at 177.25 mph.
"We found a bit of stuff in the offseason, came back and the bike was starting to show the capabilities of what the engine can do," said Allen.
"We know on other tracks we'll be able to tap in and run quicker again. The conditions were tricky again, the facility is great, don't get me wrong and it's the same for everybody else but just reading it (is tough) when you've had such a long break.
"I'd like to give special mention to Michael Marriot who helped us with a bit of interpretation with data this weekend. We've made some advances and we're pretty confident there is another tenth, tenth and a half in the bike. Over the next two race meetings I'm sure we're going to start to see the potential of what it's really got."
"Thanks to my crew, Dad (Peter Allen), Steve, we've done this together for a few years now, we've got a great synergy.
"It was an awesome final, to have a burn down in Pro Stock Motorcycle, who would have thought? I take my hat off (to Ryan). I said to him at the bottom end I've had my arse kicked for 15 years all over the joint. Don't take it personally but pay your dues to the old man!
"Ryan is going to be a force to be reckoned with, his team is very professional. I congratulate him and Gordon Crawford for helping him (get the team to Adelaide)."
The ANDRA Drag Racing Series next moves onto Willowbank Raceway on Easter Saturday for the annual Santo's Super 3 Extreme Drag Race featuring Top Fuel and Top Alcohol.
Top Doorslammer and Pro Stock Motorcycle will resume hostilities with the full compliment of Top Fuel, Top Alcohol, Top Fuel Motorcycle and Pro Stock at the Nitro Champs in Sydney on May 2-3.
Photo courtesy: Grant Stephens / Drag News