In a spiritual renewal, drag racing returned to Calder Park in Melbourne last weekend in a big way with the running of the 2016 Nationals that attracted great crowds on both days with some close competition.
Reigning eight times back-to-back ANDRA Drag Racing Series Champion John Zappia showed why he is the champ in a stunning display of driving and tuning to win the event and take a commanding 144 point lead in the 2016 Championship.
Zap gained 100 points for the win, seven for qualifying second, five points for low ET (and the Calder Park Top Doorslammer track tecord), and five points for Top Speed. Kapiris gained a valuable 85 points to occupy second spot with a runner up appearance.
"Great event, thanks to Peter Pisalidis, Ray Treasure and all the ANDRA staff," said Zappia.
"It was great to be back here in Melbourne, and to take the win for Fuchs and all our other sponsors. It was a tricky meeting for Top Doorslammers with the track and weather conditions, but we are thrilled with the result."
Saturday qualifying in front of a good crowd produced some spectacular runs from the wild Top Doorslammer beasts as the drivers struggled to keep them in a straight line.
"First qualifier in the burnout the Crusher just jumped lanes! On the run I had to pedal three times and was able to put down a 6.103 to come in at No 2. That was a scary run with the car heading towards the wall really quickly.
"The second qualifier was a little better but still had trouble keeping the Fuchs Monaro in a straight line – a few stabs at the throttle were needed to keep it sort of straight, and managed a 6.070 and missed out top qualifying by 6 thousands – congratulations to Paul Cannuli on his top qualifying run."
Round three of qualifying was cancelled with the cool night air coming in, and eliminations were to commence with the qualifying order after round two.
"We did a lot of small changes overnight – to soften the car more and make it smoother. The B & J Transmission allows more finessing with shifting, and we did some engine timing and tyre changes," added Zappia.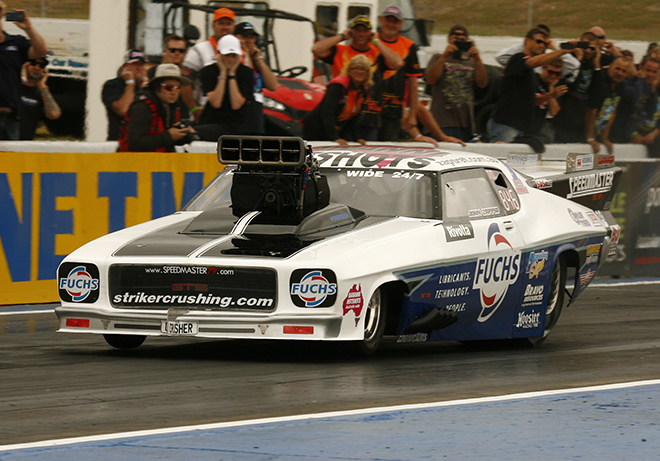 Top Doorslammer racing has two very important functions – driving and tuning. It's the tuning carried out by the Crew Chief (or in many cases in this bracket – the driver) that determines the deliverable power, and the driver has to drive the package presented to him.
"We have very strong targets and high expectations with dozens of parameters we track in our data system. My brother Richard handles this, and the software allows us to zoom in on each of these areas and make a plan to reach the targets set.
"I would say this is our strong point in our racing – we have great power, but so do the other teams now, so it's the decision making about what to change that makes the difference".
John's driving ability also helps when steering the Fuchs Monaro from start to finish.
"Our decisions are based on data, not guesses. There is an element of that – we have tried a lot of variables over the years and been surprised that a certain change can make such a difference in performance.
"We were confident our changes would settle the car down a little and get it anchored to the track for the whole run. We noticed that Supercharged Outlaws were getting down the track so we put our tune in and were surprised and pleased with the results."
Day two of eliminations saw Zap up against Mark Belleri in the Fabietti Holden Trade Club Monaro who launched with a 0.080 light, but was overtaken by the staunch Fuchs Monaro (new Calder Park track record) with a 5.749 at 249.81 mph to Belleri's 6.023 at 215.31 mph.
Following that run Zappia said, "I expected a 5.90 or a 5.89 on that run, but not a 74 – beautiful!"
Other first round winners were Peter Kapiris, Grant O'Rourke who ran the first five-second (5.999) Top Doorslammer pass at Calder, and Paul Cannuli.
Round two Zap drew Grant O'Rourke, and with lane choice selected the left lane – believed to be better and smoother. In the first side by side five second pass at Calder Park Zapia narrowly defeated O'Rourke 5.823 at 248.39 mph to 5.955 at 244.47 mph. Kapiris 6.140 at 221.60 mph defeated Cannuli 6.436 at 176.17 mph to set up an epic final.
Kapiris was in front of his home crowd with many family and friends present, and Zappia seeking a second Nationals win at the venue – last won in 1995.
Kapiris had the jump on Zap with a 0.093 light in the final, but the Fuchs Monaro flew by for the win with another five seven – 5.762 at 248.29 mph to Kapiris with a 6.065 at 231.36 mph.
"It was fun to drive today. Awesome to win after being all over the track yesterday – pretty scary stuff! The track was prepared well overnight and we did our homework – detuned the car and today it's the first time in a while where I didn't have to pedal and the car went straight," said Zappia following the final.
"Big thanks to Fuchs and all our sponsors for the opportunity to represent them at this great event. I am glad for Peter Pisalidis that the crowd came out in droves – I think with better weather the numbers may have been even better. It sets up a great future for Melbourne drag racing and we can't wait to return.
"Special thanks also to sponsors Reid Machine, whose new rocker arms contribute to our high revving reliability.
"It was great to catch up with so many people that were at Calder Park back in 1995 and to reminisce about the "lawn mower run" and to see how appreciative they were that we made the trip to support the sport of Drag Racing in Melbourne."
Images: Dave Hope