The final round of the Street Sedan and Street Bike title at Willowbank Raceway this weekend has seen Josh Fletcher claim an incredible sixth Street Sedan championship, while Denis Ryan has taken his first in the Street Bike class.
Making Fletcher's win even more memorable is the fact that it is the workshop supervisor's third consecutive Street Series title – something which, before tonight, had not been achieved by any racer in the Street Series. You can view the full list of past champions here.
For 'postie' Ryan it was his second Street Series title victory, with this year's victory coming 11 years after he tasted victory in 2004. For full results from the Street Sedan and Street Bike final round, please click here.
This weekend's success for Cornubia racer Fletcher comes off the back of his step-mother Susanne Fletcher taking out the 2015 Powder Puff Street Series title on the 21st of October, in the car that they share. For the report on the Powder Puff title, please click here.
"Taking out a sixth title and to have it also be my third in a row is just massive – it is a great feeling. To be honest I think every time it gets better and better. With each one it is more and more rewarding that I can continue to still win them, and keep racing better.
"I think this would be my favourite one, and to win in the same year as my step-mum, that is the icing on the cake.
"It has been very hectic over the past few weeks with a few dramas with the car, but it has been very rewarding. I think I drove well, and the car worked very well.
"Now it is on to next year – I will rebuild the car, the guys from Horsepower Engineering will freshen the engine, I will put some Lucas Oil in it, and off we will go to chase down title number seven!"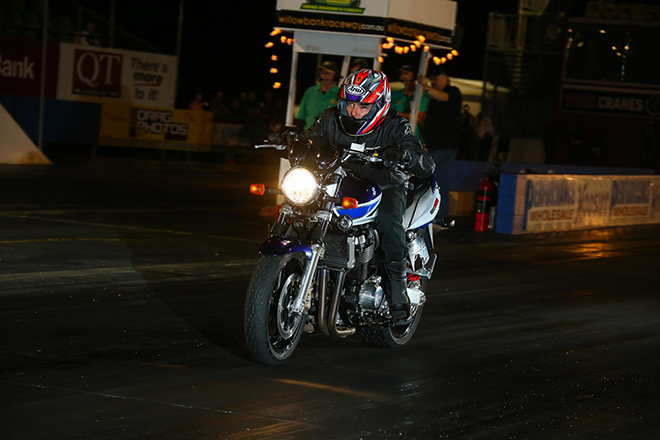 For Ryan, this is his first Street Series victory in the Street Bike category – despite the fact that his 2004 title also came 'on two-wheels'.
"This is my second street series title after 2004 and while this year is my first in Street Bike, that one was still on a motorcycle – it is just that back then the bikes were combined with the cars in the Street Series," explained Ryan.
"It is a good feeling to win again – it has certainly been a long time between drinks as they say, although I did have a few years off from the Street Series to concentrate on running Modified Bike and Super Sedan instead.
"There were four of us 'posties' in the top eight this year – two in Powder Puff and two in the Street Bikes. My street series bike is a little quicker that is for sure, but the postie bikes still go alright! Well, not really, but they are perfect for the job," laughed Ryan.
"I am pretty happy to have come away with the win this weekend, having raced three different bikes this season. I am glad I chose the one I did for the finals! Next year I may have a go at the Quick Eliminator class in Street Sedan in my Ute, but we will just see what happens."
With the Street Series winners for 2015 now found, attention now turns to Mopar Sunday (8 November), and the final round of the Queensland Drag Racing Championships, to be held on Saturday the 21st of November.
Images: dragphotos.com.au