The 49th annual Westernationals has well and truly lived up to its hype, with large crowds packing into the Perth Motorplex across both days to witness action from Top Fuel, Top Doorslammer, Top Fuel Motorcycle, the Summit Racing Equipment Sportsman Series, Top Alcohol and Pro Stock Motorcycle competitors across February 29 and March 1.
Wide smiles were to be found everywhere from the spectator hills to the pits, with the following racers especially very pleased as they claimed prestigious ANDRA Gold Christmas Trees: Tommy Turic (Summit Racing Equipment Junior Dragster), Noel Watson (Modified Bike), Richard Stevens (Super Street), Chris Lioulios (Super Sedan), Rhys Naylor (Modified), Alby Bakranich (Top Sportsman), Wayne Patterson (Competition Bike), Jake Chaisty (Super Stock), Trent Morrison (Competition), Marty Dack (Top Doorslammer) and Wayne McGuinness (Top Fuel Motorcycle).
Runners-up were Aiden Abel (Summit Racing Equipment Junior Dragster), Brian Hotker (Modified Bike), Joel Trotman (Super Street), George Tipoukidis (Super Sedan), Adam Mundy (Modified), Vlado Turic (Top Sportsman), Ross Smith (Competition Bike), Errol Quartermaine (Super Stock), Wayne Keys (Competition), Mark Chapman (Top Doorslammer) and Danny Rickard (Top Fuel Motorcycle).
While not racing for ANDRA Gold Christmas Trees this weekend, the six match races of Top Fuel racers Phil Lamattina and Peter Xiberras across the two days were enthusiastically celebrated by the crowd and both racers were presented with appreciation trophies by the Perth Motorplex and ANDRA at the end-of-event presentations.
The pairing had put in a strong showing across both days of the event, taking three race wins apiece and trading the ANDRA 1000ft MPH record with Xiberras initially setting the new national marker during the day on Sunday before Lamattina went faster and claimed it for himself in the final pass of Sunday evening.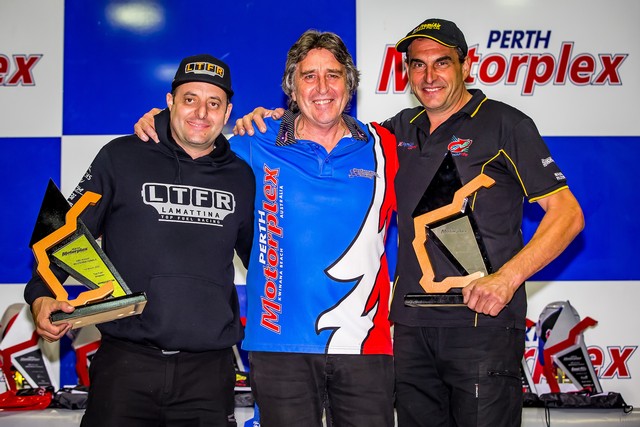 "It was great for ourselves and Pete to put on a really great show for the crowd and all in all it was a good weekend, it was a great weekend actually and we had a lot of fun," Lamattina said.
"I have always wanted to come back to Perth, I love this place, we have been very successful here and it is a great place with great people, great spectators – everything is great, great, great! We will be back for sure.
"And anytime you get an achievement like the record is pretty handy, we don't come here to do that sort of stuff but if it happens while you are focusing on putting on a show, then we will take it."
Also celebrated at the event were the Supercharged Outlaws winner Jodie Melitt and runner-up Norbert Claite (the bracket did not have enough participants this weekend to qualify for a Christmas Tree trophy); Outlaw Radial winner Kevin Boulton and runner-up Timothy Roads; and Top Alcohol racers Nigel Johnson, Adam Marchant and James Kemp and Pro Stock Motorcycle riders Ryan Learmonth and Glen Wooster, who entertained the crowd with exhibition/match race passes across the weekend. Treasure Family Racing and McClure Motorsport's GTR Torana took out the Vinyl Wraps and Graphics Best Presented Award and Crow Cams Best Engineered awards respectively.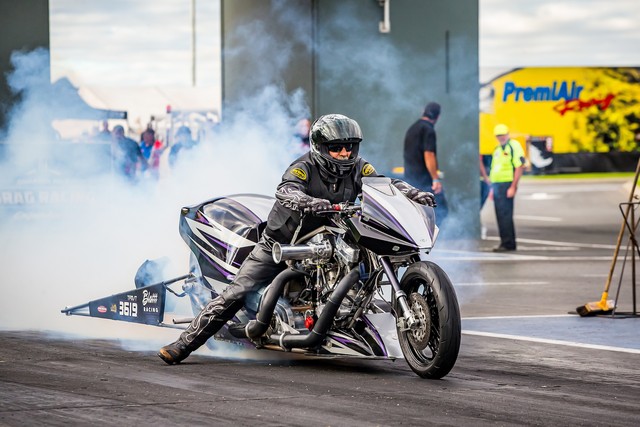 In Top Fuel Motorcycle, 2019 Westernationals runner-up Wayne McGuinness went one better this weekend to claim the victory over Danny Rickard. McGuinness was also the weekend's Top Qualifier for the bracket and had earlier raced and won against Ricky Wood and Greg Durack while Rickard had taken wins from Aaron Deery and Benny Stevens.
"We are still learning this bike and she was a handful but this has been an unbelievable event and I can't express enough our gratitude, this is the best complex in the world," McGuinness said.
"I have to say a big thanks to my crew. We had a lot of tuning issues this week but we struggled through, found the problems and got it down the track."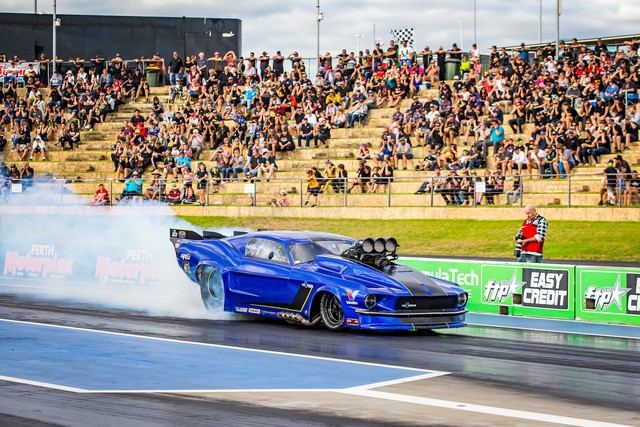 In Top Doorslammer, Marty Dack broke through for his first ANDRA Gold Christmas Tree with a solo run in the final after runner-up Mark Chapman was unable to participate due to a damaged engine following his semi-final against last year's winner, Daniel Gregorini. He had earlier put Doorslammer legend John Zappia on the trailer in the opening round of eliminations. Dack meanwhile had taken on Top Qualifier Kelvin Lyle in the first round before defeating Steve Aldridge in the semi-final.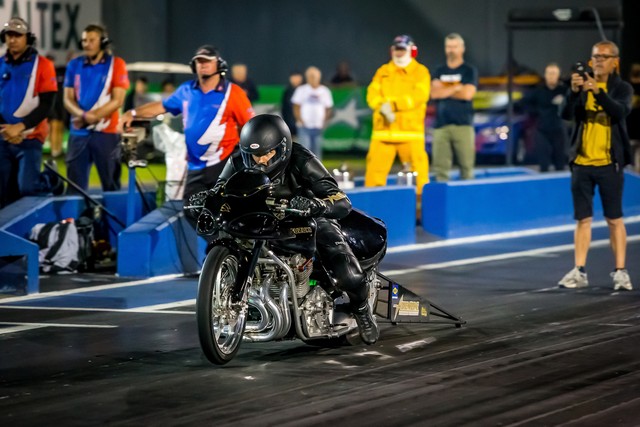 In Modified Bike, Noel Watson took the win over Brian Hotker in a Suzuki v Ducati battle. Watson started his day off with a round one win over Ian Read ahead of victories from last year's Westernationals winner Chris Moore and Levi Addison before enjoying a bye run to the final. Hotker meanwhile had taken on Owen Rose, Brett Allen, Simon Garbutt – who defeated DecoGlaze Glass Splashbacks Top Qualifier Gavin Dohnt in the first round – and Rob Good on his way to the final.
"We had a ripper weekend, the bike was on-song all weekend and we had a little luck on our side; so everything went right for us," Watson said.
"I need to thank Mum and Dad – I get the cream, dad does all the hard yards and I rock up and drive so a big shout out to the old boy. I also want to thank Sean Arthur, he has helped big time."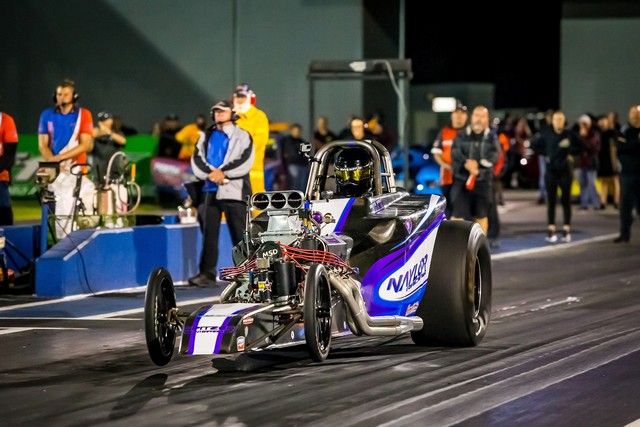 In the Modified ranks, Rhys Naylor broke through for his first ANDRA Gold Christmas Tree to continue a Naylor family tradition – he is now the fifth member of his family to have laid claim to a Gold Tree. To take the victory, Naylor took a very close win over defending champion Adam Mundy, who was also the Top Qualifier for the bracket. To book his spot in the final, Naylor had earlier dispatched Jayde Robinson (round one), Bradley Hicks and Darryl Treasure while Mundy had emerged victorious from battles against Jim McQuade and Nick Panagopoulos before having a bye run in his semi-final.
"I got told after the win that I am finally a Naylor now!" Rhys Naylor laughed. "This has been a long time coming, basically everyone in my family that has drag raced has one of these so it is good to finally get one.
"The final against Adam Mundy was like the best race I ever have had in this car, so thank you to him. This was a wicked event."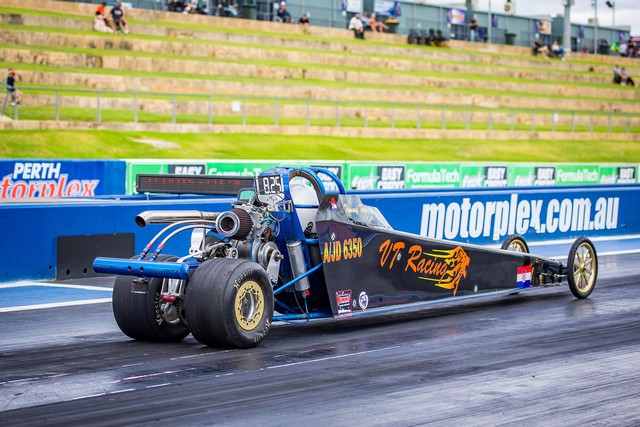 Tommy Turic and Aiden Abel put on a great show in the Summit Racing Equipment Junior Dragster ranks, with Turic ultimately taking out the victory. Abel explained that he had hurt his engine in the first round but thanks to the support of Zara Board and her family, was able to continue with a borrowed engine to make it all the way to the final. On his way to the final battle, Turic had successfully taken on defending champion Jake Berias (round one), Sarah Donnelly and Jett Martin while Abel had defeated Top Qualifier Madison Brown (round one), Brock Moresby and Tahlia Martin.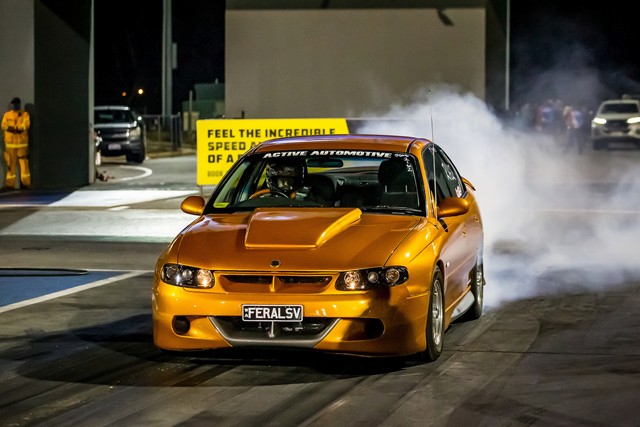 Joel Trotman was left regretting driver error in his final against Richard Stevens in Super Street this evening, with Stevens taking full advantage to achieve his first Christmas Tree trophy. Stevens had earlier emerged victorious from battles against Steph Gullotto, Zachary Giles and Graham Smith while Trotman had put in good shows against Lisa Garbellini, Ashleigh Wroe, Blake Jeffreys and Mark Reaney to take his spot in the final. Top qualifier Chris de Bruin made it to the second round before being eliminated by Matt Jarvis.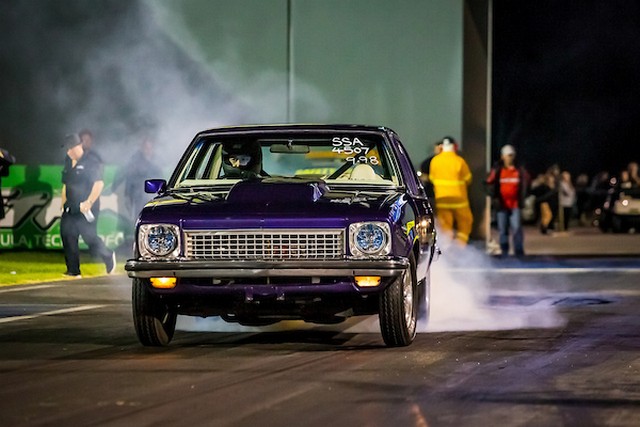 In Super Sedan, it was an all South Australian final with Chris Lioulios defeating George Tipoukidis. He had earlier raced against Brett Mathew and Mick Fenton in the opening two rounds before taking a bye run in round three ahead of a semi-final win against defending champion Martin Mirco – who had defeated Top Qualifier Lance Larcombe in round two. 'Tipo' meanwhile had done battle against David Todd, Matt Puglia and Steven Millias on his way to a semi-final bye.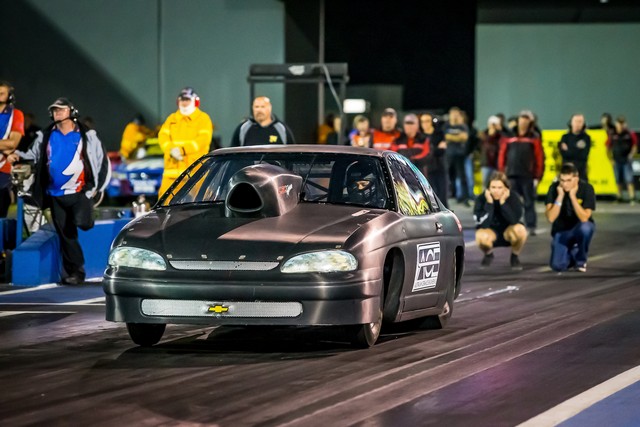 In Top Sportsman, Alby Bakranich took back-to-back Westernationals victories with a win over Top Qualifier and current championship leader, Vlado Turic. On his way to the final, Bakranich took on and defeated Kevin McIvor (round one) and Darren Saliba before enjoying a bye to the final while Turic had his own bye run in his opening round ahead of battles with Chris Roe and Johnny Brecich.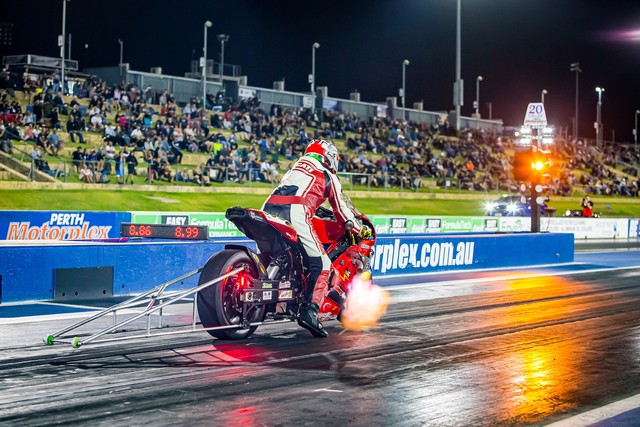 The three-round Competition Bike format is continuing to prove popular with races and saw Wayne Patterson and Ross Smith face off in the final, with Patterson ultimately taking out the victory.
In Super Stock, Jake Chaisty took the victory over Errol Quartermaine following wins from Dean Dawes and Allen Puglia while Quartermaine had taken on Rob Gaikhorst and Sunoco Evo 10 Race Fuels Top Qualifier Todd Stacy.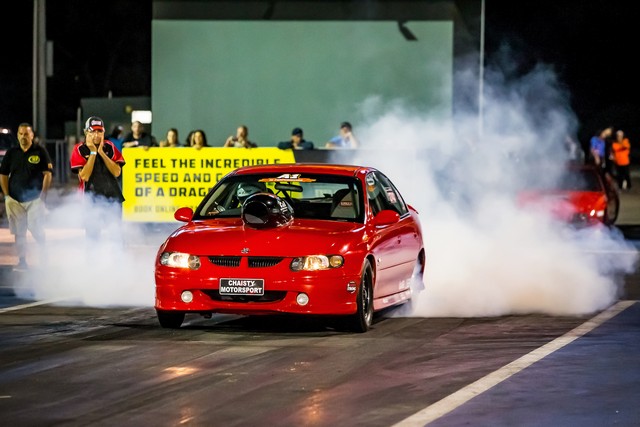 Trent Morrison took back-to-back Westernationals wins this weekend with victory in the Competition bracket over Wayne Keys. The battles for the Competition bracket got off to an unfortunate start on Sunday, with Top Qualifier Sam Gullotto losing traction in the braking area and rolling his Pontiac GTO onto its roof while racing Morrison in the first round. Gullotto was thankfully unhurt. Morrison enjoyed a bye run in the semi while Keys defeated Russell Ladbrook to secure his finals spot following a round one win over Michael Buckley.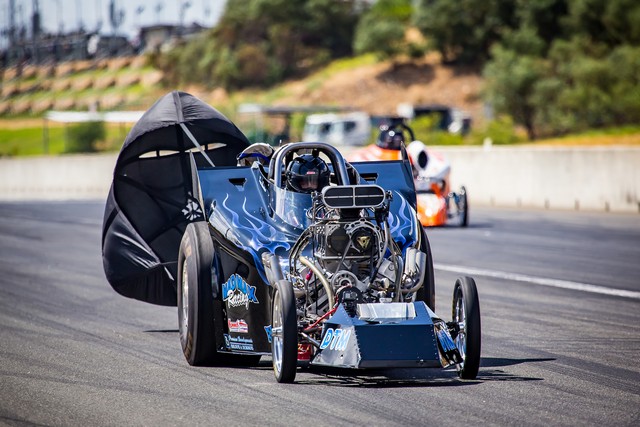 ANDRA thanks the Perth Motorplex and all of its volunteers and sponsors for an outstanding race track and a well-run event. For full results from the Westernationals round, please click here.
The Westernationals marked round eight of the 2019/2020 Summit Racing Equipment Sportsman Series. Round nine of the Series, the Twilight Nationals, will be held at the Sunraysia Drag Racing Association's Sunset Strip across March 13 and 14, 2020. For event information, please visit www.sunsetstrip.org.au or www.andra.com.au
The Twilight Nationals will be the Series' penultimate round, ahead of the ANDRA Grand Final which will be hosted by Adelaide International Raceway across March 28 and 29.