The numbers prove why Pro Stock driver Aaron Tremayne is regarded as one of the best drivers in Australian Drag Racing.
This years' dominant performance brings his Australian Championship win total to five, the only Australian Pro Stock driver ever to accomplish the milestone.
The stellar year of results consisted of a finals berth at Calder Park, wins at the X-Champs at Sydney Dragway and Winternationals at Willowbank, semi finals at the Benaraby Nationals and another semi finals berth at the Australian Nationals.
These results combined to see Aaron finish 93 points clear of his brother Tyronne and 124 points clear of third place getter Lee Bektash.
"This year has been great, with three wins, one runner-up, a couple of semi final finishes, two top qualifiers, and a national record," said father Kerry Tremayne.
"Tyronne and Aaron have driven extremely well they have both stepped up when needed as you can see from the results, as a team we are wrapped."
At only 30 years of age, Aarons career in Pro Stock spans 9 years. He finished equal third in points in his first year of competition and the following year saw improvement to second place in the Championship behind John Andropolis.
That proceeded four years of domination as Tremayne won four consecutive Australian championships from 2008 through to 2011 – the only Australian Pro Stock driver to do so.
2012 proved to be a difficult year and one that gave the team reason to review its operations and make some changes. This self-assessment proved to get the team back on track in 2013 where Aaron placed second in the championship.
Aaron's latest Championship win takes his total to a staggering five championships – a record that the team, especially Kerry, are extremely proud of.
"Reflecting back over the last nine years, Pro Stock has been on a high for the last seven with 16 car fields, television coverage and continued progression from all teams as they have strived to do their very best," he said.
"This makes Aaron's achievements more impressive considering the high quality of Pro Stock during this period. To be the only person to accomplish five Championships is incredible considering he has the responsibility of running both cars and to say I am proud of him is an understatement."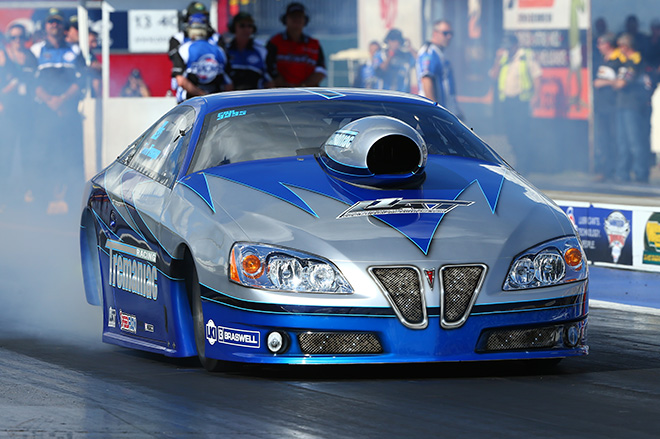 Teammate and brother Tyronne has provided his own impact on the class as runner-up in the Championship to Aaron four times with an impressive list of wins.
Tyronne is a two-time Winternationals winner for five event wins in total and several runners-up trophies. He has recorded seven National records at various times with the last being top speed at the 2014 Winternationals.
His 2014 season consisted of a semi-finals berth at Calder, a runner-up spot at the Winternationals, a win at the Benaraby Nationals and a quarter final finish at the Australian Nationals for a 31 point gap on third.
"What is most impressive about the team is that it is a complete Australian operation with our engine building program headed by Aaron," added Kerry.
"We are the only team in Australian Pro Stock to manufacture and run our own cylinder heads. The crew is all Aussie, again headed by Aaron who calls the shots on the car and engine tune-up.
"We would like to thank the following people for their support in 2014. Aqualine Pools, LAT racing Oil, Diamond Pistons, Aeromotive Fuel Systems, Braswell Carburettors, Total Seal Rings, IKI clothing, Autobarn Bundaberg, Revolution Race Gear, Penske Shocks, Speedflow and most of all our crew Lee, Kyle, Robbie, Rolinia, Meryl, Jessica and Liam, we couldn't do it without you guys."
Images courtesy: Joe Maday (top), dragphotos.com.au (middle)