Qualifying for round three of the Summit Racing Equipment Sportsman Series – being presented this weekend by the Sunraysia Drag Racing Association and Mildura Gateway Tavern - is now complete ahead of racing tomorrow (Sunday 23 October).
Top qualifying at the Mildura Sunset Strip today were Justin 'Spud' Russell (Supercharged Outlaws – 4.28421s/165.16mph), Darren Saliba (Top Sportsman – 4.54818s/153.55mph), Simon Barlow (Modified – 4.45966s/155.34mph), Scott Cohen (Super Sedan – 5.42210s/125.01mph), Glenn Zanesco (5.55656s/119.01mph), Graeme Cooper (Super Street – 6.50120s/103.66mph), Graeme Spencer (Super Gas – 6.305s) and Daniel Carranza (Summit Racing Equipment Junior Dragster – 8.500s).
For Barlow, his top qualifying effort saw him rewrite the track's elapsed time record for a Modified Dragster to 4.45966s.
Tomorrow will host racing for all brackets from 10.00am with finals expected to begin at 3.30pm AEDT. For full results from today's proceedings, please click here.
After running a personal best, Top Sportsman top qualifier Saliba was understandably pleased with how his day had panned out.
"Today has been good – in that first pass we did a 4.57s run and on our last pass we set a Personal Best with a 4.54 second effort," explained the South Australian.
"In that last run we swapped lanes and thought we would just give it a go, and the car went well and ran dead straight, it was excellent.
"We didn't know if we would top qualify – there are a couple of other cars here that are quite fast as well as two new cars, so we didn't know what they could do – but we did!
"Tomorrow will be all about concentrating on the lights. In the meantime, I would like to thank Con from Competition Auto, Darren Flynn, my wife and kids, all of my mates who crew, and also ANDRA, Summit Racing Equipment, and the team at Mildura."
For Victorian Russell, taking his maiden top qualifying result as some of his sponsors looked on was a fantastic day out.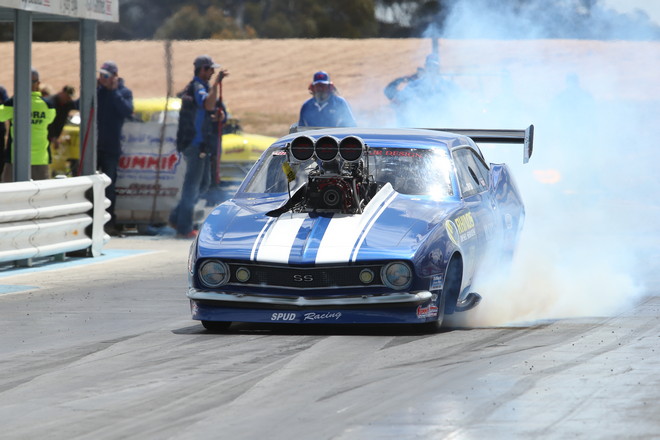 "We are just stoked to top qualify, this is my first ever top qualifying result," said Russell.
"The car has been strong, we have been working on the fuel and a few other bits and pieces and we are absolutely stoked to have gotten it done.
"The car has been very consistent and good to drive. It is a great track here too, so the car is doing well on this surface.
"We knew we have a chance to top qualify with the times we had done, and we went at it all day.
"Where the car is now is where we will dial it in tomorrow, we will just keep it safe, make sure we look after it, and get down the other end.
"I would like to thank all of my crew here this weekend which includes some of my sponsors, and also my wife and my two boys for coming along and supporting me this weekend, as well as everyone back home. Also Bushy's Fencing and Plumbing, Pete's Diesel Service, Men's Only Hair Design, Rhino's Diesel Service and Quinn's Funerals for their support."
Round three of the Summit Racing Equipment Sportsman Series presented by the Sunraysia Drag Racing Association and Mildura Gateway Tavern concludes tomorrow (Sunday 23 October), with racing from 10.00am for all brackets.
For results from today's action, please click here. For full event information, please click here.
Image Credits: Dave Hope (top), Outlaw Images (second)