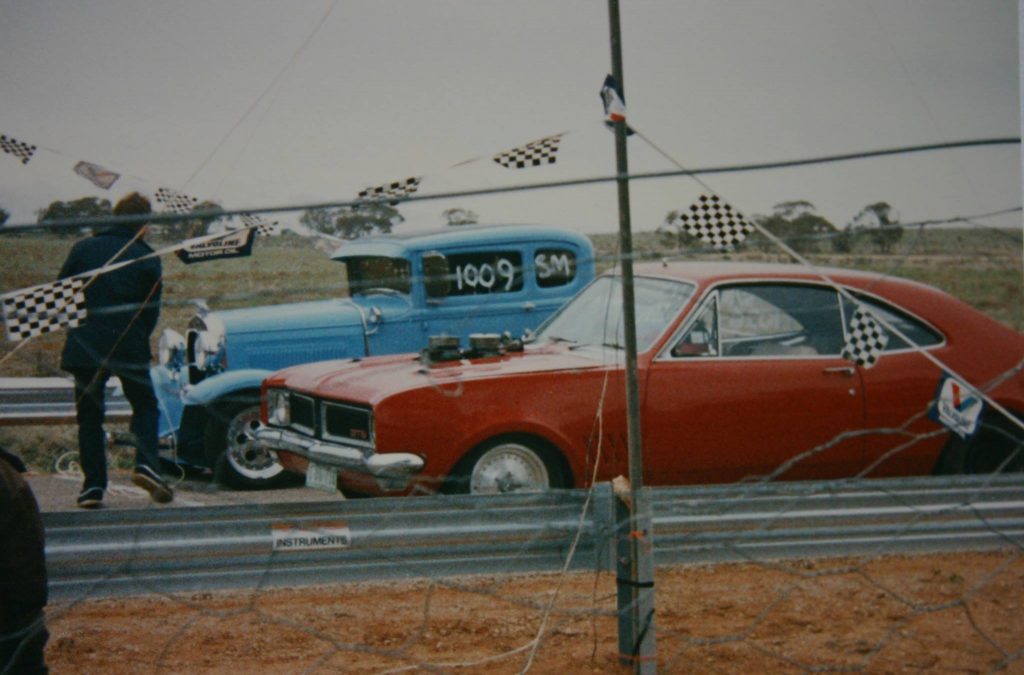 The Sunraysia Drag Racing Association (SDRA) has like most clubs of all sporting disciplines rode many highs and lows over its 34-year history, but no matter what it has always picked itself up and continued to deliver vital services to its local community.
In fact, calculations by the SDRA show that its activities under normal operating conditions contribute as much as $5 million annually to its local economy.
"Ninety five percent of our entrants are from the metro Melbourne area or interstate, and 85 percent of those entrants stay at caravan parks or in hotels or motels when attending our events while the remaining 15 percent stay at the track in their trucks, transporters or trailers," SDRA President, Kingsley Kuchel, said.
"On average over the season, competitors will stay for three days per event. From the average 1,278 competitors we host each year, 1,031 of them will stay in town at local accommodation, and then you also need to factor in events that coincide with things such as Easter which often sees families make a bigger holiday of it than they otherwise would which means more time in town.
"You then need to take into account what a competitor will spend a day between themselves and their crew on food and drink over the three days, most of which is purchased locally at supermarkets, restaurants and liquor stores, and also on fuel for their return trip.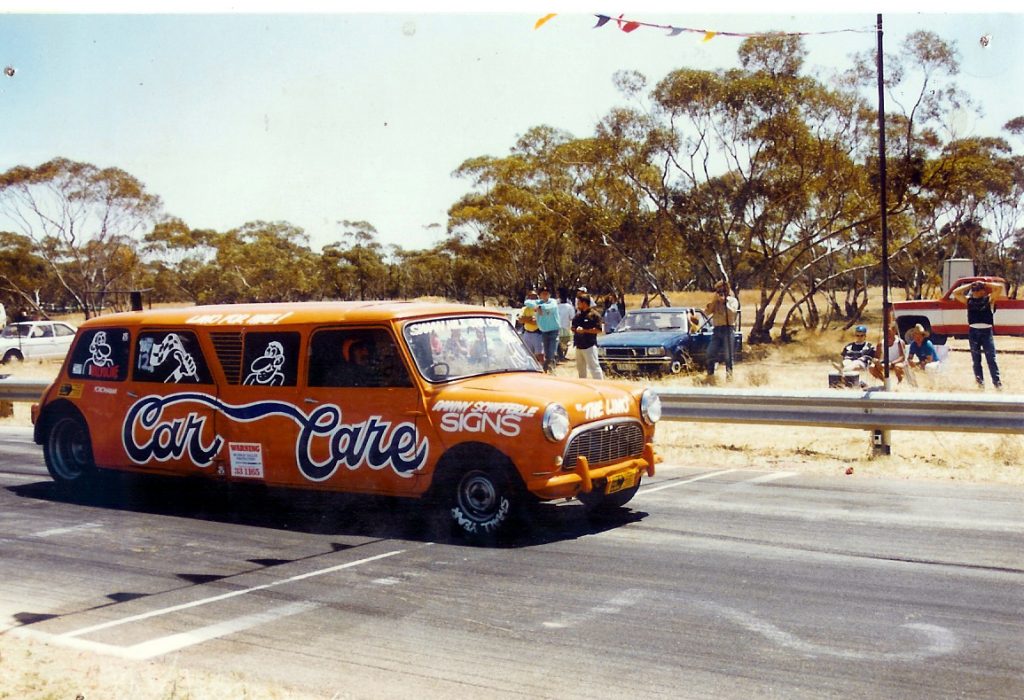 "With all the money that comes into the club from an event, 85 percent is from entrants paying to race and then spending extra money at our bar, at our food outlets or on our merchandise. Our food and drink are also only available while racing is on, so that means once racing has ceased the competitors and crew then leave the facility to spend their money in town.
"In addition, we are a not-for-profit club, so all of our money goes back into our facility primarily through investment in emergency services, equipment maintenance and other local services to help our entrants and complete upgrades where we can – we have calculated that around 90 percent of what we spend stays in the local area.
"Taking all of that into account, we have found that (under normal operating conditions) we contribute more than five million dollars per season to our local community and this is something we are exceptionally proud of*."
While 2020 was no doubt a difficult year for everyone, the SDRA has done all it can to remain operational for its dedicated supporters and its community, with plans for a great 2021 already underway.
"2020 was such a hard year for so many to get through. I doubt there is anyone that was able to guess at the start of January what was in store for everyone for the rest of the year," Kingsley said.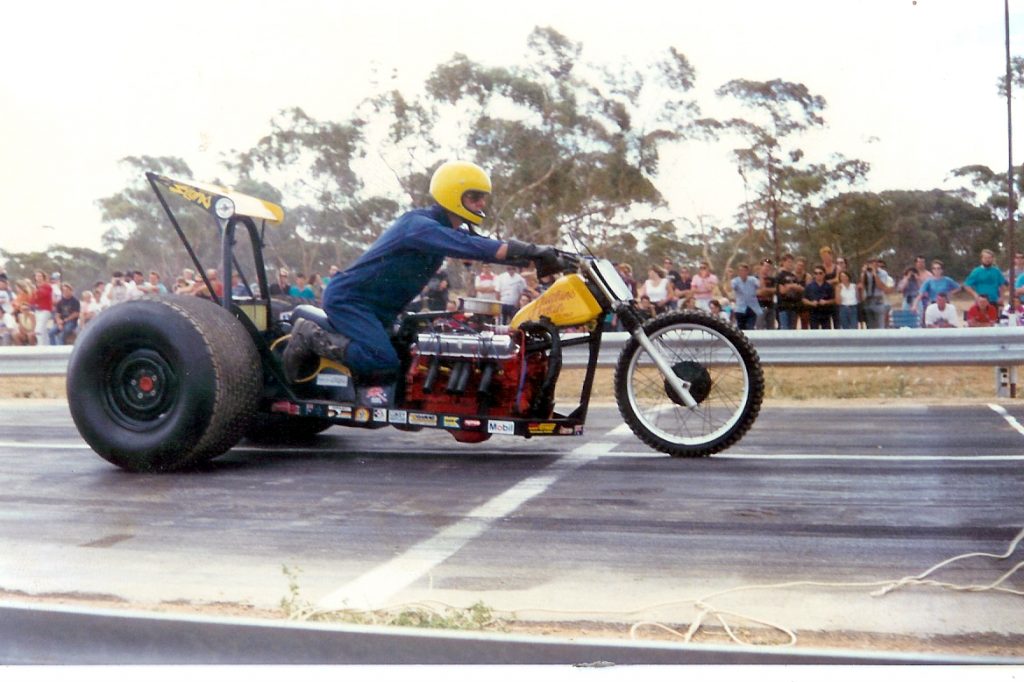 "I know for us as a club we really did not see this coming or at least affecting us to the extent it has. As much as we have been on a surge forward for the past few years and had some huge events, we have been continually fighting the battle of a drought and to be honest that is what we thought our biggest threat was.
"Due to COVID-19 we really had to come together as a club and try and work out a way to survive and stay operational.
"With the help of an idea from a racer, we were able to hold a fundraiser where anyone was able to purchase plaques which have since been mounted in our club rooms for all to see. This was very successful but not enough to keep us moving forward through a second lockdown which is where we came up with the concept of the Sunset Strip COVID Edition Book.
"This was more successful than any of us could have predicted combined with the plaque fundraiser we raised a profit of just over $26,000. If we then add on top of that a small Victorian government grant and membership fees it was enough to get us through to 2021. No matter what, we will always fight until we have nothing left."
As the battle against COVID-19 and its lasting affects continues, the SDRA is working hard on its plans for 2021.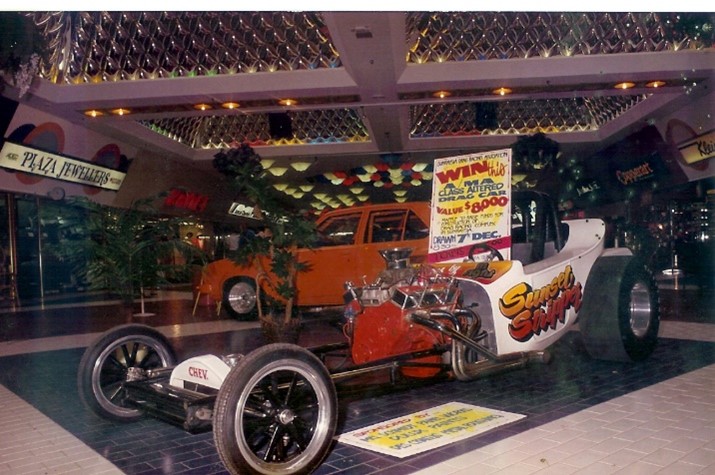 "We should have a big year in 2021, providing COVID stays away enough for us to operate at full capacity," Kuchel said.
"Outside the 10 events planned, we have also applied for an exceptionally large Motorsport Infrastructure Grant and while we do not want to get too excited just yet, if we are successful in this will see an extremely exciting 18 months ahead with some big upgrades planned.
"We are also just finishing off installing shade sails on the pit spectator fence which is something we have wanted since our opening meeting.
"Major events planned for this year include two Summit Racing Equipment Sportsman Series rounds including one in less than two weeks' time, the Easter Supercharged Shootout, our Nostalgia Titles, Junior Nationals, Street Machine Drag Challenge, and an assortment of Big Bucks Bracket Events."
As the Club continues its efforts to remain operational in a difficult climate, it is putting out the call for racers and volunteers.
"The best way to support our club is to try and participate in as many events as you can, and if you cannot participate as an entrant, we would love to see you come along as a supporter as this is just as important," Kuchel said.
"We are always on the lookout for new members, more volunteers and both financial and material-based sponsors. We can never get enough support no matter what form it might come in."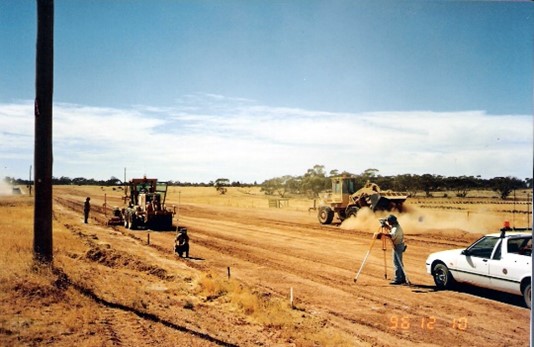 Unsurprisingly, Kuchel has some high praise for his team after all they have been through in recent times.
"Our team is crucial in how we operate so successfully as everyone is important, no matter how big or small of a role they might play in running an event," he said.
"The SDRA really tries to make everyone feel welcome and works awfully hard on making the Sunset Strip one big family.
"Treating everyone as not just a number but as someone who is important goes a long way towards how smoothly our facility runs. There are always so many people that need thanking as it takes a huge list of people and organisations to run even a small event, but to all of our team I can only say I am exceptionally grateful for their ongoing support and hard work.
"I would also just like to make a mention of our most important and ongoing sponsors: Max Crane and Lifting Equipment, Fulton and Hogan, B&S Earthworks, MTM Traffic Management, Clean Away, Ductmakers Sheetmetal, Audisound, Plumbing Plus Mildura, SuniTafe Mildura, Coates Hire, Just Red Gum, Monaghan Trucking and Logistics, 4io, Monte Electrical, Orana Motor Inn, CPM, Charlie's Engineering and Steve Power.
"Finally, I would like to thank all of the members, volunteers, racers, crew, supporters and sponsors who have backed us from the time our club came to be until now as everyone that has been involved has played a part in paving the way from where we started to where we are now.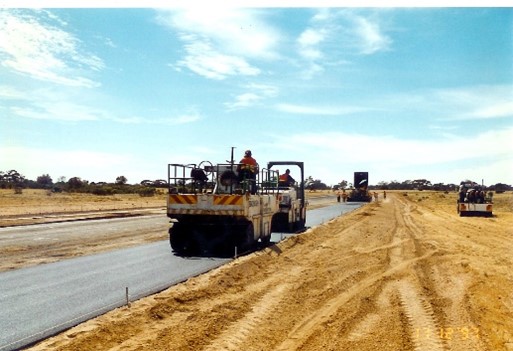 "I look forward to seeing where the club will end up in the next 10 years as if we can continue to be successful like I know we can, I am sure it will be an exciting decade to come!"
The SDRA was officially formed in March of 1986 and its first president was Phil Hagen. The remaining major committee positions were held by Gary Dickinson, Roger Trinne, Steve Timmis and Kevin Holden.
"The first iteration of our drag strip was setup and run by A.F. McRae. When he could no longer continue, Steve Timmis approached him and purchased all the timing and other equipment before commencing running events at 5th Street Merbein as a closed road event," Kinglsey explains.
"This meant the club had to set up the drag strip on Saturday, race all day Sunday and then dismantle the whole thing, including taking down all of the closed road signs for council, on Sunday night so the road could be used Monday morning.
"Each year the track saw changes from using neighbouring paddocks as the return road to having larger areas cleared for competitor pits and having an Armco barrier put at the start line on the spectator side that went out to around the 100-foot mark.
"Back then, the classes were much simpler, and we would run a Comp Eliminator Bracket with the remaining brackets named from A – D and decided on the times the vehicles ran.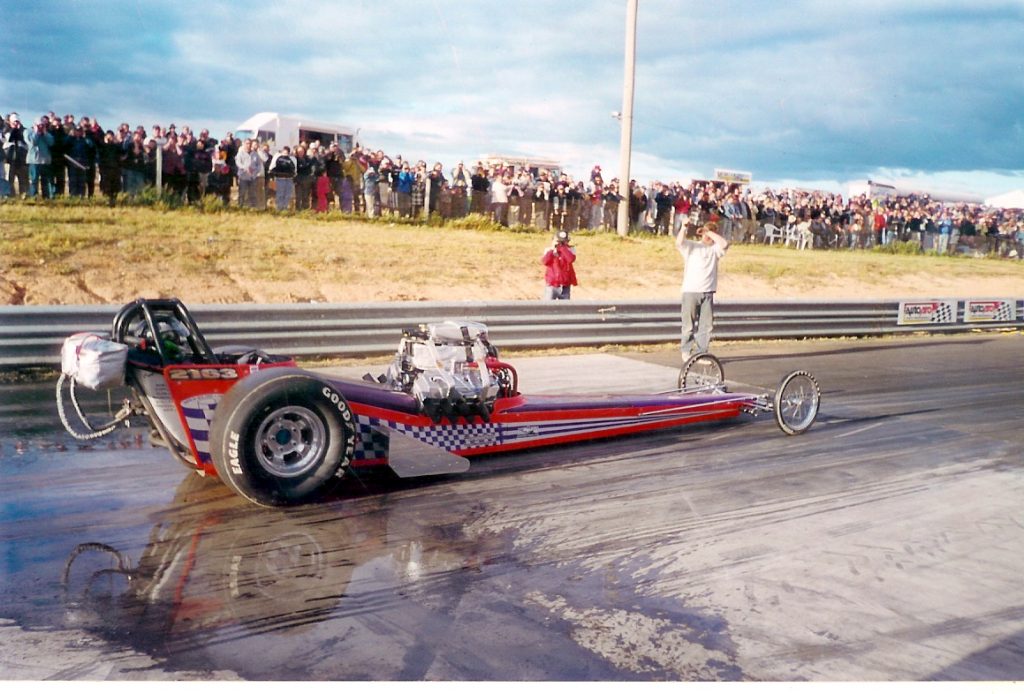 "Comp Cars such as Altereds, Dragsters, Blown Sedans and more all ran single passes and their times were compared against each other to see who would progress; while all of the lower classes would run side by side, seeing cars racing against bikes which saw us always treated to some interesting and exciting passes made!"
These early events were exceptionally well supported, with many competitors travelling great distances to compete – some of which are still racing with the club today.
"What the Club was able to achieve on that closed road was remarkable at the time. We continually saw all types of vehicles getting faster and faster each year," Kingsley said.
Events on the closed road continued until 1994, at which point the SDRA shifted its focus to fully concentrate on building the purpose-built racetrack at Koorlong.
"The only events we continued to do was the occasional Go to Whoa which were always held on a length of concrete that was in the centre of our local speedway track (Timmis Speedway)," Kingsley said.
Just as it did in 2020, fundraising played a critically important role in the building of the current track.
"The SRDRA were always doing fundraisers to try and raise money to build, even raffling off a Modified Altered which was called the Sunset Stripper," Kingsley explained.
"We tried so many different ways to raise funds. Some were very successful, and some were not, but the club never gave up trying to raise the amount needed to get this track completed.
"We do have to make reference to what most would say was one of our most unusual fundraisers which was when the SDRA put on a fashion parade, featuring members and associates of the club ranging from kids to adults walking the catwalk! It was a successful evening but was definitely not our normal type of fundraiser.
"One of the biggest and longest running fundraisers were our Lamington Drives by Robert and Janita Kuchel. The Lamington Drives were a popular and good financial fundraiser for the club, so much so that it got to the stage that there were permanent orders and for a couple of years during the mid-90s the club would see thousands of Lamingtons made every three months. We remember the last couple getting a little out of hand with certain members starting a chocolate and raspberry dip throwing fight – let us just say no one made it out clean!
"It was amazing what the club achieved in that time and we had such a strong club member network where everyone wanted to get in and help. Sixty percent of the funds used to build the track was generated by the club's fundraising efforts."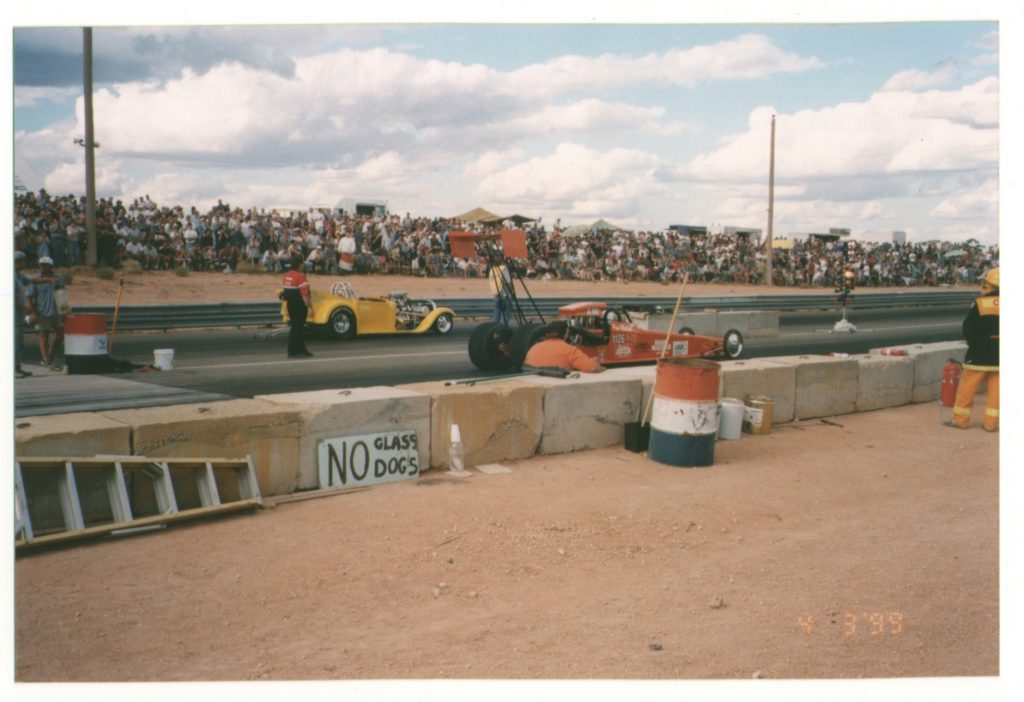 Construction on the purpose-built track began in the early 1990s, but not many are aware that the SDRA's current facility was not the first site at which construction was begun.
"Unfortunately, not long after we had started clearing land and putting in tanks and doing other works at the first site, we were forced to vacate that area, which then sent us five kilometres closer to town where the current racetrack is now," Kingsley said.
"Work at the Sunset Strip really took off from 1994 to 1997. In that time, we had a work for the dole scheme with a team of roughly 20 people working at the facility full time for 12 months moving dirt, clearing pathways, building fences, and putting in the tyre barriers all the way around the facility perimeter as well as inside the facility, like following the return road and to set up the sections in the spectator carpark.
"The driving force behind keeping the facility constantly moving forward was the president at the time, Stephen Pendock. Without Stephen the track might not have ever been completed as he was out there every day after work and writing letters every week to anyone he could to try and help us gain finances or resources that we could put towards construction.
"There were also many members at the time that were major contributors to getting the Sunset Strip completed such as Robert Traeger, Darren and Natalie Morgan, Robert Kuchel, Steven Wagner, Gavin Chiswell and Kevin Mann. There were so many others that all had valuable contributions towards getting the Sunset Strip up and running and for that we truly thank you all for your efforts."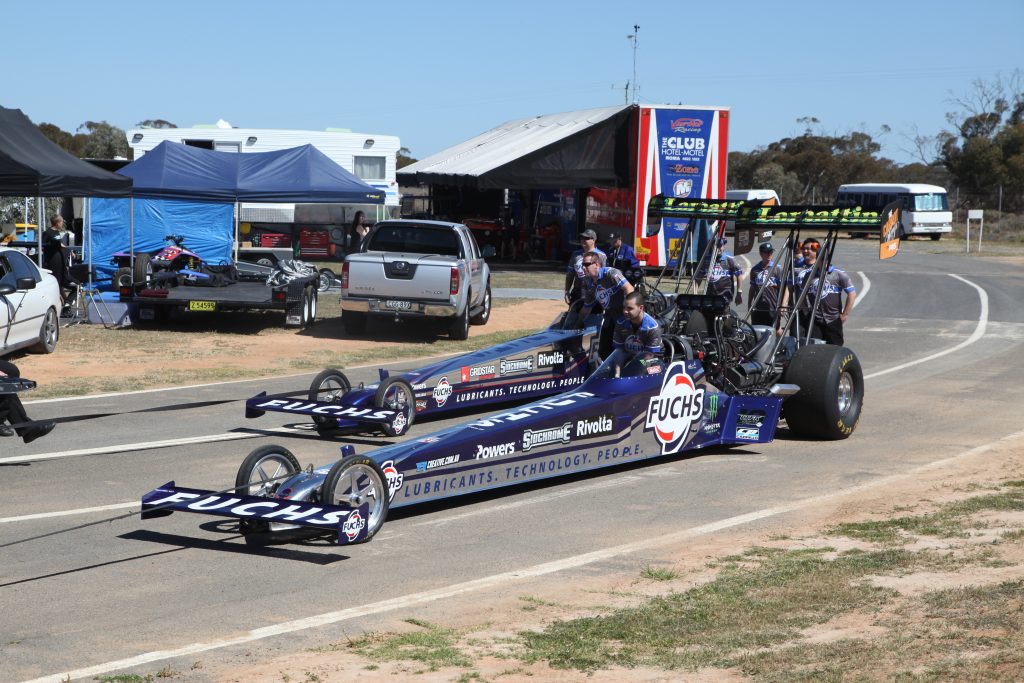 Come December of 1997, it was time for the track surface to finally be laid.
"That day was one of the most exciting for the club members as they really knew all their hard work was turning into a reality," Kuchel said.
"The surface was put down in December 1997 and over the following six months the club was able to get Armco railing and concrete wall barriers put in place.
"The track and facility were completed enough by 1998 to be able to start running small test and tunes and this occurred a good handful of times until August 1999 when we had our official opening weekend.
"This was huge for the club and was one of the biggest weekends that the club has ever dealt with. The weekend was split over two days, with day one hosting a normal competition meeting and featuring the Tectaloy Coolant Challenge which was a best of three runs between Colin Will's in his Supercharged T-Bird and Ricky Monserat in his Supercharged Funny Car. Colin was the winner of the challenge and really helped shape day two which was to be just as huge.
"Day two saw us run our first nostalgia drags event and following on from the previous day, we saw some fantastic and fast cars turn up to race at the Sunset Strip opener. The two days saw a total of 130 entrants compete and was the club's biggest ever entry list not only up to that point in time but for many years to come. This grand opening weekend is still one of the most remembered and talked about events we have ever ran."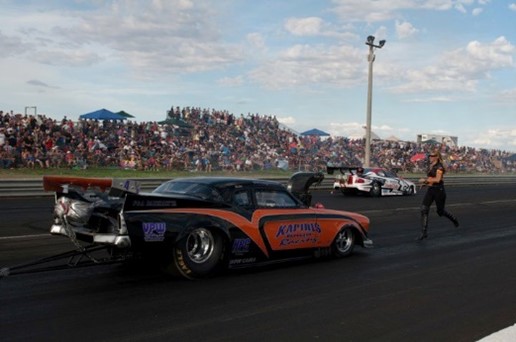 Since that grand opening, the club has hosted a wide array of events over the decades, with a number of 'must do' events on the calendar including some long-standing concepts which have translated from the closed road to the Sunset Strip facility.
"Our biggest events have always been our Easter event as well as our Queens Birthday weekend event," Kingsley said.
"The Easter event – now called the Easter Supercharged Shootout – attracts the second largest field of supercharged outlaws for the year throughout Australia and has always been our biggest and most special event held for the year; it has been this way since we first started to run events at Easter time in the 1980s.
"The Harley Drags were always extremely popular and saw some awesome bikes come up and compete and the crowds were always huge at these events too.
"We have also seen Group One passes from Top Alcohol dragsters and funny cars to Top Fuel Motorcycles, Pro Stock, Pro Stock Motorcycles, Top Doorslammers and Top Fuel; action from Nitro Funny Cars and Nitro Front Engine Dragsters; and visits from the Slamfest Series in 2010 and 2011 when that was running.
"Participating in the Tri Series was a highlight as well for us, it was always a great series to be involved in and was purely for regional eighth mile tracks mainly in the SA division from the very early 2000s to 2015.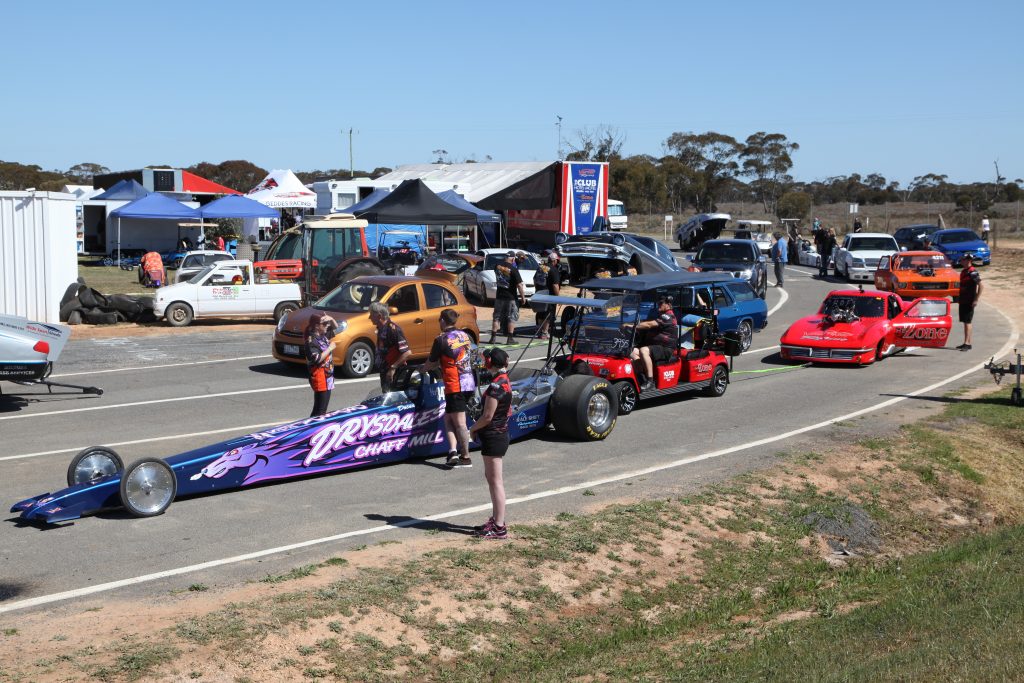 "In 2014, we held our first round of what is today known as the Summit Racing Equipment Sportsman Series. We were extremely excited when approached by ANDRA and given the opportunity to host a National Sportsman Round. At the first such event, we saw the fastest regional eighth mile side-by-side Top Fuel passes in Australia and over the years these events have grown exponentially. For the last two years we have hosted two national championship rounds in the same season and we currently hold 20 Australian drag racing records for eighth mile, the most of any regional track in Australia.
"Another cornerstone of our calendar every year is our nostalgia event which continues to grow larger and larger and is now one of the biggest events of its kind at a regional track in Australia. Due to its popularity, we have had to cap entries at 120 to ensure a quality event can be completed in one day. What is more astonishing is that this entrant cap is met within a week of entries opening which is six weeks before the event and we then end up with a large waiting list as well.
"A more recent addition to our regular calendar is the Sunset Strip Junior Nationals which was first held in 2018. It has quickly turned into one of the go-to events not only for the Junior competitors themselves but their families as well with its own special atmosphere with entrants coming from all over Australia to attend."
It has now been more than 20 years since the track was finished and officially opened, but there have been many changes and improvements over that time.

"Between 1999 and 2010 we saw the track run off extended a further 170 meters as when we opened, we only had one turn off which was at the end of the 300 meter long run off," Kingsley said.
"With the runoff extended, we also saw a bigger sand trap made and a second return road section completed; and toilet blocks and catering buildings were also constructed.
"One of the biggest improvements was getting permanent power into the facility and while we are still hopeful of getting more power into the pits one day, at that point it meant we could really advance our buildings, equipment and race events.
"Club member and Powercor employee Mark Jones was a big help in getting this achieved, as he organised the crew to do the work in their own time and he also was able to get Powercor to let them use their trucks and equipment and so on, while we just paid for materials and connection fees.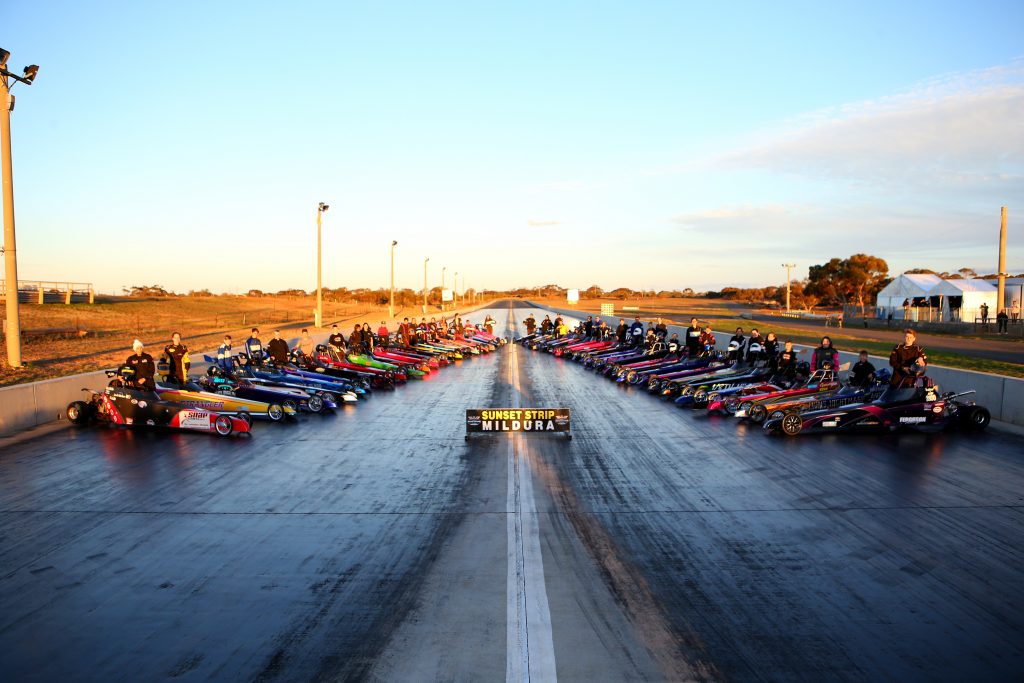 "Power also enabled us to have permanent track lights installed – there is no racing like night-time racing. And we built a burnout pad that had a helping hand with some funds from the Shoal Haven Drag Club when they closed.
"The mid to late 2000s saw the start of bitumen sealing in the pits plus an expansion to help cater for the constant growth of bigger trailers and transporters.
"Fences were altered and moved, and we also saw the construction of our club rooms shed which has been used at every meeting since and is slowly having upgrades done each year.
"One of our biggest upgrades in 2010 was not even inside our facility, but rather outside when we saw Mercer Street sealed by bitumen. Jenni Gledhill put in a mountain of time to get this achieved which had been on our wish list from the time construction of the track commenced.
"Other major upgrades have including having our walls removed and replaced with continuous international concrete standard walls from the burnout area all the way to our first run off; and in 2013 we secured a grant to help us dig up the old surface and lay a full concrete eighth mile track that ends 100 feet after the finish line which was necessitated when the track went underwater for three months. Finally, over the past month we have been able to put up shade sails along the pit spectators' fence and we have just had permanent lights put up in our runoff area between the finish line and first return road. Both projects have been on many of our bucket lists for a long time.
"It sure has been a rollercoaster of a ride, but we can't wait to see what lays ahead for us in 2021 and beyond – watch this space!"
Next up for the Sunraysia Drag Racing Association and the Sunset Strip is the 2021 Twilight Nationals which will represent the Grand Final event for the extended 2019/2020/2021 Summit Racing Equipment Sportsman Series, next Friday and Saturday (12-13 March).
To learn more about the Sunraysia Drag Racing Association, visit www.sunsetstrip.org.au or the SDRA Facebook page at https://bit.ly/3b5Jkl9
*The SDRA bases these calculations on Tourism Research Australia's calculation for motorsports, year ending June 2019.
ALL PHOTOS SUPPLIED BY SUNRAYSIA DRAG RACING ASSOCIATION.