After coming home third in the 2019/2020/2021 Summit Racing Equipment Sportsman Series Super Gas Championship, South Australian Renee Cockerill is preparing to turn her hand to Super Sedan and Modified Racing in the Northern Territory in back-to-back events, starting next weekend.
Cockerill will contest Super Sedan at the Hidden Valley Drag Strips' Top End Nationals next weekend (July 16/17) and Super Sedan and Modified at Alice Springs Inland Dragway's Desert Nationals the following weekend (July 24/25).
The events mark rounds one and two of the 2021/2022 Summit Racing Equipment Sportsman Series, and will also host the opening two rounds of the newly announced Australian Drag Racing Championship for Top Doorslammer and Top Fuel Motorcycle.
"Last season, where we were third in Super Gas, seemed to go on so long but we were determined to keep working at trying to get that championship. I have been racing since I was 19 years old and am yet to win a national championship although I have claimed a few Divisional titles.
"We didn't quite get there last season but we will keep trying: I would really like to get one before we decide to pack it in – however long that will be!"
Cockerill will not only be contesting the back-to-back events up North this month, but will also be doing double duty at the Desert Nationals by entering two brackets.
"Entering both events in the NT has always been a bucket list item for (her husband) Steve and I and this year it has just worked well for us. I really like that the events are on back-to-back weekends as it also gives us a chance to play tourist for a few days and see the place between racing," she said.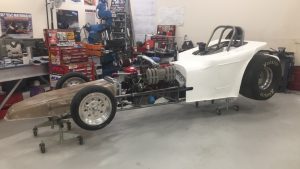 "I will be racing in Super Sedan at both Darwin and Alice Springs, and I have been lucky enough to be asked to test drive an Altered in Modified for Josie and Dan Hodgins, running a Barra six-cylinder turbo engine. The reason we help this amazing family is because of their love for the sport and their passion to want the sport to survive.
"This is a brand-new car for Josie that they have been building together and I am very honoured to be the one to take it onto the track for the very first time.
"We have never raced at Darwin before so this will be our first taste of the track and we are very excited to be there and see it for ourselves.
"We have been to Alice Springs Inland Dragway a few times and raced, it is a superb track with a great track surface over the quarter mile which produces the goods when it needs to. The pits and spectator facilities get better every time we visit and we look forward to seeing what other improvements have been made since we were last there.
"While we love it, we haven't had a lot of luck at Alice Springs so far – in 2012 we made our way up to the Harley Challenge where we came runner up in Modified in our old 32 Roadster. A year later I took the Mustang there to run in Super Sedan when we first purchased it and we had so many issues with getting the set-up to work. I also went for my Group Two license in Dan Hodgins' Funny Car at Alice Springs about four years ago with no luck as we ended up destroying the engine, which was very disappointing for both parties, although I am still very thankful to have been given the opportunity to give it a go. Hopefully this trip goes better!
"I would like to thank my husband Steve for his support, he is my biggest fan; without him I wouldn't do what I do, and also the friends and family who are opening their homes to us over the course of the next few weeks."
The Top End Nationals will be held at the Hidden Valley Drag Strip across July 16-17. For event information, visit www.hiddenvalleydrags.com.au
The Top End Nationals event will be followed swiftly by the Desert Nationals at the Alice Springs Inland Dragway across July 24-25. For information on that event, visit www.cadra.com.au
For more from ANDRA, visit www.andra.com.au
IMAGES:
Image one (at top): Cockerill in action earlier this year in the Summit Racing Equipment Sportsman Series (credit: Outlaw Images)
Image two (in article): The Altered Cockerill will race at Alice Springs (image: supplied).