Matt Forbes, Steve Norman and Edge Mallis walked away from the weekend's ANDRA Grand Finals with not only a national championship win, championship runner-up placing, event win, two event runner-up results and a DecoGlaze Glass Splashbacks Top Qualifier medallion between them, but also five new national records.
For the full listing of the updated 660ft records following the ANDRA Grand Finals, please click here.
Forbes took out the Summit Racing Equipment Sportsman Series Super Stock Championship and the SuperComp event victory in a 'do or die' final, and also reset the E/APA mile per hour (130.99mph) and ET (5.185s) national records along the way.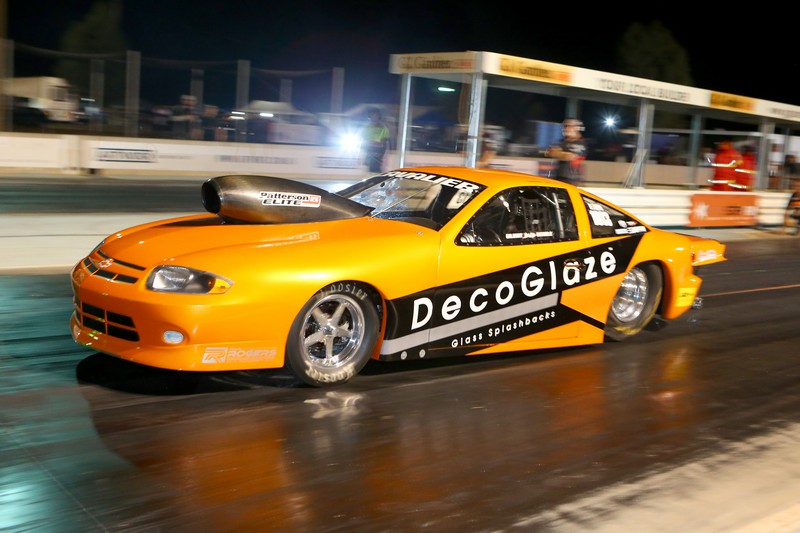 "We are rapt to be able to get the E/APA record in both ET and Mile Per Hour, it is a real testament to the whole crew. The team did a great job doing the research that went into building this new restricted combination; being the first to run this class was a real challenge," Forbes said.
"Of course, with the index and handicap system being what it is, ideally you want to go rounds without breaking records, but we had to throw everything at it and go that fast in the final to beat Steve which backed up both ends of the national records. We were both pushing so hard to get that final victory for not only the event, but for the Super Stock championship.
"ANDRA and the rules committee did a great job with the new restricted classes – we're only a couple of meetings in with this combination as we ran C/APA for most of the season until our new E motor was ready. We have a super-efficient car so that plays a large part and we have just started trying a few tuning changes. We had really good air and track conditions at Mildura which allowed us to reset the record to 5.18s and that was all that we had; we had no more in the car.
"Overall, I think it is a great system and with some of our advantage taken away now for next season we will pull the engine out over the Winter, search for more horsepower, and tinker away with the car so we can come back next season in a competitive position.
"For all of their support across the board which has allowed us to secure the national Super Stock title, I would like to say thank you to Craig Geddes and Rob Martin who give us a lot of support with Decoglaze Glass Splashbacks, to Gilbert and Jill who own the car, my family who understand my passion for racing, my dedicated crew, my long-time crew chief and business partner Les Waight, Max Fiumara who was with us this weekend, Andy at Lucas Oil, Jason at Dominator Converters and the team at Paul Rogers Performance Transmissions – without these guys, we wouldn't get to do what we do. Also, thanks to Tim Reidy, Kingsley and Lauren and their team in Mildura, without them we couldn't have gone racing there either."
Forbes may have beaten Norman for the SuperComp event victory, but not before the SuperComp Top Qualifier, SuperComp event runner-up and Super Stock Championship runner-up reset the ET and MPH records for the B/SMA category to 5.285s and 129.53mph.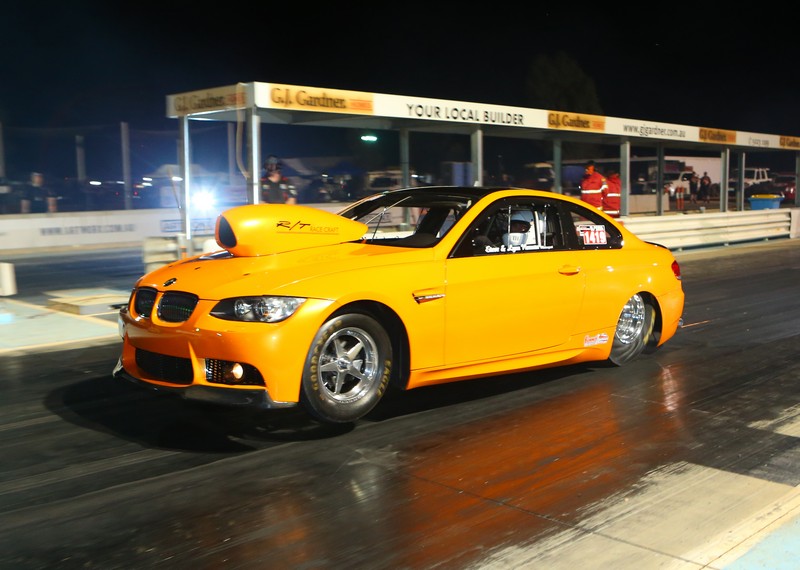 "We most definitely were not trying to reset the record, but I knew I had my hands full with Matt," Norman said.
"I was a little bit slow on the tree in the final and I don't know why, as I had been pretty good all weekend and for a couple of meetings beforehand, but it is what it is. The car was a bit of a handful in the final, it left really hard and started walking around a bit down the end. But with all of that, it was still a really great race, both because it was tight all the way to the line and because it was not just for the event, but also for the championship.
"I think from the perspective of both Matt and I; it couldn't have been any bigger or better than that. When you get to that stage, as long as it is a really tight race, that is all that matters and neither of us broke anything so that was good!
"We are always trying little bits and pieces to try and squeeze some more out of it, and I would say there is a little bit more left in the car at the moment, but not a whole lot. We will just keep on pushing onwards and upwards though and I am sure I will get even with Matt somewhere along the line," he grinned.
"They had a really good turnout for the event and the show was run really, really well. The regional tracks put on such great events and they are all really on the ball, they cannot do enough for you, and so it was really great to race there in Mildura."I would like to thank Reg Ryan and his partner Hayley who have been our long-time crew for more than 20 years – without them none of it happens so I really appreciate their help and especially Reg's knowledge, he is such a clever man. Thanks also to Ryan's business RT Race Craft who does endless preparation on the car, and to my long-suffering wife Lynn for all of her support.
"A big thank you also to the Sunraysia Drag Racing Association and everyone at Mildura – they are often up against it with the weather, but they always get through it and are just really professional and dedicated with what they do, and it is much appreciated."
Mallis meanwhile was the event runner-up for the Competition Bike class at the weekend and also reset the CC/CB MPH national record to 144.80mph.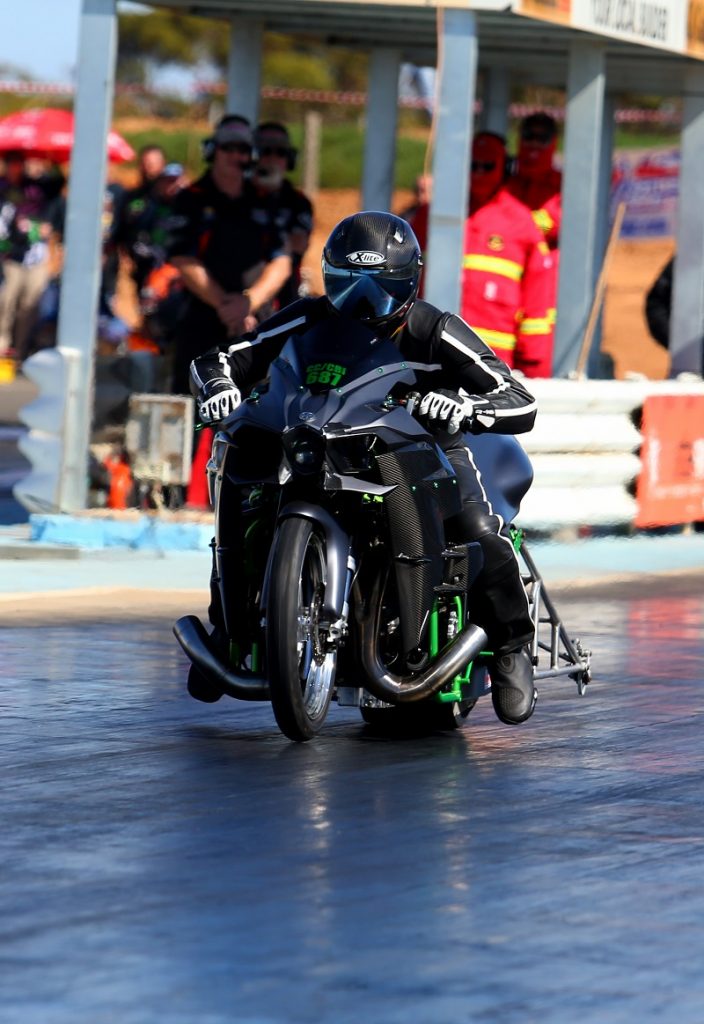 "This bike is only two meetings old, and we weren't running our normal class at this event. We were at Portland in January and top qualified .759 under the index so we really smashed it then, but we weren't able to back it up at the time – we were wheel spinning the whole weekend and could not control it, so we had to keep taking power out of it and eventually I made a mistake with the clutch setup, I won't do that again!" explained Mallis, who has been racing for 41 years.
"We came to Mildura hoping it would have more traction and it didn't let us down. On the last run Friday at midnight, we threw the kitchen sink at it and we got all the shifts right for a perfect run. We decided to throw a little more clutch and horsepower at it. Over the Sunday, we actually ran way quicker than the 144 in round two, but it was more than the one percent to back it up – we actually ran 147 in round three and on the last pass where I red lit before the tree was set, according to our data we ran around the 151mph mark.
"The bike and I are around 60kg overweight for the CC/CB class as well – I don't believe in backing off ever to save records or whatever, so we decided to nominate in a harder class, and we were absolutely wrapped to get the record.
"Sunday was actually five years to the day since I had my accident at Calder and shattered my pelvis – I bought this bike from a wrecker while in my hospital bed recovering from that crash, as I had decided I was going to build a wheelie bike after all of that!
"We have certainly underestimated what this bike had in it and we still have way, way more in it I think. I believe it is capable of mid-sevens (over the quarter-mile) easily and the current world record for this bike is a 7.90, so we will be chasing that for sure.
"I have to say thank you to Blaze Hansen who was tuning it remotely from Queensland for us and is actually the person who built the chassis for me and along with racer Mick Donahue, also helped me out with information while I put the engine together.
"I also want to thank my son Jeram who has been doing all the tech duties and crew chief duties, Simon Allinson who crewed for me at Mildura, my partner Letishia for her support and continuous encouragement, and also Joe Khoury. Joe and I met back in 2013 and ever since then we have been helping each other out and we have been stablemates. When he said he wanted to come down from Sydney to do an ANDRA round I was keen to encourage him to come to Mildura and then I asked if he would enter in Competition Bike so we could have a field and he not only came down but also won the event and top qualified – not bad for someone who had never run the bracket before!
"I am currently ready to talk to any potential sponsor now that the bike has put some scores on the board and there is plenty more to come. In the meantime, I do have to thank two valued supporters who have been with me long-term: Redarc for the solar panels and Trailer Pro braking kit and CIM Wellness Centre for keeping my health and weight in check."
For more information on how the ANDRA Grand Finals event unfolded, please click here and here.
For a full listing of the 660ft records following the weekend, please click here
For more from ANDRA, visit www.andra.com.au