Rapisarda Autosport International has taken the covers off a striking new livery for one of its Top Fuel Dragsters at Sydney Dragway this evening.
The special ANDRA livery showcases the ANDRA logo on both sides of the dragster alongside the 'The Most Powerful Motorsport On The Planet' tagline, with the ANDRA name also featured on the nose.
The livery will feature in upcoming promotional opportunities for ANDRA and fans will also have the chance to see it in action at select upcoming ANDRA and Australian Top Fuel Championship events.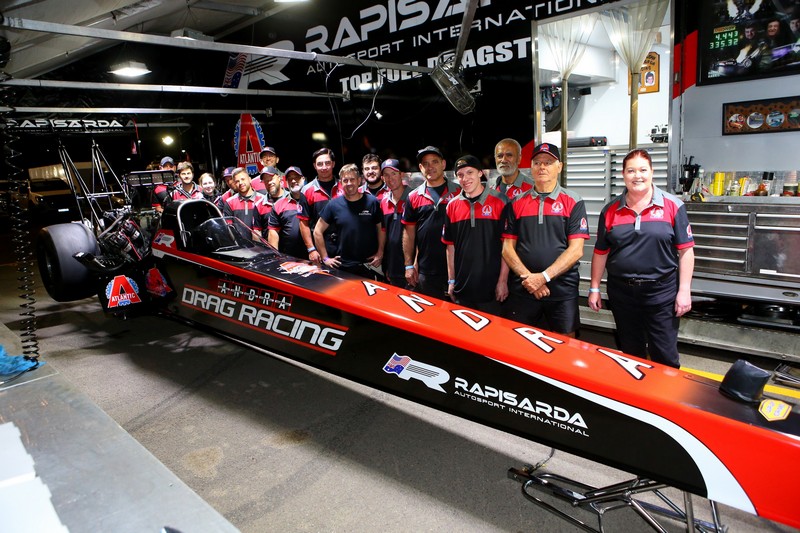 "The Rapisarda Autosport International team has raced under ANDRA for many years, and we are very happy to be racing together again," RAI Team Principal, Santo Rapisarda, said.
"Richie Crampton drove this car last, and it has since had a fresh front half put on and a full overhaul, so the timing worked out perfectly for having the body wrapped in this special livery."
ANDRA Chief Executive Officer, Brett Stevens, said RAI's show of support at Sydney Dragway was greatly appreciated.
"To have Sydney Dragway firing up under ANDRA sanctioning once again has been something we are extremely excited about, and we have been very thankful for the support of our members and racers across the country as we work through the transition process," Stevens said.
"RAI is a powerhouse in Top Fuel Racing in Australia and to see them effectively 'flying the ANDRA flag' with this great livery is just amazing."
RAI were on-track this evening as part of a testing program which will also take in Sydney Dragway's Thank God It's Fryday event tomorrow. For more info, go to www.sydneydragway.com.au
ANDRA is officially recognised as the controlling body of drag racing in Australia by Motorsport Australia (formerly known as CAMS) and the Federation Internationale de I'Automobile (FIA).
ANDRA sanctions races throughout Australia at all levels, from Top Fuel to Junior Dragster, on everything from temporary regional tracks to international standard facilities in capital cities.
For more from ANDRA, go to www.andra.com.au