The APSA Pro Street Shootout at Willowbank Raceway this Saturday (3 October) is set to settle the score in some tense on-track rivalries, with a special buy-in grudge match set to pit the heavy-hitters against each other in a race for big cash prizes.
Bringing together the toughest and fastest Pro and Modified Street, Radial, X275, True Street and Pro Bikes in the country at Willowbank Raceway, the shootout will for the first time feature a buy-in one-shot race to find the fastest radial car in Australia – competitors will be able to buy-in for $500 for a chance to be crowned the 'King of Radial' and collect a $5,000 cash prize.
In addition, a range of racers will be putting up cash to settle rivalries both new and old – one pairing in particular set to have the Pro Street fans on edge are Scott Cortina and Frank Marchese.
The pair were set to duke it out at March's Pro Street Shootout at Willowbank, however when wet weather intervened their grudge race was rescheduled for this weekend's event, with anticipation of the nitrous versus turbo/Victoria versus Queensland/Holden versus Ford match-up steadily building in the lead-up.
"I am certainly feeling confident of taking it out, or I never would have started this thing!" said Cortina.
"Frank and his Dandy/ProFab team are a great bunch of competitors who like to win, as we all do!
"We won't just be racing Frank, we will be racing one of the country's top Pro Street teams as a little two-man team. But we are feeling good, and our sponsor Gazzard Bros Suspension will give him another $500 if he can beat me on the sixty foot times, so he can bring that big white 'land yacht' of his in.
"As well as looking to beat Frank we will be looking to run a new Personal Best and of course bring home the money! The fans are in for some great hard-core Pro Street heads-up racing with some big dollars on the line, so it should be a cracker of an event for everyone involved. If you are here, come and say hello at our truck – we will be giving something away at the end of the weekend too, so make sure you take the opportunity to put your name in the draw while you are there!"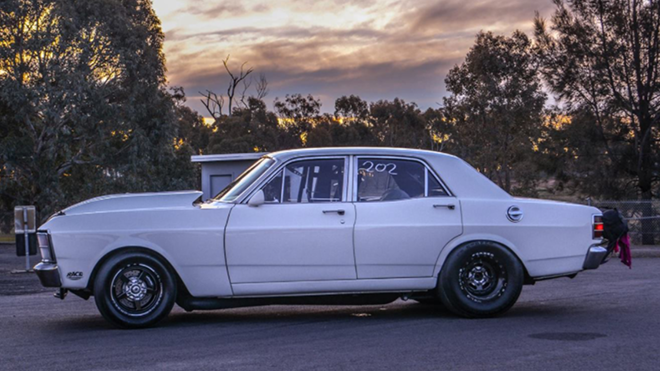 40 year old Marchese – who took out the 'King of the Street' meet in Melbourne – is currently in the United States, but will return in time to take his place in the line-up for 3 October.
"The thing I like about myself and Scott is that we have very similar cars – even though one is a Ford and one is Holden, they are both old-school, standard suspension street cars that most people can relate too, having had them as a family vehicle at one time or another," said the Dandy Engines automotive machinist. "Yes they do have exotic roll cages – and so they should at speeds of more than 195 miles per hour (314kmh) – but most can still relate.
"As far as the match race, I hate being cocky – I am only confident because I have a quicker time card than Scotty, as my car has been 7.5 seconds and his has been 7.7 seconds, but I don't like being cocky.
"Scott has a very good program and is good at getting it down the track, where I run the risk of overpowering the track a lot easier with my 2,200hp combination. Scott is very competitive, but is also one of the nicest and most genuine guys you will ever meet at the race track, he doesn't have tickets on himself – he has a fast car, but he lets his car do the talking, and I like that.
"I would like to say I am confident, but you never know what will happen until you are holding that cash in your hand!" said Marchese, who thanks his crew and sponsors Pro Fab Chassis, Pro Trans Transmissions, Fuel Tech/ECU, Speedflow, Speed Pro Distributors, OJs Paint and Panel, Race Radiators and Regional Auto Electrics.
"I hope the fans will come out – in my opinion it doesn't get any better than the events of the Australian Pro Street Association. They are the pinnacle of the street car scene and if you want to prove you are the fastest, this is the place to bring your car!"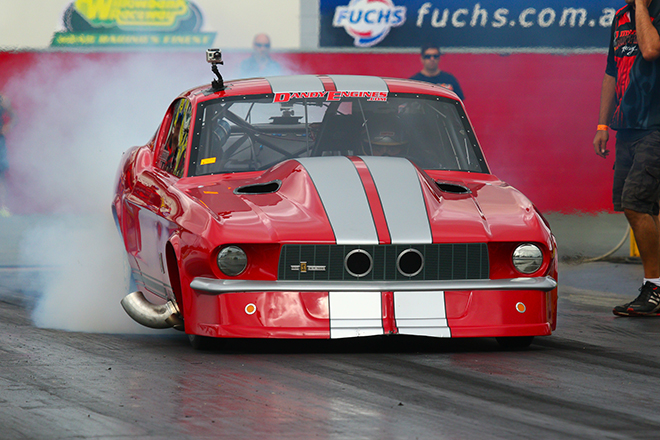 Another one to watch will be Outlaw Radial racer Domenic Luppino of Victoria, who will be chasing the Australian Record for the Outlaw Radial class to claim the crown of Australia's fastest radial car.
With the 43 year old and his new '67 Fastback Mustang capable of more than 3,000 horsepower starting to come 'on point' following some initial gremlins, a challenge has been thrown out by event organisers for match-races against the fruiterer.
"There has been a lot of talk about who has the fastest Radial car in the Australian and unofficially I have run a 6.66 seconds at 213 miles per hour (343kmh), which makes it Australia's fastest radial car," said Luppino, who is supported on track by Turobsmart, VPW Australia, Firefly Coaches, Sunoco Fuels, Dandy Engines and ProTrans.
"I'm not one to talk the big talk over social media like some others, I rather let the time board do the talking and I will prove myself on the track rather than behind a keyboard.
"This challenge has been great as it will sort the men from the boys – the winner-takes-all concept attracts plenty of attention, egos are broken, and dreams come true for the winner. The real exciting part is that absolutely anybody could win, as so many variables play a part in drag racing and radial racing – if you have too much power you risk overpowering the track, but not enough and your opponent can drive around you – making the right call is key.
"Five years ago I had a vision to become Australia's fastest Pro Street Blown racer and I achieved that top spot and still hold it today, but last year I decided to move to the new and exciting Outlaw Radial class. In this new class I have that same vision, and while unofficially I already hold the title only time will tell what my car will be capable of at the Pro Street Shootout at Willowbank Raceway."
On-track action for the APSA Pro Street Shootout will kick off at Willowbank Raceway from 11.00am, with spectator entry just $25.00 (or $20.00 for students with ID cards), while children aged 13 and under gain free entry. For further event information, please click here.
Images: dragphotos.com.au (top, bottom), Frank Marchese (middle)