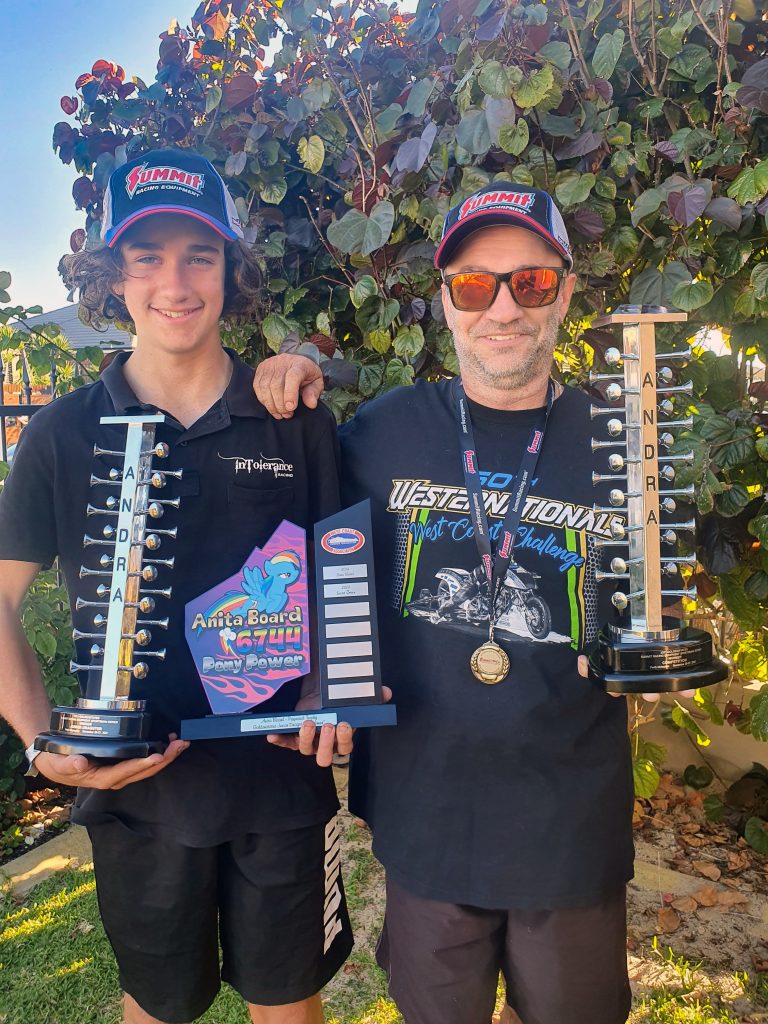 At the weekend's Goldenstates event, Steve Martin and his son Jett Martin proudly held aloft ANDRA Christmas Trees after taking victory in the Competition and Summit Racing Equipment Junior Dragster brackets respectively. With his victory, Jett also claimed the Anita Board Memorial Trophy.
Racing is a true family affair for the Martins, who compete under the banner of 'Intolerance Racing.'
"We have always been huge fans of drag racing since the Ravenswood days – myself and my brother-in-law Justin had a go in Super Street, and we were hooked. We first entered in 2012 with the blown commodore and then a year later with the altered I race today," Steve explained.
"I currently have my kids Jett and Tahlia racing while Justin has his son Lachlan racing also, and by the look of it I have about 10 years left in juniors with all the kids coming through.
"My father-in-law Steve is the Crew Chief and puts in a huge effort looking after three junior dragsters and two blown cars.
"My wife Racheal's uncle Alan has also been there since the beginning in the pits helping out with all the cars, but his main area of expertise are the parachutes.
"Racheal also has one of the biggest roles, packing trucks, starting the juniors, backing up my dragster and organising all the catering.
"My mother-in-law Julie has been supporting us since the start in multiple ways and Justin's new partner Chelsea has also been thrown in the deep end.
"Lastly there is Gaz who is a long-term family friend and has also been there since the beginning helping with all the tuning and maintenance between passes.
"It truly is a real family affair!"
The combined efforts of the Intolerance Racing crew paid off well at the weekend, with two ANDRA Christmas Trees and the Anita Board Memorial Trophy to take home.
"It was a great weekend of racing and I was really excited with my win, not just for me personally but for the whole crew as it is the prize that makes it all worth it with all the blood sweat and tears (and money)," Steve said.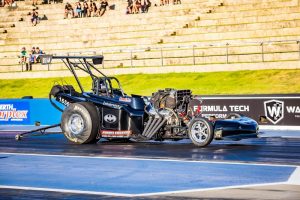 "Competition Eliminator has always been my favourite bracket and to participate in it is a dream – watching all my favourite drivers and cars over the years has been fantastic and taking the tree is the icing on top which I never thought would happen.
"Then Jett had his win as well which I think was more exciting to me than my own! I couldn't believe it; the Summit Racing Equipment Junior Dragster class is such a tough class with a huge field and a bunch of talented drivers, and I take my hats off to them all.
"I was strapped into my car at the far end of the staging lanes during his final so I could only see him on the big screen, but it was still a huge moment. To then see him come back to the staging lanes as I was being pushed through and see the crew embrace him was a really special moment.
"Both of us taking a tree each hasn't sunk in, I still can't believe it, it is such a rare moment to be part of and I am so proud."
Jett is equally blown away by the weekend's results.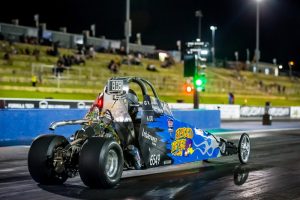 "I still can't believe it as there are so many competitive cars in Junior Dragster and it is quite amazing to win on the same night as Dad," Jett said.
"To take the Christmas Tree was a dream come true and taking the Anita Board Memorial Trophy was a real honour.
"It is amazing having a drag racing family and as a sport we really enjoy and thrive off it. It's really awesome to be a part of the Junior Dragster bracket as there are so many good racers and we are all like a big family."
Steve sends his thanks to all that have assisted the team in their racing journey.
"I would definitely like to thank Ray and all his staff at the track, including the Motorplex and ANDRA teams," Steve said.
"I also want to thank all of the crew including my family and friends that have helped out over the years: Steve, Justin, Julie, Rach, Alan, Gaz, Leanne, Alastair, Chelsea, Simon, Alison, Tony, Vicky, Mark, Daniel, the Keys Family, the McClure Family, the Brown Family, all of the Junior Dragster families and all of our kids.
"A massive thank you must also go to the event sponsors, the Summit Racing Equipment Sportsman Series sponsors, and our sponsors Penrite Oil, Harris Engines, TFS Dance Academy and Diamond Cut Tiling."
For full results from the weekend, please visit www.andra.com.au/series/results
The next round of the Summit Racing Equipment Sportsman Series will be held at Portland's South Coast Raceway across December 11 and 12. For event info, go to www.southcoastraceway.com.au
For more from ANDRA, visit www.andra.com.au