Long-time board member Lex Swayn has this week stepped down from Willowbank Raceway's board of management after more than 30 years of service to the track and its community.
Swayn joined the management committee in 1983 during the construction phase of the Raceway and has been widely acknowledged for his contributions not only to the venue, but to the sport of drag racing as a whole.
During Willowbank's quarter-century celebrations in September 2010, Swayn was one of 17 people presented with awards recognising 25 years as a track official and also received a second plaque for his 25-year role as editor of Raceway magazine The Elapsed Times. In 2013, the Australian Nostalgia Fuel Association honoured Swayn with a Pioneer Award for his contribution over four decades to drag racing.
Alongside his work with the Raceway, Swayn was also the South Queensland correspondent for Dragster Australia magazine from 1979 until that publication's closure in 2013 – writing reports for the national magazine about each major event at Surfers Raceway and Willowbank, as well as other stories publicising Willowbank and its activities.
"My journey with Willowbank Raceway is not over, I am simply standing down from the board and I will be around for a long time yet,'' said Swayn.
"As the person who chronicled our endeavours to transform what was just a paddock in the bush west of Ipswich into an international-standard raceway, Willowbank has been and always will be a big part of my life.
"Willowbank's story is fantastic and it has been an honour to not only be a part of it, but to have been able to document the history of a facility created by a group of drag racers who simply set out to build a place of their own to race their vehicles. From those humble beginnings, we've ended up with the quickest track outside of North America, as well making the Winternationals the biggest and best championship race meeting outside of the US.
"As a journalist, I became the stats man, historian and keeper of our proud record. It is a lifetime's work and I would never walk away from that. I will always look back with great satisfaction on the various roles I played in the Willowbank story, not the least of which was my 27-year stint as editor of The Elapsed Times, a publication acknowledged as the best track magazine in the world.''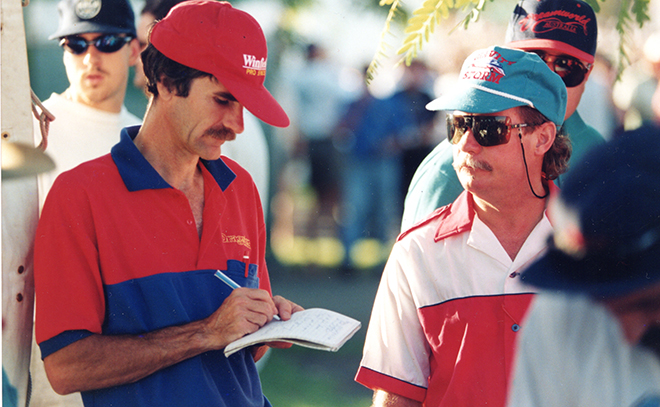 Swayn said he was stepping back for two main reasons.
"After more than 30 years of working for Willowbank, I strongly believe that regeneration is important and I feel I should make way for younger people to guide the race track into the future, and I am also at the stage of my life where I need to make the time to pursue many personal projects and plans," said Swayn.
After 1981 founding committee member John Winterburn, Swayn was the next longest serving board representative and he says it's been a privilege to have worked with so many talented and hard-working people at Willowbank over the years, including the current board.
"I can't list all of the people I worked with, but I would certainly like to acknowledge the input of Willowbank's first manager, the late Dennis Syrmis,'' said Swayn.
"Dennis was a tremendous mentor to many people, including myself. We saw eye to eye on most things, especially how drag racing should be structured. We worked together over the years on elimination and race schedule revamps for Willowbank and many of these became game-changing innovations for Australian drag racing.''
Winterburn said that as a president of the board until 2013, he had been around for all of the years Swayn had been at Willowbank and wanted to thank him for his continued support and the time he had put into the Raceway.
"The most thanks goes to the effort that was put into The Elapsed Times,'' said Winterburn, who currently serves on the Willowbank Raceway board. "The thanks from the entire drag racing community goes to Lex for publishing what was the best racer track magazine ever. I wish Lex well in his retirement and I am sure he will be around the track for a long time yet.''
Following his departure from an official role at the track, Swayn reflected on two more of his achievements.
"One of my contributions that will be around forever is the road leading from the highway to the race track,'' said Swayn. "When the then Moreton Shire Council gave us the opportunity to name the road, I came up with Champions Way, because that is the carriageway everyone has to take to get to Willowbank. That road brings racers from all over Queensland and Australia to the raceway and some of them drive out again as champions after winning a track or national title.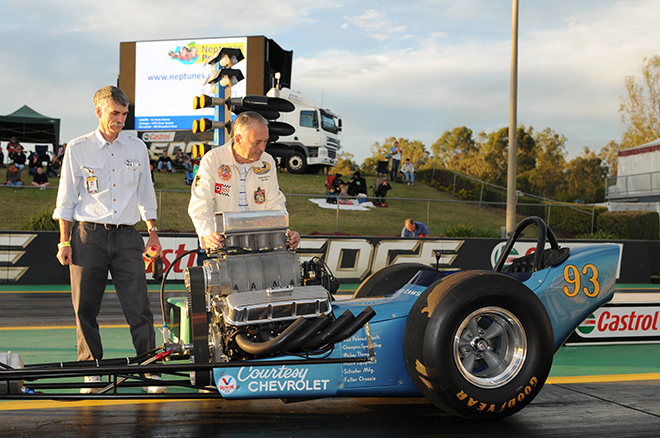 "I am also proud of having rebuilt the Goodnight, Keith and Williamson AA/Gas Dragster, a car that played a huge part in the emergence of drag racing in Australia in the 1960s, but one thing I regret not seeing happen is the establishment of a museum at Willowbank. I would love to see that dragster, and other vehicles, on display at the track, so that one day all can witness these important elements of the history of the sport.''
Willowbank Raceway Chairman Tony Wedlock said Swayn's presence on the board would be sorely missed.
"The contribution of Lex Swayn to Willowbank Raceway and the sport of drag racing as a whole is undeniable, and while we wish him all the best in his retirement, his input into how the raceway evolves will be missed. During my time on the Willowbank board Lex has always provided a very measured approach to how things are done and has helped me in ways he probably doesn't fully appreciate," said Wedlock.
"Knowing Lex, we are very pleased to hear that he wishes to stay involved in the Raceway, and look forward to seeing him out and around the track!"