John Cannuli achieved a life long dream by winning the 2015/2016 ANDRA Drag Racing Series Top Alcohol Championship.
After going within an elimination round of winning the 2015 Championship, Cannuli was a runner up in Darwin, semi finalist in Sydney before his dominant Australian Nationals victory that proved to put it out of reach.
"One thing I've always wanted to have since I've grown up as a kid, I wanted to have that number 1 on my car," said Cannuli.
"It's something we've worked on, something we've tried to achieve my whole life – it's the reason we go drag racing."
Cannuli was unable to make the trip to the ANDRA Championship Grand Final in Adelaide following a huge wheelstand at an Easter event at Willowbank. The entire front end needed to be replaced and unfortunately time ran out in order to be ready.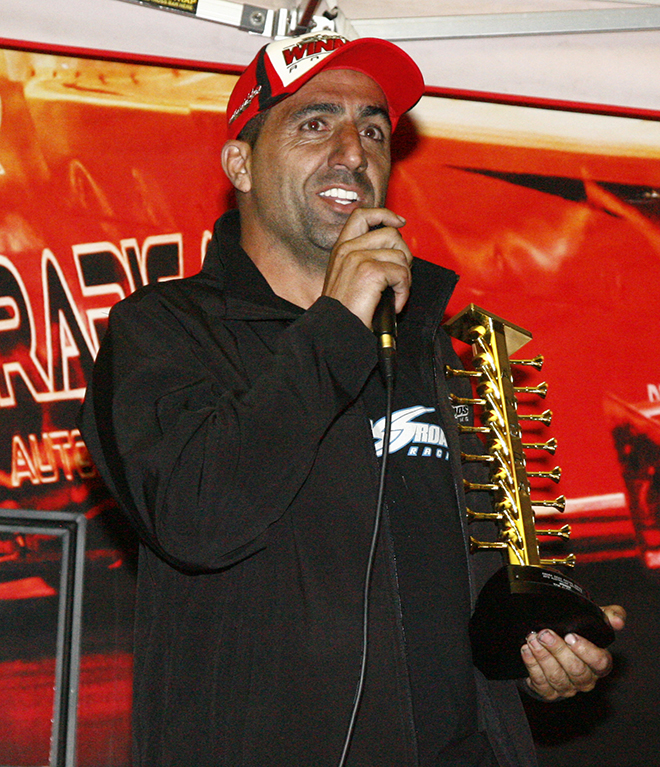 Disappointed he could not race, Cannuli and his team instead threw a party knowing they were far enough ahead in the points and could not be caught despite what went down at AIR.
"We knew we were ahead in the points so we decided to have a party when we knew we couldn't make the Grand Final," Cannuli explains.
"We all got together on the Saturday night at the race shop and had a few drinks to make a night of it – we had a good time, the boys all enjoyed themselves.
"It was good to win it with the Australian Nationals. The car has been very good the last year and half. It's been really consistent, really fast getting track records at just about every track in the last 12 months.
"That's an achievement on it's own showing how fast we are and how consistent the car was at every event. We were happy with that apart from a couple of moments like the fireball at the Winternationals last year and what happened at the recent Easter event.
"Last year like I said to my guys, we lost the Championship back in Adelaide (at the Pro Series 1000) when we didn't start in the final round and that's where it all went downhill from there.
"If we started we wouldn't have had to do what we did but at the end of the day we knew we had a Championship car last year and we knew we had a Championship car this year. That motivated us after last year to go as well as we did this year."
ANDRA congratulates John Cannuli on winning the 2015/2016 ANDRA Drag Racing Series Top Alcohol Championship.
Images: Grant Stephens / Drag News Australia (top), Dave Hope (side)