Photo by Dennis Allen
Encouraged by a strong finish in the 2016/17 Summit Racing Equipment Sportsman Series, South Australian Jason Arbery is ready to take his Chev-powered Ford Capri to the next level.
He's heading up for the Central Swing, for the first time and taking in the opening Summit Racing rounds of the new season at Hidden Valley and Alice Springs.
"We finished off last season on a good note with a win in Top Sportsman in Adelaide. The car is running strong and is in a sweet spot right now," said Arbery.
Arbery has always been into cars and other forms of motorsport such as go-karts and motorbikes. "It was through a good friend of mine who was heavily into drag racing that got me interested," said Arbery. "I gave it a go and basically it sucked me in good and the rest is history.
But while Arbery loves the mechanical side of the sport, and working on cars. It's something else that he finds much more enjoyable.
"I love tinkering on cars and if it's not working on my car, it's usually helping out someone else," said Arbery. But to be honest what I have found I really love about the sport are the people.
"No one is secretive, and in most cases, everyone is only too happy to help and give advice. My family come along and people make them feel welcome. I don't think it would be as enjoyable if my family weren't involved.
"We have made a lot of good friends from all over the country who in some cases are even competitors. When you put your helmet on it changes for that 8 seconds, but outside of that everyone is really helpful and supportive."
After initially starting in Super Street and Super Sedan, when Top Sportsman became a class, Arbery really liked it. But his package wasn't quick enough.
"The combination I had in Super Sedan had to change because of the numbers we had to run in Top Sportsman," said Arbery.
"It ran within the dial-in for Portland or Adelaide but if I went to Calder I'd run like an 8.60.
"The main focus last year was to make sure we were comfortably in the ET for the class. In the early days we could run the numbers, but as soon as the conditions changed, like weather or headwind, we were out.
"When we ran in Super Sedan with the small block we'd be at the faster end of the field. But to run Top Sportsman, I had to step up.
"So we pulled the motor out and added another 100 horsepower. That got me closer to the cut, but not close enough. Before the start of last season, we took a heap of weight out the car and now seem to be comfortably in the class range.
"Top Sportsman is a great class. It's exciting and fun to watch. The other racers are a great bunch and the quality of the cars is right up there," said Arbery. Oh, and I also like the smaller line-ups in the staging lanes (grin).
"Going to Darwin and Alice only came about recently," said Jason. A good mate of mine Benny Phillips went up last year for work and he told me how good the track is and how the crowd really get behind the event. He said the atmosphere is electric
"That sat in the back of my mind, and with the way the car was performing, I started looking to see how I could make it happen between my family and work."
Arbery was able to get some time off from work and also spoke with some sponsors. The ball was rolling and along with the support of his wife, the light went green.
"My wife was awesome about it saying just go and do it. She said when else are you going to do it? Right now sounds like a good time."
"We are leaving on Saturday before. I will be picking up a mate who has done the trip many times before. The plan is to get there on Wednesday. Helping out will be Glenn and Tracey Henley who will already be there on holidays and I will have support from Brett Henley and Benny Phillips.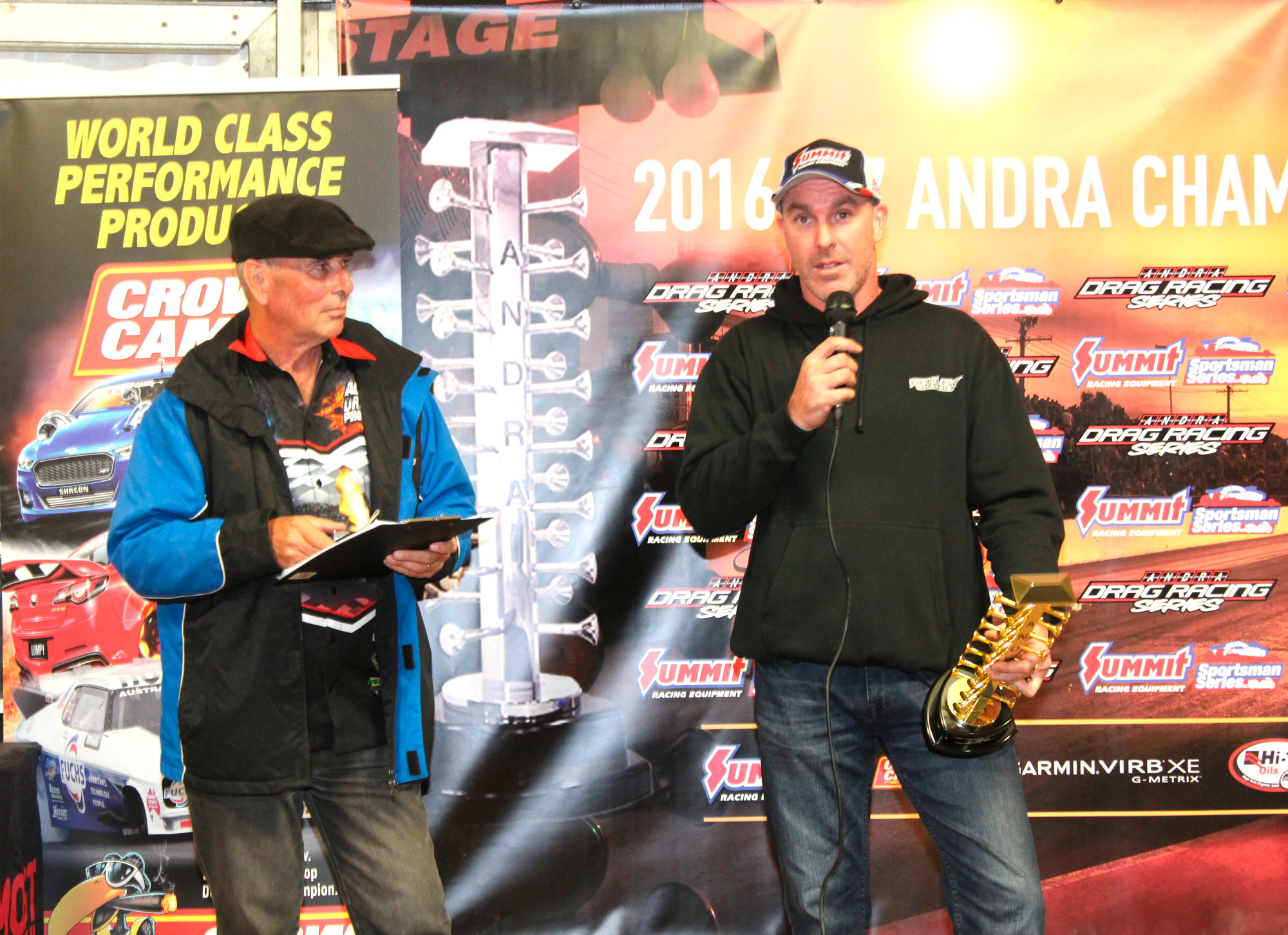 2017 Summit Racing Grand Finals photo by Dave Hope
"We have a strong engine combo and its pretty much bullet proof, so we can hopefully enjoy the atmosphere. But I'm also going there to go rounds and take as many points as I can in the 2017/18 Summit Racing Equipment Sportsman Championship Series.
Arbery wanted to thanks to his family, friends and sponsors – Trident Tyre Centre, Henley Chassis, Hyland Fox Signs and Shannons Insurance for making this trip up North a reality.

INFORMATION
NITRO UP NORTH
When: July 21-22, 2017
Where: Hidden Valley Drag Strip, Darwin
What: The Northern Territory's biggest drag racing event featuring Nitro Dragsters, 400 Thunder Professional Drag Racing Series and Summit Racing Equipment Sportsman Series national rounds.
Spectator tickets are now available online, or from Redline Plumbing in Darwin. Tickets will also be available at the gate.
Entries are still open for the event, racers can click here to enter.
DESERT NATIONALS
When: July 29-30, 2017
Where: Alice Springs Inland Dragway
What: The Desert Nationals features Rd 2 of the Summit Racing Equipment Sportsman Series. The Lamattina Top Fuel dragster is set to rock Alice Springs with Australia's quickest and fastest female – Kelly Bettes behind the wheel. In addition, And if that's not enough, Top Fuel Motorcycle and Top Doorslammer will be making spectacular runs over the 2-days.
For further info to enter or spectator pricing go HERE
If you are a racer/team who will be attending either Hidden Valley or Alice Springs and have news or info please send to media@andra.com.au
[END]