The 25th running of the Brisbane Jamboree has concluded today (Sunday 30 August) at Willowbank Raceway under beautiful blue skies.
Following a rain-interrupted beginning yesterday, racing for the Jamboree was shifted to today, with more than 6,000 automotive enthusiasts enjoying the action over the two days.
Taking victory today were Archie Kajewski (Precision Turbo Factory Xtreme, Runner-Up: Rod Harvey), Tim Donselaar (Turbosmart Street Compact, RU – Christine Thomson), Ben Cavanagh (TCS All Motor, RU – Jason Stoodley), Rodney Spannenburg (Microtechefi.com Street 289 RU – Ben Clark), Robbie Ward (Haltech Modified Compact, RU – David Richardson), Mitch Roselund (Mazfix Modified 10.5, RU – Adam Cruden), Jason Payne (McKern Pro Turbo, RU – Phil Penny), Po Tung (Pro 289, RU – Matt Lisle), Andrew Coles (Wolf EMS Extreme, RU – Ben Diggles) and Sam Kiprios (MTQ Pro Compact, RU – Chris Tait).
Kajewski's victory was the first Jamboree victory in 11 years for he and his Mazfix team, and came after three personal best results across the two days for the entry.
"It was 2004 when we won our last Jamboree, so it has been a while!" said Kajewski. ""We have had a great weekend and I would like to thank everybody that has come along and supported the event. Also thanks to Ray Box for keeping this great event going for so long and now Collin Willshire for coming in and helping, and also to my wife and family for putting up with all the late nights, and to the Mazfix boys for all their hard work on the car – without them I couldn't do this."
Ward – driver of the quickest AWD drag car in the world – was part of the four-strong 'Team New Zealand' contingent that came over the Tasman especially for the event.
"This has been a dream come true – we are here, we did it, and to win the meeting is just icing on the cake, it has been an awesome event," said Ward. "I need to say thanks to everybody involved, I have had help from so many people from crew to family and friends – a lot of people have taken a lot of time out of their lives to make this happen for us and we couldn't do it without those people, it has just been a dream."
Kiprios' Pro Compact victory came in strange circumstances, with his Toyota Starlet struggling off the start line of the final while Chris Tait's Nissan 200SX blazed down the track – however Tait would lose control at the half-track distance – while he would regain control without coming into contact with the walls, he did cross the centre line and hit timing blocks, seeing the win handed to Kiprios.
"We had trouble getting up on the boost all weekend so it was pretty much hit or miss for us, but we thought we would take it out and see if we could get it down and get the win and I guess luck played on our side," said Kiprios. "We are over the moon with the result, we had just planned to come here to test and see how we could go, came close to our PB on a couple of the runs, so we are pretty happy with that. I would just like to thank Colin Willshire and Ray Box for the event – it was a great event – and my whole crew as I couldn't have done it without them, and also my mum and dad and MTQ for sponsoring the bracket."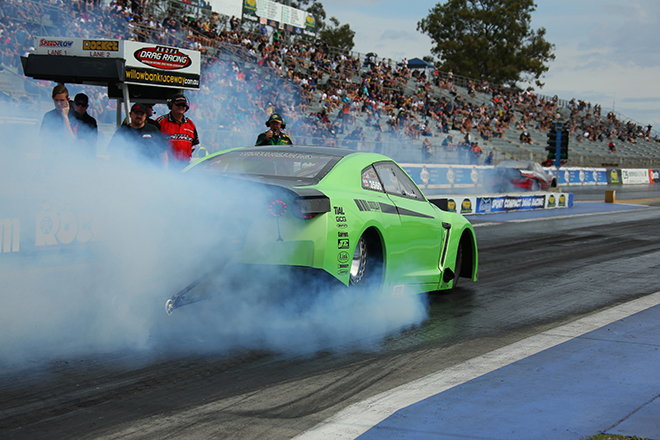 Delivering the 'obligatory' Jamboree world record breaking performance today was Factory Xtreme racer Mark Jacobsen in the 'Godzilla GTR R35 Skyline. The Queenslander set the quickest and fastest Nissan GTR pass in the world with a 6.371 second pass at 224.58mph (approximately 361.42kmh).
"I am pretty wrapped with that!" said Jacobsen. "All of the boys worked really hard and we finally got the old girl down the track pretty straight. It had a brand new turbo in it from Garrett Turbos and there was plenty more in it as well, so it is a shame we didn't get to do more with it, but we really couldn't be any happier with the result."
Also eliciting gasps from the crowd were Loues Cosentino and Kelly Bettes in the Pro Turbo bracket with a series of wild rides today, as did Domenic Rigoli during Pro Compact qualifying yesterday.
New South Wales' Cosentino had the crowd on tenterhooks not once but twice, crossing up across the track before smashing into the wall during his burnout for his bracket's first round, before enduring another wild moment during racing in the third round against Phil Penny, although this time he was able to keep his Gas Motorsport Mazda RX7 off the wall.
Bettes had the crowd on their feet with a mammoth drive job to avoid flipping her Jett Racing Datsun Ute not once, but twice. When the local racer's ute came back down from two wheels for the second time, the steering broke to see her unable to avoid making contact with the wall.
"Unfortunately I encountered tyre shake, and then it has gone to the left. I have lifted and then it has started going side to side on me, which I have tried to control but obviously it got pretty hard and then it went up on its side. When it came back down it broke the steering and I had no control over it, so unfortunately we have hit the wall," said Bettes.
"I have a bit of soreness, but it is a good car and it did what it was supposed to do to protect me, I always feel pretty safe in it. I am not sure of the damage, but hopefully it should be repairable and we will be back out there at some point!"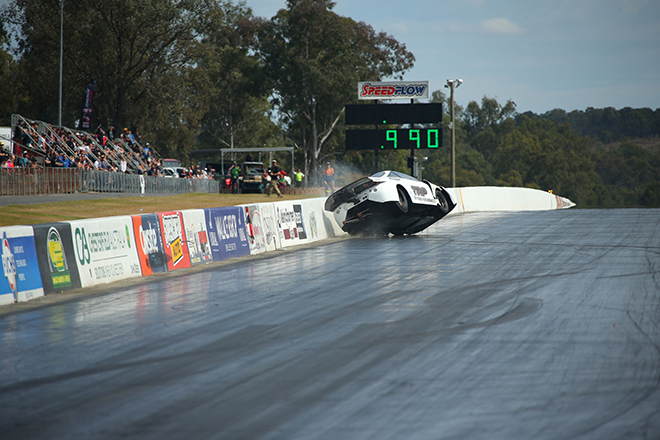 Earlier in the weekend, Rigoli suffered severe tyre shake to have his Mitsubishi Eclipse careening across the track. While the New South Welshman was able to avoid his fellow racer Sam Kiprios, he was unable to stop his steed coming into contact with the left hand wall.
Full results from this weekend's Jamboree action can be found at the Willowbank Raceway website – please click here
Next up for the Raceway will be the last round of the 2015 Street Series before the finals get underway, with local racers set to hit the track on Saturday 5 September, before Saturday 12 September hosts 60,000 horsepower of Outlaw Nitro Funny Car action thanks to the Aeroflow Outlaw Nitro Funny Cars show.
Images: dragphotos.com.au