Round 1 of the 2017/2018 Summit Racing Equipment Sportsman Series at Hidden Valley Drag Strip saw lots of eager racers super keen to kick off the new ANDRA season in style. For local Northern Territory Modified racer Grant Radcliffe, he certainly had plenty of that!
During one of the qualifying sessions on Friday night, Grant in his naturally aspirated 598 Chev-powered Monsta Cranes Altered was up against his cousin Dean Radcliffe, who was behind the wheel of his naturally aspirated Chevy 406 Monsta Cranes rear engine dragster. Grant went to the top of the field with a 7.86 second ET over the quarter mile. This was also a new personal best time beating his previous PB of 8.05 set in 2016.
In the first round of eliminations, Grant Radcliffe moved closer to the finals with a win over Ron Heyes. Dean Radcliffe also took a step closer defeating Kingsley Kuchel.
Unfortunately, the brothers met in the semi finals. After a strong burnout, Grant moved the Altered into stage and watched Dean leave first on the handicap. Grant followed and smashed his foot down.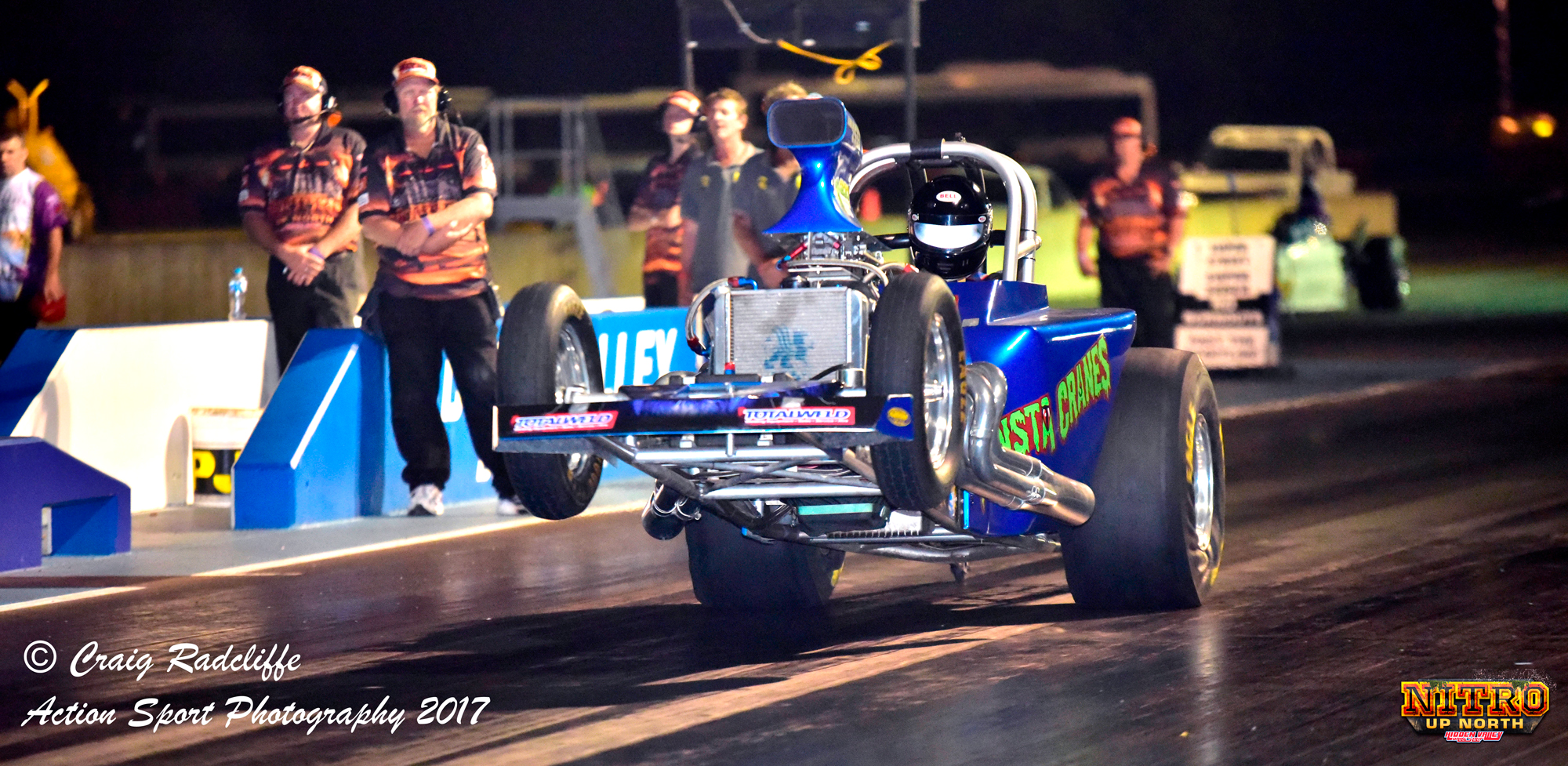 Straight away the Altered lifted into the air as it had done so many times before, but then it just kept on rising to over 45 degrees and at least two metres off the ground. The rear tyres also come off the ground as the wheelie bar failed and bent.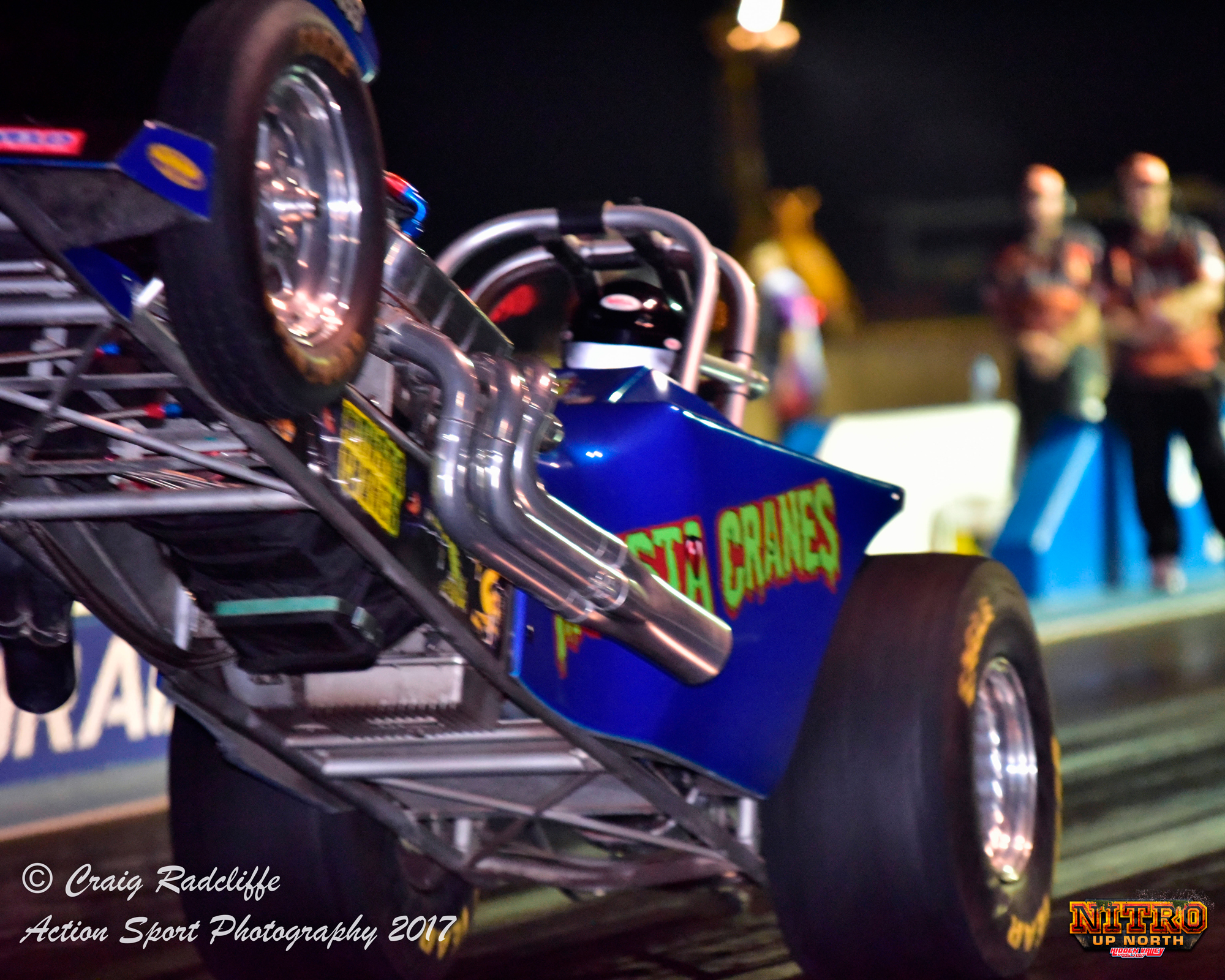 The Altered finally returned to the ground well past the Christmas Tree then commenced to bounce down the track violently shaking the back end from side to side. The Altered finally settled down at about the eight-mile and drove off the track and back to the pits.
The Monsta Cranes Altered suffered damage to the front end which Grant informed will not be too much to fix, but the wheelie bar is a write-off.
Grant said he will have the Altered up and running soon in order to finish the Hidden Valley Drag Strip Track Championship for 2017.
On a good note, Dean Radcliffe went on to win Modified Eliminator defeating Sergio Bonetti in the final.
Words and Sequence by Craig Radcliffe
Round 2 of the Summit Racing Equipment Sportsman Series Championship now moves to Alice Springs for the 2017 Desert Nationals.

DESERT NATIONALS
When: July 29-30, 2017
Where: Alice Springs Inland Dragway
What: The Desert Nationals features Rd 2 of the Summit Racing Equipment Sportsman Series. The Lamattina Top Fuel dragster is set to rock Alice Springs with Australia's quickest and fastest female – Kelly Bettes behind the wheel. And if that's not enough, Top Fuel Motorcycle and Top Doorslammer will be making spectacular runs over the two days.
GOT QUESTIONS
Desert Nationals – Email heavyduty@bigpond.com. Stay tuned to cadra.com.au or check out the Desert Nationals Facebook page.
[END]