Long-time ANDRA insurance broker and supporter Gallagher has not only increased its support for the ANDRA Volunteer of the Year programme in 2020 and 2021, but has also launched a new microsite which will make it easier for ANDRA racers to manage their insurance needs.
Gallagher has been working with ANDRA to provide high quality insurance coverage since 2012 and has been recognising ANDRA's volunteers and clubs with its VOTY award since 2014.
In 2020, Gallagher expanded its award program to allow every ANDRA member club and/or track to submit a nomination for their chosen volunteer of the year. This expansion, which ensures these valued contributors to the sport of ANDRA drag racing are recognised each year, will continue in 2021.
Nominations for the 2021 Gallagher VOTY awards will open in early 2021, but in the meantime Gallagher is pleased to announce the launch of a new microsite which will allow ANDRA members to easily navigate certificates of currency,  access claims procedure information and pertinent information about motor sports insurance.
The new microsite is now live and is accessible directly at https://sport.ajg.com.au/andra/coverage/ and also through the ANDRA website under the 'Get Involved' menu drop-down.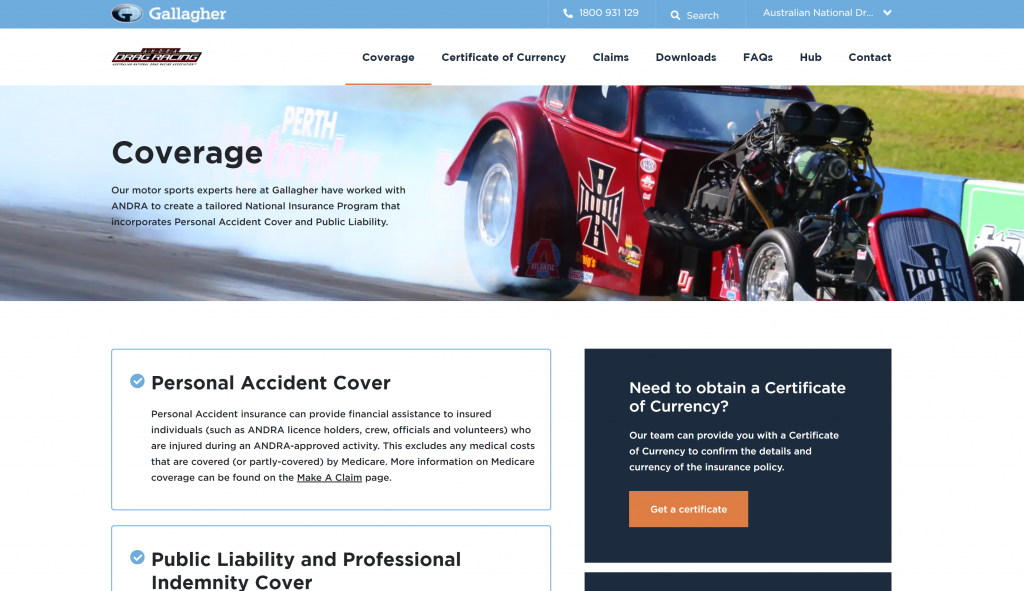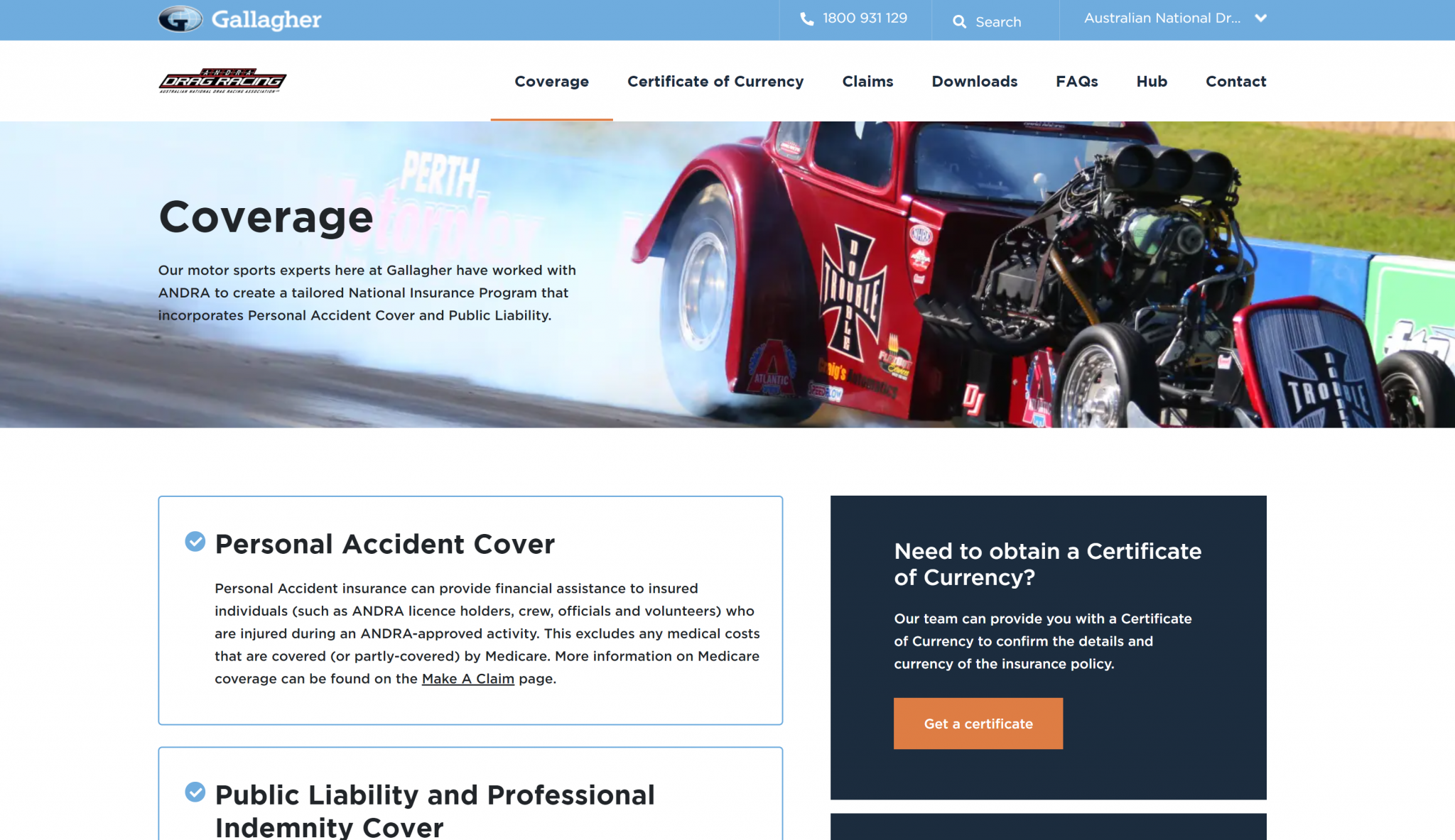 "Gallagher has enjoyed a long-standing partnership with ANDRA as its official insurance broker and it has been our honour to recognise some of the sport's most valued contributors over the years through the Gallagher Volunteer of the Year Awards," Gallagher National Head of Sport, Steve van Leeuwen, said.
"We have been very excited to see this award program expand in 2020 and into 2021 to allow us to recognise more volunteers than ever before.
"At the same time, we are pleased to be able to now offer ANDRA members a dedicated portal to allow them to better access the insurance-related forms, information and services they need."
ANDRA Chief Executive Officer, Brett Stevens, said Gallagher provides an important service to ANDRA racers.
"As the national insurance broker for ANDRA since 2012, Gallagher provides outstanding service to ANDRA, our member tracks and clubs, and our racers all across Australia," Stevens said.
"This new microsite and the expanded Gallagher Volunteer of the Year program are testament to Gallagher's ongoing passion for our great sport, and we are very thankful to have their support."
Gallagher is the official insurance broker of the Australian National Drag Racing Association and offers competitive, no obligation quotes on everything from race trailers to businesses and race tracks.
For more than 90 years, Gallagher's tailored insurance, risk management and consulting solutions have helped businesses, communities and people face their futures with confidence. For more information, go to www.ajg.com.au