Hidden Valley Drag Racing Association is excited to announce the return of 10,000 horsepower, 500kmh nitro dragsters to Darwin in 2016.
After a hugely successful Nitro Up North event in July 2015, which saw Top Fuel dragsters in the Northern Territory for the very first time, plans are in place to make the second running of the event in 2016 bigger and better than ever before.
"Last year we gave our drag racing fans a taste of what we as a club can bring the NT, this year we will be bigger again," said HVDRA president Scott MacLean.
This year's Nitro Up North will feature four Top Fuel dragsters including the one time return of the Lamattina Top Fuel Racing team as well as the opening ANDRA Drag Racing Series rounds of for Top Doorslammer and Top Fuel Motorcycle.
"Darwin loved the Top Fuel drag cars last year and this year the Valley is going to rumble even more with four cars making the trip up north," addes MacLean.
"The Rapisarda Autosport International team, who set our track records last time with an amazing 4.63 second run that reached 510kmh, will be back, and we are also proud to have Mark Sheehan attending for the first time in his Nitro Madman dragster. These are the two quickest teams in Australia."

One of Australia's most iconic motorsport teams will make a return to the sport of drag racing, with the LTFR team confirmed to compete at the Hidden Valley Drag Strip with long-time tuner, Aaron Hambridge behind the wheel.
Hambridge will be piloting one of the team's Championship winning chassis for the Darwin event.
"We will be changing roles," smiled Hambridge.
"I will be doing the driving and Phil will be helping out with the car and team management. We know this car well and we know what it is capable of. As a team, we are going to Darwin with a good package, so I'll have to get a handle on the driving pretty quickly."
When asked about whether there was any pressure on the team, LTFR boss, Phil Lamattina explained, "No pressure at all, we are going to Darwin to have a good time both on and off the track. This is a one-off at this stage, so of course we want to do well, but it's about having fun."
"We just want to put on an amazing show for the fans, make sure Aaron is comfortable in the car and light the candles!" Lamattina laughed.
"Our LTFR team will be together for the first time since the 2015 Winternationals, so it's important that we get back together as a group and go motor-racing, have a great time and re-unite as a race team."
And how does Lamattina think his former tuner will fare in the driver's seat?
"Aaron is a brilliant driver. That won't be a problem."
"We are just happy to continue our relationship with Fuchs as well as the support of Aqua Botanical and Rocky Lamattina and Sons."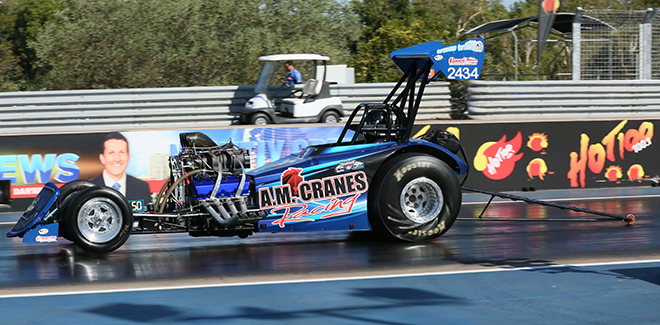 The Nitro Up North expansion continues into the Sportsman ranks, where Hidden Valley will play host to the Summit Racing Equipment Sportsman Series for the first time, including Super Comp, Supercharged Outlaws, Top Sportsman, Modified, Super Sedan, Modified Bike, Super Street and Junior Dragster categories.
"We have been looking to have this series at Hidden Valley for a number of years and it's been pushed by our members, so we are pleased we can finally give our racers this opportunity," explained MacLean.
The Northern Territory Government has played a major role in making sure successful events like Nitro Up North return to the Northern Territory and are great supporters of Motorpsort in general across the Territory.
HVDRA thanked the NT Government for making the event possible.
"Motorsports NT fully supports HVDRA running a major event like this because Territorians love their motor sport. The calibre of event, organised by a volunteer run club, is just fantastic," said Motorsport NT President Grant Hamon.
"The Territory's economy benefits significantly with the huge influx of interstate competitors, pit crews, families and spectators coming from all around the country and they all love Darwin and its laid back lifestyle whilst escaping the southern winter."
Nitro Up North will be returning to Hidden Valley Drag Strip for two days on the weekend of July 8-9, 2016. For more info9rmation please visit www.hiddenvalleydragstrip.com
Image credits: Grant Stephens / Drag News Australia (top), Mark Callaghan (bottom)