The first Summit Racing Equipment Sportsman Series Australian Champion for the 18/19 season has been crowned at the Sunset Strip's Twilight Nationals event this weekend, with Jake Berias named as the Summit Racing Equipment Junior Dragster Champion.
The 15-year-old Year 10 student from Werribee (Victoria) clinched the title despite losing out early on in racing for the event – round 7 of the 18/19 Summit Racing Equipment Sportsman Series – thanks to his strong performance across the season which included four event wins.
It was still a tense wait for the softly spoken racer however, who had to wait to see how his nearest rivals went before being confirmed as the champion mid-way through the evening ahead of championship runner-up, Zara Board.
Taking out the event victory for the Junior Dragster bracket was Amber Young, who took out her first event win over event runner-up Jordan Spencer. Also being awarded at the presentations for the bracket was Baillie Ponton, who claimed her first ever Top Qualifier Medallion – thanks to TileCo-TheShowerPeople and KC Tools – and a Summit Racing Equipment pack.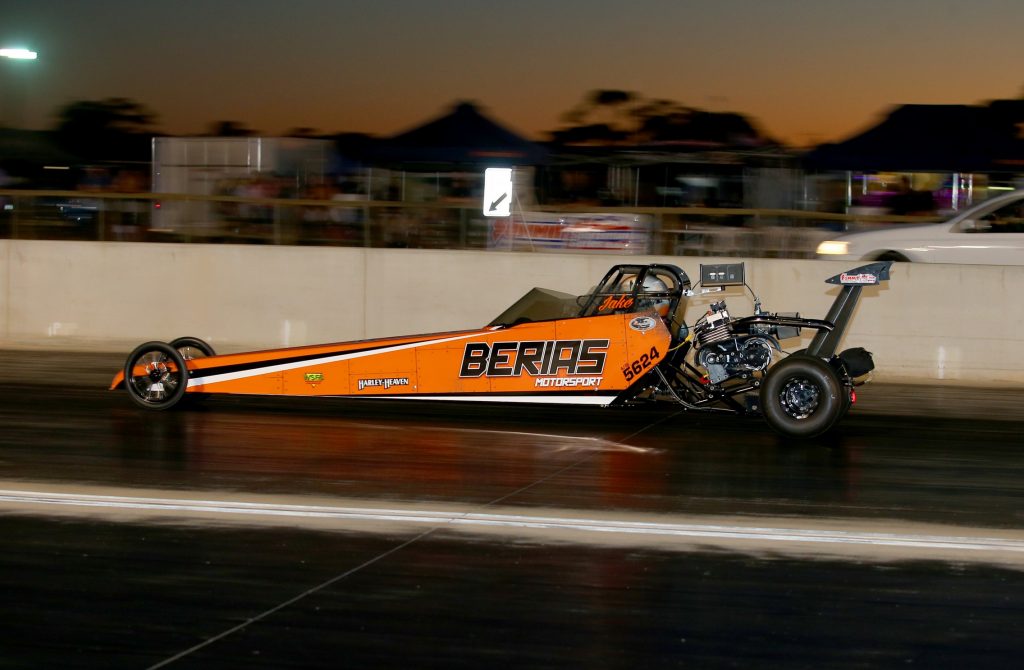 "I am very happy; happy and emotional – winning a championship, it is a big thing!" Jake said, while thanking his sponsors Werribee South Farm Supplies, Harley Heaven Melbourne, D Berias Farms and LT Egg Farm.
"Going out in the first round was really hard, it was difficult watching Zara go rounds, but then she finally got knocked out and I won the title, which made me very happy.
"As they (the Board family) said and we said, whichever way the championship went we would be happy as we both deserved it and had been 1-2 all year.
"Heading into this weekend I was probably feeling more confident than nervous because of the wins I have had – it has been a really good season, I won three events in a row and then came off a loss to Zara at round four to win again; it is a really great feeling.
"I want to thank my family: my mum, dad and sister as well as my grandparents who have come to nearly every event, and also everyone in the drag racing community – they are very positive and great people. The thing I really love about racing juniors is actually not the racing side, it is all of the families that are involved. It is a very family-friendly sport and on top of that the racing side is fun; you get to go fast and have fun."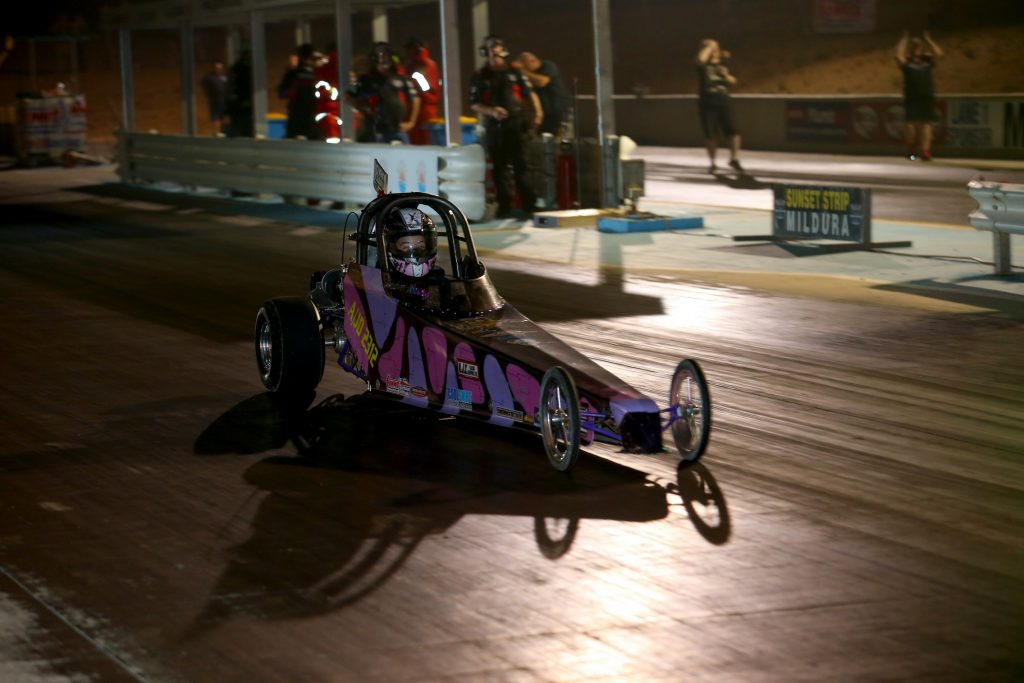 Joining Jake, Zara and Amber in hoisting ANDRA Christmas Tree trophies at the end of the Twilight Nationals were event winners Colin Griffin (Super Gas), Shane Walker (Modified Bike), Brian Symes (Super Street), Martin Mirco (Super Sedan), Wade Kisyma (Modified), Wayne Talbot (Supercharged Outlaws), Andrew Thompson (Top Sportsman), David Willis (Competition Bike) and Robert Dekert (SuperComp). Runners-up were Adrian McGrotty (Super Gas), Edge Mallis (Modified Bike), Andrew Shirley (Super Street), Jeff Maslin (Super Sedan), Peter O'Connell (Modified), Mike Evans (Supercharged Outlaws), Darren Saliba (Top Sportsman), Danny Rickard (Competition Bike) and Jake Chaisty (SuperComp). The champions for these brackets will be decided at the ANDRA Grand Final event at the Perth Motorplex, to be held across April 6-7.
Like Jake, Brian Symes was emotional about his victory over Andrew Shirley in the Super Street bracket which followed earlier races against Peter Jephson (semi), Greg Holland (round three) and Ken Borg (round one) as well as a bye-run in the second round. Shirley meanwhile booked his spot in the final with wins over Mark Sienczewski, Nathaniel Goudswaard and Matthew Smart ahead of a bye in the semis. Earlier in the day, Robyn Phillis claimed the Top Qualifier honours.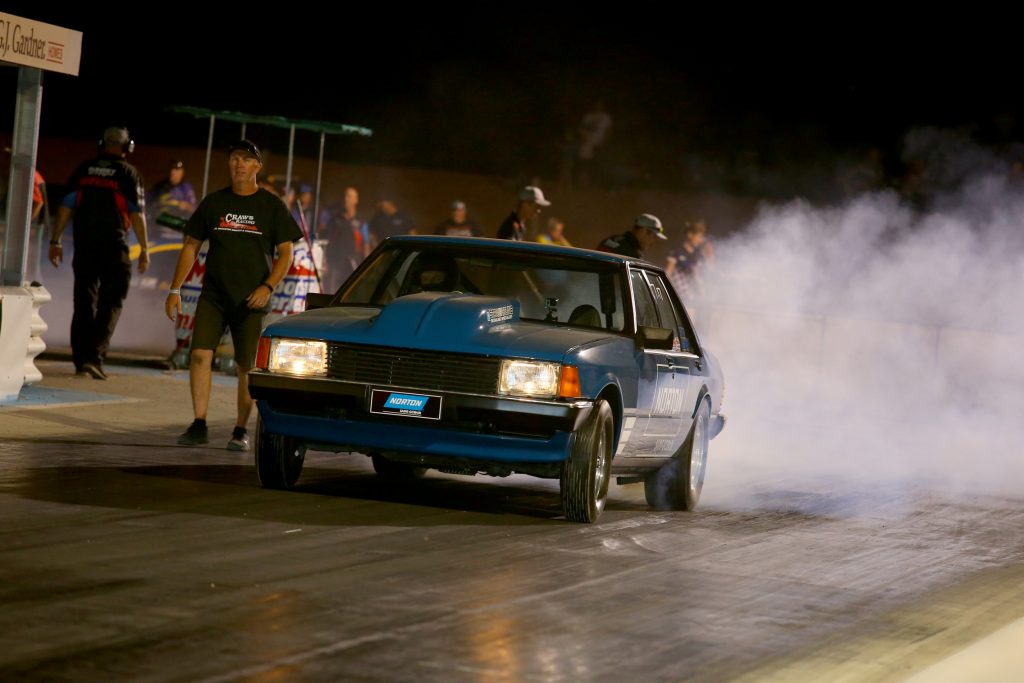 "I still can't take the smile off my face, it is very surreal to win something I have dreamed about since I was a kid. My dad got me into drag racing when I was young and ever since then this has been a dream; to actually do it is amazing," grinned Symes.
"We had a few dramas – when we were driving up here from Melbourne I actually noticed I had a leak in my rear brakes. Thankfully I was able to get those fixed by a local mechanic, SRP Performance, who were able to help me out yesterday. Today I was on my lights all day and the car ran well.
"I want to thank the staff at the Mildura track for all the work they put in, and also ANDRA and Summit Racing Equipment for putting on the event. This is just an amazing victory for me and something I don't think I will ever get over."
Another unexpected victory went to Wayne Talbot, who despite coming to the event with the intention to test, clean-swept the Supercharged Outlaw proceedings today by clinching the Top Qualifying honours and the event victory over Mike Evans. Talbot had earlier faced off against Mark Hunt (semi) after a bye in the opening round while Evans took on Jason Keily and Simon Richards.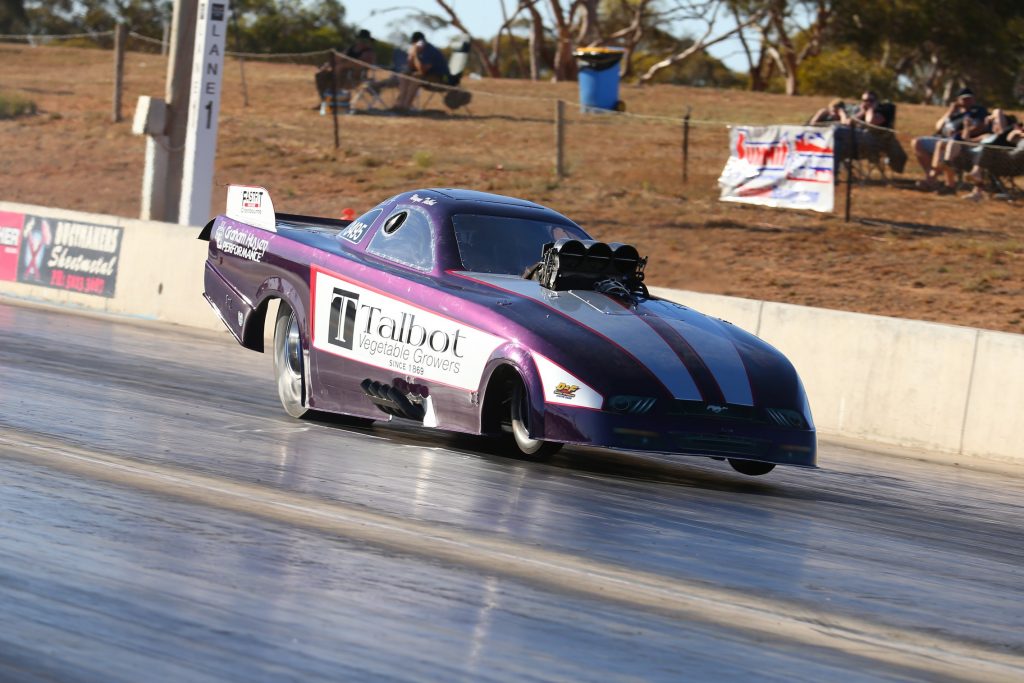 "We came up here to test the car and I guess we were just lucky that we had a run against someone that had a misfortune on the startline so we had a lucky break, and then from there we had a race against our good friend Mike," Talbot explained.
"He asked us what our strategy was and we didn't lie – we said we were coming out and going to play the game; if he was out front we would run out the back door and if not, we would play the game and get off it and go down that road.
"I have to thank my brother Jayden Talbot as well as Ian Richards for busting his butt changing clutches every single run. I also want to thank Dave Thornton for being Dave Thornton and Talbot Vegetable Growers – my father had to stay back home when he really should have been here enjoying the win."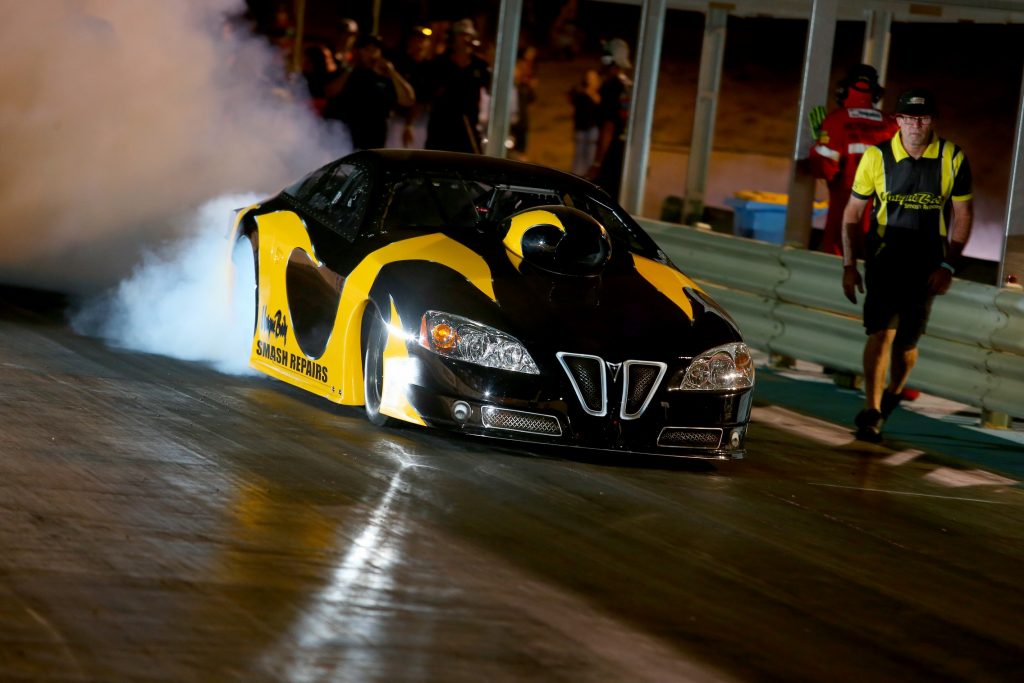 In the SuperComp bracket, Rob Dekert secured his first ever ANDRA Christmas Tree by triumphing over Sunoco 260GT Plus Top Qualifier, Jake Chaisty, in the final. To book their tickets to the last stand for the bracket at the event, Dekert had earlier overcome reigning champion Craig Geddes as well as David Clark (round one) while Chaisty had dispatched David Roberts after a bye-run in his opening round.
Another popular victory was that of Wade Kisyma in the Modified bracket, with the Pascoe Vale resident taking on Peter O'Connell in the final after taking wins over Ash Johnson, Kenny Stewart and Fiona Crisp. O'Connell meanwhile had ensured his place in the final with wins from Jess Proud (nee Voigt), Chris Farrell and Matt Ponton.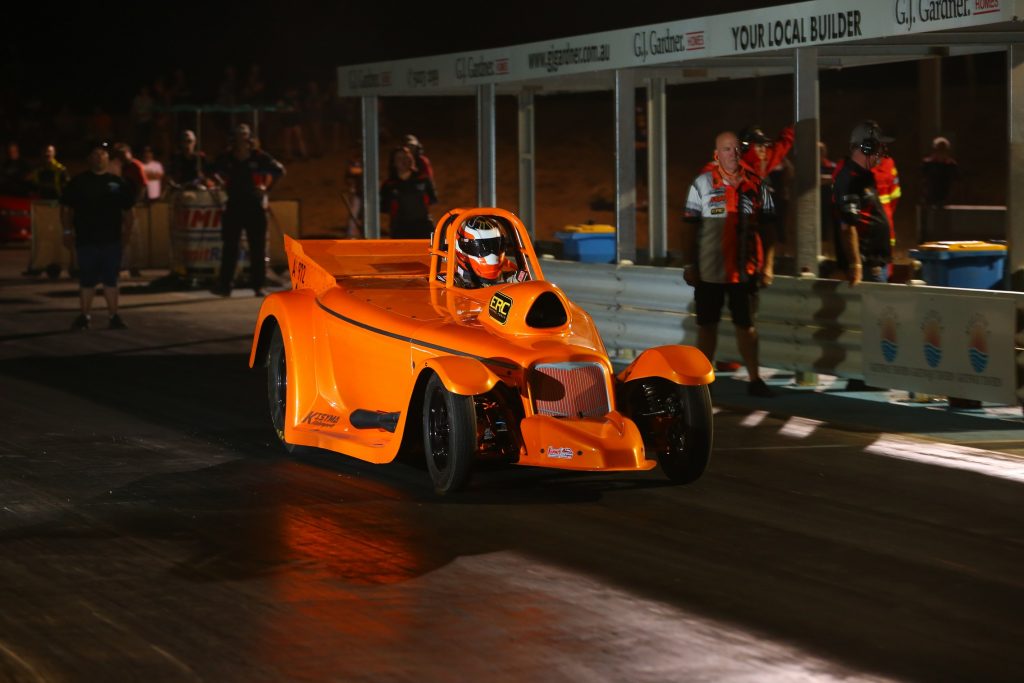 "It was very hot out there today so were weren't sure how the car would run, but then in the first round it ran the same as it had yesterday at the same time and I managed to get past Fiona Crisp, and then in the second round Kenny Stewart red-lit against me so that was a bit of a bonus.
"In the third round I had Ash Johnson and I got through that one by being better on the lights. I was on the brakes on that run though so I wasn't sure what to run in the final, and it was a really quick turnaround so I had to rush a bit. It was neck and neck out there and I got him right on the finish line, running a 5.961 on a 5.96 dial-in!
"This feels awesome – this is my second win and it feels even better than the first. I have to thank my dad who worked his butt off all weekend as well as Sean Agius, he isn't a full-time guy on our crew but he helped us all weekend. I also want to say thanks to Nick Xerakias of ERC Racing Fuels."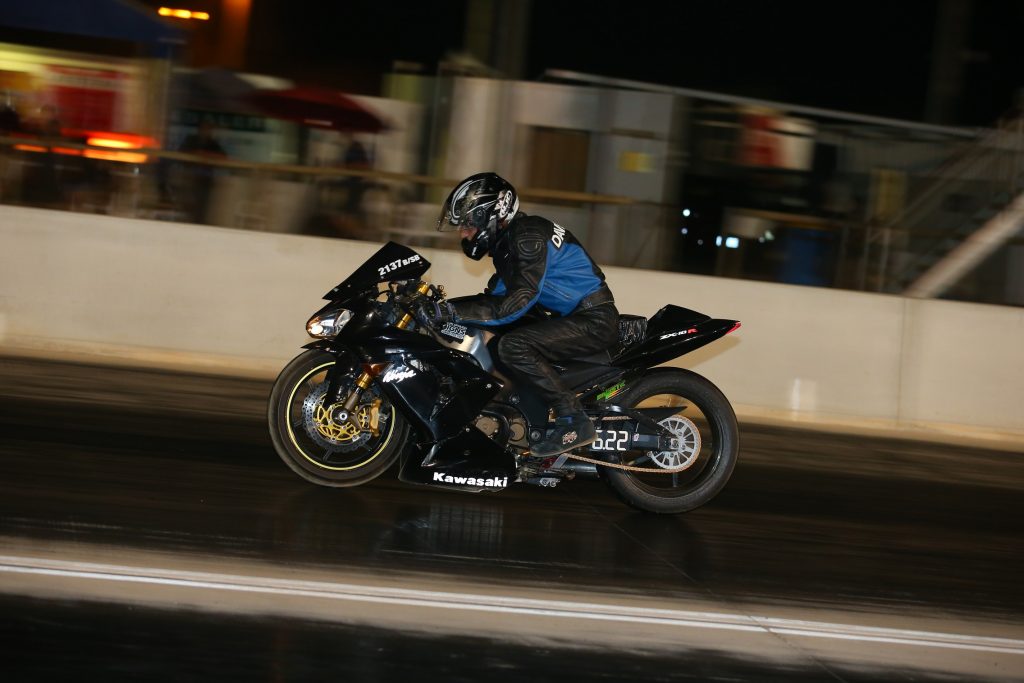 In Competition Bike, the three-round shoot-out format once again delivered plenty of exciting racing, with the battle for the event victory ultimately coming down to David Willis and Top Qualifier Danny Rickard, with Willis claiming the ANDRA Christmas Tree this time around.
Andrew Thompson picked up his second ANDRA Christmas Tree of the season, taking victory in the Top Sportsman category this evening from Top Qualifier Darren Saliba after earlier emerging victorious from battles against Daniel Jones and Vlado Turic (round one). Saliba meanwhile had taken a round two win from Jason Arbery after enjoying a bye-run in round one.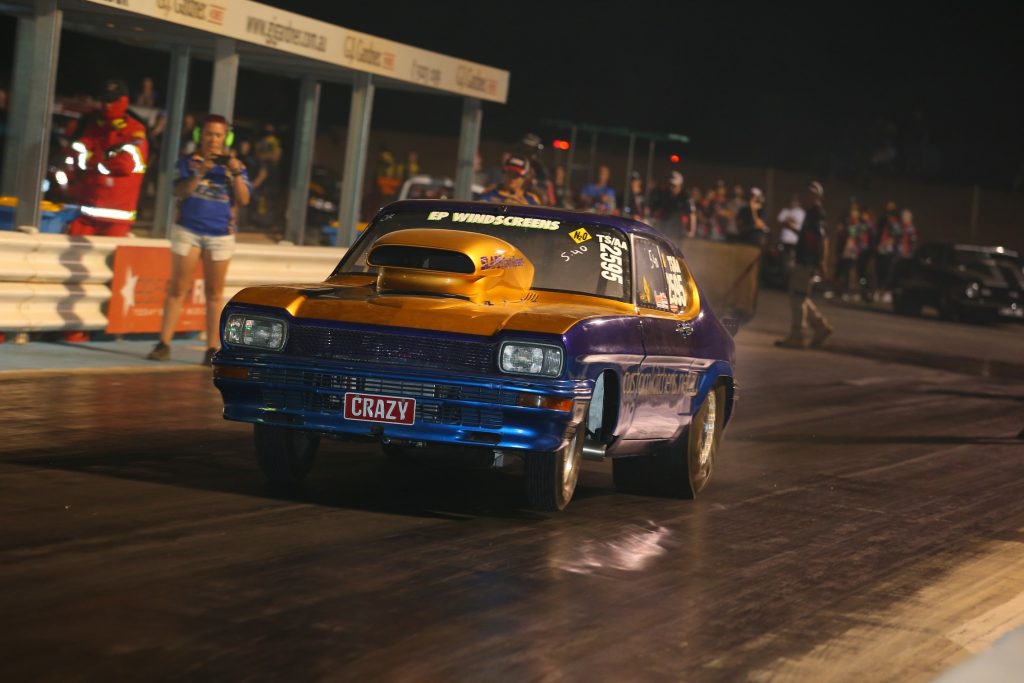 Colin Griffin was another chalking up a second victory for the 18/19 season, going back-to-back with victory in Super Gas this weekend after having taken out the event win at the recent South Coast 660. Griffin faced off against the category's Top Qualifier Adrian McGrotty in the final after having earlier raced against Jason Wilson and Warren Bull (round one). McGrotty, running a borrowed engine this weekend, enjoyed a bye run to his finals appearance after successfully facing off against Charlie Saraceno in the first round.
"I like getting these, they are pretty good!" Griffin said while accepting his trophy.
"I have to thank all of the officials and the volunteers who stood out in the sun today – what they do allows us to do what we do. I also would like to thank my wife and the Sunraysia Drag Racing Association for putting on a great event, as well as all of the other competitors."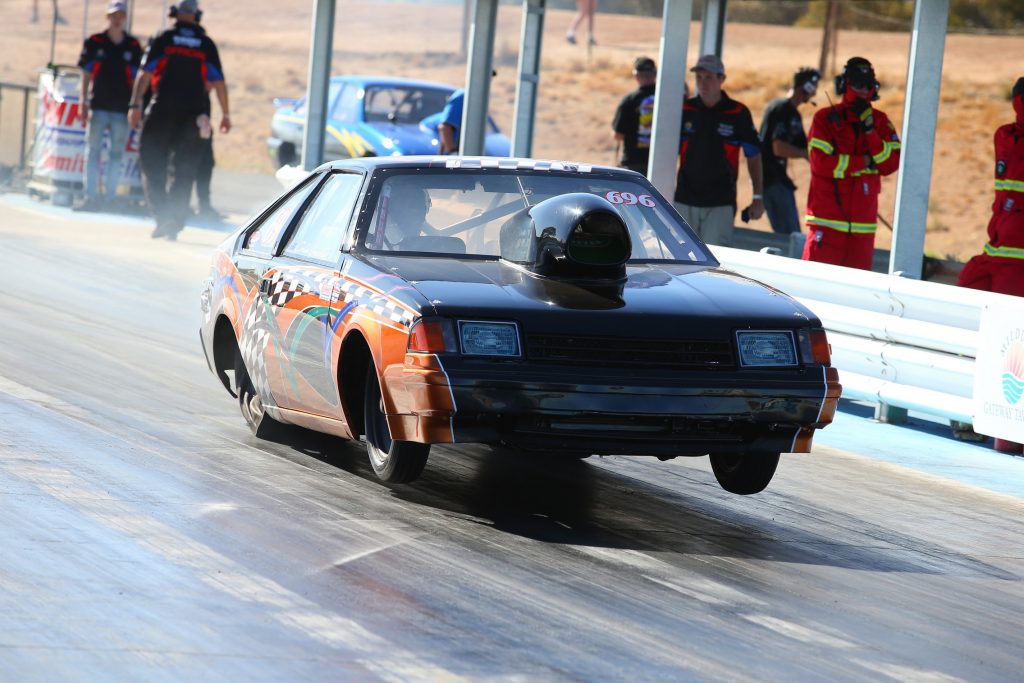 Martin Mirco took out the victory in Super Sedan from Jeff Maslin. Mirco had earlier taken on Steve Hunt (round one), Rob Evans and Mark Neumann before enjoying a bye-run in the semis. Maslin meanwhile had taken on last-event winner Chris Lioulios in the semis after having earlier dispatched defending champion Peter Tzokas, Robert Kardum and Mark Hubner.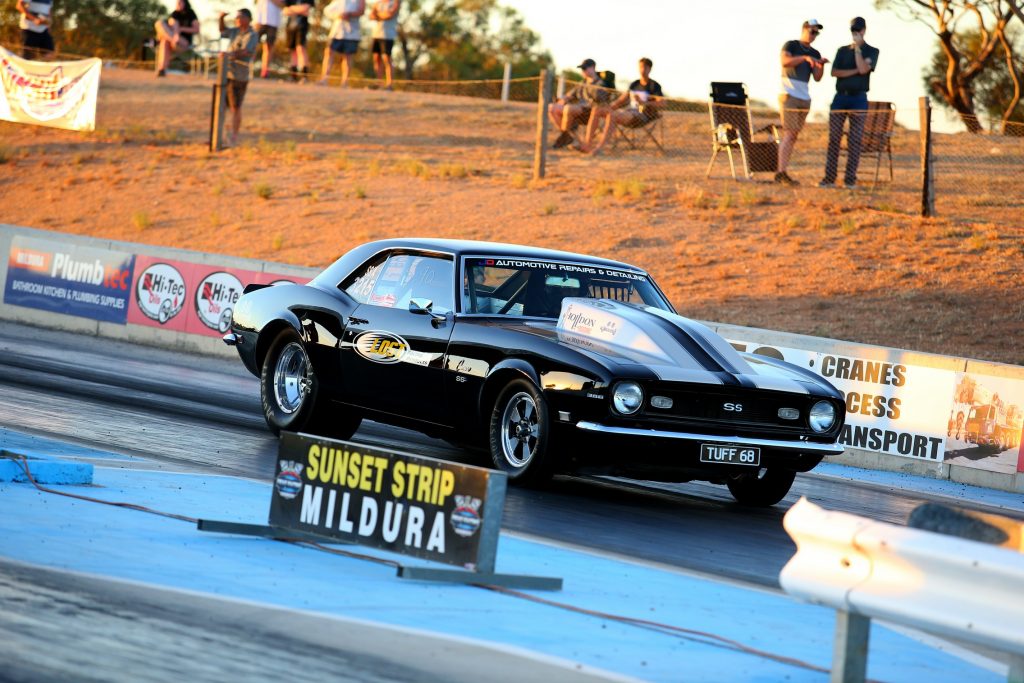 In the Modified Bike rankings, it was Shane Walker who would take out the big trophy over runner-up Edge Mallis after walking away with wins over Mario Baker, Gavin Dohnt and Derryn McGregor across the day. On his way to the final, Mallis took on Top Qualifier Nat McKay in the opening round before going on to face Nick Thompson before a bye-run in the semis.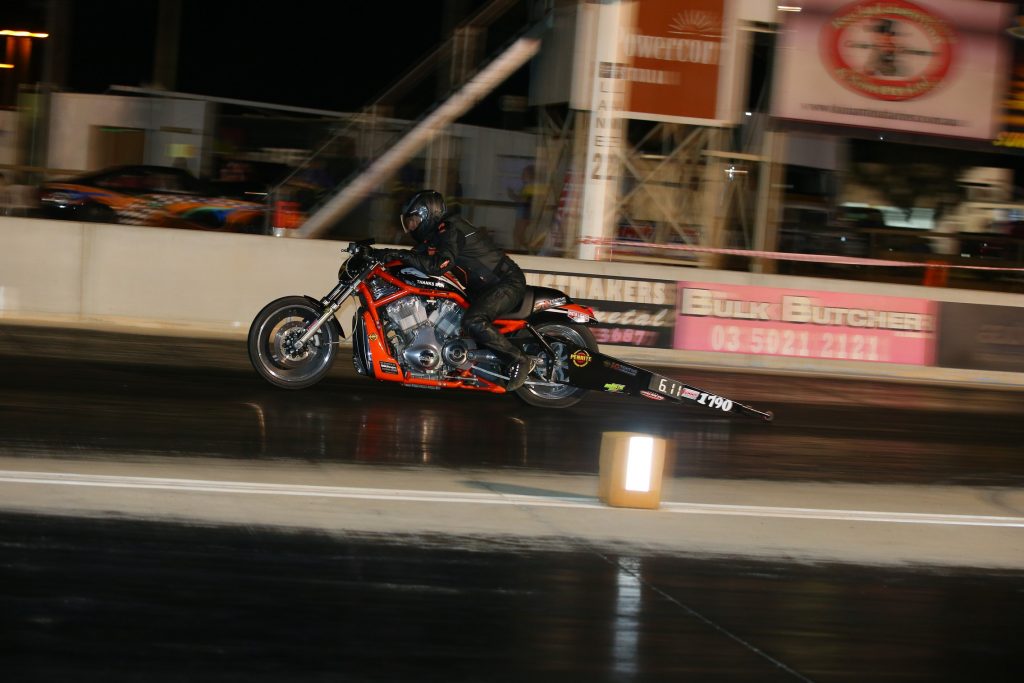 ANDRA thanks the Sunraysia Drag Racing Association and all of its volunteers and sponsors for an outstanding race track and a well-run event.
For results sheets from today's action at the Sunset Strip, please go to https://www.andra.com.au/series/results/
The penultimate round of the 18/19 Summit Racing Equipment Sportsman Series, the Westernationals, will be held at the Perth Motorplex across March 2-3 ahead of the ANDRA Grand Final event which will also be held at the Motorplex (April 6-7, 2019). For event information, visit www.motorplex.com.au or www.andra.com.au