At the weekend's EGT ANDRA Grand Finals, there was no shortage of ANDRA Christmas Tree trophies hoisted by grinning recipients following the conclusion of the 2021/2022 Australian Drag Racing Championship and Summit Racing Equipment Sportsman Series.
While the title winners have understandably been the subject of much of the rhetoric around the event, they weren't the only ones impressing at the Perth Motorplex on April 9 however, with event wins just as hotly contested as the championship battles.
Taking out the ANDRA Grand Final event trophies were Stuart Moresby (Top Doorslammer), Chris Matheson (Top Fuel Motorcycle), Brodie Zappia (Summit Racing Equipment Junior Dragster), Simon Garbutt (Modified Bike), Stephanie Gullotto (Super Street), Peter Tzokas (Super Sedan), Darryl Treasure (Modified), Peter Appleby (Supercharged Outlaws), Colin Davis (Top Sportsman), Ross Smith (Competition Bike), Jamie Chaisty (Super Stock) and Craig Geddes (Competition).
Please read on for comment from each of our SRESS and ADRC event winners from the EGT ANDRA Grand Finals.
For more details on how the battles in each class played out over the weekend, please click here.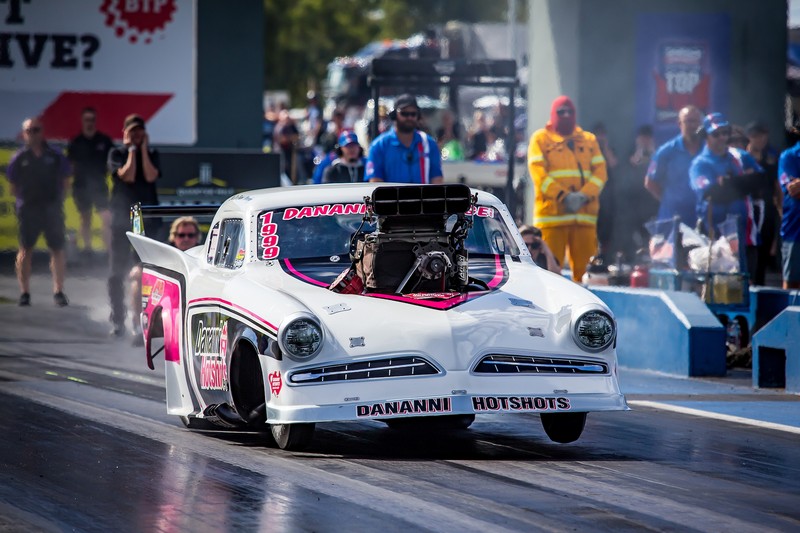 Stuart Moresby – Top Doorslammer event winner
"It was a mad thrash, crazy weekend. We broke an intake rocker in the last qualifying session, so the boost went through the roof, and it pushed two head gaskets out of the engine. We had to get the spare engine put into the car and we just got finished in time for our first round against John Zappia. It was a huge unknown, but he got out of shape and tagged the wall, and while we had an untidy pass as well, we got the result," Moresby said.
"In our semi-final against Pino Priolo the tyres rattled hard, and it didn't click into second gear. I went into top gear, and I could feel it vibrating, like it had a rod out of the engine. I said to the crew afterwards we need to get this thing to bits, because there's something not good in there. We had broken a sprag and an output shaft and needed to put our spare gearbox in. The crew were knackered by the end of the night, we haven't had a race meeting like that in a long time.
"Qualifying was not real good for us. On Friday night we overestimated the track and overpowered it. We guessed what we needed to do on Saturday, and it was marginally better, but of course we had damage in the engine.
"You do what you have to do at the end of the day. None of our laps were representative of what we can do, but everyone gets the same race track. It's good to be good, but better to be lucky. To see the crowd that was there was awesome. The Top Doorslammer racing wasn't as quick as it could have been, but it is unpredictable and exciting. We always get rated as the underdog team, but we might have to see how we go about lifting that status given our Goldenstates win and now the ANDRA Grand Finals."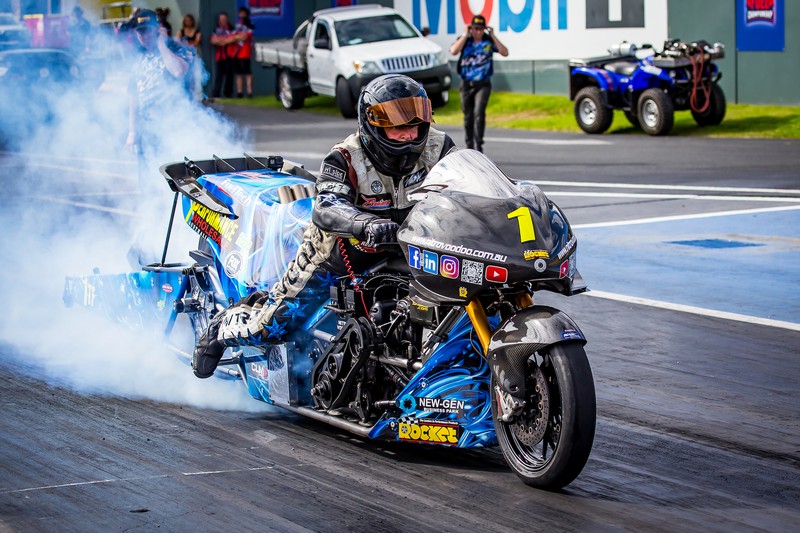 Chris Matheson – Top Fuel Motorcycle event winner
"It was a bit dodgy in the beginning, as we only ran some low sevens while trying to find our feet. Once we got in the groove with it, we were pretty right. It was a matter of working with the conditions, and the track was very good." Matheson said.
"On all three runs in eliminations we had to keep it soft in the middle because we were on the limits of the back tyre. It was marching along especially as we brought in more power in the back half. We had another go at running a record time in the final, but we couldn't take too much risk. It got a little out of shape down the other end and I got a bit close to the wall, but the bike pulled up fine and we are looking forward to our next race meet in Sydney.
"The new engine program has really paid dividends, and we are now in the process of trying to get to eight championships. We build the motor ourselves and the reliability has made a big difference. We ran three 6.0s with the same motor and no engine damage. We were able to fuel it up, run our checks and away we'd go again. It underlines the reliability of what we are using."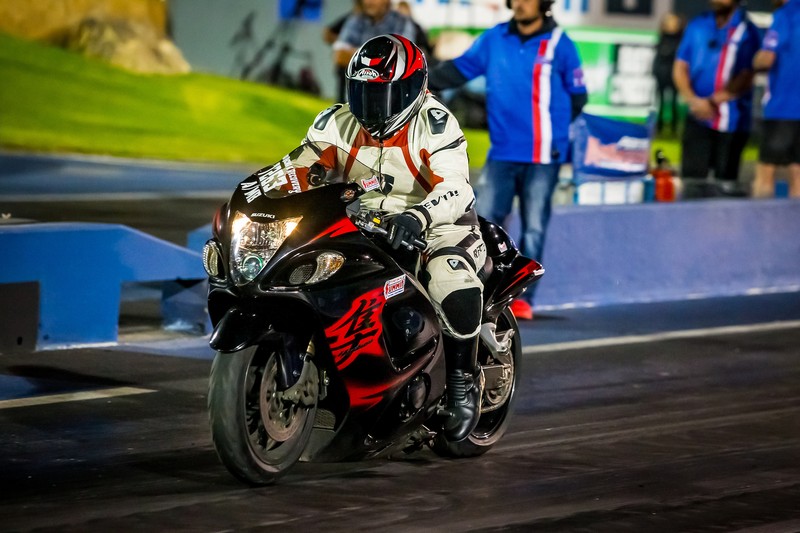 Simon Garbutt – Modified Bike event winner
"Our weekend was a bit rushed, having to finish at work and then make it down to the track in time for Friday night qualifying. Our first pass was a non-event due to a timing system malfunction, so we had to re-run the bike straight away for a 9.60. We had good consistency in qualifying as our other runs were also 9.6s," Garbutt said.
"The bike was getting up on the back wheel, so I was having to play with the throttle and body movement to settle it down. It made it hard to pick a dial-in with what the bike was doing. In the final against David, I carried the front wheel pretty far in the air, which meant I had no wiggle room to get off the throttle. I had to keep it pinned all the way through the finish line and we dropped to a 9.65, but David broke out and we got the win.
"It's our second big win this season, we also took out the Goldenstates in November. We almost looked at taking a trip over east to chase the national championship, but COVID made that too challenging. We will do it eventually when all the ducks line up."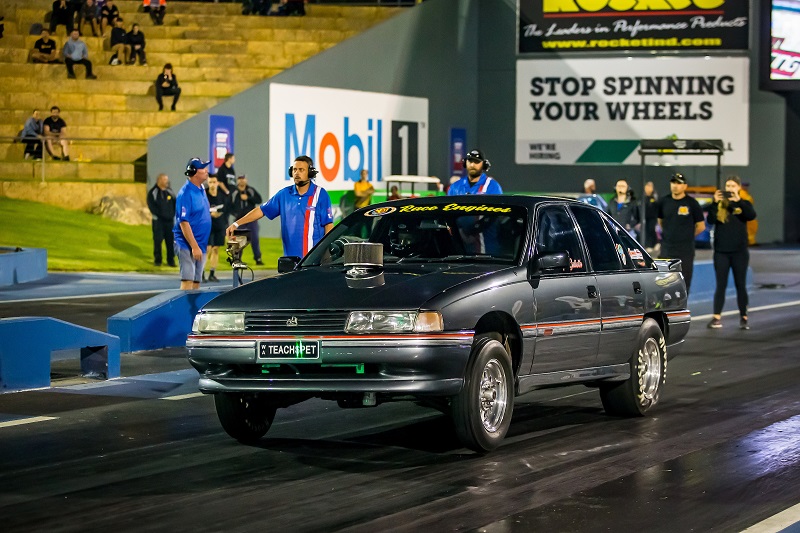 Steph Gullotto – Super Street event winner
"In qualifying we had pretty good runs. We missed the first session because I was still at work but got down for the 6.30pm run and went 10.008. We were top qualifiers at that point and then we went 10.006 on Saturday. My crew Matt and Sandro were trying to make sure it didn't run into the nines and stayed within the Super Street limits. The top qualifying pass gave us a bye run in round one which was a blessing," Gullotto said.
"The crew were bang on with choosing dial-ins. I had a really close race in the second round and that helped save me. In the final my opponent red lit, which was a bit of a relief after so many close races during the night. This was my second ANDRA gold Christmas tree, but I like to think of it as an SCM team Christmas tree, because all of their efforts make this possible."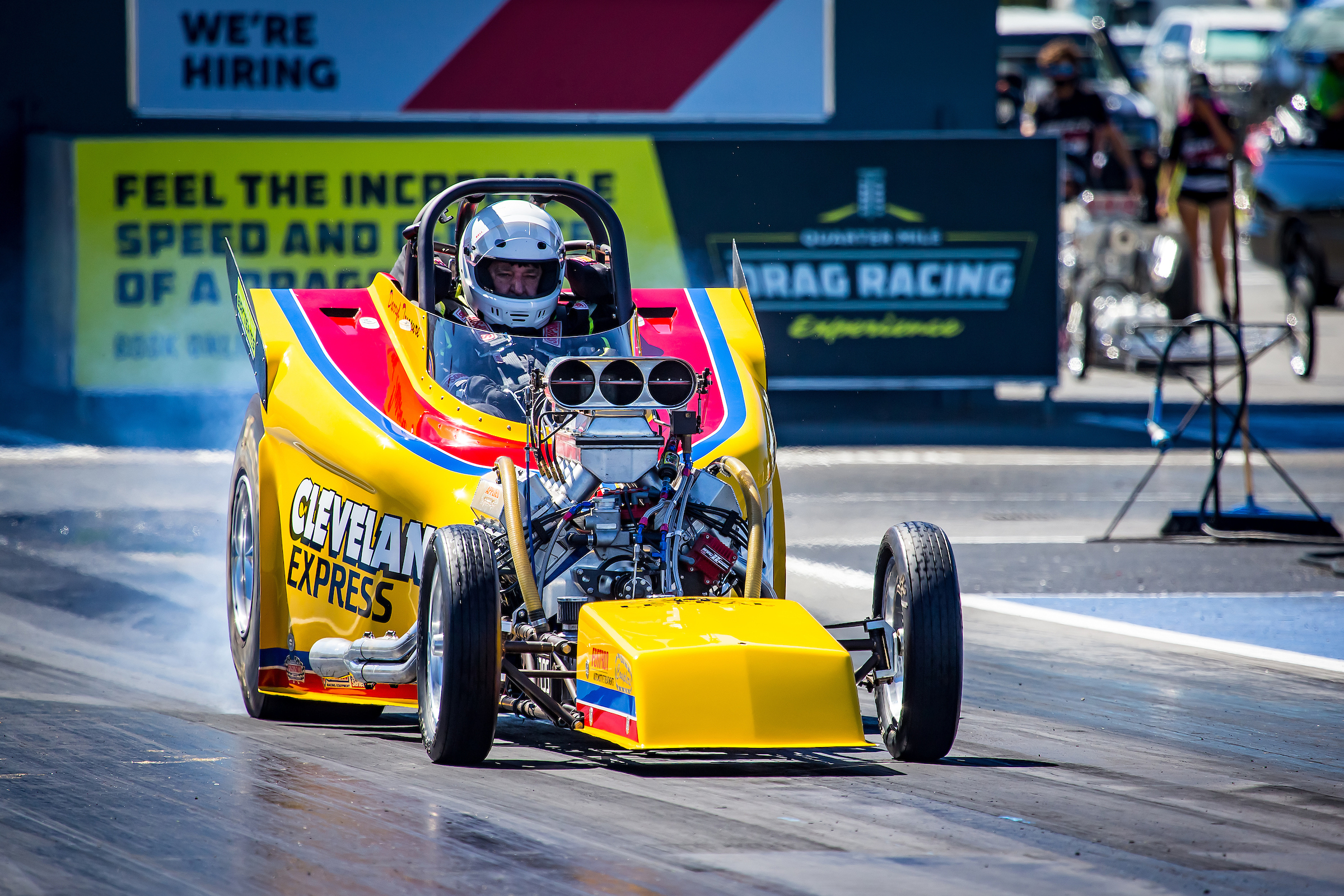 Darryl Treasure – Modified event winner
"I never intended on racing again. We had the Cleveland Express under a cover in the garage and my son Sam, who raced the car, told me I should give it a drive. One day I came home from the track, and he told me to take a look at the car. He had taken his name off the side and put my name on there. That was the start of it. I feel like I'm 18 again when I get in it," Treasure said.
"The final was extremely tight. We knew Jeff was running well and that it was going to be the toughest race of the weekend. I lifted the pedal right at the end, but when I looked back on the video that was a brave lift as Jeff was right there.
"Everything went very smoothly other than the weather and the schedule changes. The car was just faultless the whole weekend, the guys kept the car perfect for me. A year ago, we didn't have any ANDRA gold Christmas trees and now we have four. Last month I won the Westernationals and now the ANDRA Grand Final."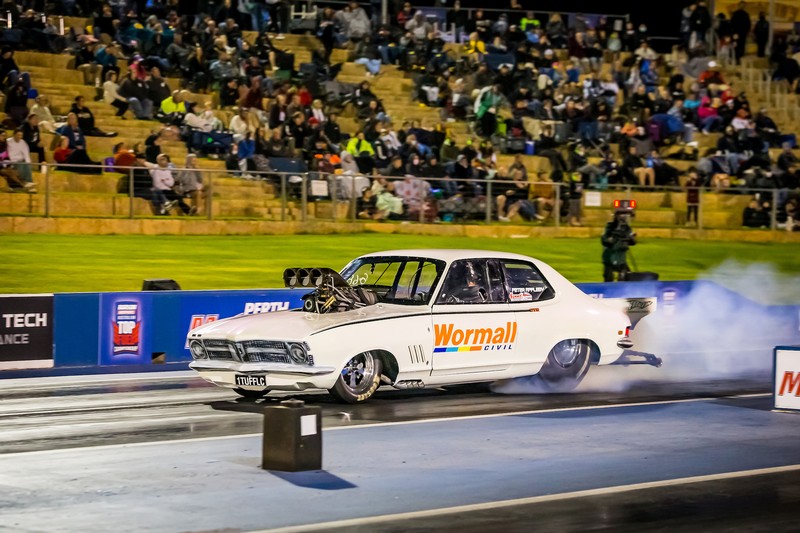 Peter Appleby – Supercharged Outlaws event winner
"That was the worst qualifying I've ever had. We had tyre shake and it felt like we were chasing our tails all weekend. It wasn't until eliminations we found a problem with the four-link that was giving us issues. I was very much resigned to going out in the first round, but it all worked out well," Appleby said.
"We had no data from qualifying, so we went in blind to eliminations. In the semi-finals I got off it slightly early and had pure luck to go 6.680 on a 6.68 dial-in against Alan Mahnkoph. It was very lucky. In the final we knew what it could do so we put more power in and gave ourselves more room on the dial-in and drove it out the back door and it worked. It was the luckiest race.
"She is a good little car. It's a 510ci big block Chevy with Alan Johnson cylinder heads and a PSI blower. At one time this was a genuine GTR Torana, but it has been turned into a full race car. The short wheelbase can make it tricky to apply all the power but once it gets going it has some of the best top end speed out there."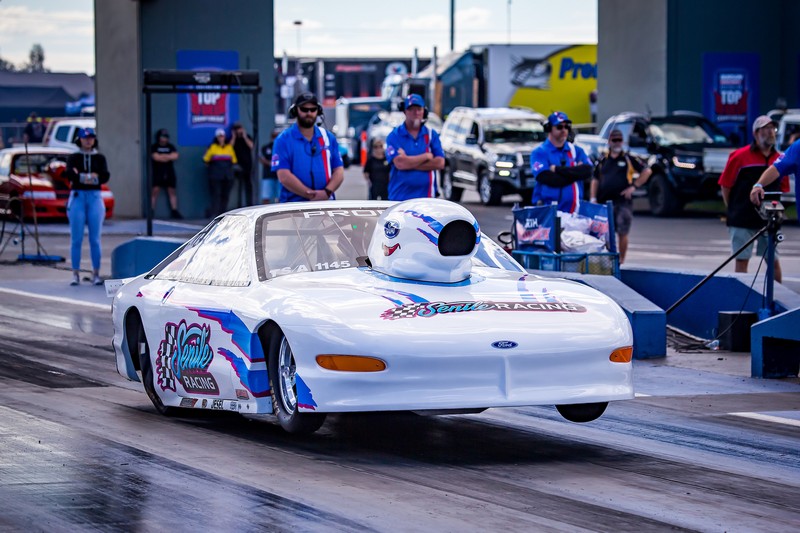 Colin Davis – Top Sportsman
"We top qualified so that was nice, and then I came home with another gold Christmas tree. The Westernationals in 2017 was my first one. It was just a dream, and it was never my goal to win these big events, but sometimes you are in the right place at the right time," Davis said.
"Sometimes only one chute came out, so the track crew guys were giving me information on which one would come out and which one wouldn't. We tried a different way to pack the parachutes and now they open up perfectly.
"I predicted I would have traction problems with the cold nights, so I put the wing up three degrees to keep traction. I only had one little twitch but apart from that the car was well behaved.
"In the final I had an old man sleep, I don't know, I mucked up. I think when I went to accelerate, I had to double step and reposition my foot on the pedal. By the time I readjusted I was late. I couldn't believe I got the win light."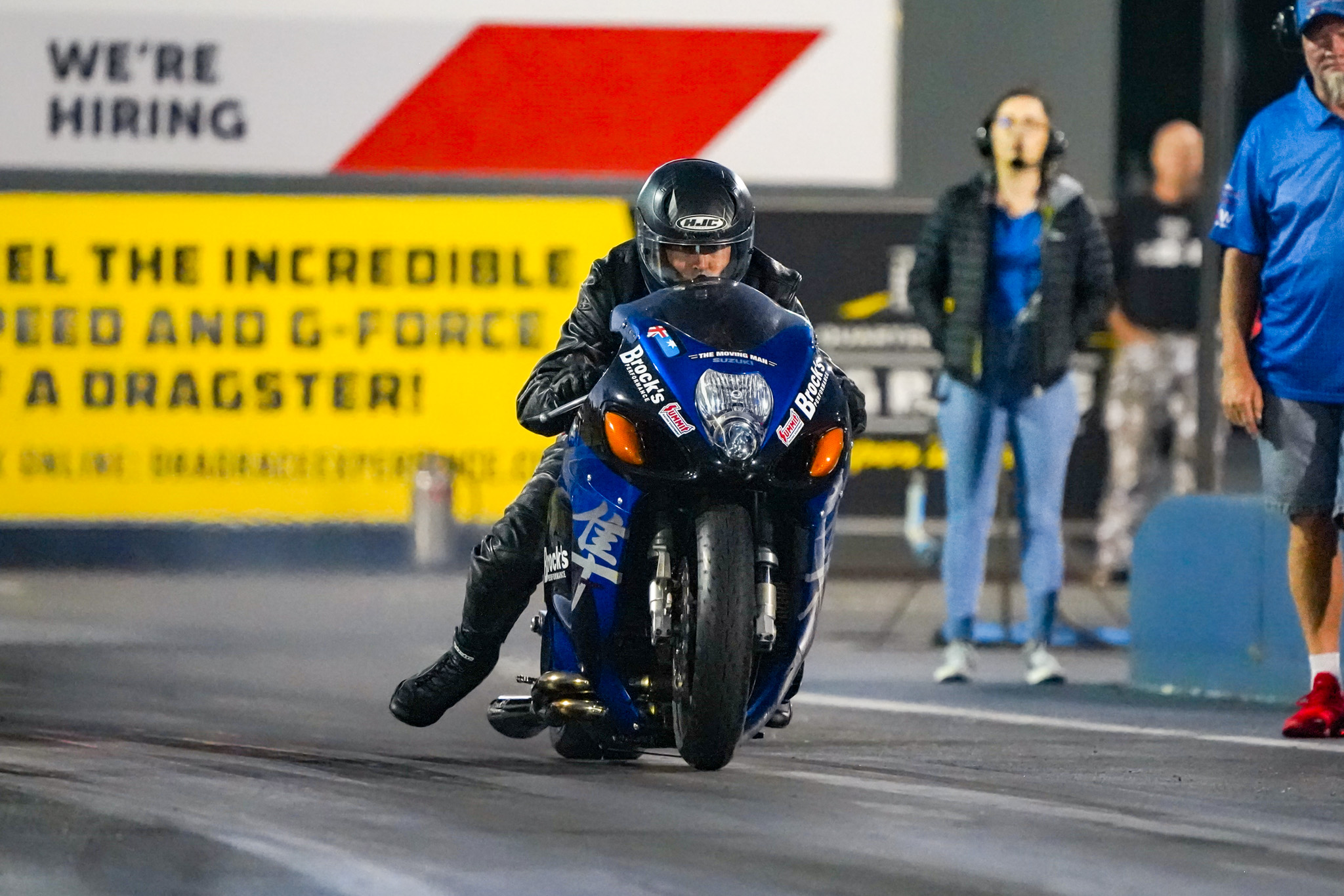 Ross Smith – Competition Bike event winner
"We were very nervous initially about having a brand-new tyre on there, as they take three laps to get any grip. On the first lap it surprised us as it spun first but then caught and drove and it got us an 8.0 run to top qualify. On Saturday we used the same setup and the tyre gripped, so we knew the tyre was working and we could zero in during eliminations," Smith said.
"On the first elimination round the track bit us. We had it fairly soft, but the track had a lot of grip and so the bike wheelstood, which it hasn't done for quite a few years. My autopilot kicked in to save the lap, because with the shootout format of Competition Bike you need to win every round.
"In the third round against Paul DeKlerk we got more aggressive with the clutch and expected an 8.1 lap, and it went 8.01! That put us into the final against Phill Paton, who had earlier wrapped up the ANDRA championship. We knew on paper we were further under the index than Phill, so it was a matter of putting a clean lap together. We went 8.02 and with that we had the national ET record and one of our best speeds ever at 164mph, just shy of the national speed record.
"We've had a perfect season in WA; we haven't lost a race. We're very happy with this weekend and the outcome. Next season we will try to get some weight out of the bike, and we'll try again."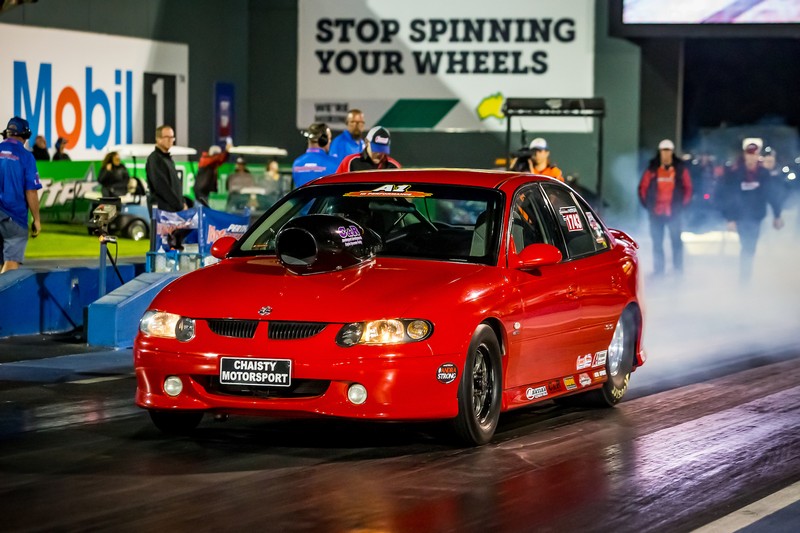 Jamie Chaisty – Super Stock event winner
"In qualifying we struggled a bit. We spun the tyres on our first pass, and we thought we were going to have four qualifying sessions to try some things, but the weather messed that up a bit. So, we had to be a bit more conservative to just focus on getting down the track," Chaisty said.
"We were meant to face Errol Quartermaine in the first round, but he wasn't able to front up. Even though we had a solo we wanted to go for it and not muck around, and we went 9.019. We then had a bye run in the semi-finals and got quicker again with a 9.005.
"For the final round we didn't change much. We really wanted to run an eight, but we also wanted the win. We were up against Todd Stacey, and he got squiggly on his run, while we went through for an 8.971. That was my personal best run and set the national record into the eights for H/MSA.
"We're not too sure on our plans for anything next season right now. We have achieved everything we set out to do with the class so we will think about what we want to do going forward."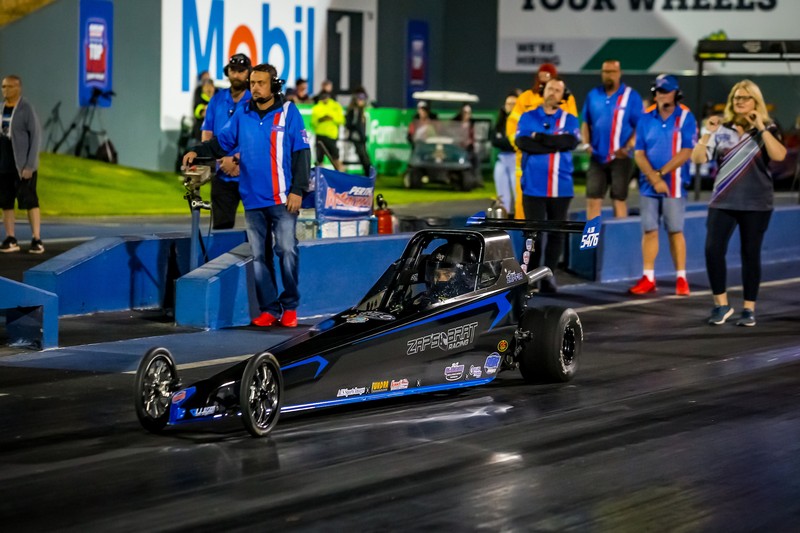 Brodie Zappia – Junior Dragster event winner
"We started well in qualifying on Friday with an 8.03 on my first run to top qualify. I made a small jetting change for the next morning, and we slightly improved to an 8.02 but we slipped back in the qualifying order. On our third run the car was slightly hotter, so it was going a little bit quicker and went 7.999, missing out on top qualifier by one thousandth of a second," Zappia said.
"We had some tough and close races; I was lucky enough to get a solo in the semi and then had Tahlia in the final where we had a tight race across the finish line. Both of us had great packages."
"It was definitely a different experience racing back at the Motorplex with stands full of crowds. You meet so many people you know in the complex, like family showing up to support you, even people from outside of the sport coming in to see what it's like. This was the best event I have ever raced at in eight-and-a-half years of Junior Dragster racing."
"We had to race without my dad (Richard) this weekend. Dad was a COVID close contact, so he had to stay home for seven days. We escaped the house and got down here Thursday night and haven't left the track since! So, I had to run this event without him, and it was initially quite hard finding a routine with a missing person. We stayed in touch the whole time and he is very proud of me."
For additional comments from Zappia regarding his title victory, please click here.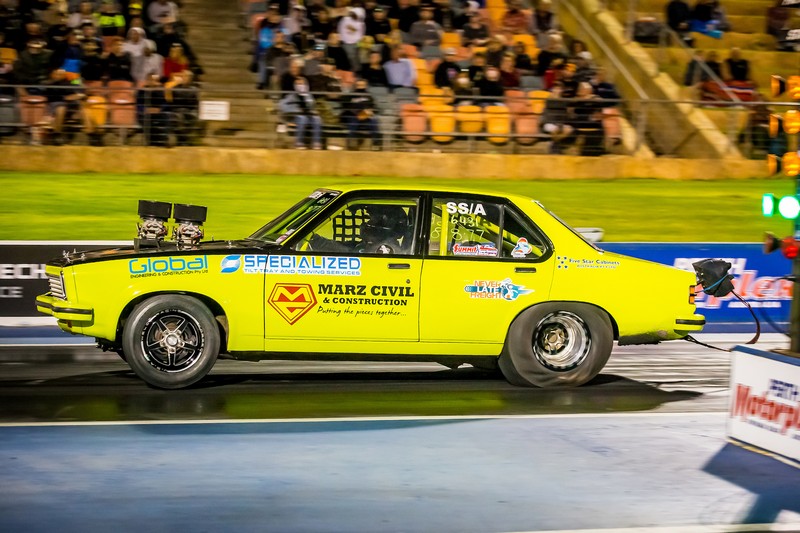 Peter Tzokas – Super Sedan event winner
"After getting my engine fixed from the Westernationals I wasn't sure what (the car) was going to do. I ran a PB in qualifying straight off the trailer, and the car just went beautifully all through qualifying," Tzokas said.
"My lights were pretty good. I had some confidence going into eliminations. In the second round I was up against championship leader Martin Mirco, and I needed to put my destiny in my own hands. After that, I had to race Des Jeffree in the semi-finals where it was winner takes all. Whoever won would win the Australian title.
"Each race meant something. The pressure was on. Martin has been leading most of the season, if not all of it. After winning the make-or-break semi-final the pressure dropped. I was there for the championship, that is what we chase.
"I'd like to thank Louie Marzilli and Marz Civil, Des Jeffree from Force Eight Contracting, and a special thanks Brett Matthew from Gawler Mechanical who got my car running like a dream. Thanks to my wife Stephanie Tzokas, and my other crew Fiona and Nicholas, who came out to give me a hand in WA."
For additional comments from Tzokas regarding his title victory, please click here.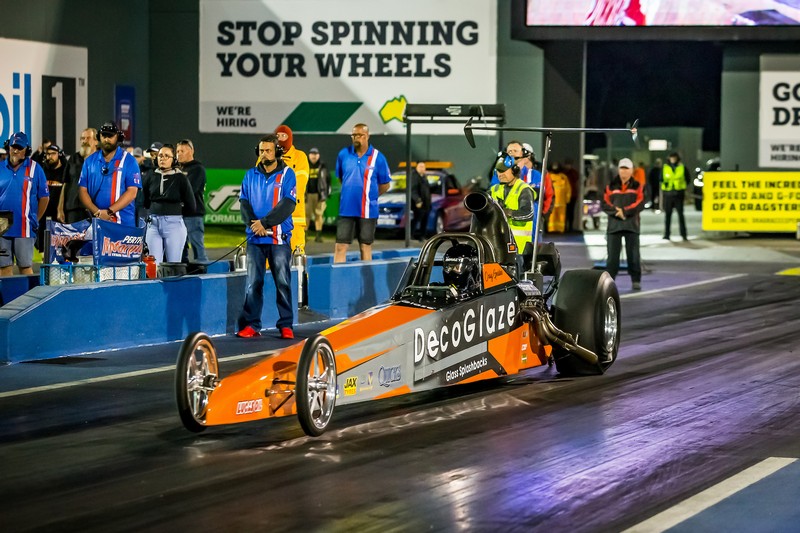 Craig Geddes – Competition event winner
"I really felt the car could run in the 6.8s going by the eighth-mile times we have been putting down. To make that 6.85 pass in B/Dragster made me really proud. We wanted to top qualify if we could to get the bye runs on the ladder if they were available. You have to be fast to run against these Perth cars, they're all fast, supercharged cars that chase you so you need to have very good performance in a naturally aspirated car to keep enough up your sleeve." Geddes said.
"The end of eliminations looked a bit funky. Ian Brown couldn't front for his semi-final bye run, so myself and Nigel Johnson had the only race of the semis, which meant whoever won would have a solo in the final. We had an agreement where we would leave the semi late to give the other racers turnaround time, and then whoever won would just front for the final to stage and not do anything silly.
"Fortunately, we didn't set the record. I was prepared to, if I had to. In the semi I saw my opponent red light, so I buttoned off and didn't back the record up." (Craig's handicap would become tougher at future events if he set the record lower).
"I've been visualising holding two ANDRA Christmas trees up; it's a very proud moment indeed."
For additional comments from Geddes regarding his title victory, please click here.
Further details regarding national record updates and final points standings will be released later this week. For more information, email media@andra.com.au
ANDRA thanks the Perth Motorplex and all of its volunteers and sponsors for an outstanding racetrack and a well-run event.
For full results from the ANDRA Grand Finals, please click here.