The stage has been set for an epic ANDRA Grand Final at the Perth Motorplex next month following the conclusion of the Westernationals – the penultimate round of the 18/19 Summit Racing Equipment Sportsman Series – at the West Australian venue this evening.
This weekend hosted not only the Summit Racing Equipment Sportsman Series racers but also Top Doorslammer and Top Fuel Motorcycle competitors who battled it out for the West Coast Challenge, with 187 racers signing up for the two-day event.
Earning a prestigious ANDRA Gold Christmas Tree for their winning efforts tonight were Chris Moore (Modified Bike), Craig Caton (Super Street), Mick Fenton (Super Sedan), Cory Treasure (Modified), Greg James (Supercharged Outlaws), Alby Bakranich (Top Sportsman), Justin Townson (Competition Bike), Steve Norman (Super Stock), Trent Morrison (Competition), Daniel Gregorini (Top Doorslammer) and Tony Wood (Top Fuel Motorcycle).
Runners-up were Rob Good (Modified Bike), Ashleigh Wroe (Super Street), Neil Scott (Super Sedan), Erin Healy (Modified), Jon Ferguson (Supercharged Outlaws), Paul Downe (Top Sportsman), Brett Ghedina (Competition Bike), Todd Stacy (Super Stock), Ralph Lewis (Competition), John Zappia (Top Doorslammer) and Wayne McGuinness (Top Fuel Motorcycle).
In the Top Doorslammer ranks, the final battle came down to 11-time national champion and Westernationals Top Qualifier John Zappia and Daniel Gregorini, with just three one-thousandths of a second separating the pair at the finish line. Ultimately, it was Gregorini who would take out the coveted ANDRA Gold Christmas Tree from Zappia; who yesterday clinched the Top Qualifier Medallion – thanks to TileCo-TheShowerPeople and KC Tools. On his way to the final, Gregorini had earlier faced off against Pino Priolo (round one) and Mark Chapman while Zappia had beaten Marty Dack (round one) and Steve Aldridge.
"This is so awesome and it is so good that ANDRA have looked after us and brought this meeting back. It was so good to have it in Perth, and it is good to beat the champ!" Gregorini exclaimed.
"It was my wife's birthday on Wednesday and I asked her what she wanted and she wanted a Gold Christmas Tree, no pressure! It is Dad's birthday today and he wanted a Tree as well and it is my birthday on the tenth," he explained while thanking sponsors Scratch and Match Autocolour, Kerb Doctor, Atlas Shelving, Kendal Oils, Metalux Paints, Westcoast Siteworks, Signbiz WA, Dirty Detailing, Gforce Race Cars, Resolution Racing Services, Speed Torque, Go Print and PT Promotions.
"It was good also to have one of my crew guys Stewey here today with us after he spent all day yesterday in hospital with his little boy. My thanks goes to the track staff and all of the officials, it was an awesome event, awesome! And a special thanks to ANDRA for bringing back Top Doorslammer, this is great and it means so much – this is my second Gold Christmas Tree, so it has a friend now!" he laughed.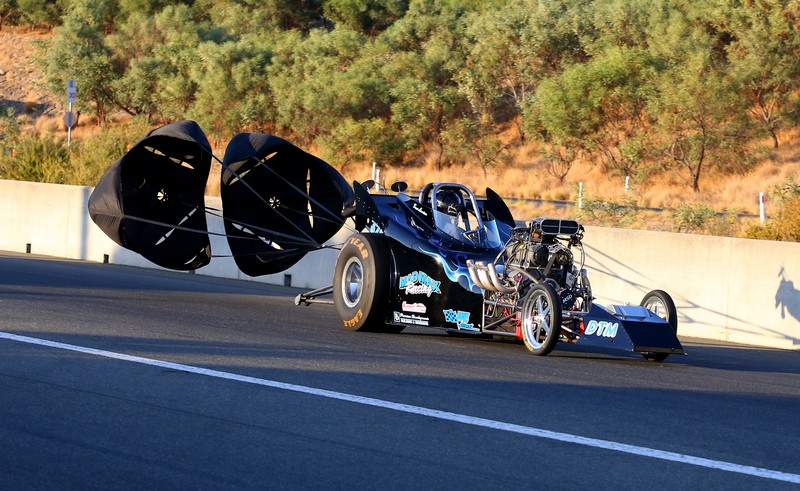 In the Competition bracket, winner and also Top Qualifier Trent Morrison had enjoyed a bye to the final courtesy of a round two win over Sam Treasure while followed victory over James Kemp in the opening round of racing. Runner-up Ralph Lewis found himself in the final after a successful semi-final against Russell Ladbrook and earlier races against Russell Taylor (round two) and Steven Martin (round one). For Morrison, today's victory was forty-odd years in the making.
"This is pretty unbelievable to be honest, my old man has raced for around forty or fifty years starting down at Ravenswood when it first started and we've always struggled to get one of these (ANDRA Gold Christmas Trees), so to finally have all the stars align and have it all come together is just amazing, I am pretty speechless really," Morrison said.
"To start with we were a couple of thousandths off the record, and then in the second qualifier we found a plug lead that was broken so we were only running on seven cylinders for a couple of seconds of the run so we changed that and ended up going a tenth under the record so that was good.
"We didn't back it up today but that is okay, we have another meeting in a few weeks' time to do that!" he grinned, while thanking Ranch Automotive Engineering, Dimoff Transmissions, Premium Developments, Malaga Panel and Paint and his dad Trevor, stating "he is the man behind it all, I am just the bloke that drives it!"
Also in the Competition ranks, Sam Gullotto might not have made it further than the second round of eliminations but he did have the crowd on their feet earlier in the day, becoming the quickest and fastest LS-powered entry in the country with a 6.691s/211.94mph (341.09kmh) pass. This weekend's event marked the Scarborough (WA) racer's return to the driver's seat after two years away which included major heart surgery.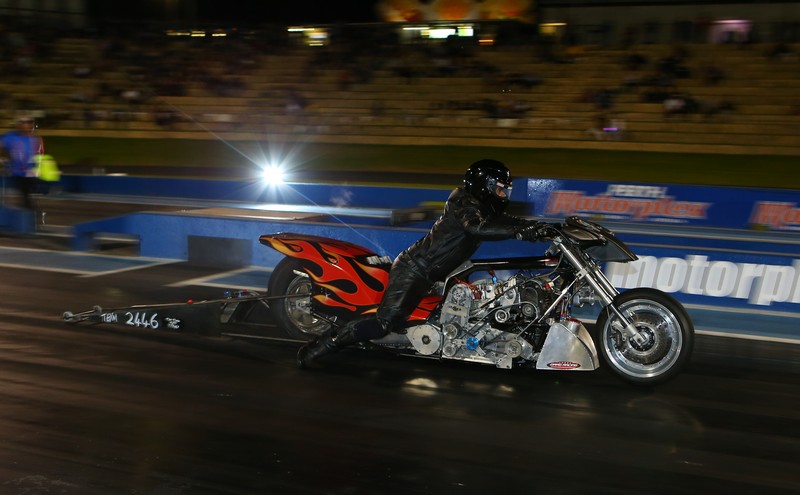 In Top Fuel Motorcycle, Goldenstates winner Wayne McGuinness fought issues with his highly decorated V-Twin Harley all the way to the end but wasn't able to front for the final despite pulling out all the stops. This left Tony Wood to complete a solo pass to take the ANDRA Gold Christmas Tree, marking an emotional first-time win for the Kawasaki racer. He had earlier faced off against Justin Vodanovich (round one) and Les Holden while McGuinness had taken victory from Top Qualifier Jay Upton (round one) before a bye in his semi-final.
"This is an awesome feeling, it has been hard work for years and years! I have to thank all the guys that have worked on the bike and especially my dad Ricky – they put in all the effort, I am just lucky enough to ride it," Wood said, while thanking Team Wood Automotive Performance Transmissions, Higgy Mechanical, WA Suspensions, The Moving Man and ANDRA.
"We were there at the end and you have to be there to win it I guess! This is our first ANDRA Gold Christmas Tree and our first group one round win, so we are stoked.
"The engine in this bike was built by Steve Murray who passed away recently and his ashes went for a ride in Zappia's parachutes yesterday, so it is very fitting to win something like this for him today."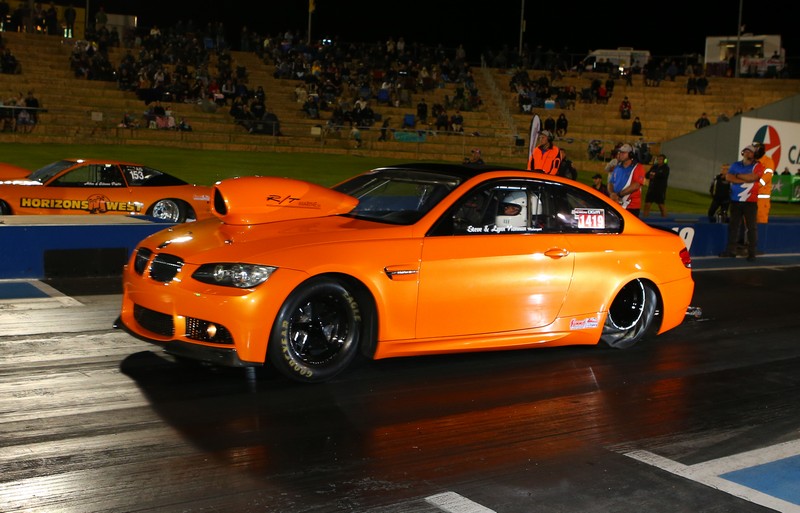 In the Super Stock bracket, Steve Norman walked away with the victory as well as the D/GA ET and MPH record, resetting the marker to 8.347s and 160.66mph in an intense final against runner-up Todd Stacy. On his way to the final Norman also successfully raced against Michael Caroscio (round one) and Allen Puglia while Stacy had enjoyed a bye run in the first round before taking on Top Qualifier Errol Quartermaine in the semi-final.
"I have to thank Ray Treasure, all of the track staff and all of the volunteers – you make it so easy to go racing here and you have the best complex and management in Australia without a doubt. I would also like to thank Ryan, Lance, Gavin and Kevin for busting their guts all weekend," Norman said.
"Thanks very much also to Todd for a really good race in the final – you made me hit the record! We have been at this Westernationals lark for the best part of 20 years and this thing (trophy) is right up there with the best of them."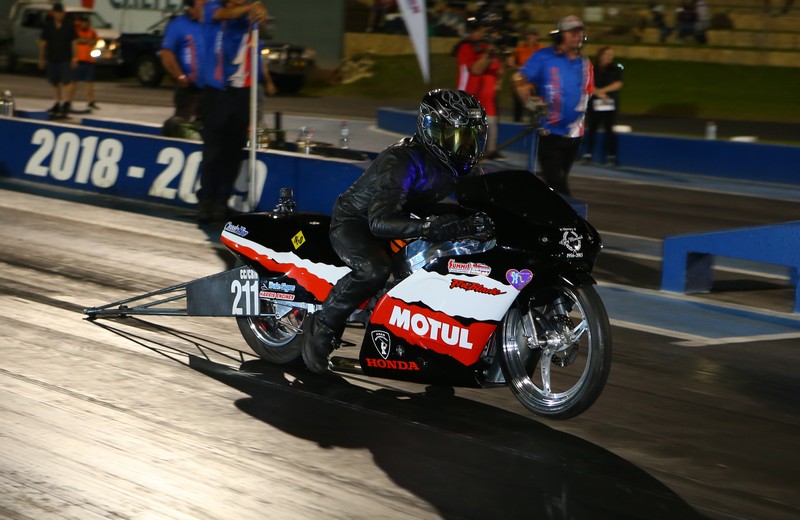 In the Competition Bike ranks the three-round shoot-out format again delivered plenty of fantastic racing action for fans, with the final battle coming down to Justin Townson and Top Qualifier, Brett Ghedina, with Townson ultimately claiming the ANDRA Gold Christmas Tree when all was said and done.
"We are always happy with a Gold Christmas Tree with ANDRA attached to it!" Townson said, while thanking Motus Oils, Dale Signs, Harris Engines, Pace Motorsport, CIC Coatings and the Competition Bike bracket marshall.
"We have got a really good field over here and we have some tough competition. My bike has been tuned by one of the best guys in the country at the moment I believe – Brett Ghedina. I had had him in the final and unfortunately he had a small issue which held him back and the tune up that he gave me, knocked him out!
"I am extremely happy with everyone on board: ANDRA and Summit Racing Equipment for putting all their stuff together and putting on a great event as well as Ray Treasure, he runs a good and sharp style of racing and we have very good people over here. Essentially I love racing and just coming down here and having a bit of fun; and coming home with a Gold Christmas Tree is always a good thing!"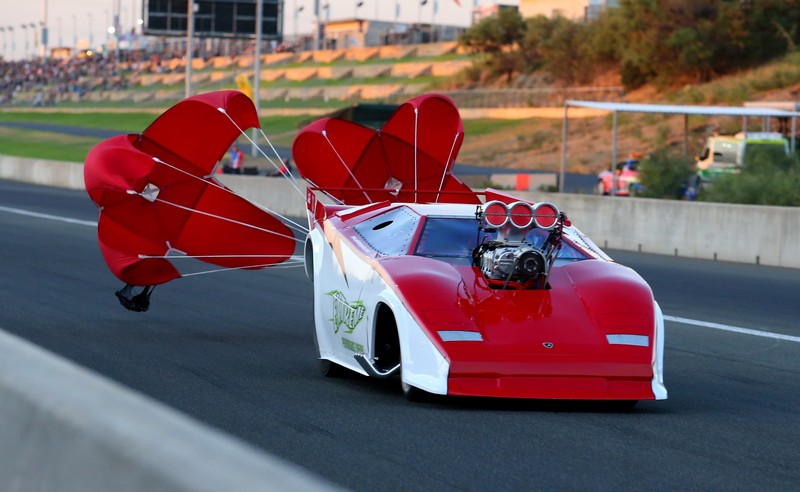 In Supercharged Outlaws, the battle came down to Greg James and Jon Ferguson, with Ferguson having to settle for being a runner-up for a third time when James proved too strong in the final. James had earlier emerged victorious from battles against Vince Belladonna (round one) and Mark Hunt before enjoying a bye in the semi-final while Ferguson had beaten last-round winner Paul Stephen (round one) ahead of a round two bye before facing Top Qualifier Alan Mahnkoph in his semi-final.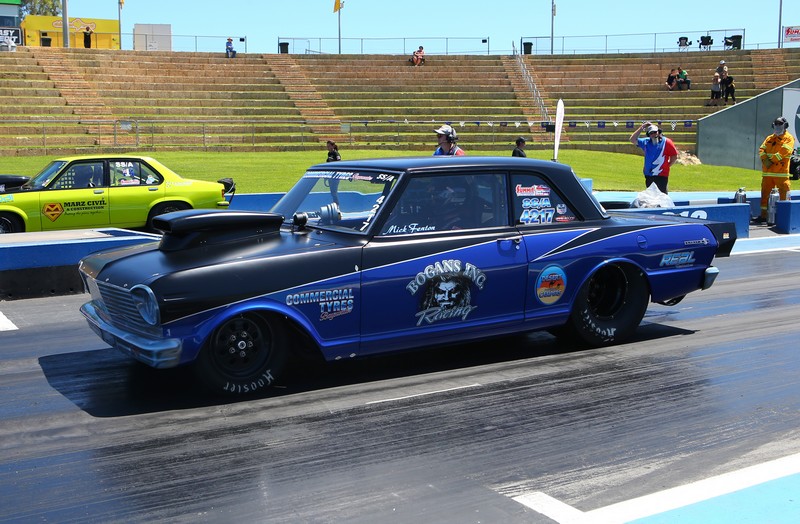 In Super Sedan, it was Mick Fenton versus Neil Scott in the bracket's last run of the evening, with Fenton taking out the victory to claim his first ANDRA Gold Christmas Tree. Fenton booked his spot in the final with wins over Kathy Regan (round one), Steven Miilias, Peter Appleby and David Todd while Scott had taken on Mick Aquilina (round one), Laurence Adamos, Kyle Higgins and Shaun Tunstall on his way to the final. Dean Dawes had earlier topped qualifying for the bracket and was also honoured at the end of event presentation with the Crow Cams Best Engineered Award for his immaculate Mazda RX3.
"I am very happy, this is my first ANDRA Gold Christmas Tree! It was a good day, especially as the qualifying yesterday was bad as we had four red lights in a row – so you wouldn't have bet on me to win today at all," he laughed.
"It is a very pleasant surprise to win and it means a lot to us – we have travelled this year to Darwin for championship points and this brings us up there as well.
"Before this weekend all my mates have had them (Gold Christmas Trees) and I didn't, but now I do, so now I feel like part of the crowd!" he laughed, while thanking his crew – Jodi, Corey and Matilda – his wife Rose, and Jeff and Phil from ChevPower Race Engines.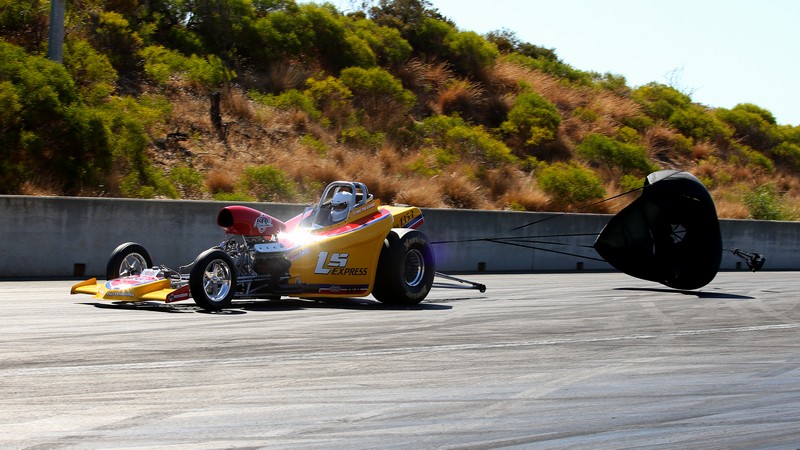 One result which was exceptionally popular at the Perth Motorplex this evening was the win of Cory 'Wonder Boy' Treasure, who claimed his first ever ANDRA Gold Christmas Tree in his first ever Westernationals and his first season of racing. Treasure faced off against Erin Healy in the final after having earlier taken on Ralph Italiano (round one), Top Qualifier Adam Mundy and Kingsley Kuchel while Healy had ensured his shot at the final with a round one victory over Jeff Acton ahead of a bye in round two before he faced off against Chris Farrell in the semi-final.
"I am bloody happy with this, my dad has wanted one his whole life and we finally have one, so I am very happy for him," Treasure said, while thanking KRU Engineering, Manheim, DTM Transmissions and Fortron Automotive Treatments.
"My reaction times were pretty up and down yesterday but I had them pretty consistent today and we had pretty good times all day. The final was mint, it was only the second final I have ever been in and it is great to be at the Westernationals and to win."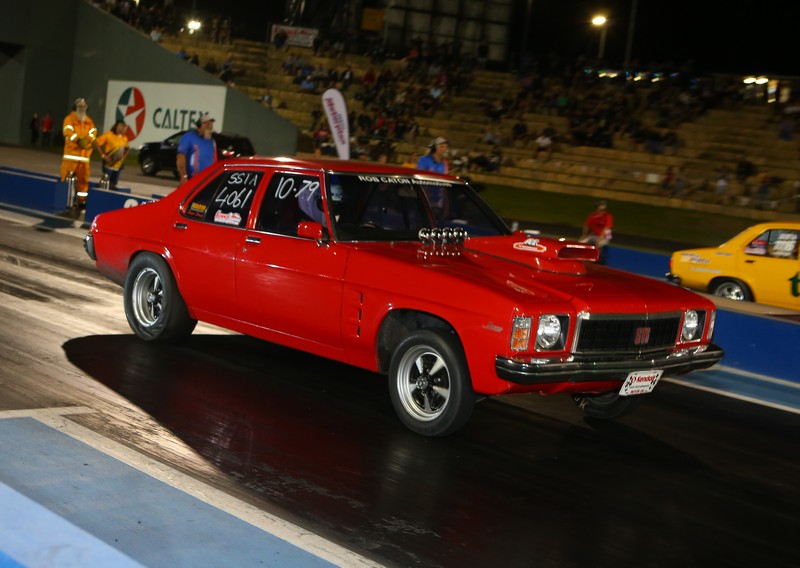 In Super Street, Craig Caton took the win over Ashleigh Wroe to take out the ANDRA Gold Christmas Tree for the highly competitive bracket. Caton had earlier successfully faced off against Cameron Lockett (round one), Ian Taylor, Paul McNamara and Mick Petrov while Wroe had emerged victorious from battles with Brett Connelly, Zachary Giles and her sister Kirstie Wroe ahead of a bye run in her semi-final. Lee Watson had claimed the Top Qualifier honours earlier in the day.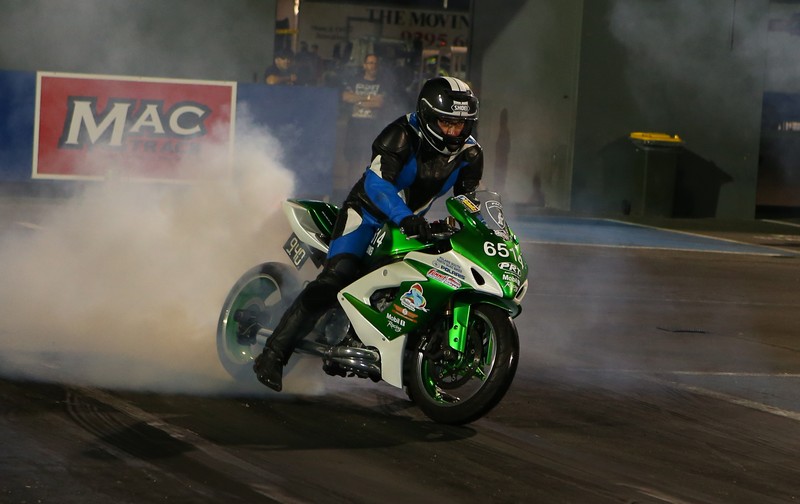 The Modified Bike final stanza pitted Rob Good and Chris Moore against each other, with Moore taking out the big trophy when all was run and done. Earlier in the night, Good had taken wins from Zoe Nieuwhof (round one), Geoff Smith, Brodie Messenger, and Top Qualifier Gavin Dohnt (semi) while Moore had faced off against Hamish Cunningham, Bruce Jones and Dan Dycer before enjoying a bye run in his semi-final.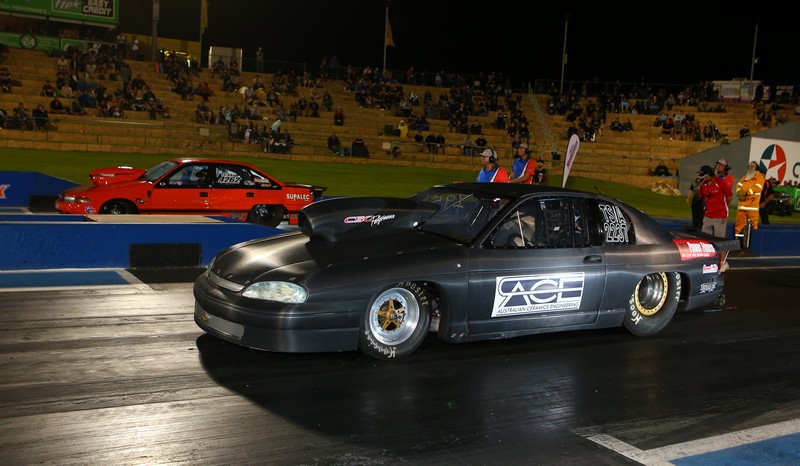 In the Top Sportsman ranks, it was a heads-up final with Alby Bakranich and Paul Downe dialling in identically. Bakranich broke-out, but was saved from the loss by Downe who left too early at the tree. On his way to the final, Bakranich had earlier taken on Darren Saliba (round one), Nicholas Puglia and Top Qualifier Amanda Martin while Downe had emerged victorious from battles against Jake Lane, Vlado Turic and defending champion Jason Arbery.
Also recognised at the presentations this evening was Tasmania Supercharged Outlaws competitor Mike Evans, who was awarded the 'Longest Distance Travelled' trophy while special mention was given to the Top Alcohol racers who put on a fantastic show as an exhibition bracket this weekend.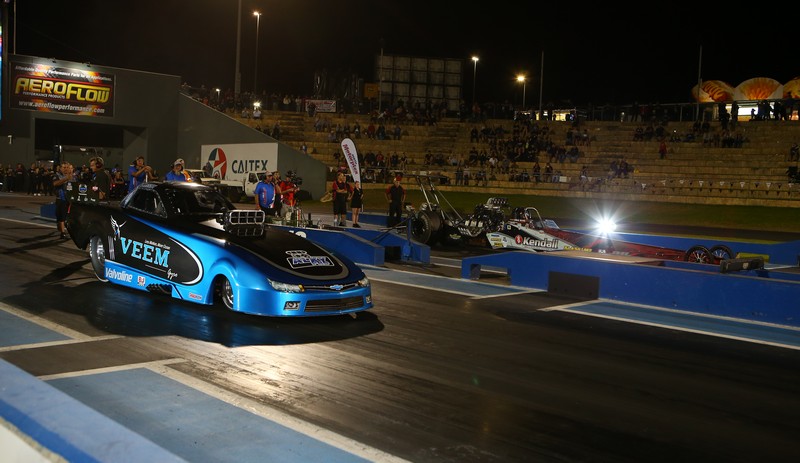 ANDRA thanks the Perth Motorplex and all of its volunteers and sponsors for an outstanding race track and a well-run event.
For full results from the Westernationals, please click here.
The Summit Racing Equipment Sportsman Series will return to the Perth Motorplex next month, April 6-7, for the ANDRA Grand Final event where the champions of the 18/19 season will be crowned. For more information, visit www.andra.com.au or www.motorplex.com.au/andra-sportsman-grand-finals/