Matt Czerny took out the Australian Title for the Summit Racing Equipment Sportsman Series Modified bracket in late March, and weeks' later the Victorian racer is still on cloud nine.
"It only started to sink in recently at the Mildura Supercharged Shootout with so many people coming up and congratulating us, and with all the phone calls and messages that flooded in after the Grand Finals," Czerny grinned.
"We made three finals and a couple of semi-finals this season and learned a tonne along the way, then to take out the Westernationals win and then the Championship in the space of two weeks was just awesome – it is safe to say we will be smiling for some time yet!"
Czerny enjoys the support of Robinvale Estate Dressings, who were pleasantly surprised by the success.
"Robinvale Estate Dressings were quite surprised we took out the number one this season, and pretty stoked at the same time," Czerny explained.
"They were aware we are only new into the class and with the amount of publicity they have received over the course of the season, they were happy regardless. The number one is the icing on top of what is a great partnership – they have some big plans for the next couple of years and we can't wait to be a part of it!"
When it comes to reflecting on the season as a whole, mateship is a key theme of the story for Czerny.
"The best part of the season for me was travelling with my crew Ray and Dave and having a blast with a marketing partner on board that we are super proud to have!" he said.
"I have been mates with Ray and Dave for a long time and we got to do something we never thought we would ever do, travelling the country racing while having a tonne of fun, and gaining a number one in the process!"
There were plenty of highlights, there were lots of lessons learnt across the season as well, with Czerny and his crew being sure to take away as many lessons as possible from the challenging times.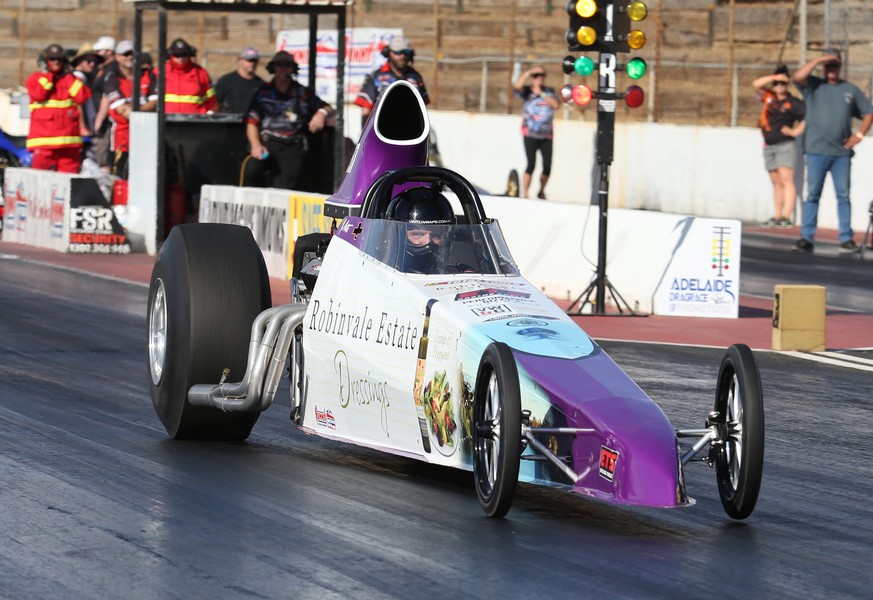 "The new engine going in before Mildura was a highlight, as of course were the last two rounds, but there were some challenges too – such as when we raced at the Rowe Memorial absolutely exhausted after having worked 48 hours straight to make race day. I swore to my guys I'd never race again like that, and tried really hard to be fresh for race day after that," Matt explained.
"A few times across the season we were on the losing side of a race and that taught me a lot as a driver. The main lesson there was backing off in the deep end against Jess Turner in the final of the Springnationals – I had the holeshot and the incrementals to 1000ft were bang on what we dialled, so that loss hurt!
"Even with those challenges, I can't say there were any 'worst parts' of our season – whenever we lost, we learnt."
After his break-through event win at the Westernationals, Czerny headed to the final round in the championship lead and one of three racers who had a chance of taking it out.
"I didn't feel much pressure going in to the Grand Finals, and when it came to the weather everyone was affected in one way or another I think," Matt said.
"Getting closer to the first round of racing, I knew I had a job to do, so we stuck to our routine. However, we ran a little off of our dial-in and so we had to watch the rest from the sidelines.
"Watching and waiting was a weird feeling, however the results fell our way. Our congratulations go to Serg (Sergio Bonetti) on his runner-up result and to Jess (Turner) on her third-place finish in the points.
"It was very surreal to stand in front of a lot of our friends who are also racers and see them so super happy for us as we received the trophy. We are all one big family and whenever someone wins it is always a good feeling – never did we think it would be us!"
So what's next for Czerny, his crew, and the Robinvale Estate Dressings Modified dragster?
"We will run at a few local meetings next season and see where we end up in the points – we would love to go to Perth again with Gordon Crawford, as that place is a must do for any racer!" Czerny said.
"We are also having a new car built which will debut in the Top Sportsman class in a couple of seasons from now – stay tuned for more info!
"In the meantime, I have to say a final thank you to my sponsors – Robinvale Estate Dressings, ETS Racing Fuels, Rayscraft, Paul Turner Performance Engines, Castlemaine Rod Shop, Total Tools Epping, Wayne at Racecomp Motorsports, MSMAA, Keen's Bed & Breakfast Mildura, Ricky's Glass – and my mates Ray Gould and Dave Code, we created something really special this season and without their support, we wouldn't be racing."
For more on the results from the ANDRA Grand Finals and the 2017/2018 Summit Racing Equipment Sportsman Series Championship, please click here.
IMAGES: IMAGES COURTESY OF (FROM TOP) MARK CUFFE, DRAGSSA.COM AND HAYLEY TURNS, OUTLAW IMAGES