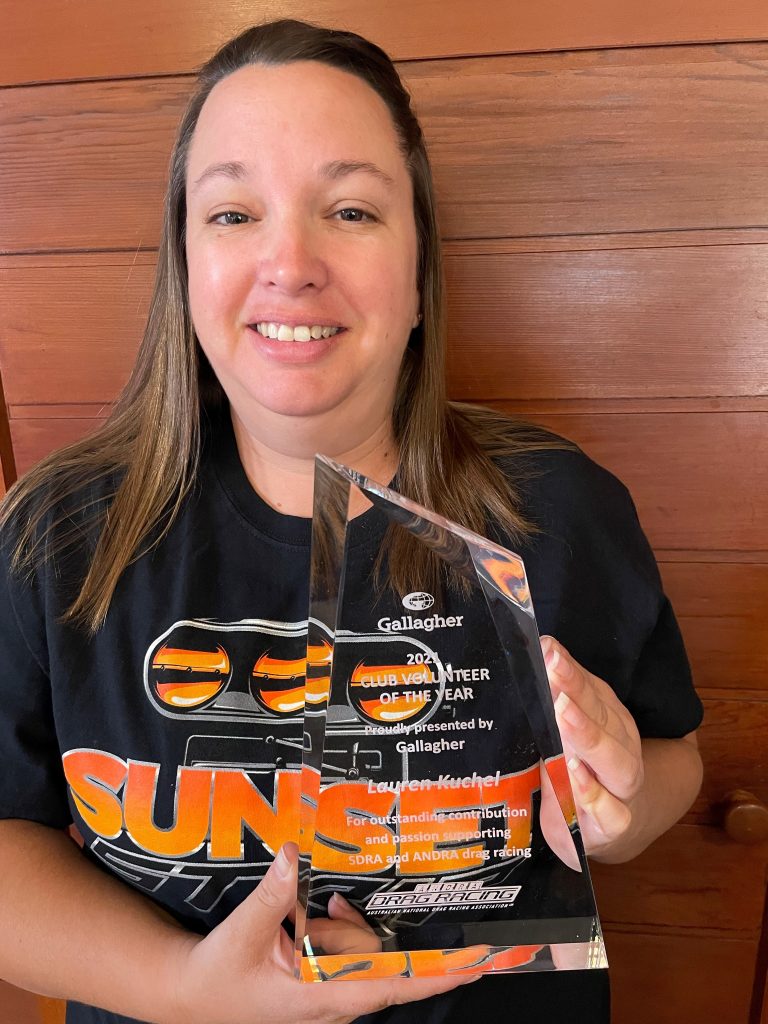 Lauren Kuchel was recently celebrated as part of a select group of Gallagher Volunteer of the Year award recipients.
For over seven years, Kuchel has worked tirelessly in the roles of Secretary, Comp Secretary and now Treasurer for the Sunraysia Drag Racing Association, all while balancing a busy family life and also working at a small local café.
"To receive this award was a huge surprise as I honestly had no idea that I had been nominated. I am still shocked that I am receiving this award," said the 36-year-old from Irymple in Victoria.
"I have not done any of what I have done for the purpose of getting recognition, but more so to help lift the club to new levels and to try and make our sport better for everyone.
"It is however humbling to know that our club believes I have been a valuable volunteer over the past seven years."I must thank all our club members and volunteers that continually put in 100 percent over and over again to get the meetings run and done in the high standard that they are. It is not easy to do what we do, and every volunteer is valuable to the running of our track.
"I would also like to send a huge thank you to the Sunraysia Drag Racing Association and ANDRA as well as Gallagher for sponsoring the award; and also, to everyone I have met along the way, especially those that I have formed lifelong friendships with.
"The thing I love most about the drag racing community is the feeling of family, we are one huge family. Like all families we do not always get along and there is always the occasional cousin that we don't like but at the end of the day, we are all there because we love this sport.
"Being a part of this sport has now provided me with some fantastic friends, some of these friends will now be a part of my life forever and there are even a select few that I consider to be a part of my real family.
"The best thing is seeing everyone come together and help and support each other in any way we can and do what it takes to help another competitor to get onto the track even if they are competing in the same class. It's where we are excited to get to an event just so we can see everyone, and be social; the racing is just the cherry on top."
Lauren's impact on the sport of drag racing hasn't been confined to the SDRA either. The way that Lauren has conducted herself while holding her many committee positions has seen her skills also utilised at other tracks.
Indeed, Lauren has assisted track such as Whyalla's Steel City Raceway, Portland's South Coast Raceway, Adelaide International Raceway, Calder Park Raceway and Swan Hill in various roles when the tracks have been a bit short for staff and needed assistance, helping with competitor and crew sign ins and event acting as Bracket Marshall for both minor and major events such as the Spring Nationals, the Rowe Memorial and other various regional Summit Racing Equipment Sportsman Series events, and even the Australian Nationals.
Over seven years of involvement in drag racing, it is no surprise that Kuchel has a lot of memories spring to mind when she is asked to reflect on the standout moments of her time with the club so far.
"This is quite a tricky question as there have been so many, but if I was to narrow them down to just a few, the first one that comes to mind is when I became the event coordinator of the Summit Racing Equipment Sportsman Series event at the Sunset Strip in September of 2019," she explained.
"This was significant as with the help of many I was able to totally organise and run this event without the help of the normal event organiser, being the President, Kingsley Kuchel. Unfortunately, that year Kingsley was recovering from major surgery and was unable to help fulfill his normal club duties. This event went amazingly smooth and was just something I was so proud of achieving.
"The second standout moment for me was when we ran the first Junior Nationals in 2018. We were unsure how this event was going to go as an event like this had not happened in Australia for close to twenty years but again it was amazing.
"To have all the kids take over the whole complex for the weekend and just let their hair down and have fun was a sight I will never forget, and to see 50-odd kids all on the start line after the day's completion racing their scooters, kicking footballs, and setting up their own disco party just reiterated why I love this sport. Having all the junior parents coming together and being able to relax and really enjoy their weekend away also made all the work worth it.
"The final one – and this one sees me tear up every time I think about it – is where at the Sunset Strips Summit Racing Equipment Sportsman Series event in September of 2018 we, along with some other superhero people, were able to fulfill a kid's dream to be a drag racer.
"To see Alex Mee smile all weekend and to see the support of every racer, crew, volunteer and general supporter line the return road and then clap and cheer him on as he came back from his first run was simply the best thing I have ever seen.
"This was then added to when at the 2019 Junior Nationals, Alex was gifted with his proper ANDRA Junior Drag racing licence. To see Alex become overwhelmed with joy melted every heart that was there. Getting Alex down the track was no easy task and so much had to all come together to make this all happen. To know I was a part of seeing Alex's dream come true and the amazing effort of getting him to run down the track will stay with me forever."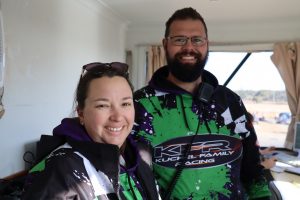 Kuchel's involvement with the SDRA began with a fateful trip to the club's AGM.
"I very stupidly went the club's AGM with my husband as a date night away from my then 13-month-old daughter Sophia and the two boys, Nathaniel and Mason," she grinned.
"But the even more stupid is when the President of the time asked if anyone would take on the Secretary role as the current one was unable to continue, and I made direct eye contact with the President (big mistake) and next thing I know I was on the committee!" she laughed.
"When I was introduced into the role of Secretary and Competition Secretary the hand over was far from desirable with so much information either missing or non-existent. So effectively I was thrown into the deep end, and I had to learn to swim so to speak.
"Over the past seven years I have been proud to have been able to put procedures in place that have really streamlined all the processes to make both the committee positions and race day procedures easier for everyone.
"The Secretary and Competition Secretary roles are two very busy and time-consuming roles. In these positions I have had to be on top of things like event liquor licences, drink and alcohol purchases, cleaning and supplies for toilets and the track and so on, as well as emergency crews, food vendors, security, volunteers, trophies – and the list goes on.
"When I began as Competition Secretary everything was done the hard way by posting out entry forms and having competitors fill out their forms in paper form and then post those back to the club. Through updated processes all entries are now obtained via online entry links.
"By doing this it has made it easier to put together racer entry packs, sign in forms, wrist bands and so on, so the wait time to sign in a competitor and crew has gone from 10 minutes per race team to only a couple of minutes. By doing it all electronically we can obtain all the racers' signed Indemnity forms and ESP forms before they arrive at the track, and we can also track competitor entry payments and have it all put into one database.
"All this means that racers now only need their licence and logbook to sign into an event. To get all these processes to the level they are currently at has taken a huge amount of time and research to make sure everything is as effective as it can be, and I am very proud of that.
"Although I have now stepped down from both the Secretary and Comp Secretary roles, I am still working with and guiding the new member that has taken on those roles. However, I haven't totally escaped it all as no one wanted to take on the Treasurer role five years ago, so I accepted the nomination and continue to fulfil this duty for the club today.
"The Treasurer is a reasonably straight forward role, but a lot of time has been spent streamlining things such as paying bills online rather than having to use cheques and the postal service and items such as event floats and so on have been made easier to obtain.
"We can now also get racers' entry fees paid directly into our account and we no longer need to post refund cheques via mail as we can do all that online.
"To do these roles correctly and efficiently you must invest everything you have into getting it all perfect. It is however, satisfying to look back on where I began and then look at where I am at today, and I can see that the time and effort I have invested into all of this has certainly made our sport better, especially at the Sunset Strip."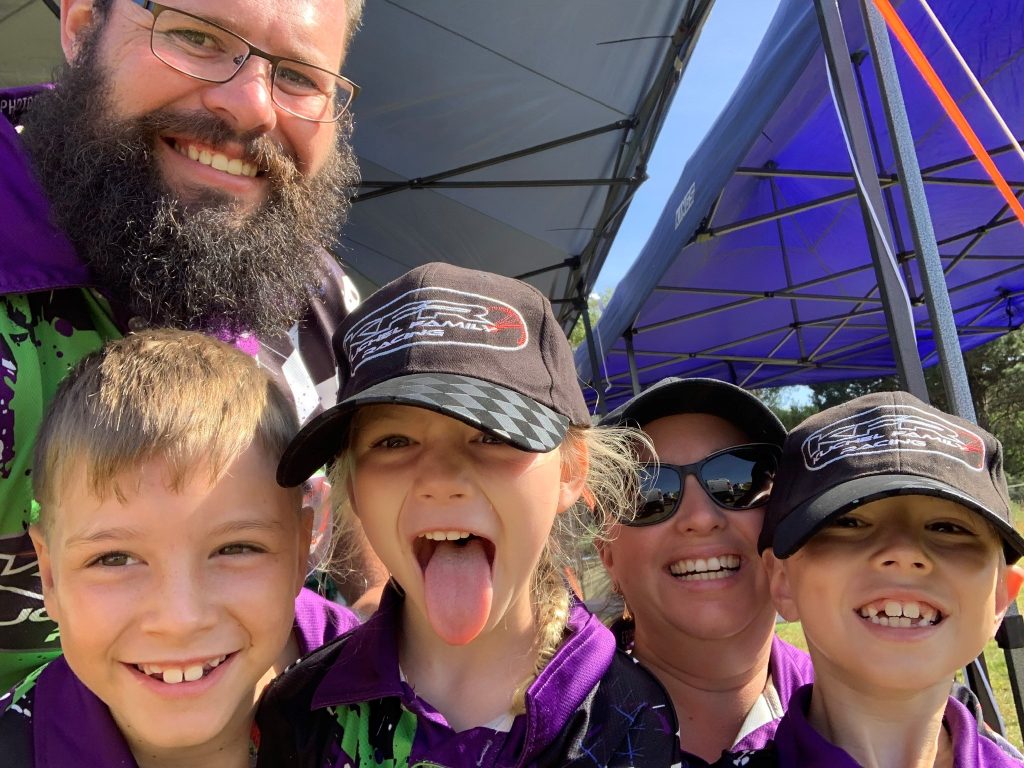 While she has been busy behind the scenes, Kuchel has also turned her hand to on-track pursuits from time to time.
"I have been in the driver's seat a couple of times, the first being at our Nostalgia meeting many years ago where I 'putted' Kingsley's Dragster down the track (it felt fast to me but unfortunately the video shows otherwise)!" she recalls. "I also have competed at two Ladies' Day events where I have borrowed another member's street vehicle to race.
"It is hard to get the time to race anything as my children compete at every meeting except the nostalgias event. Up until now it has just been the two boys racing and while running two juniors is a lot of work, we now have our daughter in one as well so that makes three – there are not many families that have had three juniors racing at once!
"Having said that, I have purchased a mini Mustang Funny Car that has a lot of history in South Australia and I am hoping that over the next couple of years we will be able to restore it and get it back onto the track and it will then be my turn to go racing and have fun!"
After so many years of around the clock effort to fit in the demands of club life alongside mothering three children and also working, Kuchel said the answer to the question 'what keeps her coming back' is a simple one.
"The family," she said.
"This all based around the family we have and share with other racers and those that have now become lifelong friends.
"It is the catch ups at the track, the phone calls checking in on how everyone is doing in between meetings, being able to lean on these friends when times are tough and to be there for them, when they have needed our support.
"The family and friends that I now have in my life that have eventuated from this sport have truly helped me through more than a few tough situations in recent years and I will be forever thankful to this sport for what it has given me."To all our members, volunteers, racers, crew, emergency services, ANDRA, general supporters and everyone else that is directly involved in this sport somehow I sincerely thank you all. I thank you for supporting me through the positions I have had, I thank you for helping the track to run as smooth as it does and finally, I thank you all for keeping me sane."
Gallagher is the official insurance broker of the Australian National Drag Racing Association and offers competitive, no obligation quotes on everything from your race trailers, to your business, to your race track. For more than 90 years, Gallagher's tailored insurance, risk management and consulting solutions have helped businesses, communities and people face their futures with confidence. For more information, visit www.ajg.com.au
To learn more about the Sunraysia Drag Racing Association, visit www.sunsetstrip.org.au
For more from ANDRA, please visit www.andra.com.au