Gavin 'Bear' Hynam was recently celebrated as part of a select group of Gallagher Volunteer of the Year award recipients.
Bear, as he is affectionately known, is the President for the Wimmera Off Street Drag Racing and Burnout Club.
The Wimmera Off Street Drag Racing and Burnout Club was established in 2004 and Bear has been involved since the beginning and continues to provide leadership today in his role as President.
Over the years the Club has evolved to offer a range of youth mentoring services in collaboration with Beat the Heat Victoria – an evolution in which Bear has played a very important role.
From providing leadership and facilitating partnerships and support to make this a possibility, he has also worked with ANDRA to establish the club's Junior Sedan Drag Racing class as part of the annual Wimmera Eight Mile Championship event, and created the 'Youth Cars' initiative where club owned vehicles are made available for junior competitors to use at events and be mentored in.
Gavin's clear passion for helping the youth in his area was sadly borne from tragedy.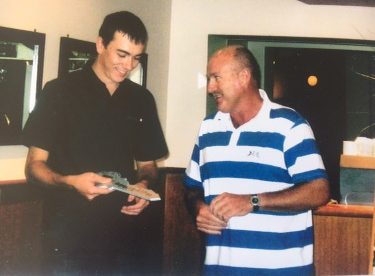 "14 years ago, my eldest son Preston was killed in an accident at the age of 21," explained the 60-year-old grain farmer.
"In the years since then l have found a passion to help our rural youth to help with my grieving and loss.
"For around 12 years now I have been teaching young people how to drive and get experience and their hours up to get their driver's license in the local L2P program.
"I am also a member of the Yarriambiack Youth Action Council in Warracknabeal as a mentor and l bring cars and motorsport to the group, mentoring youth into Motorkhanas and Junior Sedan Drag Racing at Warracknabeal.
"Preston gives me the energy and strength to do this, and in my mind, we are a team – l am just the one with the boots on the ground."
Those who nominated Bear for the Gallagher Volunteer of the Year Award also noted his leadership, his commitment and passion for our sport, his integrity, and his hard work to ensure the Wimmera club has strong partnerships with other neighbouring clubs and excellent links in the local community.
They noted that he also tirelessly operates the heavy machinery for every single set up and pack up of the club's events at Warracknabeal Airport.
"It certainly was a surprise to receive this award, there are lots of volunteers involved in drag racing and when (ANDRA CEO) Brett Stevens rang me we were chatting away like we were old mates, but l knew there must have been a bit more to the phone call," he laughed.
"To receive this award means a lot. I have been a member of the Wimmera Offstreet Drag Racing Club from the very beginning, and I am the only member still involved with the Club that has not missed a single meeting,
"Maybe I'm mad, maybe I'm passionate, maybe both!"
Bear's journey into drag racing began back in 1977, when as a 16-year-old, he visited Heathcote Park Dragway.
"I was hooked!" he grins.
"I have also been to the old Ravenswood track in West Australia as well as the Darwin, Willowbank, Sydney, Calder Park, Adelaide, Mildura, South Coast Raceway and Ballarat tracks – all as a spectator.
"I have even been over to the USA to take in three NHRA events, the most recent of which was the US Nationals in 2014."
He doesn't just spectate though.
"I have competed on the Warracknabeal, South Coast Raceway and Ballarat eighth-mile tracks," he said.
"In 2019 l won Class B at our Wimmera Eighth Mile Championship event – somehow I was consistent for the day and there was also a little bit of luck involved," he laughed. "It was a great day!
"I have an LX Hatchback Torana with a small block in it. It is fun to drive, and I plan to get to Heathcote Park Dragway one day to run over the quarter-mile."
When the opportunity came up to be involved in the Wimmera club when it was first established, Bear was an enthusiastic new recruit.
"I have been a tyre kicker for most of my life, but in 2004 when the Wimmera Offstreet Drag Racing club was formed l was able to be actively involved and l could not join quick enough," he said.
"I have been a committee member the whole time, I have been the Treasurer and l am currently the President.
"There is of course a bit of stress involved and hard work, but if we don't put our hand up, nothing is going to happen.
"The best part about ANDRA Drag Racing is everyone is friendly, we all help each other out, and you can get up close to the cars in the pits.
"I would like to acknowledge ANDRA, Gallagher, and all of the other sponsors involved in our sport. I would also like to recognise all of the volunteers involved in drag racing, as without them events would not happen.
"I would also like to acknowledge and thank Beat the Heat Victoria for joining our club and Yarriambiack Shire Council for allowing us to run events at the Warracknabeal Airport."
Gallagher is the official insurance broker of the Australian National Drag Racing Association and offers competitive, no obligation quotes on everything from your race trailers, to your business, to your race track. For more than 90 years, Gallagher's tailored insurance, risk management and consulting solutions have helped businesses, communities and people face their futures with confidence. For more information, visit www.ajg.com.au
To learn more about the Wimmera Off Street Drag Racing and Burnout Club, go to https://www.facebook.com/warrackdrags/
For more from ANDRA, please visit www.andra.com.au