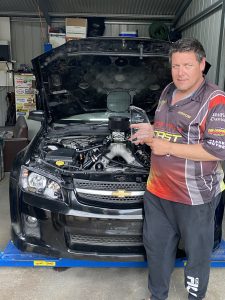 Andrew Smith was recently celebrated as part of a select group of Gallagher Volunteer of the Year award recipients.
Smith has been a member of the South Coast Drag Racing Association (SCDRA) since its inception, playing a part in the Club from the beginnings of the South Coast Raceway track.
Over the past 15 years, the Scaffolder/Rigger from Portland has volunteered at every single meeting the Club has held.
He has also held many positions at the club over that time, including as an Executive Member, Vice President, and as the President for the past eight years. He is also a life member of the SCDRA.
As well as his regular work around the track, Smith also spends many hours before every meeting prepping and preparing the race surface and has done so for more than 13 years.
"Andrew volunteers his time every single weekend, even when race meetings are not being held, such as for working bees, displays and club meetings. I think it would be safe to say that I don't believe Andrew has ever missed an event that South Coast Raceway has ever held in 15 years," South Coast Drag Racing Association Secretary, Scott Cleary, said.
"Volunteers like Andrew are very hard to find and an incredible asset to clubs such as ours. We are very fortunate to have such a dedicated volunteer. Without Andrew, our Club would not be where it is today and would not be able to have the success that we have had."
Smith not only volunteers his time for SCDRA, he has also spent many hours helping other drag racing clubs such as the Casterton Drag Racing Club, assisting them to hold an event every year and in the past, he has also travelled around helping with the former Slamfest Series.
"It was total surprise to me to firstly be nominated for this award and then to receive one came as a big shock," Smith said.
"It means a lot to me to receive this award, it shows that the other volunteers and members around our Club do see the time and effort that all the rest of our team and I put in to make our little venue what it is today. Hard work and dedication do pay off.
"I would like to thank all of the members and volunteers past and present at South Coast Raceway for sticking with me for the journey we have had to date. It makes it easy to fulfill your job role and duties at the track when you have a great team of people behind you.
"I would also like to thank Peter Kapiris and the Slamfest team for giving Jeff Fitzgerald and I the opportunity to travel with them preparing the tracks for them to race on – this is something along my journey so far that I will never forget.
"I would also like to thank the Casterton Street Drags for allowing me to be part of their yearly event."
Smith might have an obvious love for drag racing, but his early years were actually spent at the Speedway.
"I come from a big family of speedway racers, and I thought in the early years that this would be the direction I would take, but after attending the drags at the Portland Airport at 15 years old and then the Casterton Street Drags soon after, my mind was changed," the 40-year-old said.
"I started getting a ride to Portland's committee meetings with my cousin when I could and not long after became a member.
"Once school had finished, I started helping out at the new land where South Coast Raceway was in its early stages. I have pretty much been a volunteer ever since and have been lucky enough to watch South Coast Raceway become what it is today.
"I love the challenge of preparing a racetrack. There are so many challenges leading up to an event and even more on a race day. You get to experience some big lows but when you get it right and you see that one car PB, break a track record or even a national record on your home track that you have prepared, most of the lows disappear.
"One standout moment in particular would have to be when I was able to watch Graeme Cowin's Nitro Funny Cars run side by side three-fives at over 200 miles per hour on my home track that I had prepared."
While lately Smith has been a driving force off the track, he is eyeing off a return to the driver's seat while continuing his Club duties.
"I first raced at the Casterton Street Drags when I was 18 and it was then my passion for drag racing really became real," he explained.
"A few years after that my father and I built a purpose built drag car, a VK Commodore. I have been out of the seat for around nine years now but I'm only a few weeks away from finishing a new purpose-built Super Street car and I have just applied for my ANDRA competitor's licence!
"I love the family orientated atmosphere that goes with ANDRA drag racing and I can't wait to see the drag racing family again as soon as the COVID-19 situation allows."
Gallagher is the official insurance broker of the Australian National Drag Racing Association and offers competitive, no obligation quotes on everything from your race trailers, to your business, to your race track. For more than 90 years, Gallagher's tailored insurance, risk management and consulting solutions have helped businesses, communities and people face their futures with confidence. For more information, visit www.ajg.com.au
To learn more about the South Coast Drag Racing Association, visit www.southcoastraceway.com.au
For more from ANDRA, please visit www.andra.com.au