Just 15 points separate the top three contenders in the 2019/2020 Summit Racing Equipment Sportsman Series Competition title ahead of the ANDRA Grand Final.
Wayne Keys (190), defending champion Craig Geddes (185) and Trent Morrison (175) are on the top of the points, ahead of Shane Baxter (125) and Terry Waterman (110) with just the final round of the season yet to be held.
In addition to the exceptionally close margins, adding extra drama to the championship picture is the fact that Keys is yet to officially decide whether he will travel from his home on the West Coast to compete in the Grand Final as the field awaits confirmed dates for the COVID-19 affected event.
"We haven't really decided as yet on whether we are going to make the trip although we are leaning that way – I may not get another chance as I ain't getting any younger!" Keys laughed.
"We won't be going just to make up the numbers, we have a pretty good package at the moment and have made some nice runs this season.
"As we all know, you need consistency in any drag racing bracket and I feel this car has that. So if we can make some nice runs and have a bit of luck along the way I think we are a good chance for the title.
"History shows the Comp bracket has always hosted a heap of talented racers and quick cars. Craig especially is a tough racer and all round nice guy that I have tangled with in the past and I would have to say the win/loss ratio is in his favour! Having said that, if we can qualify well and have success in the early rounds hopefully we won't have to deal with him until later on."
If Geddes can claim the title this season, it will be his fifth in the Competition bracket and his seventh title overall.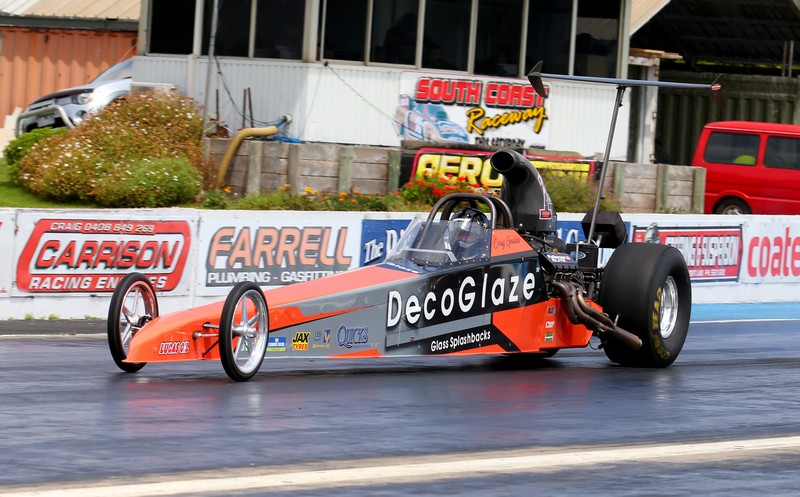 "I have been watching Wayne Keys and Trent Morrison slugging it out in impressive fashion on the West Coast and I'm really hoping they can make the trip across to the Grand Finals so we can put on an awesome show," Geddes said.
"Obviously, we will be giving it everything we have to come out on top and secure our fifth Competition Championship in succession and make it seven titles in total."
It has been a positive season so far for both Keys and Geddes.
"Winning the WA Top Comp bracket for the third time was a major for us! We were also lucky enough to do well in both the ANDRA Summit Racing Equipment Sportsman Series events in Perth and resetting both ends of our own AA/AP records was the icing on the cake," said Keys, who thanks Chris, Ray and all of the staff at the Perth Motorplex, his wife Lisa, the team's supporters and sponsors, and his "super hard-working crew – we cannot and would not do it without them!"
"It all helps to justify the outrageous amount of hours that go into prepping these cars. The other highlight that cannot go unmentioned is winning the coveted Gary Miocevich 'Award Of Excellence' which is the Perth Motorplex version of the 'Brownlows.' The track staff and volunteers each submit votes every meeting and those are tallied at the end of the season to decide a winner – it has been very humbling indeed to be recognised in this way."
"We are really passionate about Group 2 racing and enjoy the rewards that come from developing our combinations and also helping others continue to improve and push forward. While sometimes small the fields can be very tough and we always put on a great show with high RPM, quick performances and big wheel stands from some of the cars," Geddes said.
"ANDRA has also recently introduced some new classes and a new Handicap system which looks very promising with lots of interest and an opportunity to build on bracket numbers. This bracket is super addictive and we look forward to many more years to come of travelling the country with the other guys putting on a great show," Geddes concluded, while thanking car owner Rob Martin, the team's committed crew and families, and major sponsors DecoGlaze Glass Splashbacks, Quicks Freight Express, Ballarat Roadworthy Centre, Jax Tyres Ballarat, The Cleaners Room, CHS Broadbent Grain, Lucas Oils, Crane Cams, Bullet Race Engineering, Custom Engines and Patterson Elite USA.
To view the current points tally for the 2019/2020 Summit Racing Equipment Sportsman Series, please click here.
The ANDRA Grand Final is currently postponed due to COVID-19 restrictions. ANDRA hopes to host the event later this year on dates to be confirmed. For more information, visit www.andra.com.au