Danny Buccella had come so close to winning an ANDRA Christmas Tree but on several occasions just thousandths of a second had been the difference.
On October 23, Buccella finally broke through for his first ever Summit Racing Equipment Sportsman Series victory and an ANDRA Christmas Tree in Super Sedan at Mildura Sunset Strip.
I've come very close," said Buccella. "I've lost probably four Christmas Trees by about a thousandth of a second so I was pretty dirty on all of them.
"One of them was to Tipo (George Tipouikidis) – I cut a .001 red light in the finals of the Pro Series 1000 (in 2015). And then I lost to John Kapiris in Mildura last year, I broke out by three-thousandths and in Portland (2015) I lost to Stephen Hunt by a couple of thousandths as well so I was pretty dirty."
It came down to thousandths again but this time Buccella was victorious, not that he knew it while he waited for his crew in silence at the end of the racetrack.
"I had no idea I won; I was at the end of the track waiting by myself because (Michael) Jennings turned off on the early exit.
"There was nobody around it was quite daunting and I was thinking are these guys coming to get me? Did I red light or did I break out? Did I back pedal and they all went back to the pits and are making me walk back?
"I was waiting there looking back down the return road and then just around the corner I could see them coming hanging out of the car. It's something you never forget, your first win. And the way it plays out you just don't know."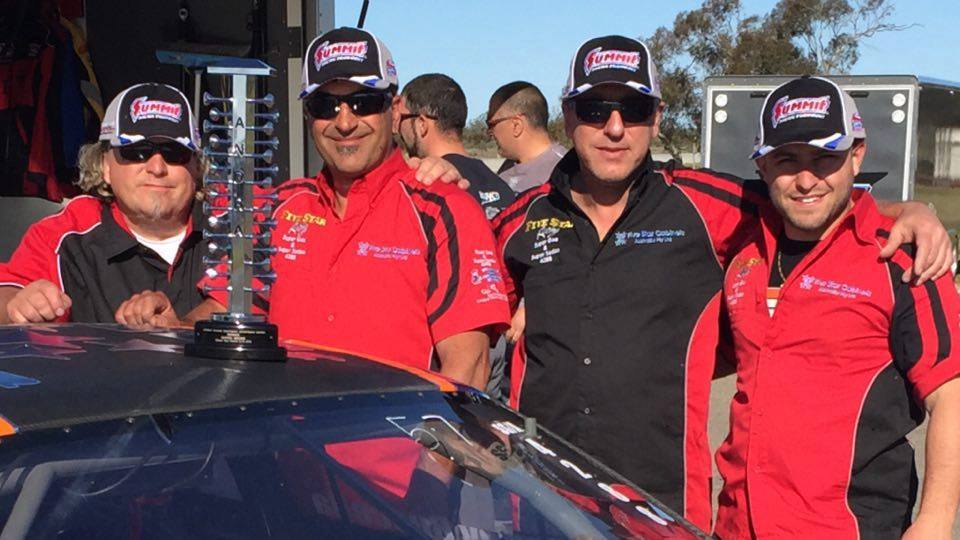 "It was a good win that I've been chasing for a long time. I'm still pretty new to the sport. I had never been in a race car prior to Drag Racing.
"I jumped into the Fiat on my first pass when I first started and I had never had a street car or been down the track before. To be honest with you the first couple of meetings I didn't even know what a dial-in was!
"I was just driving the thing flat out. My good mate Bruno (Romeo) told me 'you gotta back pedal'. I said what's backpedalling? And he told me I broke out; I just couldn't get my head around this dial-in thing.
"It's amazing how when you think you know about Drag Racing you know nothing until you actually start being involved."
Next up on the calendar is the Rowe Memorial Super Stock Classic at Calder Park Raceway November 19.
The monkey off the back, Buccella will be hoping to win his second trophy in a tough field but it's more about mateship.
"Bruno my best mate, we help each other immensely," continued Buccella. "He would do anything for me and I'd do anything for him. And then I've got Giuseppe; he just joined me about two years ago, the guy is just brilliant to me.
And one day I might get him to steer one of my spare cars I've got kicking around but I haven't told him that. Maybe, it depends how he behaves with my daughter!
Bruno Romeo, Tony Romeo, Jeff Romeo and Dimos Stefanopolous, he comes along just like a hang around. They are good support. We've always been like that; we've always been a close knit group.
"It's never about the money; it's all about getting together and helping each other out. I help Bruno, he's a mechanic so he helps me mechanically and I help him in other ways.
"I've been competing for three years, involved for five years but the first two years I was just learning what this dial in is about. I've had a crack at Super Gas as well. Next year or maybe the year after I'll step up to Top Sportsman and rattle their cage a little bit."
The Rowe Memorial Super Stock Classic and Round 4 of the Summit Racing Equipment Sportsman Series will be held one day only on Saturday November 19 at Calder Park Raceway.
Image credits: David Hope (top), Danny Buccella (middle)