Zara Board has taken the Summit Racing Equipment Junior Dragster victory at South Coast Raceway today on the eve of the first anniversary of her little sister's passing.
Anita Board sadly passed away on November 12 of 2017 just days after her birthday (November 9) in a tragic accident. Her 13 year old sister Zara, with the support of her parents Ian and Sonja, continued on in her beloved sport of Junior Dragster.
All season-long Zara and her family have sported special team gear which bears the 'Rainbow Dash' My Little Pony character which Anita loved so much, but for this event the family also had a special helmet made for Zara as they raced in Anita's memory.
This is Zara's first event victory, and there wasn't a dry eye in the house when she crossed the finish line to take the win as her father pointed to the sky from the startline as celebrations surrounded him.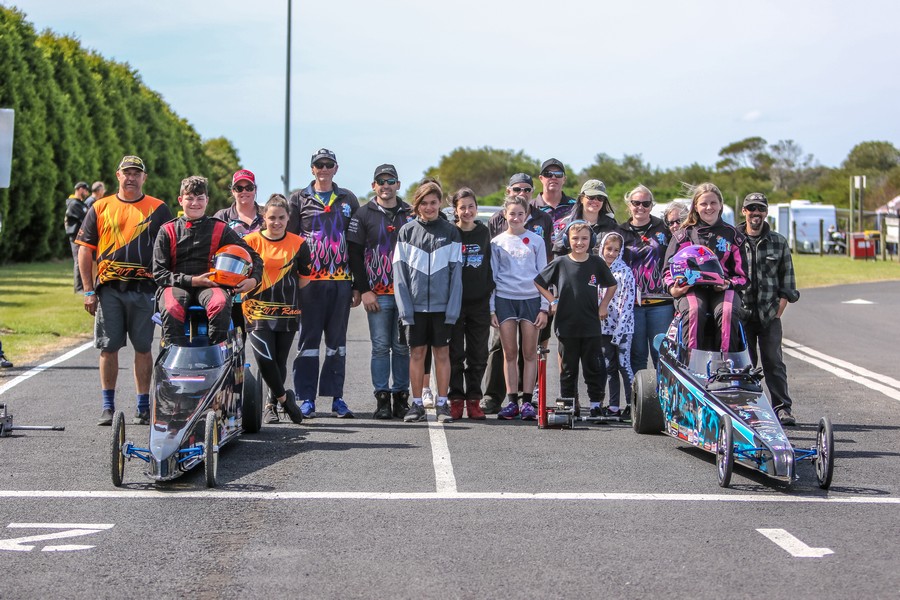 "We couldn't be happier. I would like to dedicate this win to Anita – I wouldn't be here without her, Pony Power Forever!" Zara said during the trophy presentations.
"I want to thank Tommy Turic (runner-up) for such a close race in the final – it went right down to the extra digits. I also want to thank all the track staff for helping us out, the volunteers, and everyone involved.
"I want to thank my mum and dad especially for all the effort to get us here for this weekend on what was our 'two minute noodle' budget trip, it was all worth it. Also a special thanks to Jason Maggs and MPRINT Industries for my spectacular helmet, it is truly amazing, and for the stickers on my car as well.
"From the start I said I would win this event because this event was for her, I always knew I was going to win it. Hopefully this shows the Minister how dedicated we are and it can somehow help racing in WA get back underway sooner, I am missing racing at home."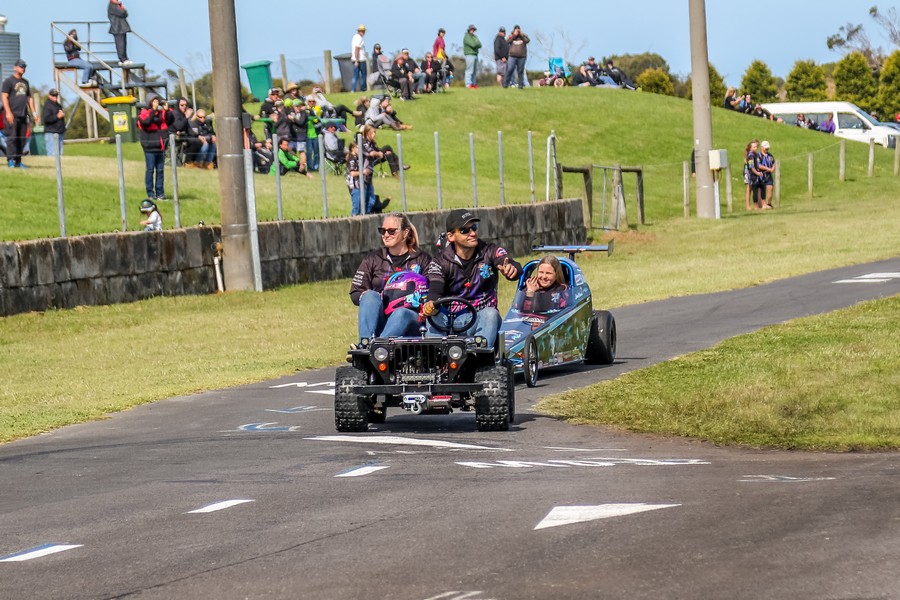 For Ian and Sonja, it was a truly special and overwhelming moment.
"I have to say thank you to the entire drag racing family for everything, the last year has been hell, but they have been amazing with their support," Ian said.
"I want to say thank you to everyone that has helped us along the way, I am without words at the moment.
"I think Zara is the strongest 13 year old kid you will ever meet. She makes us so proud. There would have been a lot of pressure on her, not from us, but from within herself, to make her sister proud and she did so, so well."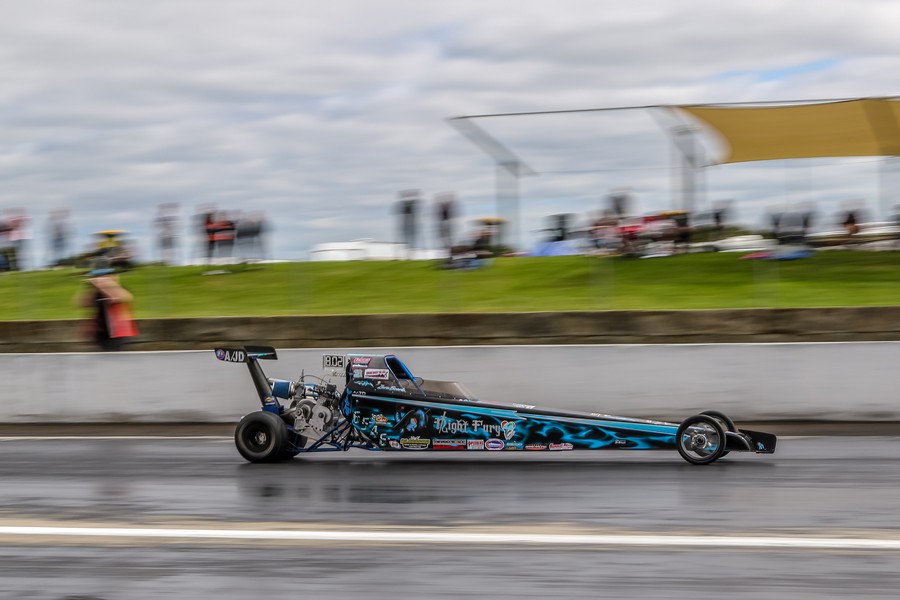 Today's final day of the South Coast Nationals found winners for 10 brackets in what was round four of the 18/19 Summit Racing Equipment Sportsman Series.
Joining Zara in the winner's circle this afternoon were Adrian McGrotty (Super Gas), Jake Hamilton (Modified Bike), Michael Bridges (Super Street), Chris Lioulios (Super Sedan), Kenny Stewart (Modified), Jason Keily (Supercharged Outlaws), Andrew Thompson (Top Sportsman), David Willis (Competition Bike) and Alex Panagiotidis (SuperComp).
Runners-up were Jason Wilson (Super Gas), Tommy Turic (Summit Racing Equipment Junior Dragster), David McGinn (Modified Bike), Paul Jennings (Super Street), George Tipouikidis (Super Sedan), Jess Voigt (Modified), Mark Hunt (Supercharged Outlaws), Jason Arbery (Top Sportsman), Rob Cassar (Competition Bike) and Rob Dekert (SuperComp).
Like Zara, it was a break-through victory for Michael Bridges in the Super Street bracket. On his way to facing Paul Jennings in the final, he had faced off against Matthew Smart in the semi-final after enjoying a bye to that match-up and having earlier defeated Des Jeffree (round two) and Top Qualifier Leigh Batchelor. Jennings meanwhile had taken on and defeated Simon Lazzaro (semi-final), Craig Ferguson, Scott Cleary and Nikolas Karanovic.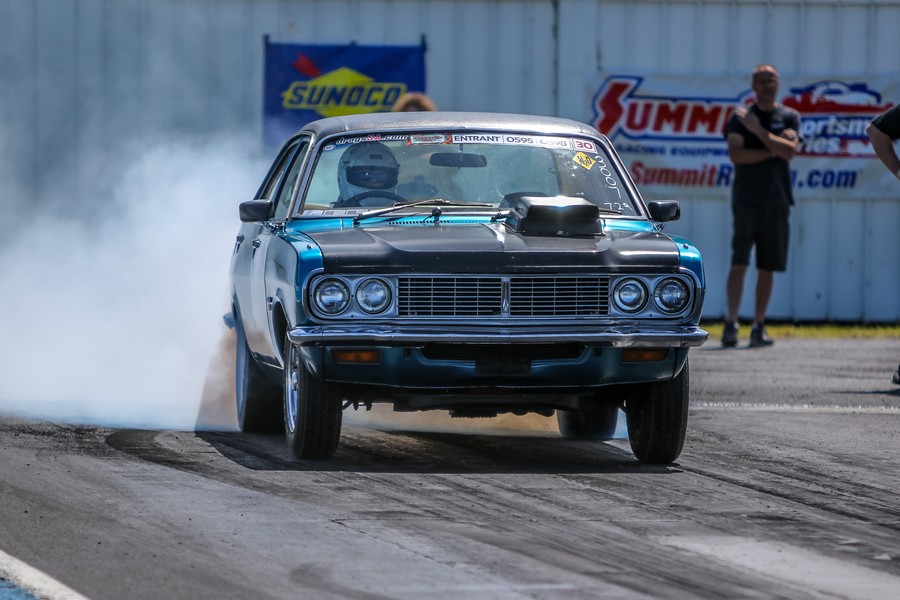 "This is monkey off my back for sure, it is awesome. We have been trying to do this for around five years," Bridges said, while thanking his crew, Smart Auto Wreckers and Towing and DragsSA.com for their support.
"The day went fairly smoothly for us and it was a well-run event. We will be back in January for the South Coast 660 of course to give going back to back a go!"
In the Top Sportsman ranks, Andrew Thompson took on and defeated defending champion Jason Arbery, stopping him from taking six straight wins in the process. The Port Lincoln (SA) racer had earlier defeated Glenn Henley (semi-final), Matt Forbes and Vlado Turic while Arbery had taken victories from Chris Theo (semi) and Top Qualifier Darren Saliba (round one) while enjoying a bye to his semi.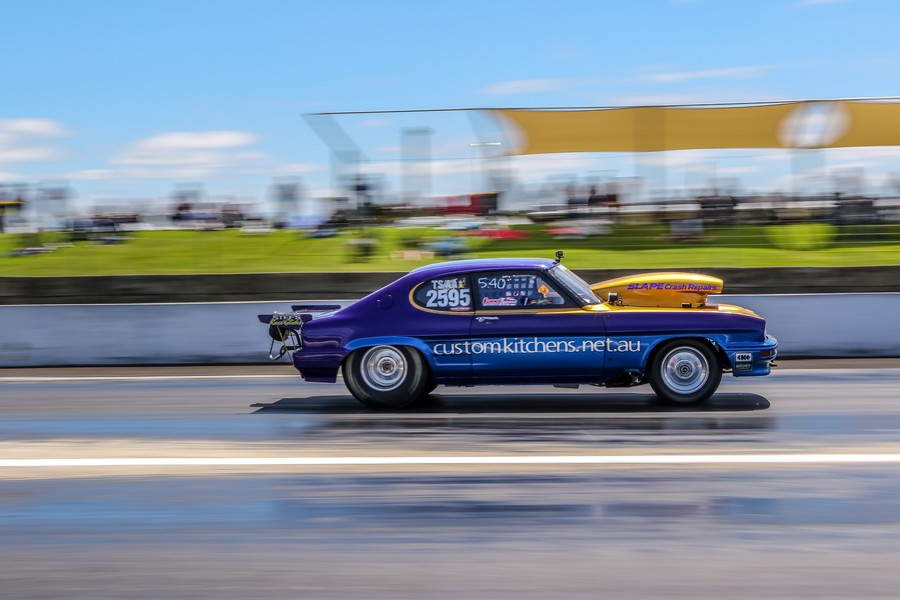 "It was awesome to get our first win and to do so against Jason Arbery who has obviously been to so many finals lately," Thompson said, while thanking his sponsors Slape Crash Repairs, Custom Kitchen Company, Rick Daniels Recycling and EP Windscreens as well as his crew.
"We have been the runner-up quite a few times so it is a bit of a monkey off the back, it feels really good, especially when you travel so far.
"We had transmission problems most of the weekend and we had to dial it back to try and run to the qualifying number, but we were lucky enough today that we got through and beat some really good guys in the field."
For Adrian McGrotty in Super Gas it was a case of back to back victories after the Mill Park (VIC) racer also took victory at September's Sunset Strip Nationals. McGrotty and Jason Wilson faced off in the final after having earlier dispatched Graeme Spencer and Darryl Stephen; and Warren Bull and Charlie Saraceno respectively.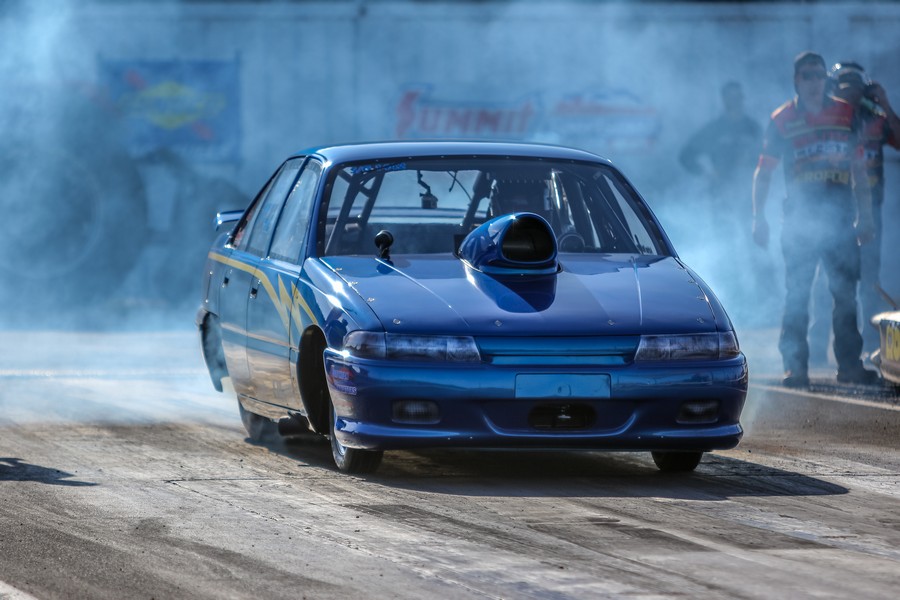 Another back-to-back winner was Alex Panagiotidis, who took out SuperComp ahead of Rob Dekert after having earlier emerged victorious from battles against David Roberts (round two) and Mick Simis while enjoying a bye to the final. Dekert meanwhile had faced off against Mark Newman (round one), Steven Athans and Adrian Vella to book his ticket to the final.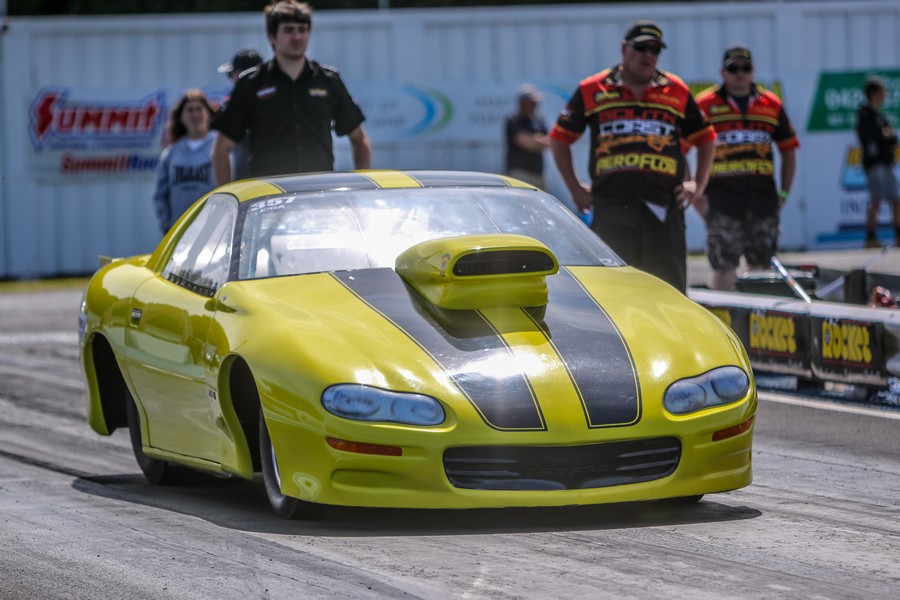 Yet another racer taking consecutive victories in the Summit Racing Equipment Sportsman Series was Modified racer Kenny Stewart. The Tarneit (VIC) racer took on Jess Voigt in the final after having earlier faced Top Qualifier Adam Munday, Les Mills and Rob McKay while Voigt enjoyed a bye to the final after having defeated Derek Wills, Matt Ponton and Bradley Hicks across the day.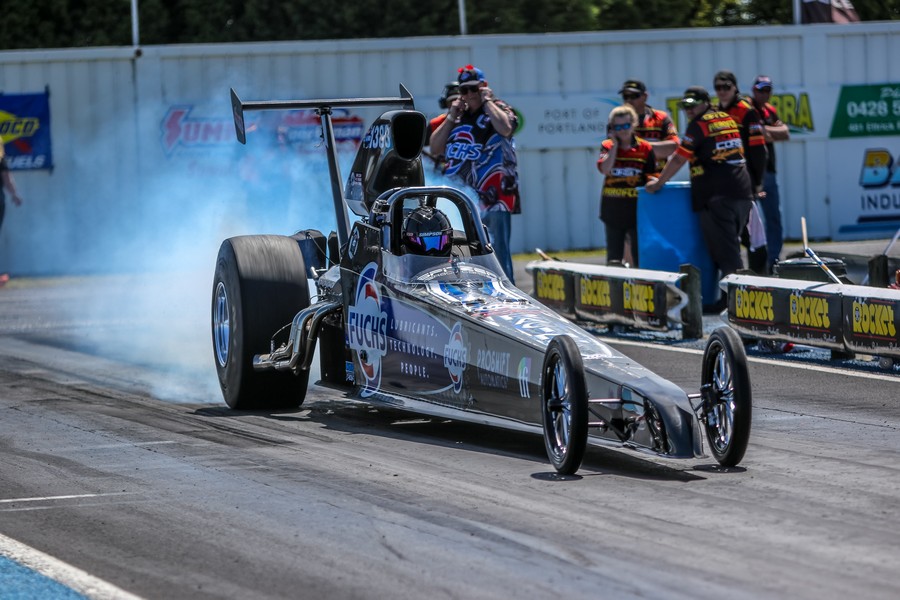 In Super Sedan, Chirs Lioulios took victory over former champion George Tipouikidis after having earlier faced Michael Milasiewicz, Rob Evans, Stephen Griffin and Alex Gkroidis across the day while 'Tipo' had enjoyed a bye to the final after having raced Top Qualifier Rob Camilleri  and Enio Marrocco.
The Roxby Downs (SA) racer took out the Super Sedan victory during the series' last visit to Portland and was pleased to go back-to-back at the venue.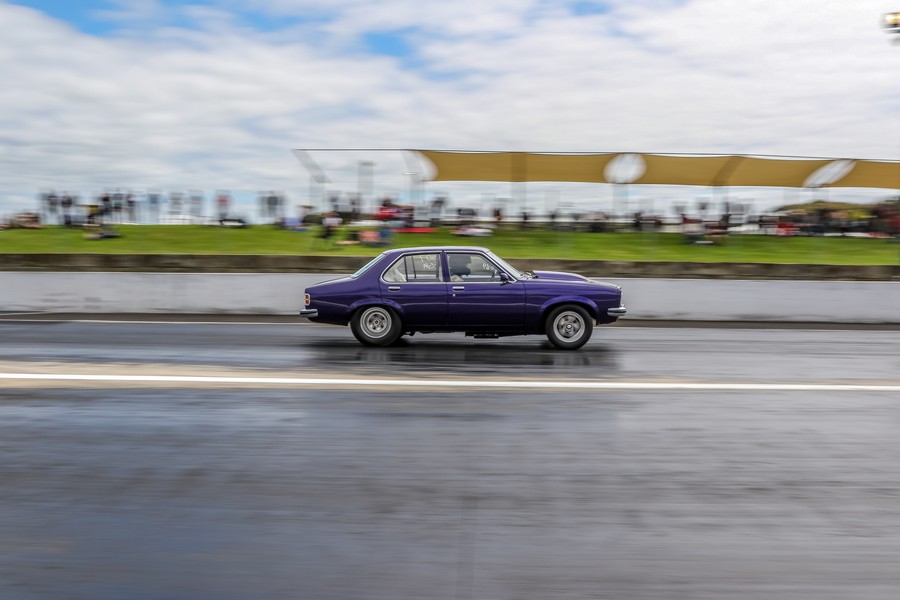 "It felt good. I really enjoy coming here, I enjoy the race track, it is great, and the friends that I have got here," Lioulios said while thanking his crew Jim and Alannah, Mick Yafo, and his wife Natalie for their support.
"It was a pretty hard weekend, the car was a bit up and down during qualifying and every race was a hard race. It wasn't an easy one all the way through so to come away with a win was pretty good.
"We are hoping to come to South Coast 660 in January but my wife is pregnant and due around then, so we have our fingers crossed!"
In the Supercharged Outlaws rankings it was Jason Keily who would take the win after having faced off against Mike Evans and Top Qualifier Justin Russell to go to the final against Mark Hunt. Hunt meanwhile had emerged victorious from battles against Paul Stephen and Doina Day.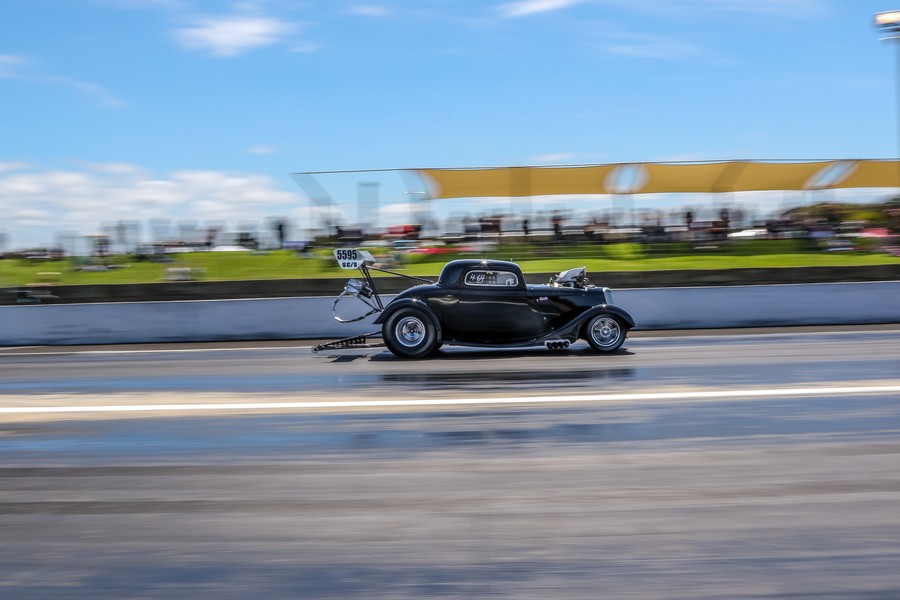 David Willis took victory over Rob Cassar in Competition Bike, while in the Modified Bike bracket it all came down to Jake Hamilton and last-round winner David McGinn in the final. Hamilton had earlier faced off against Dan Dycer, Nat McKay and Derryn McGregor while McGinn had raced against Mario Baker, Nick Thompson and Michael Cristoforo.
ANDRA thanks South Coast Raceway and all of its volunteers and sponsors for an outstanding race track and a well-run event.
For full results from this weekend's Summit Racing Equipment Sportsman Series, please click here.
Round five of the 18/19 Summit Racing Equipment Sportsman Series, the Goldenstates, will be held at the Perth Motorplex on December 1. For more information on that event, please visit www.andra.com.au or www.motorplex.com.au