John Zappia is two from two in the ANDRA Drag Racing Series Top Doorslammer Championship following victory in the 44th annual Westernationals at Perth Motorplex, while Gary Phillips returned to the winner's circle of Top Alcohol but not without a serious challenge.
Zappia took the finish line stripe in one of the most thrilling Top Doorslammer finals ever seen. A holeshot at the start line allowed Kapiris to get an early lead but Zappia clawed it back piece by piece until snatching away the trophy in the 5.78 to 5.81 contest.
The margin of victory at the finish was just 0.007 of a second. Zappia said it was awesome to see his Fuchs/Striker Monaro alongside the Kapiris Saratoga throughout the race.
"I knew they (Kapiris' team) were going to step up," he said. "Craig from Striker Crushing (one of Zappia's sponsors) called me up and said you're on fire, just leave it alone, don't touch it – and that's exactly what we did."
For Zappia it is a turn around from the usual form he starts championships with, where he has typically fought back from poor beginnings. Zappia has dropped only a single point for the season so far and said he is looking forward to taking the show on the road.
"Now we go to Adelaide, it might be a tricky track but we have always had the advantage there," he said. "And we are real excited to go Sydney and Willowbank.
"I thought 5.80s was the limit, but now we have made a big leap and I don't know if there is much more to leap after this. There is probably a 5.65 in the car on a perfect run.
"We are that close to being able to run flat 5.70s or 5.69s consistently, but I don't know how long it will take to happen. It could take 18 months to make it happen."
Zappia's road to the final took him past Wayne Keys in the first round, then Daniel Gregorini in the semi finals before eliminating Kapiris.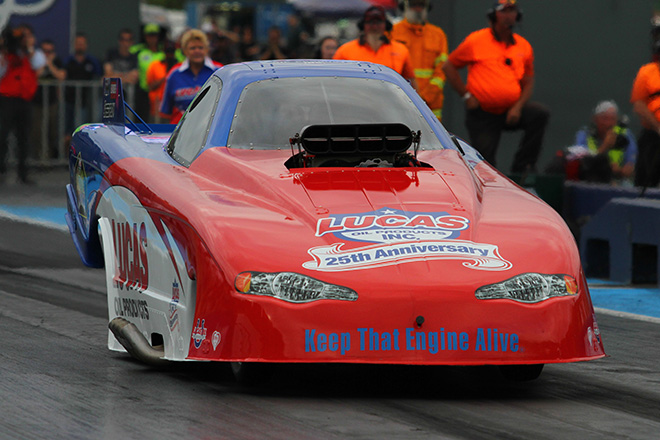 Meantime in Top Alcohol, Phillips got to add yet another gold Christmas tree to his exceedingly large collection by defeating Craig Glassby in the final.
Glassby created headlines of his own in the semi finals when he unleashed a 5.410 second time, the quickest pass anywhere in the world by a methanol fuelled funny car.
Phillips route to the final took him past Robert Ambruosi in the first round and Rob Pilkington in the semi finals, with the car never leaving the 5.4s
Phillips said the field had stepped up to match the pace his Lucas Oils Funny Car has had for years.
"It's like 5.40s are easy now," he said. "We were trying to run a 5.30 in the final, it never quite got there, we were trying to get the record back.
"Number one qualifier, win the race; that is a good start to the season and we have something we can work on now."
Phillips said his focus is now on lowering his times and he doesn't care if it comes at the expense of future wins.
"We're about performances, the winning is a bonus," he said. Lucas (Oil) is about keeping that engine alive and we didn't put a bearing in it at all."
Both Top Doorslammer and Top Alcohol next head to Adelaide International Raceway on March 14 and 15 for the Pro Series 1000.
For full results from the 44th Westernationals please click here
Images courtesy: Luke Nieuwhof