John Zappia and John Cannuli have top qualified at Hidden Valley Drag Strip in Darwin at the opening round of the 2015/2016 ANDRA Drag Racing Series for Top Doorslammer and Top Alcohol.
Eight time champ Zappia set the tone early with a 5.79 elapsed time off the trailer followed by a 5.781 ET at 250.97 mph to pace the field after two qualifiers.
He elected to call it a night before Q3 but the decision almost backfired when Grant O'Rourke recorded a personal best 5.794 ET at 249.53 mph to just miss out on pole.
"We were a little nervous but at the same time if he got it, he got it," said Zappia. "It gives them something to be happy about if I'm not the fastest, the target moves over there.
"We've got a part that's got a little crack in it so we want to fix that up and thought if we did another pass and it gets worse or breaks something, we just thought we'd pull it off now and make sure it's good for three runs tomorrow."
Zappia is now focussed on consistency and at least reaching the final on Saturday to ensure a positive points haul at the beginning of his quest for a ninth consecutive title.
"We've got the record, records don't pay the bills, we need to win," he said. "I'm going to have to be on my game if I face Grant (O'Rourke), I'm going to have to cut a light because if he cuts a light the way he's running it'll be hard.
"But it's cool, we've got some competition again, Grant's stepping up so we'll have to turn the wick up a bit."
Mark Belleri wrapped up third with a 5.922 ET at 234.29 mph on his full time debut in the Holden Trade Club Monaro of recently retired Maurice Fabietti leaving Paul Cannuli, Murray O'Connor, Ben Bray, Peter Kapiris and Pat Carbone to occupy fourth to eighth going into race day.
Missing the field and eligible for Saturday's shootout is Pino Priolo, Matt Abel, Stuart Bishop, Daniel Gregorini, Rob Taylor while Marty Dack is done for the weekend after damaging a second motor within a week.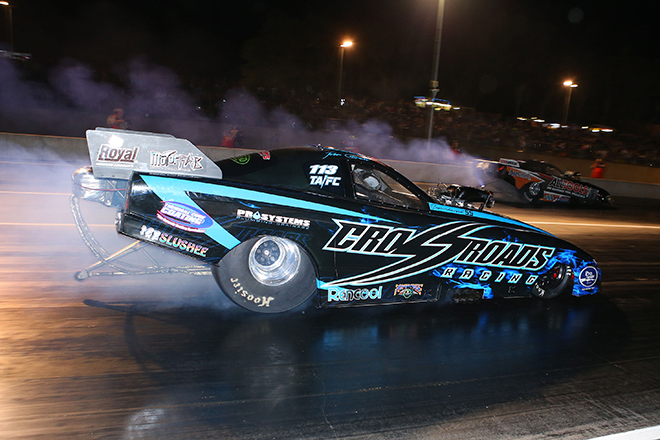 John Cannuli's night didn't start in convincing fashion when he kissed the wall ever so slightly on the hit of the throttle in his first qualifier. But the Crossroads Racing team recovered to blitz the field in Q2 when he went straight to the top with a 5.518 ET at 247.25 mph.
Cannuli was never troubled from there, as Jamie Noonan was unable to better his earlier 5.554 ET at 249.81 mph to hold onto second from local NT favourite Scott MacLean in third with a 5.582 ET at 260.41 mph.
After the way his Championship campaign came to an end in a fireball last season at the Fuchs Winternationals, Cannuli said it felt good to be back at the top.
"It does feel good," said Cannuli. "We did a bit of testing during the week and it didn't go to plan. But it took us a couple runs and we got it right in the second qualifier.
"We've got a 5.40 in it. We just went after it a bit too hard in that third qualifier and it just shook (the tyres) but we've got a bye in the first round so it'll give us a baseline for the second round."
Even with a free pass into the semi finals, Cannuli won't hold back promising to go for a sub 5.5-second pass on his solo hit out.
"We'll go for a 5.40 second pass in the first round."
Steven Reed, Aaron Deery, Gary Phillips and Debbie O'Rourke complete the field from fourth to seventh setting up some enticing first round matchups.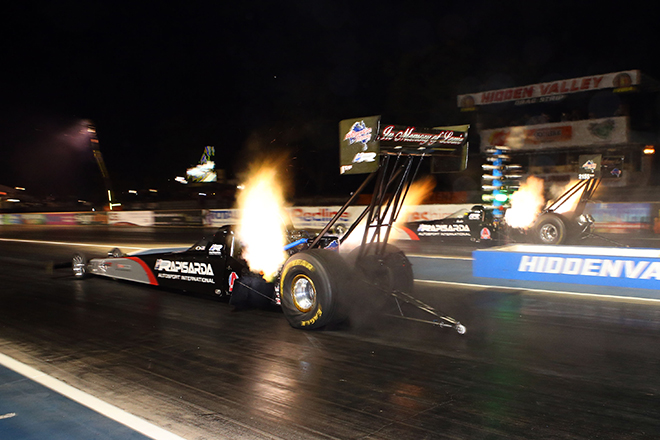 For the first time ever at Hidden Valley Drag Strip the Top Fuel duo of Australian Champ Damien Harris and Wayne Newby driving for Rapisarda Autosport International made a single exhibition pass igniting the crowd for their first ever taste of nitro in Darwin.
Both cars shut off early on a 5.699 ET at 138 mph for Newby and a 5.51 ET at 247.25 mph in a teaser of what is to come with three passes scheduled on Saturday.
The action commences from 3pm on Saturday with local track championship Sportsman racing followed by Top Doorslammer and Top Alcohol eliminations from 5pm.
For more information and ticketing details please visit www.hiddenvalleydrags.com
Images: Grant Stephens / Drag News Australia