ANDRA Top Doorslammer Champion John Zappia made a clean sweep of the 2015 Fuchs Winternationals in a dominating performance that saw him top qualify, win the final round, low ET and top speed for the meeting, reset the national record and confirm his eighth back-to-back championship.
"A great season," said a jubilant Zappia, "Reminds me of our 2008/2009 season where we remained unbeaten after venturing consistently into the 5.9s. Here we are six years later and we are running 5.6s – an amazing advancement for our team."
The shortened 2015 ANDRA Championship season was one that John Zappia and the Zappia Racing crew will remember for a very long time. Prior to the season starting, the team were informed by ANDRA that the grandfather clause for the original extended wing would expire and the wing would need to be shortened by 250mm (10") before being allowed to race in the new season, which commenced January 9th 2015.
The Fuchs/Striker Monaro performed exceptionally well in it's first ANDRA Drag Racing Series event with the shortened wing, breaking the track record at Perth Motorplex and continuing to break track records at every meeting the team went testing.
That confidence boost propelled the team to an almost perfect season dropping only one point and being undefeated on the way to an 8th back-to-back championship celebrated in style at the Fuchs Winternationals.
"We had issues with the track all weekend; it just kept getting better and better, we just couldn't keep up with it," admitted Zappia.
"The rattle kept getting worse and worse. The first pass was the best, and it just kept getting more and more challenging with each run. We were trying to back up the 5.730 and knew if we left it alone we were going to have an issue, but didn't want to overpower the track either."
"John truly is an amazing driver" said Richard Zappia – Zap's brother and data manager for the team, "I look at the data after each run and can see John's amazing ability to detect early shake and pedal the throttle in just the right way to keep the car's momentum going forward. We have a throttle sensor and he can micro manage that pedal just the right amount and number of taps, and with the B & J Transmission super tough and smooth it makes runs competitive instead of an abort."
Zappia opened the event with a provisional record at 5.730 at 252.37mph, but in subsequent passes battled tyre shake even though remaining consistently in the 5.80s. In the first elimination, Zappia ran a pedalled pass of 5.756 at 252.90 mph, which was enough to back up the 5.730 pass and reset the Australian Top Doorslammer record.
The second elimination against Mark Belleri was stressful for both John and the crew who were looking on. Belleri left before the tree had been initiated and may have had trouble with the sun, but Zappia remained in stage until he saw the green, took off for the win with a big pedal and edged a little sideways running through for a 5.917 at 249.90 mph.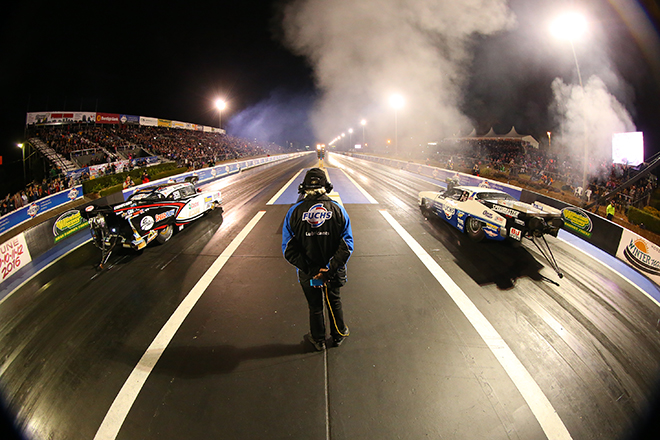 This set up a classic final of Zappia versus Bray in Ben's comeback from his unfortunate accident at the same event 12 months earlier. It was nearly the final that didn't happen as Zappia confirmed his team went to adjust the clutch and stripped one of the threads.
After trying unsuccessfully to tap the thread in situ they were forced to pull the tail shaft, gearbox and clutch-can out just 20 minutes prior to the final round call.
"We tapped it, and rethreaded it and finished it all with three minutes to spare," Zappia said. "We started the car, lowered it off the jacks, towed around and got to the start just in time. Also thanks to Ben for the sportsmanship shown in giving us time to get to the start line after hearing of our clutch issues."
"We had tyre shake and pedalled on every run except the final. We took a gamble as we thought we were going the wrong way; so let's just try something, as whatever we did on the second run didn't work. On that run it went back to a 5.91 second run and we knew Ben could run 5.91 and that he can cut lights, so we thought let's try something we haven't tried. We threw a tune at it, it took it, and I punched second gear and didn't have to lift. That was the first full-throttle pass of the weekend and I told everyone that if I could hold it flat it would run a 5.6 – and it went a 5.69."
"This is for Craig Pedley from Striker Crushing and Screening – thank you for 10 awesome years, it has been a fantastic ride Craig – this win is for you."
Following a thorough tech inspection by ANDRA officials, the team were given a clean bill of health were able to start the celebrations at the winners' presentation.
"None of this success would be possible without the support and quality products from all our sponsors," added Zappia.
"Firstly Fuchs Lubricants for their ongoing co-naming rights sponsorship and the quality of their products. It's a credit to their products when you can do six passes at 5.91 or better and not have to replace or fix a single component. Even after the 5.693 pass the bearings still look like new.
"Striker Crushing and Screening have been with us for the past 10 years and without their help we would not be where we are professionally and in performance. Due to the downturn in the Mining Industry, Striker will not be with us as co-naming rights sponsor next year but we still hold a special bond with them for their support.
"Speedmaster for their product sponsorship and allowing us to sell and improve performance of many street, burnout and hot rod cars. Noonan Race Engineering for the heads and rocker covers that not only perform above anything else on the market but also look like a work of art. MACA Ltd who joined as a major sponsor this year and hopefully will continue for next season.
"Appealing Signs who have repaired the vinyl wrap on several occasions to keep it looking presentable for our sponsors and supporters. Hoosier tyres who produce tyres that are consistent and reliable and help with maintaining our consistency.
"Santuff shocks whose shock absorbers have to stand-up to the rigors of being pounded at the start line and also to help overcome the dreaded tyre shake. B&J Racing Transmissions who supply the best transmissions and ratios that are reliable and efficient. Running the ETs that we run and not having to repair or rebuild transmissions between runs is something we have only been able to do since using B&J Transmissions.
"Aurora Bearing Company for the rod ends and bearings we use that helps our rear end keep the car straight and fast. Southside Engine Centre who have been with us from the beginning and always provide the best machining and repairs to our engine blocks.
"KCRAFT Bullbars for the very solid and attractive bullbars that keep the kangaroos and other wild life from damaging our transporter. We would also like to thank all the minor sponsors who are an integral part of Zappia Racing and every contribution, whether monetary or by service and product is greatly appreciated and contributes to our successes.
"We are now looking forward to the 2015-2016 season starting in Darwin on the 17-18th July for Round 1 of Top Doorslammer followed by a second Darwin meeting on the 14-15th August for Round 2.
"We are also looking for additional sponsorship to help the Zappia Racing team maintain our dominance and to get to our goal of 10 straight championships. We are looking at either increasing the level of current sponsorship or we have several packages available including co-naming rights sponsorship with Fuchs Lubricants. Anyone interested in coming on board with this history making team please contact either myself John or Richard."
For more information visit the Zappia Racing website: zappiaracing.com.au
Images: dragphotos.com.au