Reigning eight times ANDRA Top Doorslammer Champion John Zappia won the second round in Darwin last weekend, to wrestle back the lead in the 2015/2016 ANDRA Top Doorslammer Championship.
The event at Hidden Valley Drag Strip drew a good crowd over the two days following on from the hugely successful event a month prior that saw Doorslammer joined by Top Alcohol and exhibition Top Fuel passes.
At that event, Zappia was eliminated in the semi finals following a messy launch and a brush with the wall. But in Round 2 it was business as usual with Zappia gaining the win in an exciting final with old sparring partner Peter Kapiris.
"We as a team are pretty happy right now," said a jovial Zappia. "We had a setback at this event in the first round here when we overpowered the track and glanced the wall, losing the semi-final. So we were keen to make up for that with a steady performance over this meeting.
"That all went pear shaped when we snapped a valve and damaged the LH Noonan head in the Fuchs Monaro in the first qualifier."
Qualifying on the Friday night was competitive with six racers managing five second passes – testimony to a good track and great preparation.
The Bump spot was 6.057 and five unlucky racers had to settle for the Non-Qualifier Chicago Shootout run between elimination races to gain some valuable points towards the championship.
"Our first run resulted in a huge blower backfire as an inlet valve let go and did some damage. Back in the pits the crew found the damage was restricted to one head. We could have thrashed and made Q2, but decided to change both heads as a pair. These heads were on Frankenstein – our old freak engine that is our number two backup, so they had to be removed and fitted onto the best engine that was in the car and already set up."
Zappia consequently missed Q2, but lined up in a situation he has been in many a time – not qualified and one run to get in the field. The champ has a history of doing well under pressure, and he did it again – going straight to number 1 with a 5.907 at 248.43mph.
This was short-lived however as local Darwin racer Matt Abel surged to pole position with his 5.870 at 236.59 mph before the in-form Grant O'Rourke rattled off an impressive 5.838 at 249.12 mph to top qualify.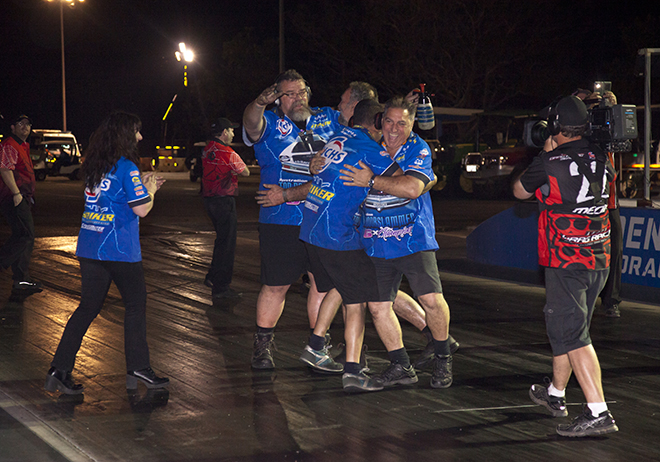 Saturday night racing in front of an estimated 3,500 eager Darwin race fans saw some exciting Top Doorslammer action.
Zappia was back in the five eights with a win over Belleri; Carbone had a holeshot win over Abel; Kapiris threw everything at Phillips for a holeshot win; and O'Rourke put away Ben Bray to advance to the semis.
The team fine tuned the Fuchs Monaro in the semis to a 5.842 at 250.09 mph win over Carbone who broke, and Kapiris' came back to form with a 6.008 at 223.76 mph win over O'Rourke who dropped a valve on a 6.182 at 230.65 mph.
"We had the HQ back in the groove and matching the track and conditions, but knew we had to hot it up to a five seven to defeat Peter Kapiris. I was pretty confident we had the power, even though his super sleek Saratoga has huge speed. First to the finish line always wins."
Kapiris got the jump on Zap with a .065 light compared to a .081 – but by 60 feet the stout power of the Zappia Racing 502 hemi saw Zap in front and surge to a 5.786 at 250.74 mph win over Kapiris' 5.897 at 253.71 mph. It was a spectacular drag race, and one the Darwin fans really appreciated.
"The ANDRA stewards were again at our pits and checked our engine capacity, overdrive ratio, Motec outputs and Powergrid setting and got a clean bill of health with everything being to spec."
"A great win for the team and Fuchs, and one we dedicate to Noeleen Hale who passed away recently. Noeleen was a part of my family and race team for years, and a dedicated drag racing fan."
"Another big thank you to Adrian from Pedder's Darwin for the loan of his cars and his help crewing. Also thank you to Matt Abel for the loan of his F250 and the accommodation for the crew.
"The hospitality and atmosphere at Hidden Valley is second to none and each year we look forward to racing there."
Zappia gained enough points with the win and low ET to head the Top Doorslammer Championship point's table with 199 ahead of O'Rourke on 170 and Kapiris on 152.
Round 3 of Top Doorslammer is currently scheduled for the Springnationals in Adelaide October 17-18.
Images: Ed Forman – High RPM