The partnership between Mariani Family Motorsports and Make-A-Wish Australia continues to grow from strength to strength as they prepare for a big day out at the Nitro Champs in Sydney May 2-3.
Based in Whetherill Park on the doorstep of Sydney Dragway, the Mariani team first linked with Make-A-Wish Australia at the Australian Nationals in November as a feeling out exercise for both parties.
Although the weekend did not end the way the team had hoped by controversially being ruled out of the field through a rain interrupted qualifying session, Make-A-Wish were suitably impressed.
"To say they were amazed would be an understatement, they had no idea how family orientated drag racing is and how generous its supporters and fans are," explains driver Mark Mariani.
"We have now extended the partnership for all of 2015. At the Nitro's we will have CEO Gerard Menses join us again, along with a Make-A-Wish child and family, a Make-Wish Young Ambassador, perhaps even a Celebrity and again the Make-A-Wish volunteers will be out and about taking donations."
Leading into the last November the team had difficulty finding enough volunteers. Not so for the Nitro Champs.
"The word has gone out what a great time they had and volunteers have been queuing up to come along to the Nitro's.
"We will also be doing some fun things like raffles and auctions to raise money. Last Saturday (April 18) we had Sebastian Terry of 100things.com.au fame attend our display at Sydney Dragway's Mighty Car Mods show; he was blown away by the Make-A-Wish Top Fuel dragster and is looking to include the Nitro's in his busy schedule.
"Mariani Family Motorsports are very proud by what we have achieved with Make-A-Wish Australia and we all agree that it's only just the beginning!"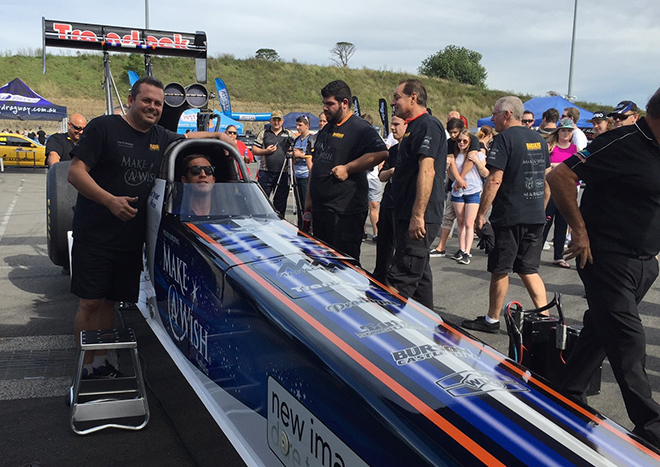 In preparation for the Nitro Champs the team completed testing with the Make-A-Wish Top Fuel Dragster firing on all eight cylinders and incremental times showing low 4.7-second passes were within reach, even in the face of one or two minor issues.
"We are confident that we are going to rock up with a race car that can run 4.7s and we are not going to lean on it too much yet so we can get that consistency that wins the races," says Mariani.
"I just have to make sure I'm on the top of my game as a driver and do my part of the job to the best of my ability. Basically any of the cars entered can take out the win but we are real hungry for it at the moment.
"We are getting around the clutch issues in the first 60ft and have a few things to try at the Nitro Champs to make our 60ft times even better. Also the team is starting to gel in the turn around more and more with every time. They are a team of mostly new guys and it takes time to get the turn around down pat and in the time expected.
"We went out to the 'Mighty Car Mods Nationals' on Saturday and did a couple of fire up exhibitions for the crowd. It was a triple bonus for us as we got to promote Sydney Dragway and the up coming Nitro Champs while also doing some more promotional work for Make-A-Wish Australia and we also got to put the stop watch on the boys with a couple of tear down rebuilds with a hot engine and clutch and we are looking good."
The team will need to be on song between rounds, as the Nitro Champs will feature an oversubscribed field including an unprecedented four entries from Rapisarda Autosport International, inducing ANDRA Drag Racing Series leader Damien Harris and American Dom Lagana.
Lagana comes to Australia fresh from a second round exit at the SummitRacing.com NHRA Nationals in Las Vegas and as a former driver for Rapisarda, Mariani can't wait to catch up with the American invader.
"I met him and his team back in 2010 when I raced at Vegas with the Rapisarda's first USA race and they are a great bunch of blokes who are down to earth and love to have a good time. Needless to say the after event antics were amusing when the Aussie team and the Lagana team met up over there (laughs). It will be good to match up against him if the cards play out that way.
"Good on Santo and the Rapisarda family for putting on the show they do, Santo knows how to do it big. Personally we will have to see how it goes for them as it could be a double edged sword in the fact that they will have to stretch their inventory and knowledge over the four teams and that could work out an advantage to the other teams like us who can put all our eggs in one basket. We will just have to see how it all pans out.
"(We are) very excited to race again, especially with the circumstances that ended our last meeting at the Nationals, I was not happy to put it lightly. But we have put that behind us and are looking forward to getting a few good laps in at the Nitro Champs and hopefully going rounds on race day this time.
"A huge shout out to my Dad and the team who have been working their buts off over the last 12 months to get this team to where we are right now, there are good things to come in the future and I hope they get to feel some of the highs real soon because they surely do deserve it."
Look out for the Make-A-Wish volunteers at the Nitro Champs or go to https://making-wishes-happen.everydayhero.com/au/mariani-family-motorsport to help the team bring strength and joy to children with life-threatening illnesses by bringing them a life-changing wish.
The Nitro Champs is the penultimate event of the 2015 ANDRA Drag Racing season and will be held at Sydney Dragway May 2-3. Nine Top Fuel and seven Top Fuel Motorcycle teams will battle it out for nitro glory alongside the full roster of ANDRA Drag Racing Series and Summit Racing Equipment Sportsman Series brackets.
For more information including ticket prices and entry list, please click here.
Top image courtesy: Joe Maday