The 50th annual Westernationals came to a brilliant conclusion on Sunday evening at the Perth Motorplex with the winners taking home coveted ANDRA Gold Christmas Trees in recognition of their efforts.
When all was said and done, it was Brodie Zappia (Summit Racing Equipment Junior Dragster), Bernie Ellerby (Super Street), Tony Hinkley (Modified Bike), Roger Moorhouse (Super Sedan), Darryl Treasure (Modified), Chris Roe (Top Sportsman), Christine Steffens (Supercharged Outlaws), Trent Anthony (Competition Bike), Steve Norman (Super Stock), Wayne Keys (Competition), Wayne McGuinness (Top Fuel Motorcycle) and John Zappia (Top Doorslammer) who ultimately hoisted the prestigious trophies for their respective brackets.
Claiming the runners-up plaques were Angel Bakranich (Summit Racing Equipment Junior Dragster), Chris de Bruin (Super Street), Hamish Cunningham (Modified Bike), Ray Le-Cocq (Super Sedan), Kasey McClure (Modified), Yvette Gregg (Top Sportsman), Jodie Mellitt (Supercharged Outlaws), Ross Smith (Competition Bike), Errol Quartermaine (Super Stock), Ian Brown (Competition), Jay Upton (Top Fuel Motorcycle) and Steve Aldridge (Top Doorslammer).
Also honoured at the end of weekend presentations were the recipients of the DecoGlaze Glass Splashbacks Top Qualifier Medallions: Lucas Green (Summit Racing Equipment Junior Dragster), Lee Watson (Super Street), Ian Glatz (Modified Bike), Mick Fenton (Super Sedan), Paul Ryan (Modified), Roe (Top Sportsman), Steffens (Supercharged Outlaws), Anthony (Competition Bike), Norman (Super Stock), Danny Costello (Competition), McGuinness (Top Fuel Motorcycle) and Zappia (Top Doorslammer).
There were plenty of exciting performances to talk about at the presentations as well, with eight new national records set over the weekend.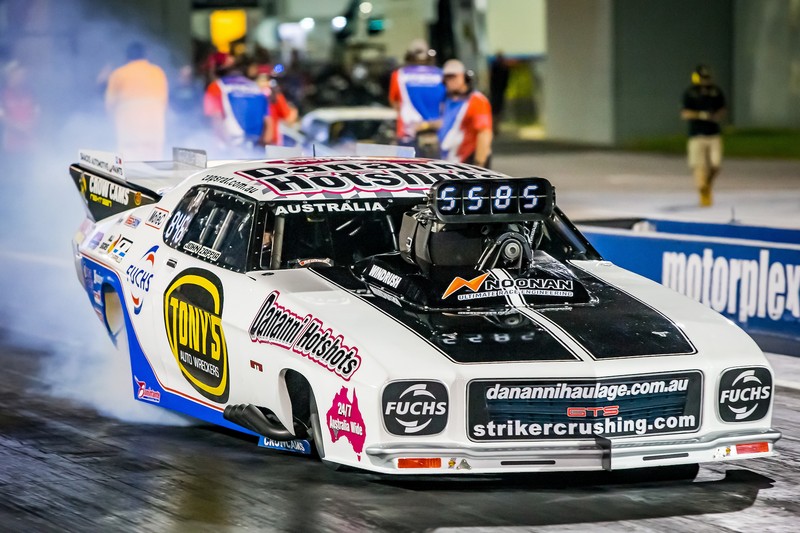 The Top Doorslammer finale came down to top qualifier Zappia and fierce competitor Steve Aldridge, with Zappia ultimately taking the victory after having earlier dispatched Kelvin Lyle (semi) and Frank Taylor. Aldridge meanwhile had earlier faced off against Daniel Gregorini (semi) and Ryan Moresby. Not content with claiming the win and the top qualifier honours, Zappia also re-wrote the national T/D ET record to 5.681s
"We are very happy with that result. I just wanted to get back into running five-sixties, we weren't thinking about records at all and then when we were weighing the car at the end we thought, hang on a minute, what actually is the record? We had thought it was 5.685 but it was actually 5.693," Zappia said.
"Overall the weekend was very smooth. We went five-seventy straight off the trailer and that top qualified us, and then we tried a bit too hard in the second qualifier and had a bit of tyre shake. In the third qualifier we had low air pressure and lost third gear – it was virtually the same issue that cost us a first-round loss at last year's Westernationals!
"So we changed the gear box and filled up the air bottle and went out for a 5.69 first round win. We tried a bit too hard for the second round and got some shake so I had to peal it for a 5.76 win against Kelvin Lyle, and then we came out against Steve Aldridge in the final. We backed it off a bit and went 5.681 at 255mph!" Zappia concluded, while thanking his sponsors including Dannani Hot Shots, Tony's Auto Wreckers, Noonan Ultimate Race Engineering, Fuchs Lubricants, Striker Crusher and Screening, Muscle Car Warehouse, Crow Cams, Shacks Automotive Paints, and Motec, amongst others.
In Top Fuel Motorcycle, Wayne McGuinness was another to convert his top qualifying result into an event victory with a win over Jay Upton in the final following earlier triumphs over Ricky Wood (semi) and Danny Rickard while Upton had previously beaten Aaron Deery (semi) and Greg Durack to secure his place in the final.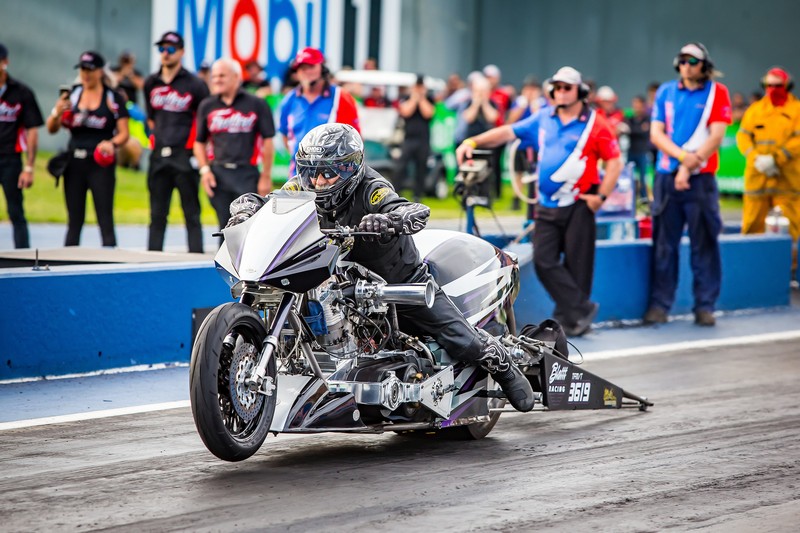 The battles in the Summit Racing Equipment Sportsman Series ranks – for which this weekend's event represented the penultimate hit-out for their extended 19/20/21 season – were tight all weekend long.
In Super Sedan, Roger Moorhouse walked away with his first ANDRA Gold Christmas Tree thanks to a tight victory over Ray Le-Cocq which followed wins from Joe Carboni (who dispatched top qualifier Fenton in the second round) in the semi-final, Christine May (round three) and Con Adamos (round one) with a bye run in round two. Le-Cocq meanwhile booked his ticket to the final off the back of wins against Neil Scott (round one), Martin Mirco and Luke Guppy which lead him to a bye for the semi-final.
"To claim the ANDRA Gold Christmas Tree is very, very special. It is my second one, my first came in the same car in the Super Street class back in 2012 so I am pretty stoked to have won two from the same car but in two different brackets," Moorhouse said.
"It was an awesome event and we had a little bit of luck on our side on the way through and I will take that! The car was just on-song all weekend and we were lucky enough to come away with it.
"My thanks goes to all of my crew and family for their support, and to ANDRA and the Perth Motorplex. The track was amazing all weekend so definitely I want to send a big thanks to Ray Treasure and his team for everything they do.
"It was great to see Ray Le-Cocq in the final as well – he is a very close friend of mine, we pit together and when we aren't racing we are watching together. On Saturday after qualifying I said, tongue in cheek, you are in the bottom half of the field and I am in the top half, how about I meet you in the final tomorrow night! It is funny how things worked out!" he laughed.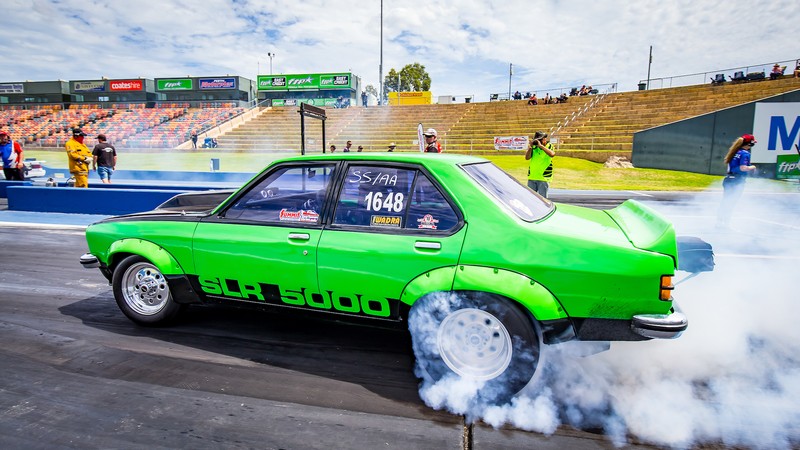 The racers in Competition Bike were sure to give the fans plenty to smile about, with top qualifier and winner Trent Anthony and runner-up Ross Smith in particular putting on a show with record-breaking performances. Anthony re-set the national ET and mile per hour CC/CB records to 7.135s and 187.94mph on his way to the event victory over runner-up Ross Smith, who re-set the national ET record for B/AB to 8.175s.
"We are just so rapt with the weekend's results," Anthony grinned while thanking sponsors Diamond Landscaping, Cadcut and Vera Earthworks.
"We have been through so much with this bike leading up to this race. We have had the motor out, we have been going through tyres, we even had to put a new tyre on it this morning.
"Taking away this win means a lot to us and to the whole team. The boys have done a very good job, it isn't just me who makes this possible, they have helped me out a lot and I thank them and my family for all of their support."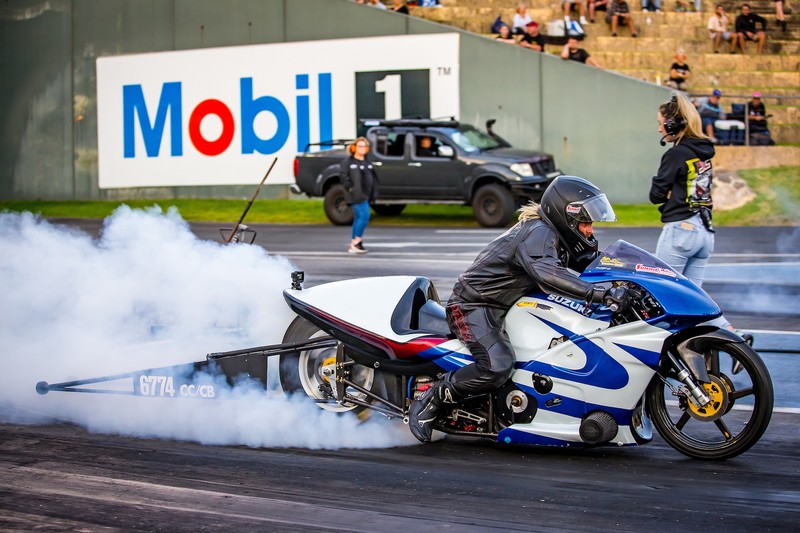 Super Stock was another class which delivered its share of new national records, with winner Steve Norman resetting the B/SMA national ET record to 8.401s and runner-up Errol Quartermaine rewriting the national DD/GA ET (7.537s) and MPH (180.07mph) records.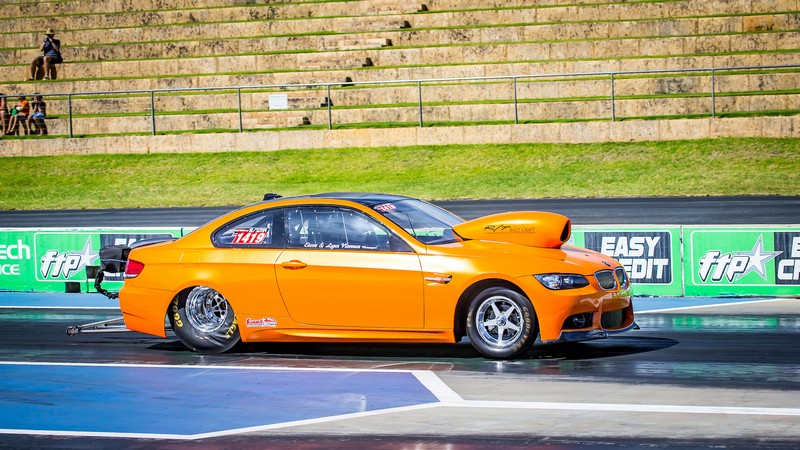 Competition winner Wayne Keys also ensured he had plenty to write home about, creating a new national AA/AP MPH record of 243.67mph on his way to victory over Ian Brown. Keys' final berth came courtesy of victories from Paul Carey – who had earlier beaten top qualifier Danny Costello in the first round – and Russell Ladbrook (round one) while Brown had earlier defeated John Napier and Steven Martin (round one).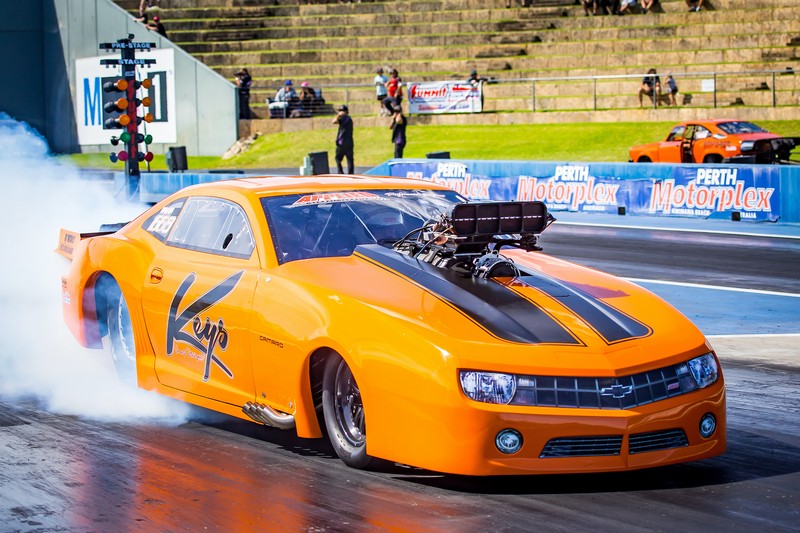 The Modified ranks hosted a veteran v rookie match-up in the final, with local legend Darryl Treasure ultimately taking the win over Kasey McClure who is enjoying her debut season in the senior ranks. Treasure enjoyed a bye to the final following earlier wins over Erin Healy and Cory Treasure while McClure had taken on top qualifier Paul Ryan in the semi-finals after taking victory over Nick Panagopoulos and Neil Gannaway.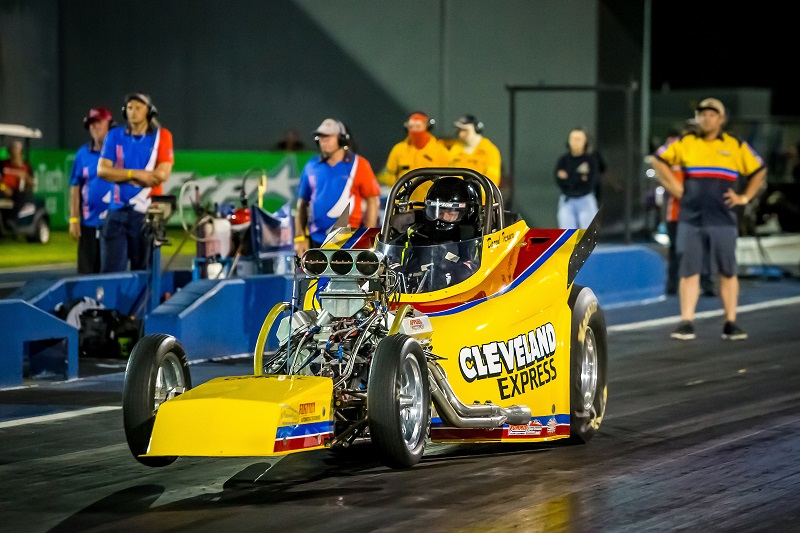 "When an old man can win something like this, it is a pretty special deal," 61-year-old Treasure grinned.
"I first ran a Westernationals back in 1979 and I have never run in a Westernats final, so to finally run in a final and then to win it – well let's just say I am waiting for someone to wake me up and tell me it is Sunday morning, and it is time to head to the track! I just can't believe I have this beautiful trophy that I never thought I would ever win sitting here in my lap.
"I have so many people I would like to thank. My thanks goes to Bob and Peter Lush from Applied Automotives, Ian Brown who does my motors, Ian Jenkins for my chassis work, my daughter in law Maddy who comes every meeting and allows my son Sam to come along and work and brings my grandson, Ben my eldest son who is non step every meeting, and my son Sam – he convinced me that I should have another go at driving when I thought I was too old for it and he got me back in the seat and coached me along.
"Also of course there is my beautiful wife Julie who puts up with this stupid old man who wants to go and do what he does which is really his passion. You can't do this stuff alone and they all do a fantastic job to let me do what I love doing.
"The track was phenomenal all weekend too and I can't thank the entire team enough for all they do."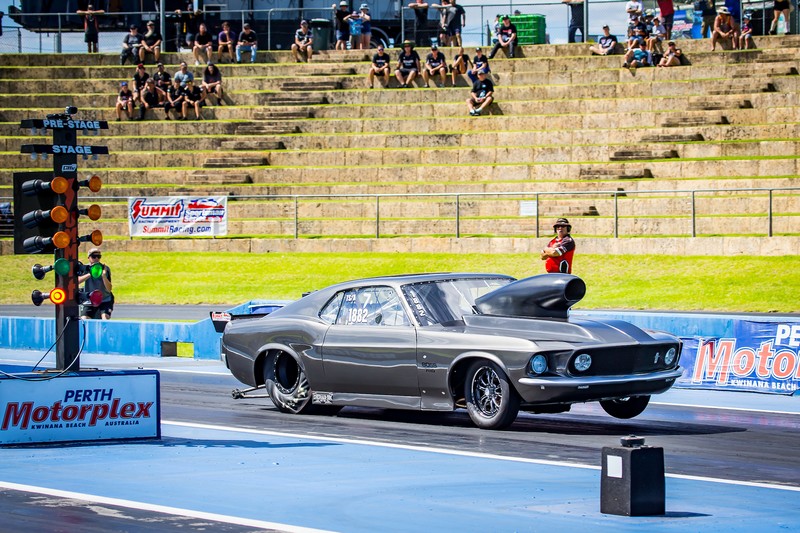 In Top Sportsman, Chris Roe also turned a top qualifying result into an event victory, enjoying a bye in the opening round before taking wins from Nicholas Puglia and Gail Rowles before facing off against Yvette Gregg in the final. Gregg had enjoyed a bye run in the semi following wins over Alby Bakranich (round two) and Paul Downe (round one).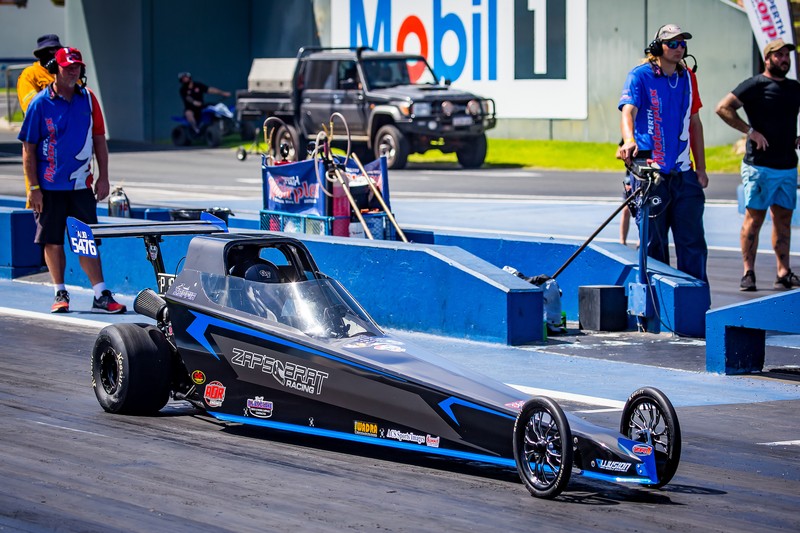 In the Summit Racing Equipment Junior Dragster ranks, Brodie Zappia took the win from Angel Bakranich following earlier wins over Brock Moresby (semi), Dylan Spadaro and Zara Board. Bakranich meanwhile had emerged victorious from earlier battles with Lachlan Taylor (semi), top qualifier Lucas Green, and Seth Jarvis.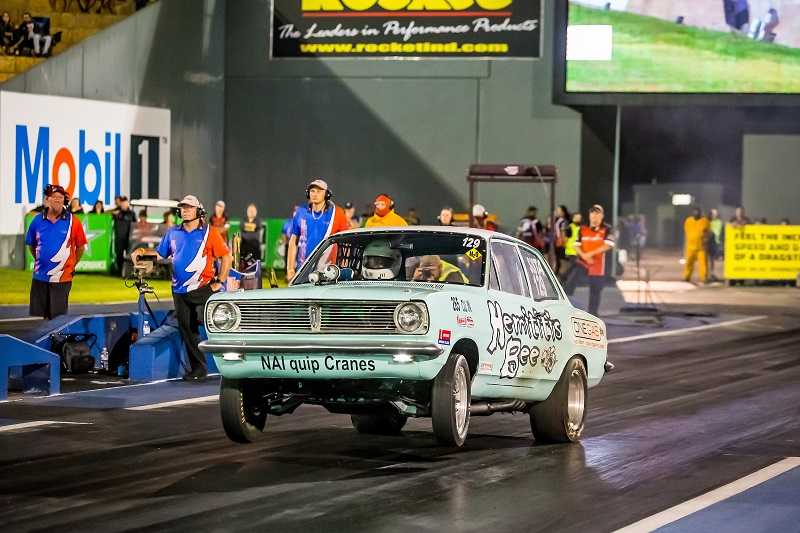 The ever-popular Super Street class was one to watch, with Bernie Ellerby taking the victory over Chris de Bruin in the final. Ellerby made his way to the finale courtesy of triumphs over Michael North (semi), top qualifier Lee Watson, Kenah Johnson-Begg and Daniel Biggs while de Bruin had successfully taken on South Coast 660 winner Paul Garbellini (semi), Richard Stevens, Brett Olsen and Cameron Lockett.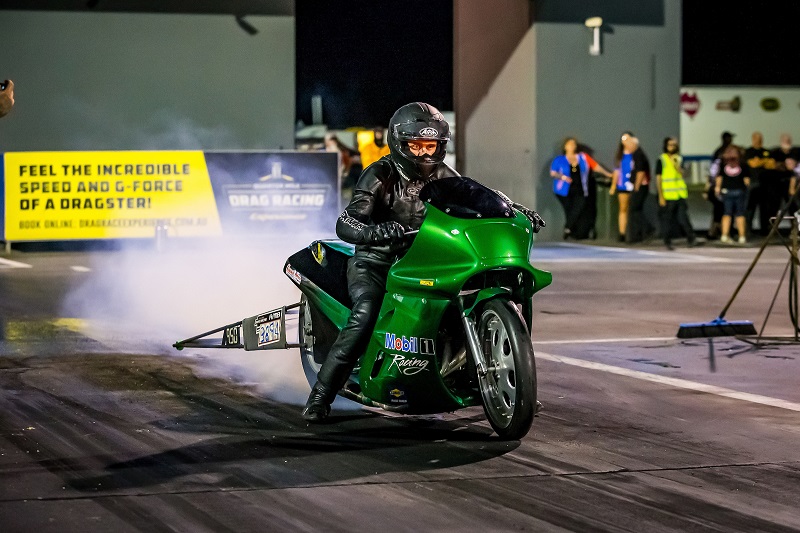 In Modified Bike, Tony Hinkley emerged victorious over Hamish Cunningham to secure his ANDRA Gold Christmas Tree. Hinkley secured his finals berth by defeating top qualifier Ian Glatz (semi), David Partington, Dave Essers and Chris Fryer while Cunningham had taken wins from Brett Allen (semi), Brian Hotker, Doug Jefcoate and Simon Garbutt.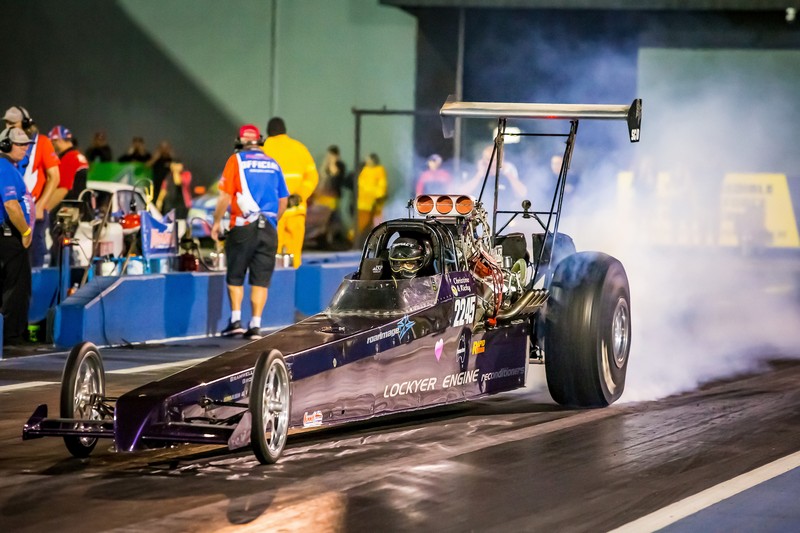 In Supercharged Outlaws, it was an all-female finale with Christine Steffens coming back from an exceptionally challenging weekend at the South Coast 660 to take the victory over local Jodie Mellitt. Steffens enjoyed a bye in the semi-final following a round one win over Mark Grieve. Mellitt – the 2020 Westernationals victor for the bracket – had earlier faced off successfully with Peter Appleby (semi) and Darryl Mullins.
Also on-track this weekend to the delight of race fans was the local Outlaw Radial class (won by Kevin Boulton) and exhibition runs from the WA Nitro Funny Cars of Matt Abel and Nathan Coles and the Blown Alcohol machine of Nigel Johnson.
The Summit Racing Equipment Sportsman Series now heads to Mildura's Sunset Strip for the Twilight Nationals/ANDRA Grand Finals event hosted by the Sunraysia Drag Racing Association across March 12 and 13. For more information, visit www.sunsetstrip.org.au
The 19/20/21 Summit Racing Equipment Sportsman Series season has been extended in the face of COVID-19 to not only deliver successful completion of the current competition, but also a record prize pool thanks to Summit Racing Equipment. The performance powerhouse has announced it will offer 50 percent extra end of season prize money for a total prize pool of more than $100k including $10k for the prestigious John Storm Memorial, creating the biggest prize pool in Australian Drag Racing history.
For more information, visit www.andra.com.au