With qualifying for the 49th annual Westernationals now complete, the stage is set for an epic afternoon and evening of racing at the Perth Motorplex as more than 200 racers look to get their hands on a prestigious Gold ANDRA Christmas tree.
The Westernationals marks round eight of the 2019/2020 Summit Racing Equipment Sportsman Series with those competitors being joined on-track this weekend by Top Fuel, Top Doorslammer, Top Fuel Motorcycle, Top Alcohol and Pro Stock Motorcycle racers.
At the close of qualifying, Summit Racing Equipment Sportsman Series competitors Madison Brown (Summit Racing Equipment Junior Dragster), Gavin Dohnt (Modified Bike), Chris de Bruin (Super Street), Lance Larcombe (Super Sedan), Adam Mundy (Modified), Jon Ferguson (Supercharged Outlaws), Vlado Turic (Top Sportsman), Trent Anthony (Competition Bike), Todd Stacy (Super Stock) and Sam Gullotto (Competition) had secured the DecoGlaze Glass Splashbacks Top Qualifier Medallions for their brackets, while Kelvin Lyle (Top Doorslammer) and Wayne McGuinness (Top Fuel Motorcycle) have top qualified in their pursuit for a Gold ANDRA Christmas Tree. Racing is now underway for all brackets.
Also set to take to the track today are Top Fuel racers Phil Lamattina and Peter Xiberras – the pairing will match race for the fans alongside exhibition and match race runs from Top Alcohol and Pro Stock Motorcycle. These performances have already proved popular this weekend, with Top Fuel in particular drawing much interest from one of the largest crowds seen at the Peth Motorplex in recent history on Saturday evening when three match races were completed.
Lamattina and Xiberras will complete another three match races this evening, with both racers hoping to claim the bragging rights and also looking to set a new ANDRA Top Fuel 1000 foot MPH record in the process with both having already run over the minimum speed to do so (Phil Lamattina 312.36mph and Peter Xiberras 308.81mph) last night.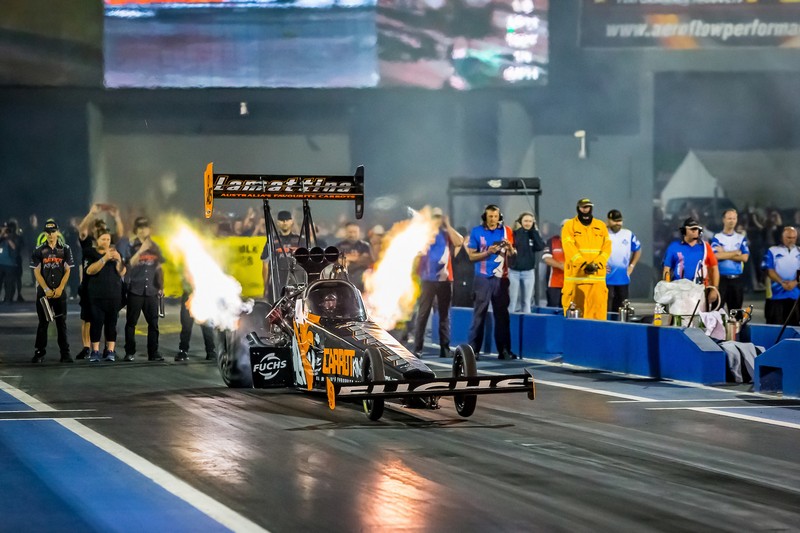 "It is great to be back here in Perth, this is a world class facility and we spend a lot of time and money and effort to have our cars have the opportunity to go fast; so when I got back in the seat I thought it was time to try and come over and give the WA fan base a bit of a taste of Top Fuel!" said Lamattina, who recently made his driving comeback in Top Fuel after a number of seasons out of the seat.
"I rang up Ray (Treasure, Perth Motorplex Track Manager) and one thing led to another! I also have to really thank Pete Xiberras for supporting it: as soon as I asked the question he said yes and he is wrapped to be here just like us and it is fantastic for everyone.
"It is great (to be ahead of the record minimum speed at this point) but we still want to go faster. We know what we need to do, the track is just great and the weather has held up beautifully and I think we should be able to hopefully break it, again," he grinned, while thanking Rocky Lamattina & Sons, Fuchs Lubricants, YBI Creative and MTTS for their support.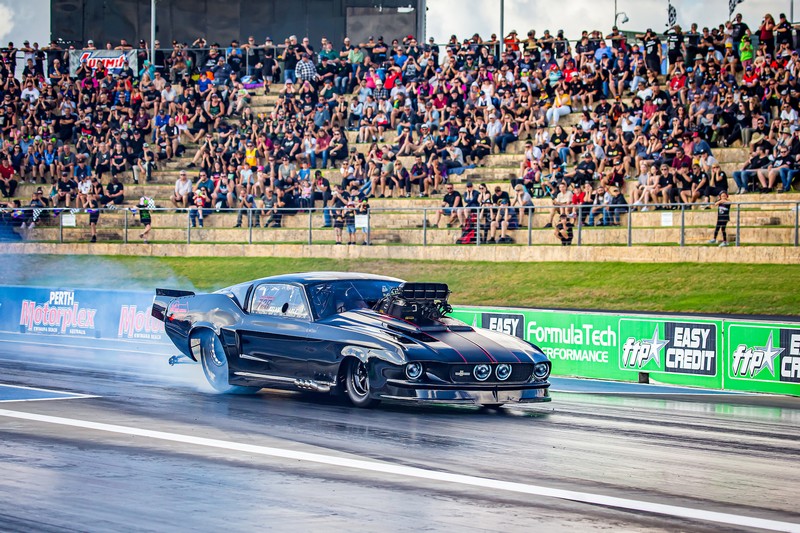 Top Doorslammer is always a popular category in the West and with a Gold Christmas Tree up for grabs, the competition is intense this weekend which has already been evident during qualifying with Kelvin Lyle top qualifying by just one one-hundredth of a second over Doorslammer legend John Zappia in the very last passes of Saturday evening.
"It was very close! It is all good so far, the (air) held everyone up I think on Saturday night so we know we can go faster – we are missing the first half of the run a little bit at the moment but we did change the fuel system around on Saturday morning and we had to sneak up on it across the day," Lyle explained.
"I have Jon Salemi here from the US and he is confident we can go faster – we just need to start working on it without hurting motors! We have hurt motors at our last two meetings, but we haven't hurt this one so we are trying to make it safe!" he laughed.
"I have to say a big thank you to my crew – they have all been great, they are always great and it is also fantastic having Jon over here from America. It is a long trip for him but I only have to ask him to come over to these meetings that are important to me and he is here and I really appreciate his support."
Also looking for more from their high-powered machines today are Super Stock and Competition top qualifiers, Todd Stacy and Sam Gullotto.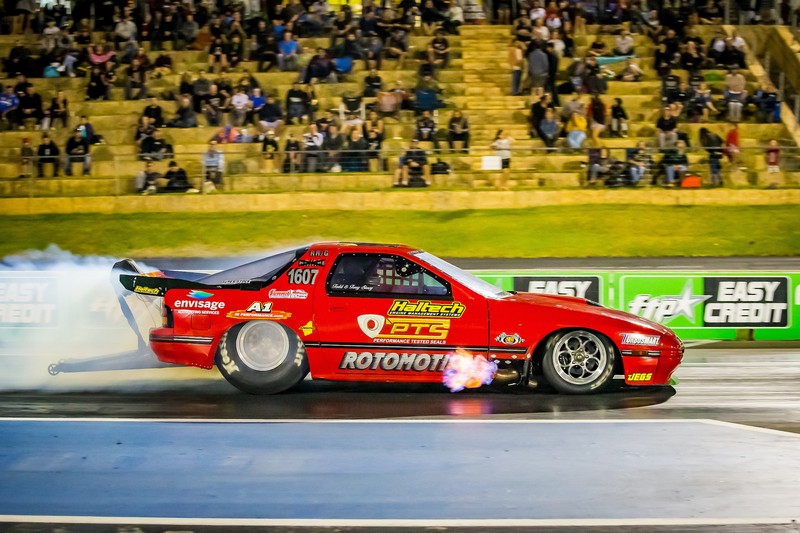 Stacy – who by top qualifying with his Mazda RX7 in Super Stock was recognised as the Sunoco Evo 10 Race Fuels Top Qualifier – says he feels like they have a good starting base to work from for eliminations.
"We are happy to have top qualified but it would have been good to go a little quicker in the last qualifier. We went too far with the fuel and it didn't work, but you get what you get," Stacy said.
"We have top qualified three tenths of a second quicker than everyone else though, so that is a pretty good start and we will just work from there," he said, while thanking Rotomotion, Performance Tested Seals, A1 High Performance, Envisage Accounting Services and Haltech for their support.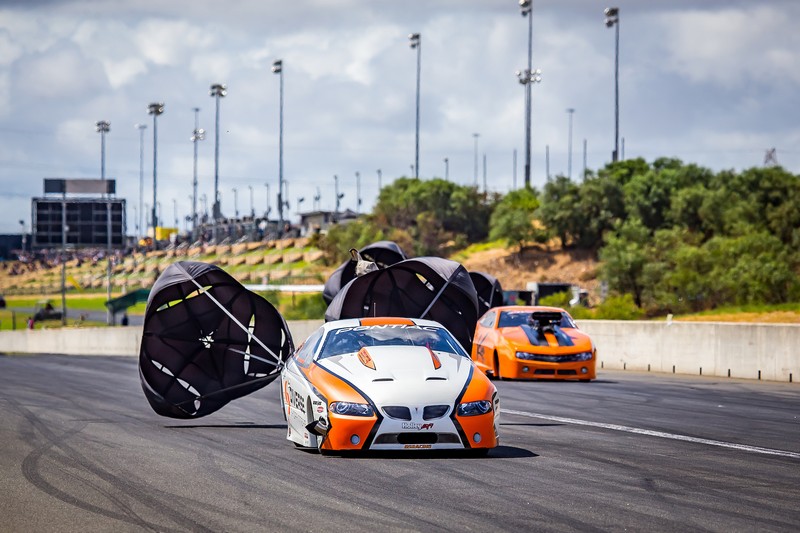 For Sam Gullotto, a rained out test day has meant that he and his team are essentially testing an all-new combination in his Pontiac GTO while also hoping to challenge for a victory this weekend.
"We haven't actually really tested this all-new combo as the test day got rained out, so on the first qualifier we thought we would go to three-quarter track and button it off early and it went a six-ninety-something and that was a pretty good start," Gullotto said, while thanking Diverse Shopfitters, Street Built Racing, Balcatta Engines, Little John's Motorsport Solutions, Johnson's Lifters and Motorsport Database for their support.
"That run did have a pretty slow 60 foot time though so for the second qualifier we wound it up a bit but then we had pretty bad tyre shake and actually clicked two gears when it should have only shifted one; so that was that one over and done with.
"We came back for the third one and hoped it hooked up and it did. We ran it out the back door with a 6.53s which is under the record, so we were pretty happy with that. For the eliminations we will just go ahead and try and wind it up and make it stick and hopefully I can get that Christmas Tree – I came so close at the Grand Finals last year where we had a boost line come off, so I really want to go one better this time and get our first Christmas Tree with this car."
Racing is now underway for all brackets at the Perth Motorplex, with the finals expected to be held at approximately 9.00pm tonight.
For more information, please visit www.andra.com.au and www.motorplex.com.au
For results sheets, please click here