An action-packed day of qualifying at the Perth Motorplex's 50th annual Westernationals has set the stage for an exciting day of racing tomorrow for what is the penultimate round of the 2019/2020/2021 Summit Racing Equipment Sportsman Series.
By the close of proceedings today, Danny Costello (Competition) and Steve Norman (Super Stock) each laid claim to the DecoGlaze Glass Splashbacks Top Qualifier Medallions for their respective classes, while John Zappia (Top Doorslammer) and Wayne McGuinness (Top Fuel Motorcycle) have top qualified in their pursuit for a Gold ANDRA Christmas Tree.
While the race day line-ups in those brackets are now set, the Summit Racing Equipment Junior Dragster, Super Street, Modified Bike, Super Sedan, Modified, Supercharged Outlaws, Competition Bike and Top Sportsman competitors will all have one more change to claim the top qualifying honours tomorrow, with a final qualifying session scheduled for each of these classes from 12.00pm ahead of the start of racing. Lucas Green (Summit Racing Equipment Junior Dragster), Lee Watson (Super Street), Ian Glatz (Modified Bike), Mick Fenton (Super Sedan), Erin Healy (Modified), Christine Steffens (Supercharged Outlaws), Trent Anthony (Competition Bike) and Chris Roe (Top Sportsman) currently lead the way in their respective fields.
Danny Costello's to qualifying result came at a cost, but he expects to be back in action for Sunday's race day in better form than ever.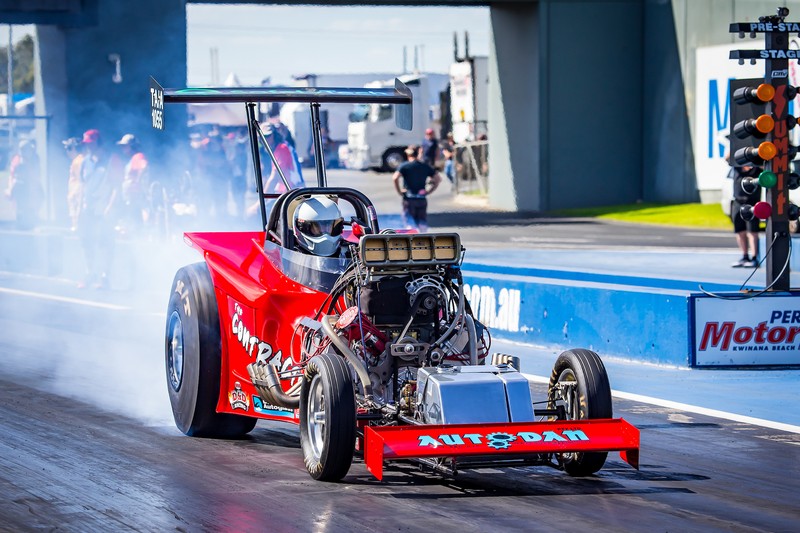 "We broke the car straight up in that first qualifier, we over-revved it and killed a couple of valves, but luckily they didn't go into the engine so we will be able to finish fixing it in the morning and get back out there tomorrow and give it a go," Costello said.
"It has been a busy day for sure, as I have also been helping Rory Taylor on his Nitro Funny Car.
"We are confident we will have it fixed, we have all the parts ready to go and have some machining to do, and we will be right. I want to thank my crew for all their help today and tomorrow. When it comes to getting back on the track tomorrow, we ill just see how we go – we are planning to go faster!"
In Top Fuel Motorcycle, Wayne McGuinness says he has plenty more in the tank for tomorrow's race day.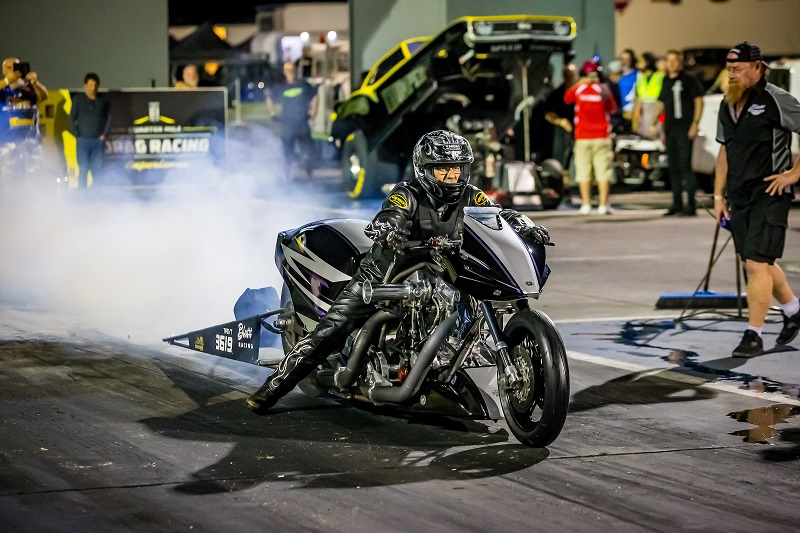 "It has been a busy day for us. We had a few issues at the test and tune with the clutch, but we have sorted all of that out and are now basically re-finding our tune. We have had a couple of bad runs on it lately with clutch issues, so have been sorting out the gremlins," he explained.
"Today the crew worked effortlessly all day and did an excellent job as usual, the turnarounds were good, and the bike is now settled down and has come back to where it used to be. So, it was a good and non-eventful day, and we have our baseline data and are ready to tweak it up a bit.
"We were running the lightest tune we ever have today, and we still ran a PB. I was happy with the PB, I just wish we could have turned it up a little more. Tomorrow we will see how the track is and then turn it up some more – there is plenty more in it, I reckon we have another 40 percent we can throw at it."
For Queenslander Steffens, a difficult start to the day turned into a positive finish in Supercharged Outlaws.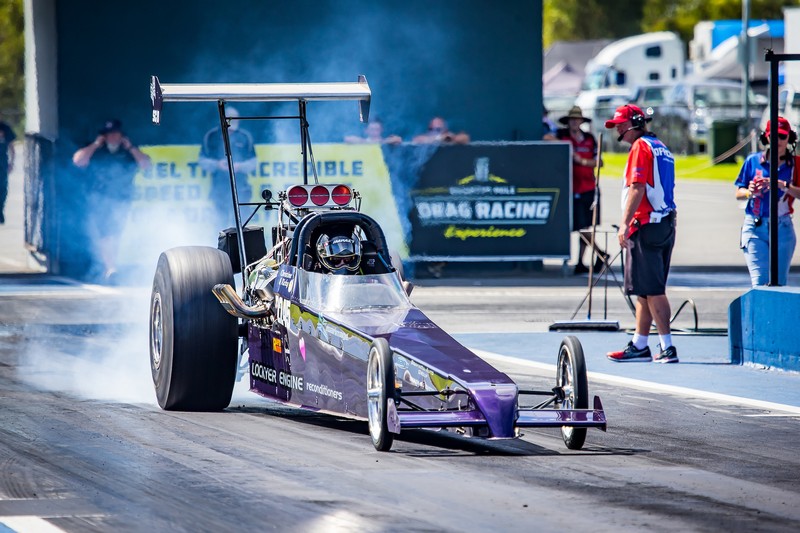 "Our first pass was ugly and just yuck, the car didn't get up and go, it was a bit skatey up the top end, it was looking at the centre line, and it just didn't have the oomph – so of course I was concerned because of the gearbox issue we had at the last round in Portland," she said.
"On the second pass, it still did not get up and go so Ricky checked and changed a few pieces and in Q3 it picked the front wheels off the start line and I thought we are on a mission, and then I thought I hope we didn't go too fast because it actually went like a trooper. And when it goes fast, it goes straight and drives nice.
"Now I just need to get my lights in order. I was so excited to know she was back. We still have one more qualifier to go and we are just going to go out and do our best. We will leave the car exactly how it is and see what it does in the qualifier and also see if the old girl can do something about her lights!" he laughed.
For results from today's action at the Perth Motorplex, please click here
The second and final day of the 50th annual Westernationals will kick off from 12.00pm local time with the conclusion of qualifying, with racing scheduled to commence from 1.35pm ahead of the finals from 9.30pm (all times approximate and subject to change). For full event information and schedules, please click here.
The 19/20/21 Summit Racing Equipment Sportsman Series season has been extended in the face of COVID-19 to not only deliver successful completion of the current competition, but also a record prize pool thanks to Summit Racing Equipment. The performance powerhouse has announced it will offer 50 percent extra end of season prize money for a total prize pool of more than $100k including $10k for the prestigious John Storm Memorial, creating the biggest prize pool in Australian Drag Racing history.
For more information, visit www.andra.com.au