Day one of the 48th running of the Westernationals has impressed an enthralled crowd at the Perth Motorplex today with qualifying for both the West Coast Challenge and the penultimate round of the 18/19 Summit Racing Equipment Sportsman Series.
John Zappia (Top Doorslammer) and Jay Upton (Top Fuel Motorcycle) lead the way in the group one standings by top qualifying for their brackets ahead of tomorrow's race for ANDRA Gold Christmas Trees while Trent Morrison (Competition), Errol Quartermaine (Sunoco 260GT Plus Top Qualifier for Super Stock), Brett Ghedina (Competition Bike) and Alan Mahnkoph (Supercharged Outlaws) secured the Top Qualifiers Medallions – thanks to TileCo-TheShowerPeople and KC Tools – for their respective brackets.
Qualifying will conclude early tomorrow afternoon for the Super Street, Modified Bike, Super Sedan, Modified and Top Sportsman brackets ahead of the beginning of eliminations racing for all brackets from 2.15pm local time. Currently Lee Watson (Super Street), Gavin Dohnt (Modified Bike), Dean Dawes (Super Sedan), Adam Mundy (Modified) and Amanda Martin (Top Sportsman) are leading the way in these brackets so far.
For Zappia, it was far from a smooth ride to the top of the qualifying sheets for Top Doorslammer.
"The Fuchs-Dananni Monaro has been running well today but we have had a little bit of trouble with tyre shake," he explained.
"In the first run it shook and we pedalled it and it ran a 5.75s/254mph run. On the next one it shook really hard and I had blurred vision – by the time I realised where I was I was heading towards the wall so I gave up on that run which is not like me," Zappia chuckled.
"We came back to the left lane where it had sort of gone down in the first run and again it left hard and started to rattle and head to the centre, so I pedalled it and shifted to second gear and off it went. I drove it back into the middle and ran our second highest mile per hour ever at 257mph (414kmh) and managed a 5.72s pass and retained number one, so I was pretty happy with that!
"We have to have a look at it now and do some fine tuning for tomorrow. Hopefully we can stop that shake and the car will be straight in the 'sixties' where it belongs, we can pick up on that top speed and get a PB, and a win would be nice too with an ANDRA Gold Christmas Tree! But you have to get through the first round and then the second round before you start worrying about the final!
"A big thanks goes to Fuchs, Dananni, Muscle Car Warehouse, Crow Cams and all of our other sponsors as well as our crew who work their butts off to turn the car around and get it running consistent like they do."
Another racer who had a bumpy ride to the top was the Sunoco 260GT Plus Top Qualifier, Errol Quartermaine.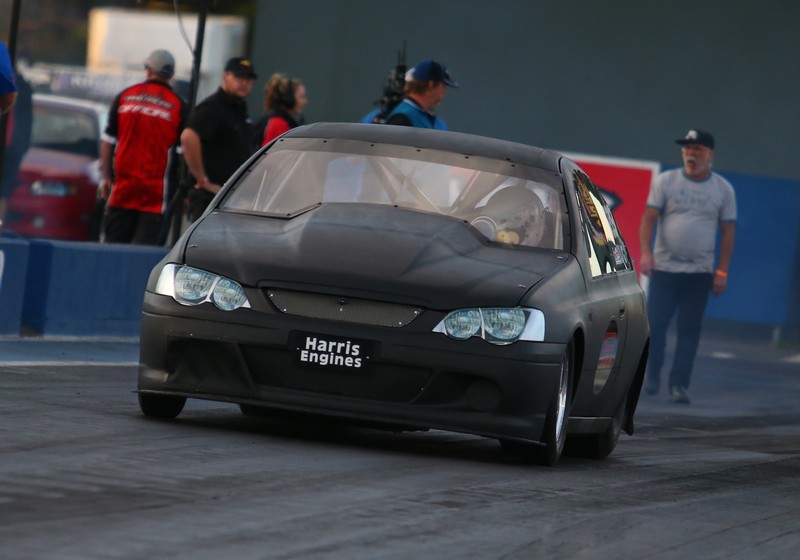 "Today didn't start off so well – the car didn't run as well as we had hoped it would but then we found a few problems – it kept dropping the number four cylinder, so we changed a few things around and then it ran fine for the third qualifier," the Super Stock racer said while thanking sponsors Harris Engines, Crow Cams, Simon from All Fast Torque Converters and PBR Body Builders.
"We knew the car could do it and now tomorrow it will be a case of it will work out how it works out, we will just do the best we can and see how it goes."
Compared to the above stories, for Supercharged Outlaws Top Qualifier Alan Mahnkoph it was a more sedate day at the race track.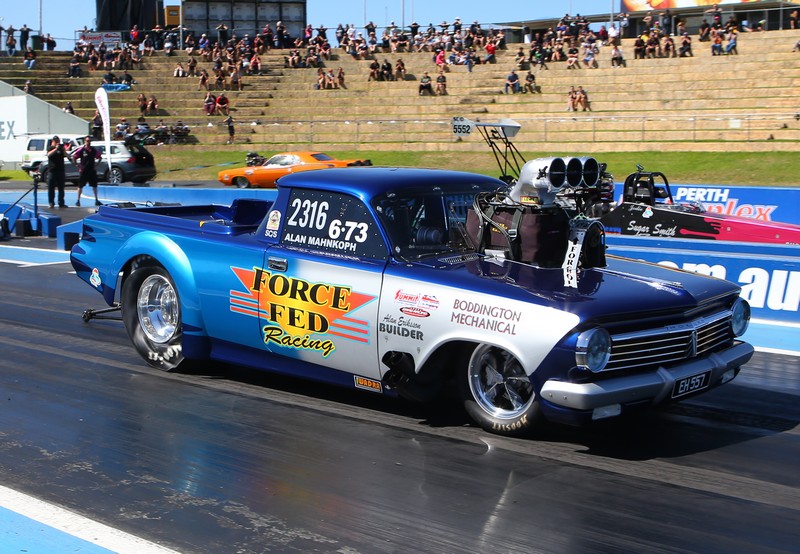 "Today went really well, we had no dramas, the car went from A to B and did the right thing," Mahnkoph said, while thanking Alan Eriksson Builder, Steve from Boddington Mechanical, ANDRA and the Perth Motorplex.
"The boys did a good job turning the car around and it was a nice smooth day, aside from a minor oil leak we have to sort now, but other than that, it is just the usual stuff we have to do.
"Everyone is after that Gold Christmas Tree, hopefully it will come home with us tomorrow but everyone will be thinking the same way won't they!" he laughed.
The Westernationals action at the Perth Motorplex will conclude on Sunday 3 March. All of the action will be streamed live and free on the ANDRA Facebook page at https://www.facebook.com/ANDRADragRacing/
For event results as the event unfolds, visit www.motorplex.com.au/drag-results/ For full event information, including full schedules, entry lists and more, go to www.motorplex.com.au/48th-annual-westernationals/